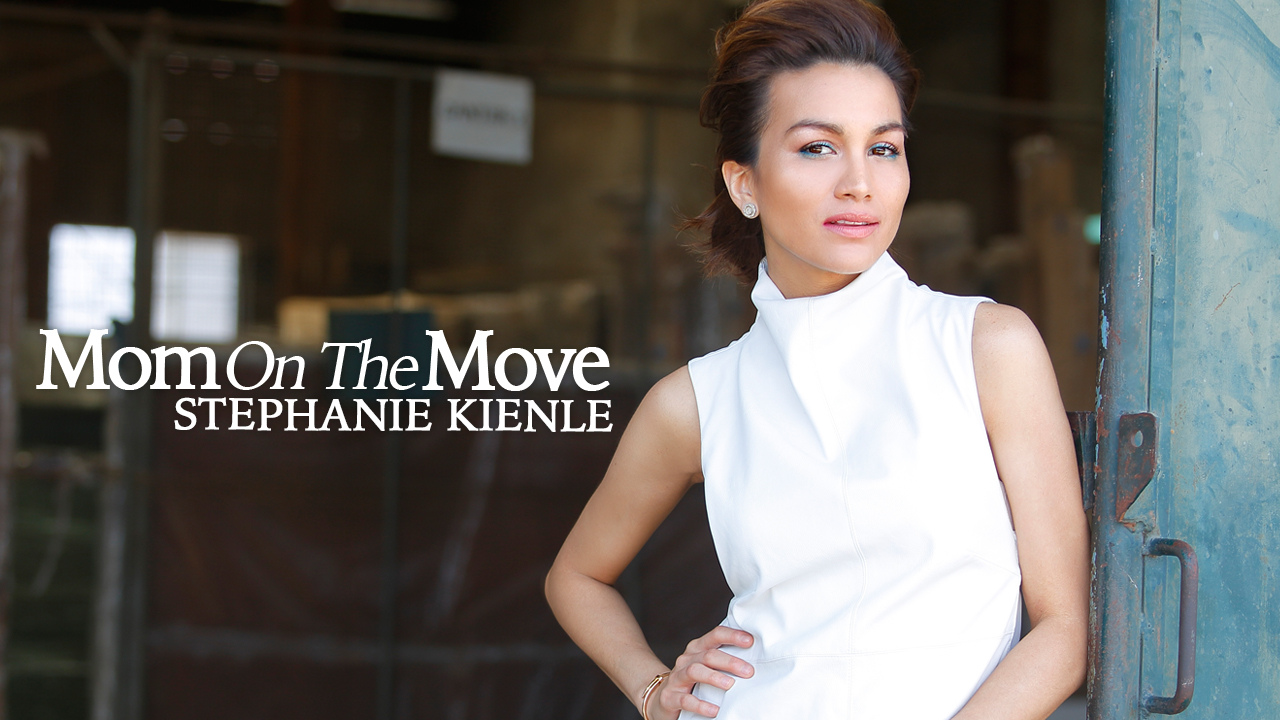 By: Joanna Francisco
"What I like is effortless beauty, put-together but not over-the-top," says Stephanie Kienle-Gonzalez. As vice president of sales and business development at Philux, she plays a key role at the heart of the company, managing everything from operations to manufacturing. "Beauty for me is practical, but it's definitely something I'm particular about," says the Swiss-Filipino straight talker, a self-confessed 'type A', who came home from studies and design internships in Paris, London and New York to learn the family business from scratch.
Although she prefers not to be strict about beauty or any other routine, Steph is clearly a master at doing it all in style—navigating 14-hour work days, entertaining at home, and creating family time. Fueled by her passion for growing the business and inspired by being a mom to her three-year-old daughter, she is one woman who seems to see no hurdles. Just like her endless to-do lists, managing life is simply a day-to-day project, "a work in progress".
In her make up bag:
I go from mornings in the factory to afternoon meetings with clients. My days are so erratic, but I like to be presentable and in sync with my environment. When I go to the factory I don't put anything on my face, I'll just do my brows lightly and curl my lashes. You need to go very bare there—there's sawdust and sometimes sweat! If I have to meet a client, I'll put a little bit of concealer under my eye.  
I have my work bag in the car and a small make up kit in my purse with the key things that I need. In my work bag I also have a pouch with my shoes, to change from flats or sneaks, to a dressier closed sandal, ballerina or a pump."
The no-fuss face:
"If I have a morning meeting, I'll put on my face at home, but I'm very quick. I'll do it in five minutes. I'm kind of impatient. If you talk to my parents, they will say I do everything quickly—which is not always a good thing! I like Clinique CC cream. For brows I use Anastasia brow gel or MAC Lingering pencil, a light shadow on my eyelids, and curl my lashes. For mascara, my favorites are L'Oreal or Maybelline. My one problem with my eyelashes is that I have very long lashes that are quite straight—which is a good problem to have—but they do clump a lot if I use anything else.
Caring for sensitive skin:
"I wash, tone and moisturize. For day I put on Lancome Beauty Balm SPF, a beauty base that's very mattifying. I cleanse with Clinique soap and use Clinique Dramatically Different Moisturizing Lotion. I stick to fragrance-free products most of the time, very clean and easy. I use L'Oreal Gentle Waterproof eye make up remover. I like to discover new products, but not for creams and things like that because of my sensitive skin.
I used to go to a derma, I've stopped—but it's on my new year's resolutions… I was born with skin eczema. I've outgrown it but I do still have it sometimes. When I was young I was already very conscious of skin care products, since there were many restrictions… I could not swim in a chlorinated pool, not go under the sun. Today I use Cetaphil cream on my body. "
Changing things up:
"I love trying new things. I'm not a creature of habit at all. You can see that in my daily schedule; it's never the same, which makes things interesting. It's the same philosophy with make up—no over-the-top experimentation, but once in a while I'll put turquoise eyeliner, or I'll do a pop of color on my lip. Nothing too crazy or out there."
Planning outdoorsy trips:
"When I'm outdoors, I use Anthelios XL SPF 50+ Oil from La Roche-Posay, or Neutrogena. Right now I'm planning a family hiking trip to Mt. Makulot. It's nice to be out in fresh air. I guess that's the Swiss side of me. Skiing is also something I enjoy once a year with my parents, and I'd like my daughter to eventually pursue it. You need even extra thicker creams and sunscreens in that environment.
Wholistic beauty:
"What's empowering to me is seeing a confident woman, who is true to herself, who knows who she is—and who she is not. You need to have that subtle confidence to accept your flaws, and the beautiful parts of you as well. And if you need that boost of confidence, yes, absolutely, go buy your lipstick!  
For me beauty is more wholistic. I need to feel well rested, not stressed at work, and have a positive outlook. I need to spend time for myself. Exercise makes me so happy—endorphins are great. It's definitely something I like to do at least three times a week. I used to be a dancer, so I love anything with music, being active and moving around. I go to the gym, I do yoga, zumba, walk around with the dog, or with my daughter. Feeling pretty is part of a whole package that makes a woman feel well and happy and beautiful."
Defining the Calyxta cover girl:
"Someone who is passionate about life, who is a modern woman, who has many hats and wears them very well—whether she is a mother, a working mom, someone who has skills and utilizes them, and balances many things in her life. I think being a modern woman means not sticking to one stereotype, it's fulfilling many roles, and finding that nice balance, which gives you that glow."
On when she feels most beautiful:
"When I'm with my husband and with my daughter. I love when my husband tells me, 'you look beautiful with or without make up', that's something that warms my heart."
That mother-daughter bonding moment:
"When I dress up for something to go to like a dinner, I want to maximize my time with her. I ask her to come join me when I'm getting ready, and it's really precious time. We play music, we dance…I put make up on and she chooses clothes for me. It's a fun time and we enjoy that quality time together.
No cellphones in the bedroom:
One resolution I'm gonna have this year, when we move to our new place, is to not have a charger for my cell phone by my night table. This year I'm turning 30. It's a big year for me and I want to be able to end my twenties in a good light, to put things into perspective—it's something we forget, when you live a fast paced life, having pressure and long to-do lists, which is something I impose on myself. I have my reminders on my phone and check things off all the time! I don't leave an e-mail unread. So when I'm in the bedroom, I want to be able to learn to shut off. It's not as easy nowadays."

Photography DIX PEREZ
Videography ANDREW APUYA
Make Up Artist BYRON VELASQUEZ
Hairstylist JAN EDROSOLAN
Wardrobe Stylist BEA CONSTANTINO
Special Thanks to LCP, BEA CONSTANTINO, BCBG