Hey, Gorgeous!
Join the exclusive Calyxta Beauty Club to get points, freebies, and special rewards when you invest on yourself! We have exciting collections and exclusive items lined up for all our gorgeous members. If you're a a big and loyal spender, expect even bigger and special surprises in store for you!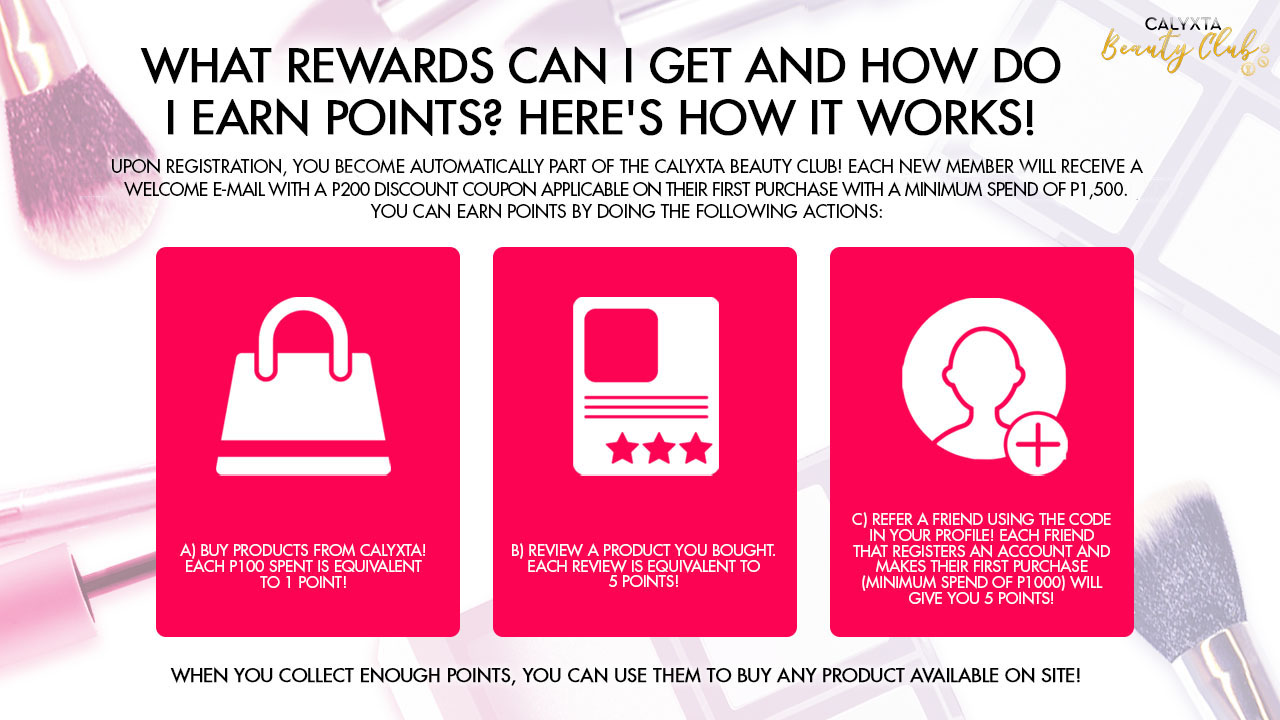 Got any questions? Let's answer them!
How do I become a part of Calyxta Beauty Club?
Sign-up and register an account on Calyxta to be an exclusive member of the Calyxta Beauty Club.
I already have an existing account on Calyxta, will I have to make a new account to be a member?
No, all existing accounts are automatically members of the Calyxta Beauty Club. No extra sign-ups are needed. But! You are not eligible to use the P200 discount code or free product anymore when you've already previously purchased on Calyxta. Don't worry, we have a lot of surprises in store for our exclusive Calyxta Beauty Club members! 
How do I earn reward points?
There are three (3) exciting ways to earn points: SHOP, REFER, REVIEW. 
1) SHOP: You will earn points every time you shop on Calyxta. You automatically earn one (1) reward point for every P100 spent on Calyxta.
2) REFER: Get your friends to sign-up and buy on Calyxta to earn bigger points. You automatically earn five (5) points when your referred friend shops at least P1000 worth of products on Calyxta. 
3) REVIEW: Earn five (5) points every time you review a product you've purchased on Calyxta. So, you'll only earn five (5) points when you're a verified buyer of the product you've reviewed. You won't receive points if you're not a verified buyer of the item you reviewed. 
How do I avail of my reward points?
Because every P100 spent is equal to 1 point, you may redeem any product available on Calyxta using your points at checkout!