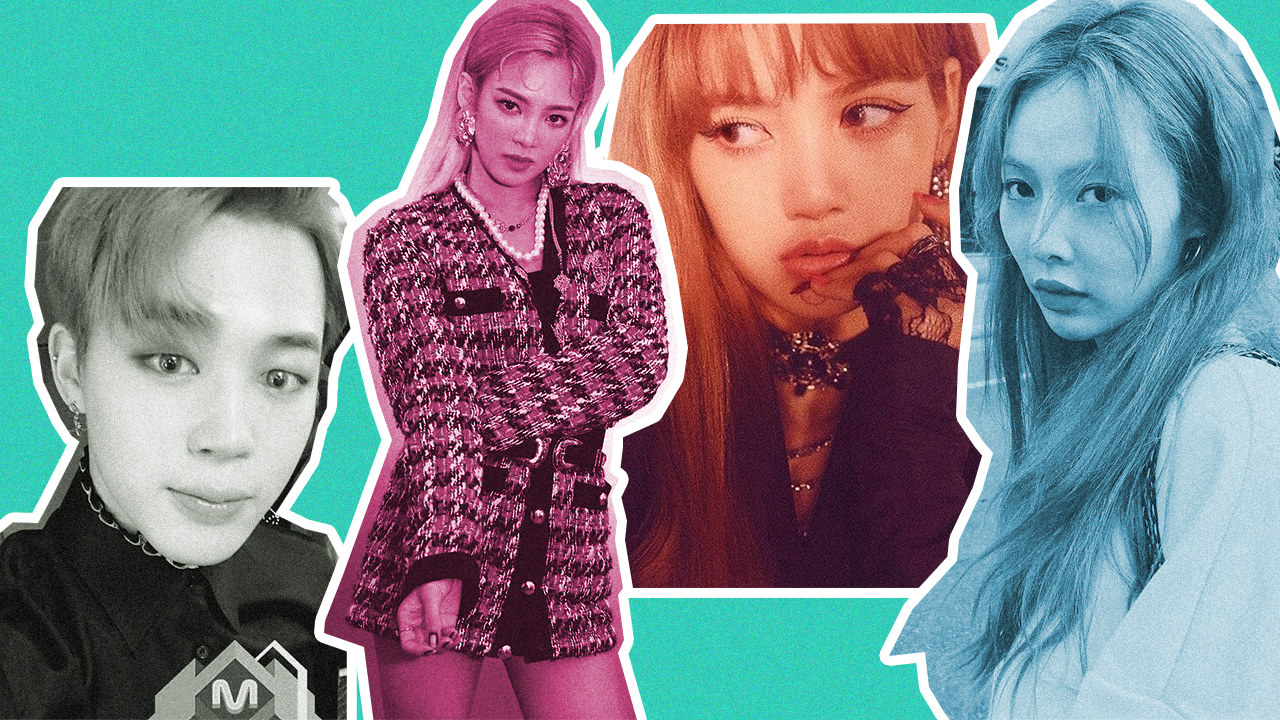 K-Pop has truly changed the makeup game, ushering in a trend of daring and flashy looks. Beyond their brightly-colored hair, idols have taken risks when it comes to their looks on and off-stage: playing around with eyeliner, highlighters, and mixing and matching various eyeshadow looks to come up with something brand new and fabulous.
K-Idols have continually tested the limits of makeup, and it's high time you start following their footsteps, too. We've put together a list of our favorite idols and their iconic makeup looks, and how you can cop their stand-out looks.
Girls' Generation's Hyoyeon is a makeup enthusiast, and it shows in her artistry. She has been featured on many fashion magazines, and she is constantly serving looks on and offstage. Hyoyeon is unafraid to sport daring looks, as seen in her strong brows and nude matte lips in her "Punk Right Now" music video.
Jimin practically lives in his stunning smoky eyes! His eye makeup always complements his eyes, his outfits on-stage, or even his hair color at the moment. He's sported a wide array of phenomenal smoky eye looks over the years, but his makeup from their "Blood Sweat and Tears" music video remains superior.
If you'd like to emulate Jimin's metallic smoky eye, try Pink Sugar's Eye Candy Eyeshadow Palette! Their carefully curated palettes are designed to craft an array of looks—including Jimin's smoky eyes. Finish off your smoky eye with a smudge of Chihuahua Cosmetics Eyeliner and you're good to go!
Hyuna has sported a lot of bold looks over the course of her career, but one thing has remained constant: her bright red lips. This classic lip color has defined Hyuna from her 4Minute days to her eventually branching out and launching her solo career. She's even performed a song that essentially linked her warm and fierce personality to this color!
A little shimmer goes a long way, which probably explains Baekhyun's stunning highlight in EXO's "Love Shot". Though most people tend to notice Baekhyun's unique eye makeup, he changes it up and brings everyone's attention to his golden glow throughout the video. His sculpted cheekbones shine through the music video, complementing the colorful, glitzy vibe of the song.
Give your face a little love shot with L'Oreal's True Match Lumi Illuminator! This highlighter may feel lightweight and smooth, but you can bet that your EXO-inspired glow will stay on your face for the rest of the day. Make sure your highlight goes on an airbrushed finish by blending everything out with Dear Dahlia's Marble Multi-Blender to lock down the look.
"DDU-DU DDU-DU" did more than just put BLACKPINK in the spotlight—they brought negative space eyeliner to the forefront, too. Although Lisa has had a lot of iconic looks throughout the course of this music video, you have to admit that her opening the music video with her immaculate winged liner stole the show (and everyone's hearts).
Lisa's flawlessly phenomenal eyeliner is at the tip of your fingers with L'Oreal Paris Dip-in Liner! Emulate this look through an eyeliner designed to help you achieve thin and sharp lines with ease AND last all day long. Complete your eyeliner with Maybelline Volum' Express Magnum Big Shot Mascara and you're good to go!