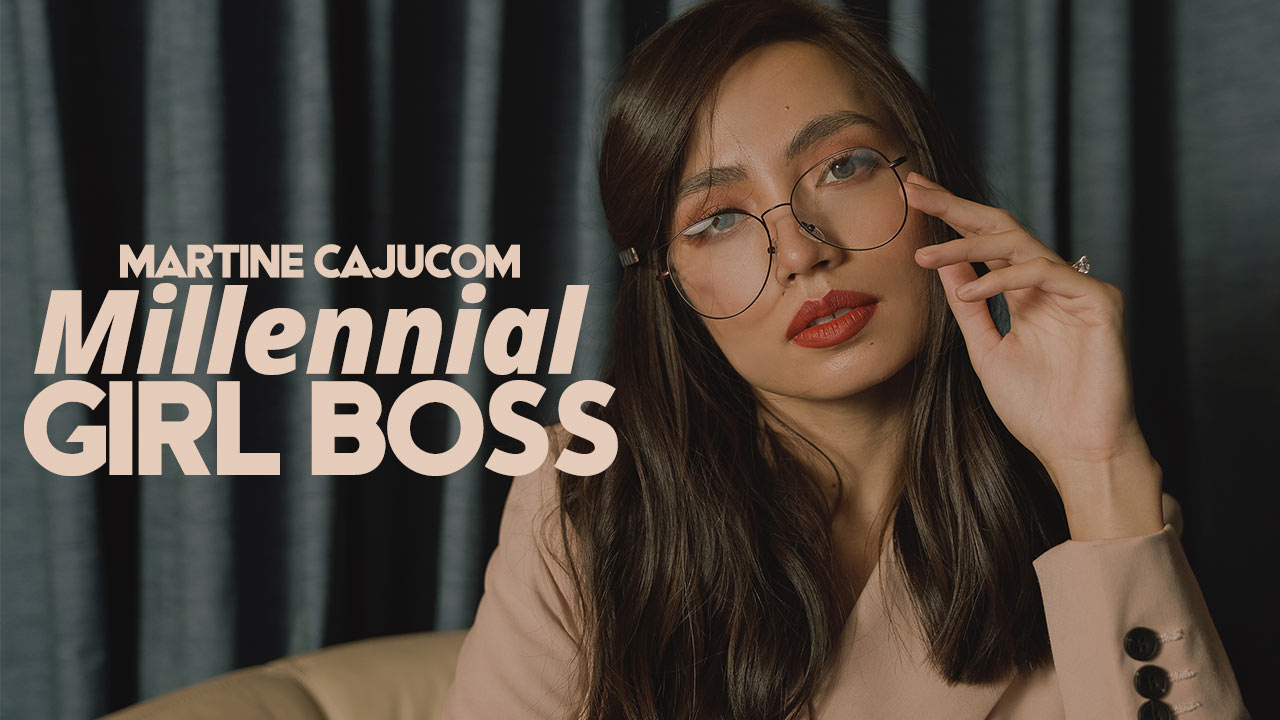 There are some resolutions that we don't always follow through—simply because we've forgotten about them or have found it too much of a challenge to pull off. But there are some resolutions that are worth giving your blood, sweat, and tears for—and in this month's issue, Calyxta intends to start the year right by giving that kind of inspiration to all the women out there who wish to be their own bosses someday.
And who better to share with us her story than a millennial girl boss who took a risk and left her job of five years in the United States, to move here in the Philippines and become the Creative Director of Sunnies Studios?
Shot during the early weeks of December 2017 while the Sunnies team was in the process of putting together the Sunnies Dream House in Nova Gallery, I witnessed firsthand how hands-on Martine was with her team, and the way she interacted with each and every one of them. She had an almost motherly vibe, where in between takes, she would check up on them and made sure everyone was okay—even asking people what they wanted to eat for lunch, and refusing to let anyone go hungry while working.
It was a long day of her having to multi-task (typical millennial, right?)—from overseeing the progress of their Sunnies Dream House and watching it come to life as we were doing our shoot, to styling herself in every single layout, to posing for the camera and projecting different facets that I wish more people saw (aside from an incredibly distinct and Instagrammable aesthetic). In fact, at the end of the day, before each Sunnies team member left, they would call out to her and wave goodbye, as she smiled and waved back mid-pose. And as we wrapped up our shoot, I watched as she transformed from our cover girl to the millennial girl boss that she is—carrying boxes of Sunnies all by herself and refusing to get help despite the tall stack nearly covering her face (even nearly tripping and falling down the stairs in the process!).
Get to know our January 2018 #CalyxtaGirl, Martine Cajucom, as she tells us everything from how Sunnies started, to her biggest challenges as a boss, to her long-distance relationship with fiance, Cliff Ho, and what it's like to be related to the IT girls (and be one herself)!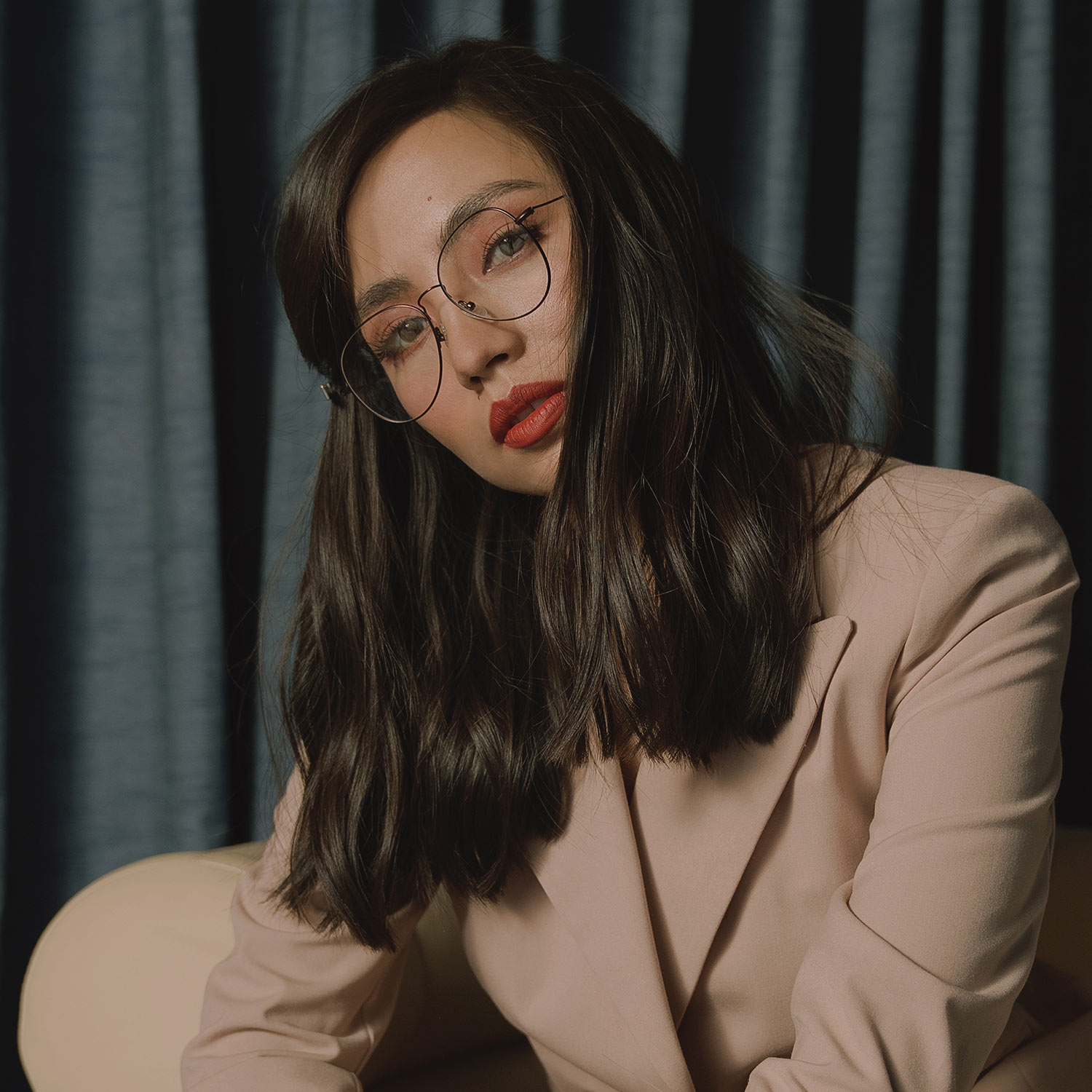 Can you share with us the story of how Sunnies all started?
Sunnies. Okay. I've said this so many times. (laughs) Like I've memorized this. (laughs) So back in 2013—should I give you the long story or the short story?
Can it be the long story?
Okay, yeah. I'll give you the long story. Actually, six or seven years ago, my partners, Bea Soriano and Erik Dee Jr., they started Charlie Apparel, which was kind of like a local answer and an alternative to Topshop. You know what I mean. They have clothing, accessories, and stuff, and they found the sunglasses were just doing particularly well. People were so interested and they wanted the accessories. And that's when they got Georgina onboard to do a spin-off brand, Sunnies by Charlie, which we actually completely never mentioned ever again. Charlie's dead. So they got George onboard to help them endorse the products, and George is very intuitive and a natural marketing person. She never studied it, but she just has a natural knack for it, and George, while doing it was like, "We should really get Martine (me!) to do consulting for us for branding." Because at that time, I was working for American Apparel, which is obviously not open anymore, but at the time, it was probably the coolest brand, and the most innovative in terms of marketing and branding.
So George flew to LA, and we shot the campaign—I styled it, I did the creative direction, I said this is the vibe I'm envisioning for Sunnies, and I did the logo and packaging, and the general branding for the company. And I guess initially, back in 2013 when we started it, my inspiration behind the brand was, I was going to a lot of music festivals, obviously, like I was in my mid to early '20s. So I was just having so much fun, and always losing my sunglasses, and it was so painful! I spent my entire paycheck on one Miu Miu and I lost it. So I just thought about what are the feelings and emotions I attach to eyewear, and at that time of my life, it was music festivals. It was just having fun, it was living your best life, it was (for me, specifically) spending a lot of time in Palm Springs, going on a lot of weekend vacations and getting away from the city, and that's sort of what we built the brand around. Like even the old logo was modeled after a vintage hotel that I saw in Joshua Tree and so, that's the color story, the architecture, and all the things that we used. They were all inspired by that time of my life. Obviously, we've evolved a lot since my inspirations have changed a lot, but the initial mood board for Sunnies was so inspired by California and more specifically by Palm Springs and that era, because I just loved all the colors. I loved the styling and that's how we kind of marketed our campaigns around. Is this too long?! (laughs) And then we all just worked so well together that George, Bea, and Erik actually offered me a role in the company, to be a partner as well, and so, I said, "Okay!" So I left my job in the US, which was really difficult, but actually it was the best decision I've ever made because obviously, American Apparel isn't open anymore. And I moved here and became a partner and obviously, I signed on as a Creative Director and here we are today! We have 80 stores and we've expanded to cafes and other projects are in the pipeline. It's just insane. But really cool. So, yeah. That's the story of Sunnies!
So it was really Sunnies that got you to move from LA?
More specifically George actually. (laughs) But yes, it was the promise of doing my own project. But you know, I loved working at American Apparel. I would always value that time. I learned so much, and I worked there for five years. I worked really hard, you know? The truth is—I hardly went on vacations for five years, and I worked really hard, and I learned everything I could about retail, marketing, shoots and productions, branding, integrity, and staying true to your branding. All the things that I've applied to Sunnies, and also the things not to do in terms of management. So basically, George and Sunnies made me move to Manila.
Who women did you idolize growing up and why?
This is maybe a super dorky answer but I've always, always, always loved strong female protagonists in sci-fi or fantasy movies. I just love them sooooo much. Maybe one of my first idols was Buffy the Vampire Slayer. I found her really smart, and able to balance so much in her life. She's fictional, obviously, but she's just one of those I idolized. (laughs) But other than that, I've always liked strong female protagonists because they kind of have everything together and still look really good. How they do it all, it's awesome.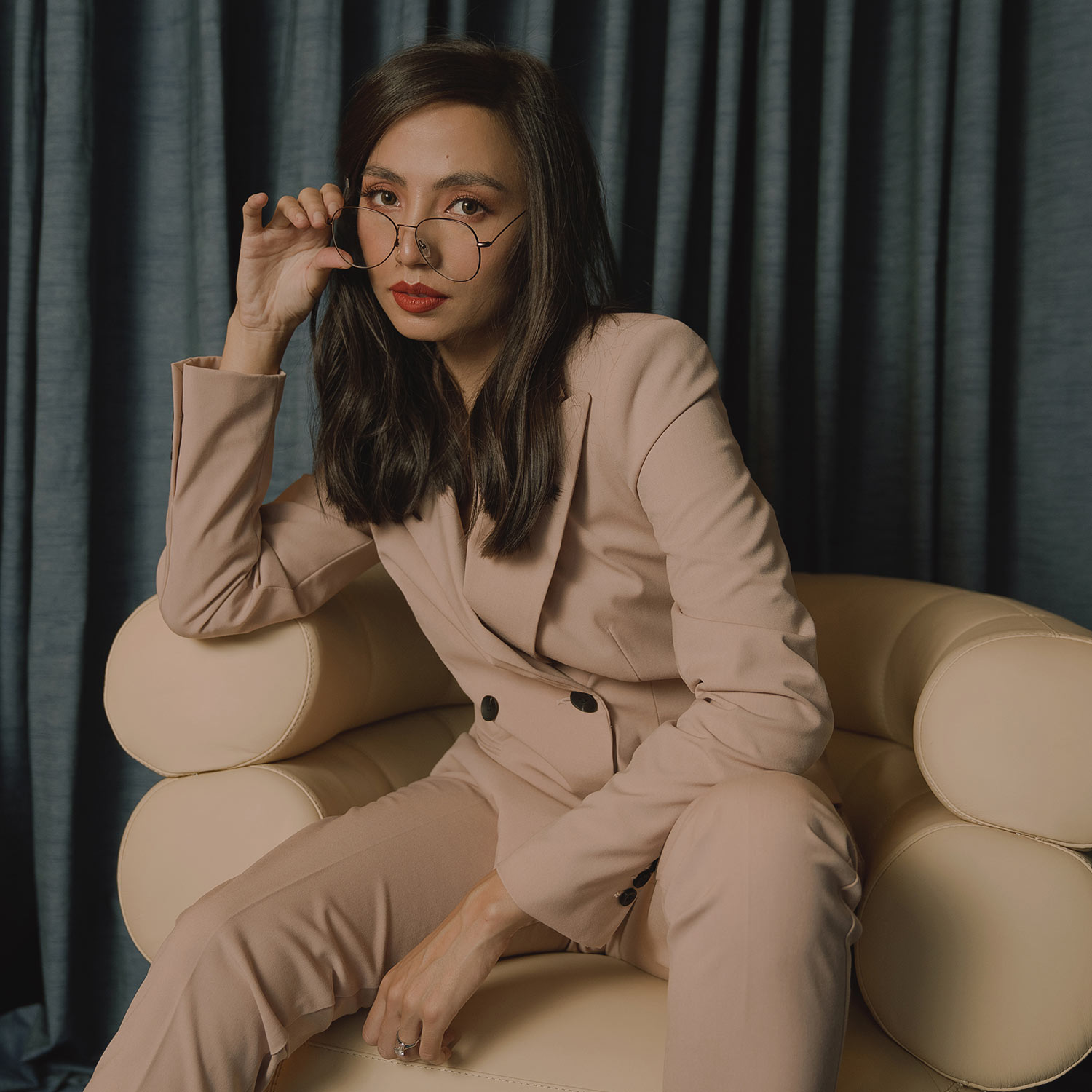 Did they have a direct impact on you in terms of the career track that you decided to pursue?
For sure. Definitely. I always envisioned myself being really dynamic in life. I always wanted to have a good balance of everything and I always wanted to make sure that I could do my own thing as well. I know that's like the millennial dream and I'm, at least on paper, living it. For me, growing up and seeing women who have it all together really, I admired that. And I mean, I've said this before, but growing up, I never knew what I wanted to do. I just knew that I wanted to do something where I get to make stuff happen. I've gone through so many careers. Like I wanted to be a photographer, so I took up photography. I wanted to be a makeup artist, so I just ordered myself to do makeup. I wanted to be a photojournalist at one point, and I wanted to be a writer, and I really wanted to try everything! I also wanted to be a graphic artist. Honestly, I kind of dabbled everything. I guess that's what led me here as well. (laughs) To be a Creative Director, because now I can just have a team of people who are amazing at what they do, and I just conduct instead of actually having probably the skill set that they have, I just get to conduct them and I think that's the best for me.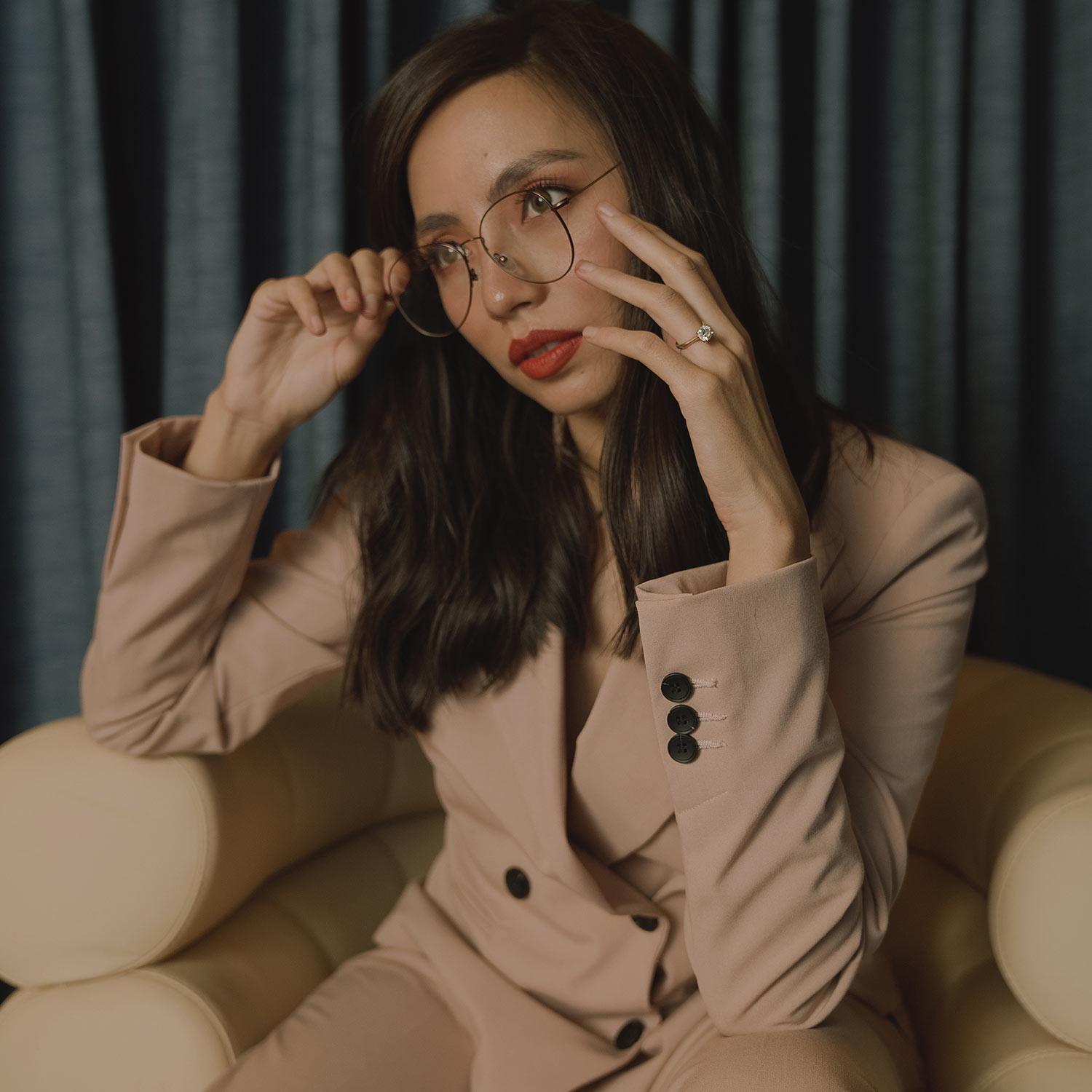 What's the most fulfilling thing about being the Creative Director of Sunnies?
I guess the most fulfilling thing is seeing things happen. I think, you know, even if we're such a big company, we're still so lean. Our team, we know every single one in the office. We know every single person in the company. So since we're so lean, we're so agile and we are able to make things happen really quickly, and I love seeing an idea not necessarily just of mine, but of my team happening and seeing the satisfaction of something that we come up with as a team, and seeing it be successful. And I guess a big example of that is Sunnies Vacay that we did this year. That was an idea that we came up with and it has never really been done on that level. Like how do we make something so impactful and also so organic, and something that people would really be just like, "Wow. How did a brand get to execute that?" And our team worked sooo hard on that, and everybody contributed their ideas, and seeing it happen, it's the best high you could ever feel.
During Sunnies Vacay, I was just sitting there at night, every night, refreshing the hashtags and be like, "This is awesome!" So yeah, it's really seeing ideas come to life and working with a team that I really admire and respect, and seeing also their ideas come to life as well. It's not just a solo show. lt's not just me. It's a full team. It's a full family making stuff happen at Sunnies. I guess that's the best part, too. Seeing everybody work together and make stuff happen.
What were your favorite projects or collaborations so far?
Ooh, okay! Well, something at Sunnies that we love doing is working with a lot of international talent, especially from my network in the US, so we just recently shot with one of my former colleagues at American Apparel. His name is David Gomez-Maestra, and he is such a brilliant photographer. He shot for all these brands that I really love. And I've been observing his work the past few years, and he's really so talented. So, we flew him here, and he's a really good friend as well, and we shot him with Liza (Soberano).
And the images are so amazing. They're so iconic. They were all instantly iconic and we loved working with him. In the past, works that we really love as well, and one of our go-to photographers, is Eman Montalvan, who's actually from Cagayan de Oro, but he has the most amazing story. He moved to the US with $400 in his pocket and just worked so hard. And after four years, Eman now shoots the biggest campaigns. He shoots for Reformation all the time. He shoots so many celebrities. It's just crazy. People are
actually requesting for him. He's just so amazing to work with. We've been so blessed to work with so many amazing global talents and even local talents as well. So I think that the most exciting for me is putting the shoot together and making that happen, having the vision for it, and putting the pieces together. I guess that's exciting. And obviously, most recently, I'm excited by our last shoot with Liza.
What's the most challenging thing about being the Creative Director of Sunnies?
I guess no one really tells you this about business but the most challenging thing is people management. Because people's careers are in your hands, you know What do you envision for them, what do they envision for themselves, and it's a lot of pressure to put people in roles and make them thrive. It's a lot of pressure when people are unhappy with their position and trying to manage that; manage people's lives. That's the most challenging part. It's so difficult. It's definitely the hardest part about running a business. It's not necessarily the actual work. It's you know—people are so individual. We all have our individual needs, wants, and desires. And being able to manage and juggle what everybody wants, and make everybody feel fulfilled in their job, that's a challenge.
How big is your team?
Our creative and marketing team, we're about 20. And within the company, we're about 350.
What's a usual day like in the office?
Being a headless chicken. (laughs) Just kidding. A usual day in the office is a lot of meetings, a lot of meeting face-to-face with people, and a lot of discussing our plans and visions for the next few days. (laughs) Not going to lie. We work really quickly. So yeah, it's a lot of approving billboards, looking at images, and strategizing. I guess what takes the most part in product development is designing the styles, playing with them, testing them, and seeing how people feel about them.
Do you usually stay in your office?
Yeah, yeah. I live there. Pretty much.
If you weren't the Creative Director of Sunnies now, what do you think you would be doing?
I'd probably still be living in the US, working for another company that I like or maybe even doing my own thing. I've always envisioned doing my own thing as well on the side. So I'd probably be working. I always say I'd probably be working at Reformation or Glossier. I actually think that's where I would be. I have a lot of friends from there as well, so it's probably where my career trajectory would have been. More like a Marketing Manager of one of those companies, or doing my own label or something.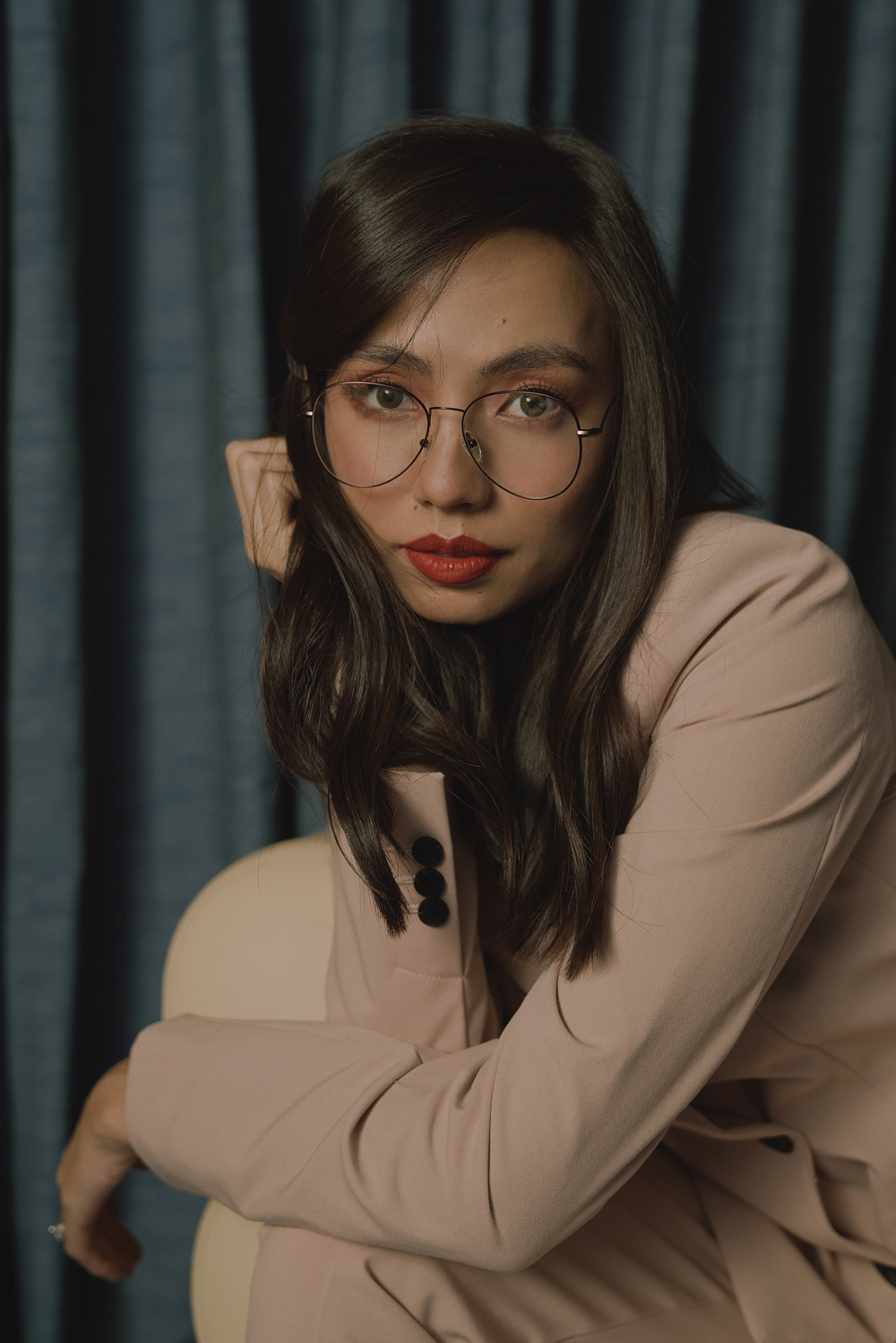 What do you think makes up a Millennial Girl Boss? And what makes her different from a traditional boss?
I think with a millennial girl boss, there's a little more freedom and flexibility. Like how you dress and how you speak—it's not as formal, it's very real. I think gone are the days of being overly corporate with clothing restrictions and such formality to a business. I think people now value just real talk. More than anything. And, you know, however you get things done, you get it done. I actually think the more corporate you get, the slower things are to happen. So the more real you are, and the more direct you are, the more efficient you are as well with business. I think maybe that is what a millennial girl boss is.
Can you share with us three valuable lessons you've learned after starting Sunnies?
One is time is now my most valuable commodity. I think when I was younger, I was always trying to save money. And now, obviously, I'm in my 30's and managing a business. Time is definitely the most valuable thing that I have. Making every minute of my day count and, yeah, time management is so important. Time is my most valuable commodity. And two is surrounding yourself with people that can teach you things that you don't already know. I guess that's really important. It's having business partners that complement your skills and also weaknesses, and surrounding yourself with a team that makes your life easier and that is better at what they do than what you could do. And I guess third is never be complacent. Never be complacent and stay humble. I guess that's the most important thing. The second that you get a big head and you get arrogant, there goes everything you've worked for.
Last question for this part of the cover story. What advice can you give young women who wish to be their own bosses someday?
My advice to women who wish to be their own bosses one day is get the experience now. When I worked at American Apparel, I knew that it was a big learning thing for me and I worked really hard for five years to learn everything that I could. So for women who want to be their own bosses one day, just completely submerge yourself and understand the ins and outs of what working for yourself actually means. Understand it. It's honestly working your ass off. That's the truth. That's how you get to work for yourself. It's meeting people. It's being aware of your surroundings and knowing people, and knowing your skill set. I always talk about self-awareness is the most important thing, because the truth is not everyone is cut out to work for themselves, and that's the truth. If everyone is cut out to work for themselves, we wouldn't have these amazing companies. We wouldn't have Apple if everybody wanted to work for themselves. So I think it's also understanding what your skill is and finding the right position for you in this world. But for sure, if you want to work for yourself, work your ass off and meet everyone and be open to everything!