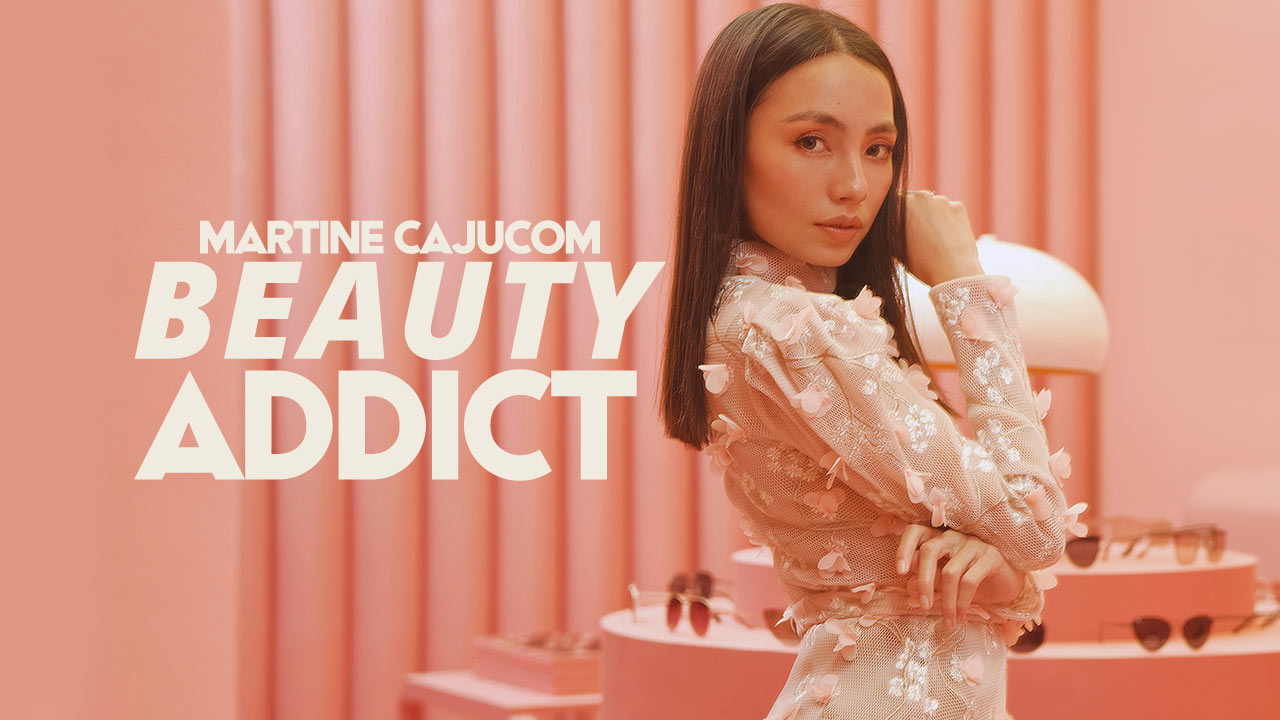 Meeting Martine Cajucom for the first time at Apartment 1B in Rockwell to have a brunch interview is still a pretty vivid memory to me. It was a couple of days before our cover girl shoot, and I brought up the idea of meeting beforehand, so we could collaborate in case she had additional ideas for her feature. If there's one thing (out of many things!) to admire about her, it's that she really knows what she wants and will tell you diplomatically if something won't suit her. She's also the kind who responds to text messages and e-mails so quickly despite her hectic schedule, which I think is truly commendable.
Martine arrived on the dot for our brunch like a true LA girl, dressed in a sunny yellow ensemble that was distinctly Martine—complete with a pair of Sunnies hanging from her halter top. Before she even reached our table, she first greeted sisters and June 2015 Calyxta Girls, Teresa and Victoria Herrera, who coincidentally were also dining in the same restaurant.
It was a little surprising to me that Martine's face was completely makeup-free, so as a beauty girl, I found myself staring at the natural dewy-ness of her skin. Even without makeup, she had that confidence about herself that instantly made me want to get to know her better.
Her long legs, petite figure, high cheekbones, and thick, pouty lips are obviously some of her best features—and I'm sure that one of the many reasons people are drawn to her is precisely because she hails from a family of naturally beautiful women, all gifted with the same innate features.
In this week's cover story, we delved into a topic that instantly lit up Martine's eyes, as she proclaims to be a makeup hoarder herself. Read more about this beauty addict, her favorite St. Ives product, and what she thinks is the difference between California and Manila-style makeup.
Before anything, can I ask you first if there's a certain style of Sunnies that's your favorite? And why?
Honestly, I like something new every day. (laughs) It depends on my mood. But I'm very impartial to a cat-eye. I just love it. Forever. Forever and ever and ever. But I can be anything. I mean, that's also the beauty of the product. Gone are the days where you have to spend so much on one pair. You can have 20 pairs and not feel bad about it.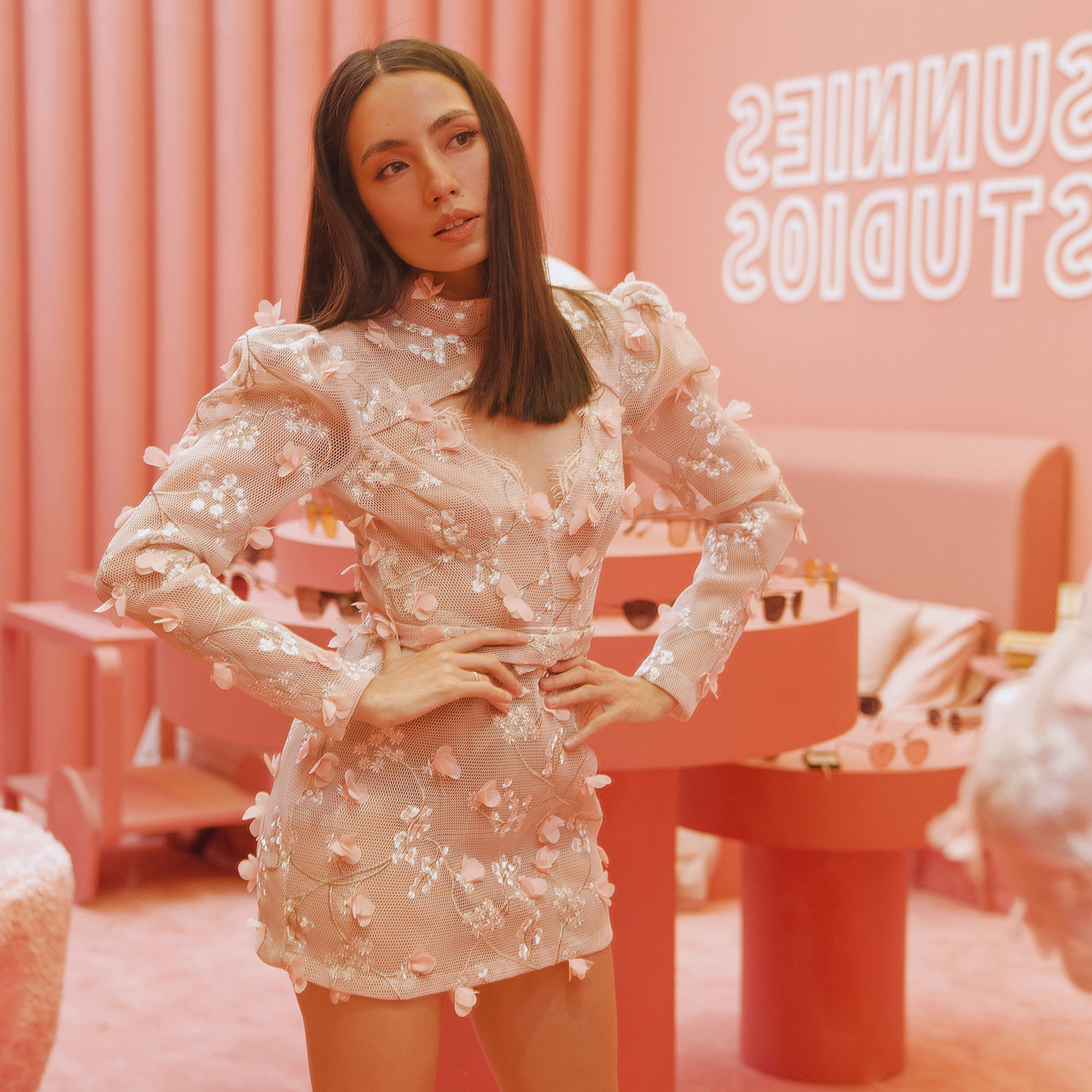 Are you more of a makeup or a fashion girl? Like if you had to pick, makeup or fashion?
Oh my god, that's so difficult. I wouldn't even know. I think they go so hand-in-hand together. Hmm. Am I more makeup or fashion? Actually, I'd probably be more makeup, if I had to say. I'm more passionate about it. I actually think with clothing, I haven't really changed how I dress in the last 10 years. (laughs) Like my clothing, I still have the same stuff I wore 10 years ago and I think my personal style is very consistent. It's so consistent even from my teenage years. So I think maybe makeup, because I have a little more flexibility. Maybe even at that, I really like a certain makeup look and I haven't deviated much from it.
What's your skin type?
Combo, for sure. Oil blotter like hell. (laughs) On my t-zone.
Did it adjust when you moved here? Because usually, people who move here, their skin type tends to change.
I think maybe even for the better because in LA, specifically, it's very dry, so I was moisturizing so much. And here, I'm oil-blotting. So yeah, because you just adjust your products to the climate.
Can you share with us your day time skin care routine?
My day time skin care routine, I wish it was more involved. I mean, I'm so basic when it comes to skin care. I just love a simple moisturizer with SPF and I do like a lot of skin lasers and stuff as well.
What about for evening skin care routine?
I've been using St. Ives Apricot Scrub since I was 13. I love it.
Oohh, I love! I've been using the new Coconut one.
Yeah, it's so good! I've been using it since, seriously, I was in Junior High. I still use it to this day. And it's kind of been like probably the only staple in my skin care routine. I can say that because I actually still use it. It is awesome, and it's cheap!
Yeah, it surprises me how cheap it is and it works well!
Yeah, skin care doesn't need to be expensive to be good. I firmly believe that because I know the costing of what goes into it. It doesn't need to be expensive to be good. And St. Ives is one of the few products that I think has been consistent with that. And what's in it is good for you. No parabens and stuff like that. I love it. I actually really do love it.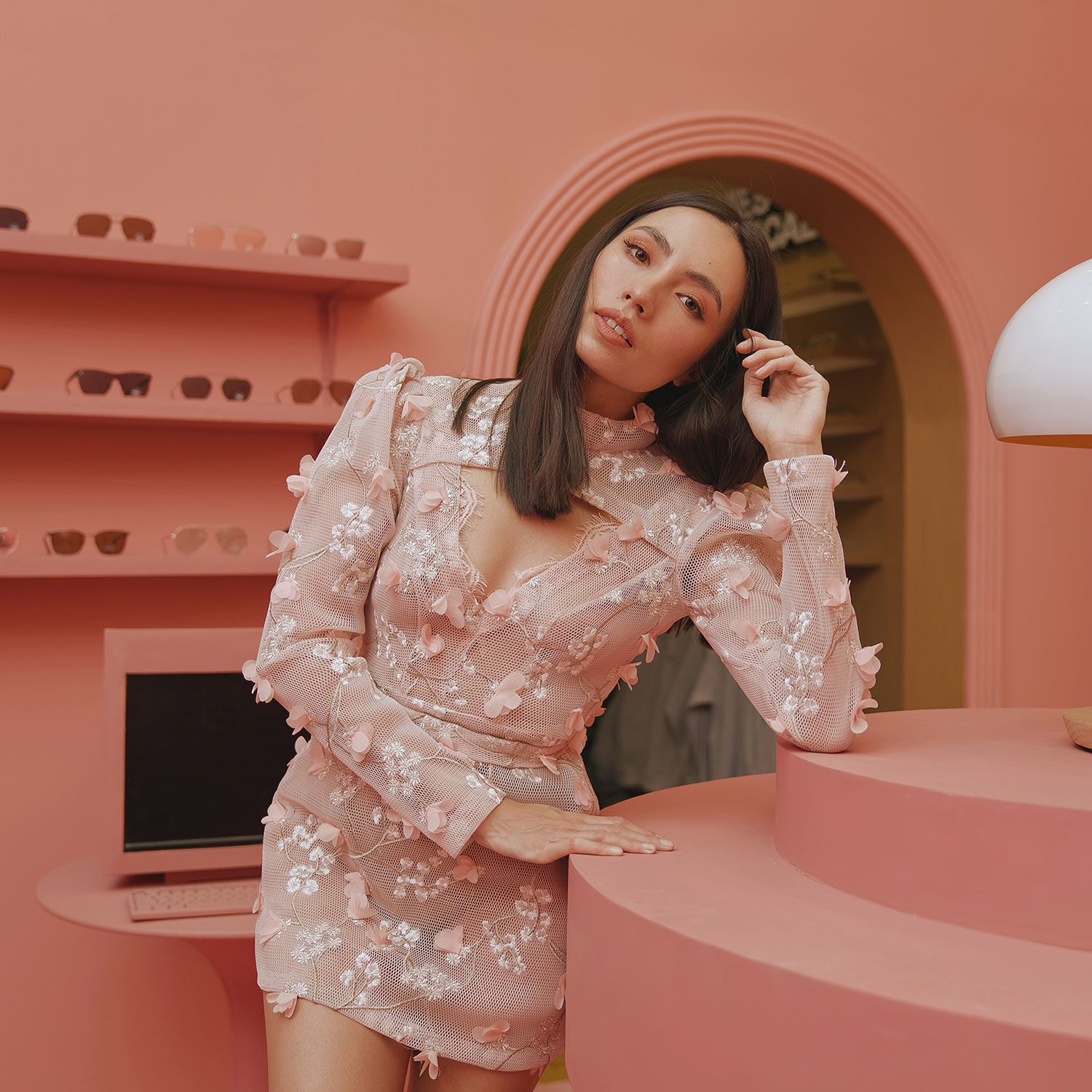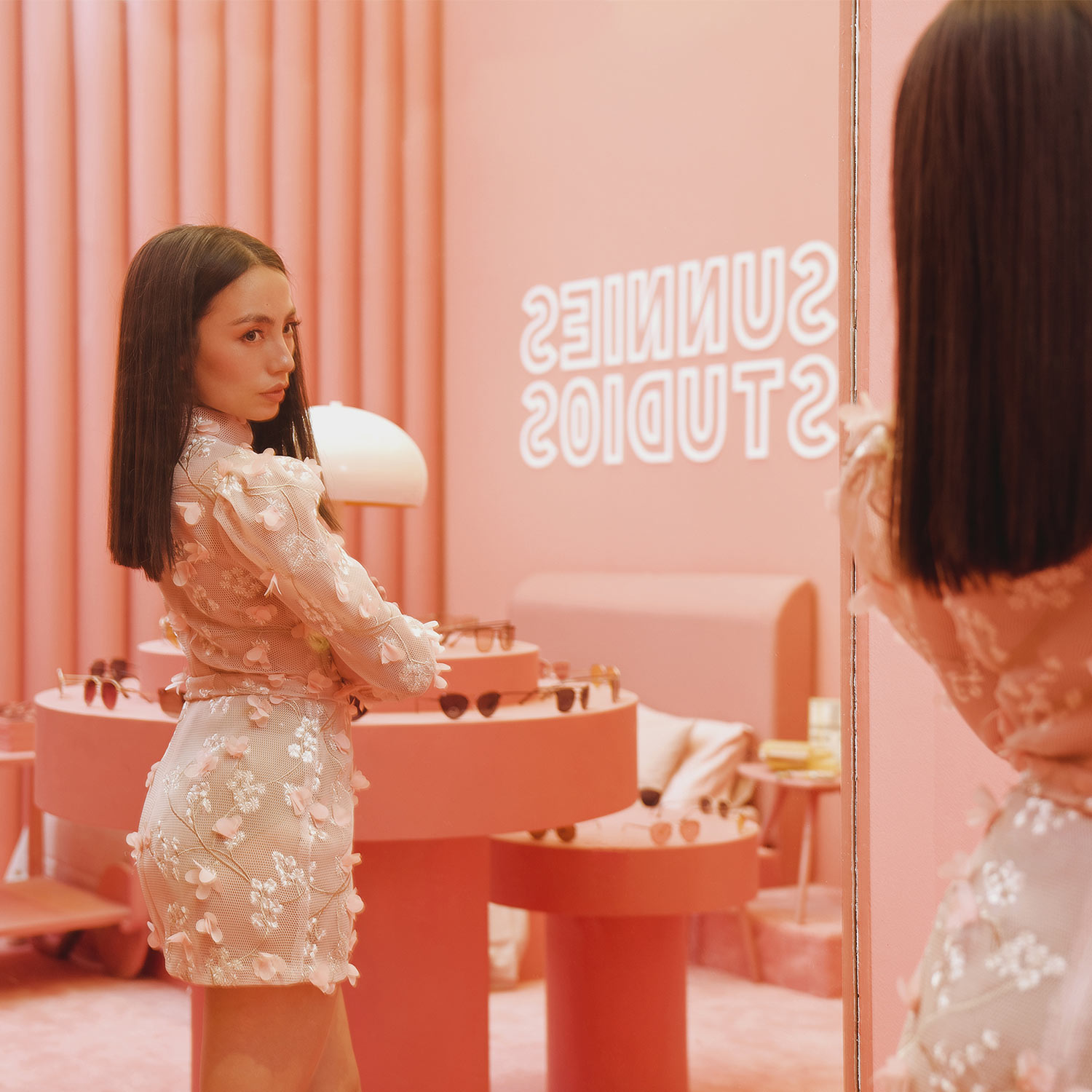 What's your go-to makeup look when you go to the office?
I love the technology of Korean makeup. I use a lot of BB cream and CC cream, and I keep it really natural. Though I hardly wear makeup ever in the day. Clearly. So, I wear sunglasses!
How about when you go on date nights and parties with friends?
Oh, I definitely have a lot more fun with that. Like I love glowing skin. I love how highlighters came back with a vengeance. They were really hot when I was in 8th Grade. I remember Benefit's High Beam was so cool when I was 14, and I always loved it. It's a product that I always thought was underrated. I was like, "Why don't people talk about highlighters more?" and then they came back like crazy! With a vengeance times a hundred. I love glowing skin care. Actually, instead of highlighters, I use a lot of balm to give a natural inner glow. And obviously, I love lipstick. Lipstick is my favorite thing in the world. I own so much lipstick, it's insane. I guess that's it.
What beauty products do you hoard and why?
Oh my god, I hoard lipstick, for sure. And I hoard—I think I have every shade possible of a warm brown matte eyeshadow. Like I have every single warm matte brown eyeshadow in existence. And I own every single peachy blush you can imagine. Like it's really certain tones that I have every shade of, you can imagine. (laughs) But I feel so strongly for each one. People would say they look the same but I'd be like, "No. I feel completely different about both of these shades." And I own so many warm reds. I love an orange-red. An orange-red matte lip is my staple, or a peachy matte lip, and a warm brown matte eyeshadow. Anything in the orangey, peachy side is my thaaang!
If you could pack only three makeup products on your next trip, what would
they be?
It would be, hmm. Three makeup products…BB cream, for sure. A mascara, and a multi-purpose stick.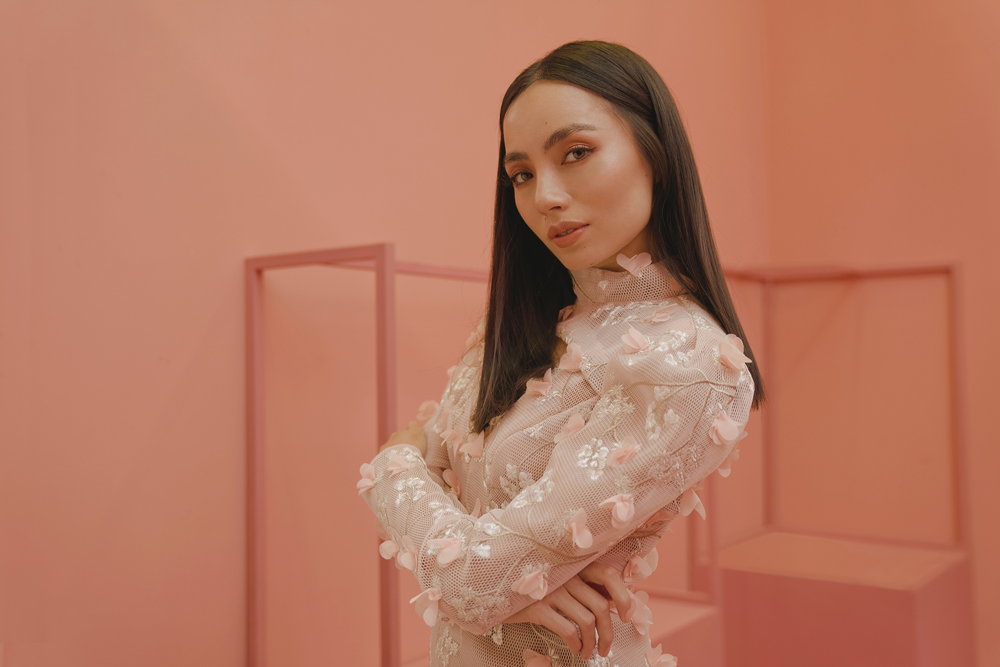 The difference between California style makeup and Manila style of makeup, which do you prefer? Like are there any similarities?
That's a good question. You know now, with the Internet, I think the styles of makeup have really molded together. I think when I first moved here, the local makeup was very different. And actually, I used to be like, "Ahhhh! I don't like this! What'd you do to my face!" I had makeup artist trauma from shoots. I was so traumatized. Like makeup artists didn't know what to do with my eyebrows. They were always shaving it. I remember my first shoot I did here, it was so traumatic. Actually, the first few shoots that I did here. They're offensively bad. One makeup artist couldn't deal with how bushy my eyebrows were and so, he put plaster over them and then put weird fake skin on top, and it was so awful! And then I did this other shoot where the makeup artist, I didn't like the makeup, and I was like, "Ohhh, I don't like this. Maybe I don't want to wear feather on my lashes." You know, I'm not a model! As much as people put that as one of my slashes, I'm actually not a model at all. I'm not a blank canvas. I don't look good with lots of stuff. I'm very set on what I like to look like, and I'm very distinct with my personal style. I'm not flexible. Like I said, I'm not a blank canvas. But anyway, makeup style. They're definitely very different. Though California has a lot of diversity to their looks. Like you can be full-on Insta-hoe—liquid lip, arched brow, contour like hell ala Kardashian Calabasas look. Or you can be really, really natural and sun-kissed and have the "no makeup" makeup look, which I mean is really awesome, and I'm a fan of both. I actually think I'm somewhere in between. I'm not a full-on Insta-hoe Kardashian with fake lips, but I'm also not so natural no makeup—I'm right in between. And I think, especially with the makeup artists that I work with now and I really love, they totally understand how to achieve that right "in-between" that I love so much. I just really hate being treated like a model because I'm not a model! (laughs) I am full-on boss mode. And I actually just learned how to do my makeup, too. I do my own makeup a lot for shoots, so I feel comfortable in that as well.
In case you missed Martine's first cover story, be sure to check it out here. You can also see snippets of our shoot in the editorial video by Andrew Apuya below. Don't forget to follow us on Facebook, Twitter, Instagram, and YouTube to stay updated on all things beauty!