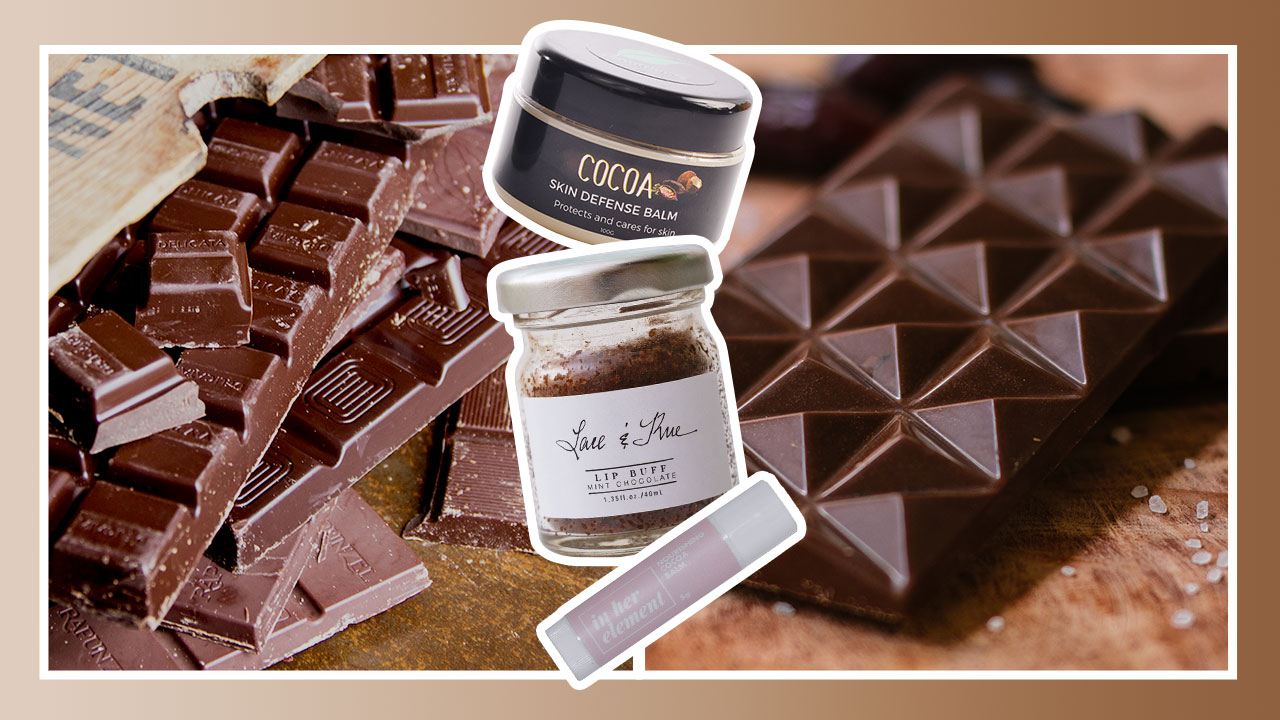 How to love chocolate? Let us count the ways. Other than being the best choice of dessert ever, or the perfect drink on a rainy day, chocolate is also an effective skin care essential!

Notable benefits of cocoa include:

Antioxidants for protection and repairing damaged skin

Promotes an increase in blood flow for more radiant skin

Helps reduce the appearance of wrinkles and fine lines

Packed with minerals and nutrients that help heal skin
Go loco with choco! Below are a few cocoa-infused products to begin your sweet skin care journey:
A cult-favorite, this rich and creamy lotion is packed with cocoa butter and infused with Vitamin E to give you soft, silky smooth skin. Cocoa butter is used in this product as a natural moisturizer, which you can indulgently apply all over your body to get rid of the roughness and dry patches on your skin.

In case you didn't know—even lips have their own overnight masks. This nourishing cocoa balm is packed with skin-loving natural ingredients that nourishes chapped or cracked lips (don't get tempted to peel them, okay!). It's fragrance-free, sulfate-free, paraben-free, and cruelty-free, too.

Cocoa balm is effective in protecting the skin and helping it heal from damage. This cocoa-infused skin defence balm can actually be used to treat skin conditions such as psoriasis or eczema, helps reduce stretch marks and scars, and minimizes the appearance of cellulite. Its multi-purpose properties also let you use this as a lip salve or for diaper rashes for your little one.

Probably the yummiest lip product in town: it combines cocoa powder with brown sugar and cinnamon, with added essential oils of peppermint and spearmint for that cooling, refreshing sensation. Ahhh! This product is loaded with antioxidants that can help repair and rejuvenate skin cells for softer, smoother, and healthy-looking lips!

Another cult-fave is this cocoa butter that can be used as an all-over body moisturizer and after-tanning butter. It boasts a high concentration of cocoa butter that smoothens and softens skin, relieving you of unsightly roughness and dryness. You'll love how its silky, buttery formula is easily absorbed by your skin!

Written By: 
Patti Sunio aka Tita Pacita
BEAUTY CONTRIBUTOR
Tita Pacita of www.titapacita.com is a lifestyle, culture, and fashion & beauty writer from Manila. With her wisdom and almost thirty years of life experience, she likes to share what she knows and give unsolicited advice, true to her Tita ways. Her makeup choices are primarily based on instinct, and, believe it or not, K-Beauty.
Other Products You Might Like: