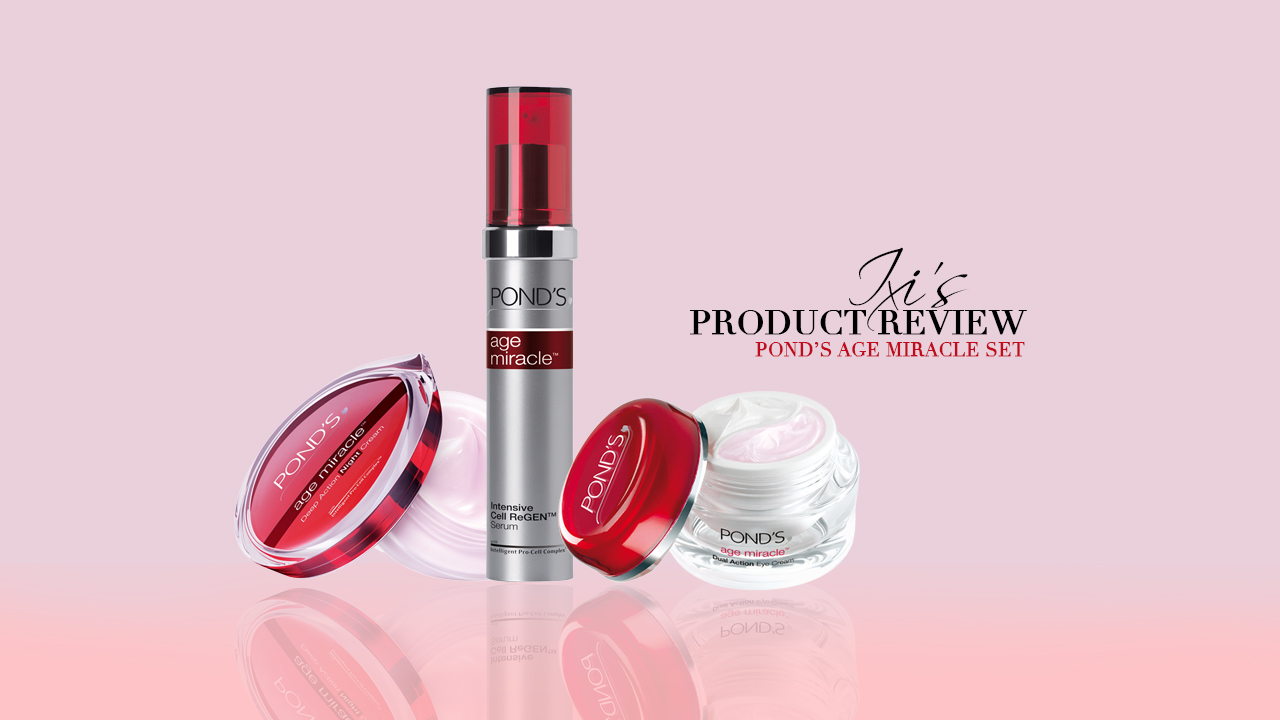 By: Ixi Castillo
I love anything related to skincare, so when the Pond's Age Miracle Set landed on my doorstep, I was extremely excited to try it out.  It was perfect timing, too, since I was jetlagged and my skin was visibly tired, dehydrated and in desperate need of rescue.
This line of facial crèmes is complete and helps you maintain a total skincare regimen.  It comes with a day and night crème, an eye crème, and a serum.  Pond's promises more radiant and younger looking skin in just two weeks because each product in this the Age Miracle line is power packed with anti-aging ingredients, such as retinol, that work to reduce wrinkles and age spots.
Pros
These facial crèmes came in pots which I really like. It gives me more control on how much product I get to apply on my face.  I usually end up with too much on my palm when moisturizers come in pumps.

These moisturizers were not heavily perfumed. They had a mild, clean fragrance.

Ponds Age Miracle Eye Cream Dual Action has a specific crème for the upper eye area to fight wrinkles, and another that is applied under the eye to counter puffiness and dark circles. I saw the difference right away, especially since I naturally have dark pigmentation under my eyes. My dark circles were significantly reduced and I looked less tired.
Ponds Age Miracle Day Cream already has SPF so I didn't have to think of applying sun protection separately.
Ponds Miracle Night Cream Deep Action does exactly what the name implies. I would wake up every morning with my skin feeling softer, and it also did seem healthier looking.  This night crème was chockful of skin nutriments such as retinol and AHA that help hasten the cell renewal process, so I attribute my skin's natural morning glow to that.
What I love most about the Ponds Age Miracle Serum Cell Regen is that it is water-based. I was hesitant to try this because I tend to break out when I use a serum together with my moisturizers but with this one, I didn't!  I got a bit of a tingly feeling on my skin the first few times I used it but it eventually went away, and I only attribute that to the product working it's magic.
Cons
As with most serums, the Ponds Age Miracle Serum Cell Regen came in a pump. I find I waste so much product because I always end up with more than I need with this kind of packaging.
All in all, this line delivers what it promises the consumer.  It helped my skin regain lost moisture and I actually felt like I was glowing in the morning despite the lack of sleep.  It's also a great set to use to make sure you're keeping good skincare habits.