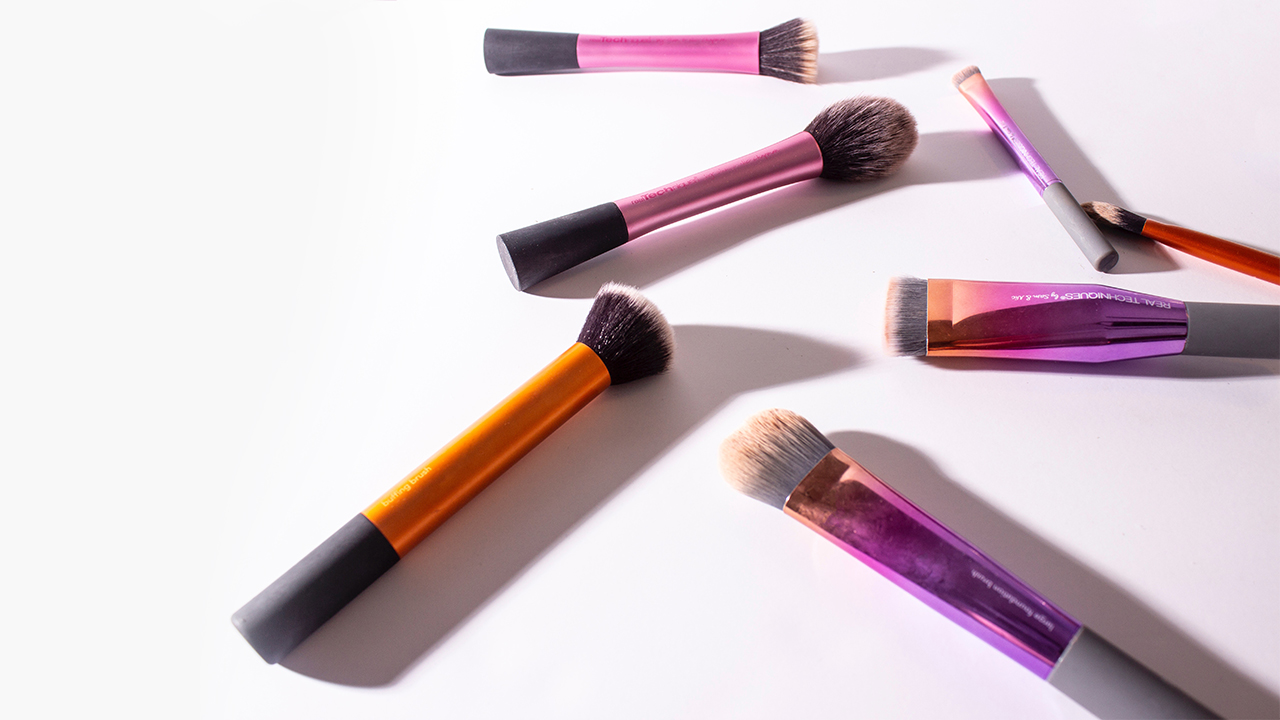 If you're at the beginning of your makeup journey, chances are you take makeup brushes for granted. And who can blame you –we've all been there! It is so tempting to just stick with the brushes that come with your makeup palettes, or even your fingers when applying cosmetics. But think about it. We spend vast amounts of our hard-earned sweldo on tons of makeup, so it doesn't make sense to scrimp on the tools we use to apply them perfectly. Think of yourself as an artist, your face as your canvass, and these brushes as the vessel that brings your creation to life. Don't worry, no one expects you to take the plunge straightaway and purchase that daunting brush kit with a gazillion brushes the pros carry around. Let's start with the basics. Below are the primary brushes you need for your starter kit:
We've all been guilty of using our fingers when applying our foundation, and who can blame us? It's possibly the easiest, most hassle-free way to do so. However, if you want that smooth, airbrushed finish you see in magazines and beauty blogs, try out a foundation brush when putting on your cream or liquid foundations. The difference in the result is immensely perceptible, you'll never want to use your fingers again.
With its roots traced to the traditional Kabuki Theatres of Japan, this brush was used to apply the actors' makeup flawlessly. In modern times, it is used to buff makeup with loose powder to polish it into a perfect finish. Beyond the loose powder though, it can also be used to apply a variety of other stuff like foundation, bronzers, highlighters, and blush if you're in a rush. So if you had to only have one brush in your kikay kit this is your best bet.  
While it is very much possible to apply concealer with your fingertips, a concealer brush ensures that no spot is left uncovered and perfectly blended. It provides precision in applying concealer in those hard to reach nooks of your face like those spots on the inner corners of the eyes, or on tiny blemishes. It also prevents unnecessary pressure and tugging on the delicate skin in the eye area that may be a bit harder to control when using your fingers. 
Ask any pro makeup artist and they'll say that the key to those amazingly blended eyeshadow looks (besides good application technique of course) are good eyeshadow brushes. While there are different kinds of eyeshadow brushes specifically angled for your lids, your crease, and whatnot, when starting up your brush kit, a basic medium sized shader brush will get you through your daily eyeshadow requirements. 
For powder blush especially, applying cheek color with a brush guarantees a more natural look and helps with blending the color expertly on your cheeks. Using fingers or a sponge may be a bit hard to control, especially when going for that just-pinched look. These can also work as contour brushes, if you're looking to practice your contour game without yet investing in an actual contour brush. 
Other Brushes and Tools You Might Need:
And if you're looking for affordable brush sets to start with, check out these sets from EcoTools and ProStudio: