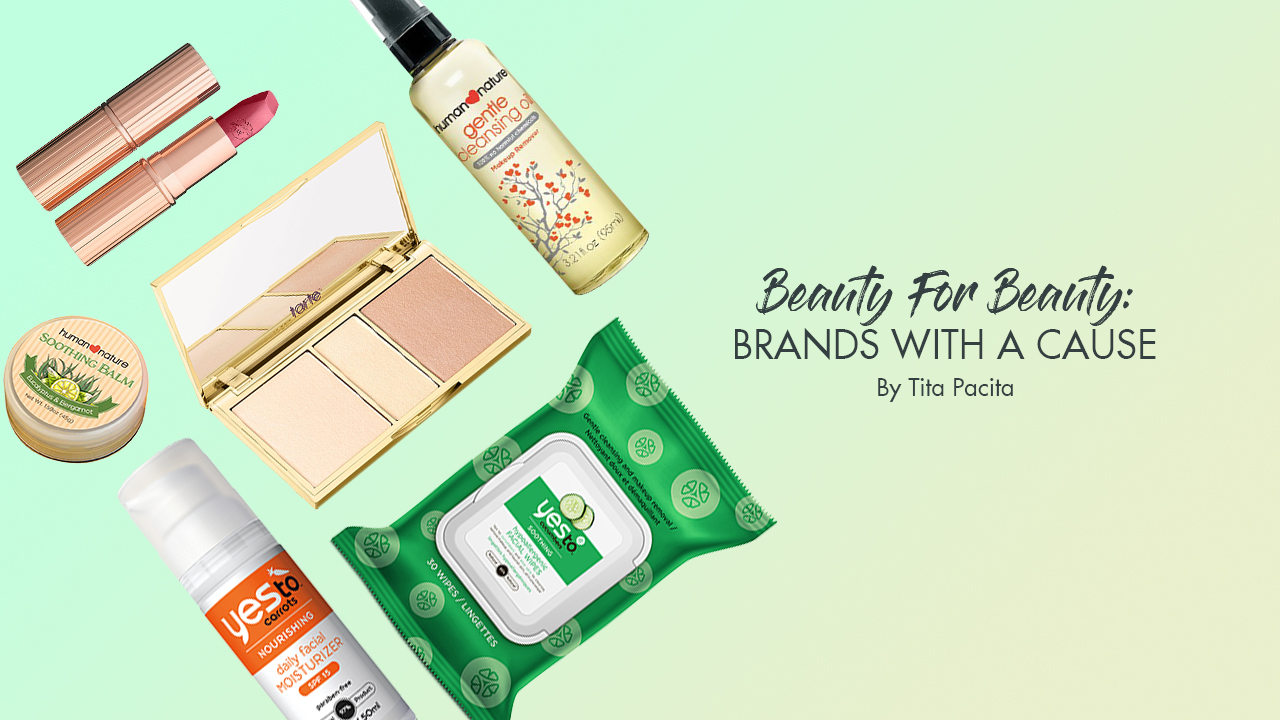 I'm one who believes in seeing beauty everywhere—yes, even in the darkest of days. And in this world where animal-testing and the abuse of Mother Earth exist, there are beauty brands (and #beautygirls!) who are passionately rallying against these.
This month is all about celebrating the brands that are cruelty-free (not that we won't be championing them even after February!), and as we dug deeper learning about their nature-friendly procedures, we realize how much more beauty there is to these brands.
Here are a few worth the mention:
The brand is known for its high-performance natural ingredients, such as the Marajuca and Amazonian clay, which are all prettily wrapped and contained in eco-chic packaging (think fabric-wrapped makeup and bamboo mascara tubes!).
Tarte also works closely with rainforest cooperatives, to make sure that the ingredients are sustainably harvested. It also supports the Sea Turtle Conservatory to protect these sea creatures we so love, and recently, sold its best-selling palettes to help spread awareness about AIDS.
95% natural, free of parabens, and made of recyclable materials, Yes To is a veggie and fruity-licious brand that promotes a lot of positivity. Products are free of all the nasty stuff, and it's packaged in the brightest of ways. I honestly never thought "happy packaging" existed but Yes To products will really make you smile at first sight!
Its Yes To Happiness campaign looks out for women's well-being, and its previous Yes To Carrots Seed Fund helped in planning community gardens which, in turn, helped provide meals for children. How can this not make you smile? (I'm subtly smiling as a type this.)
Human Nature sources all its hero products (the Sunflower Oil is a personal favorite) from Mother Nature, and Filipinos from the Natural Care Labs make sure that these are processed in eco-friendly ways.
The brand takes pride in empowering the residents of Gawad Kalinga (an organization building homes for lesser fortunate communities) by giving them important roles in the business, from accounting to merchandising, and manufacturing to warehousing. They enjoy employee benefits and the company's
own No Firing policy (because they are valued beyond their mistakes!) and are given 70% more than the minimum wage required by law.
Our girl, Charlotte Tilbury, has always been about using beauty as her not-so-secret weapon to conquer the world. After all, when one feels beautiful on the outside as she does inside, doesn't it feel as though we can take on anything? (I do!)
Her Hot Lips collection was launched with the goal to support Women for Women International, an organization helping women affected by war and conflict. She even went as far as call on her fellow influencers, Amal Clooney and Victoria Beckham, and the younger, more Insta-savvy ones, Miranda Kerr and Kim Kardashian, to lend their names and signature lip shades for the collection.
Other Cruelty-Free Products You Might Like: