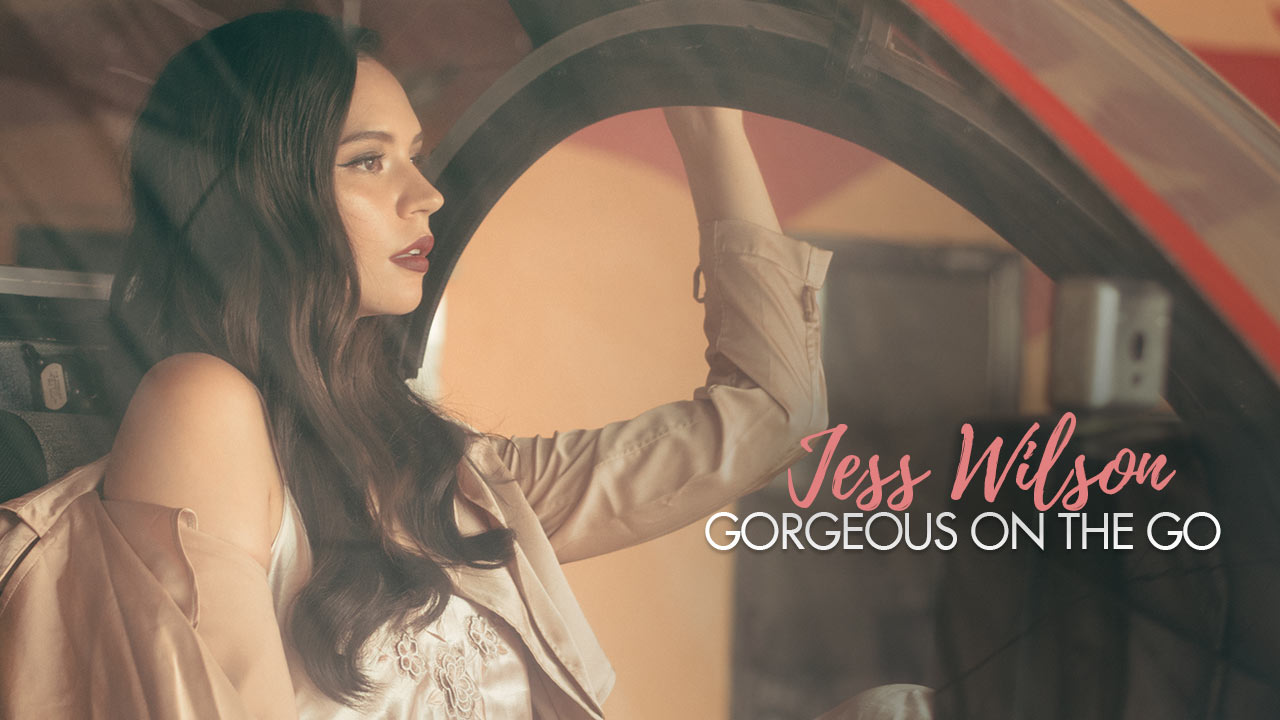 The romantic novelist Elinor Glyn defined the original It Girl as someone who is entirely unselfconscious…indifferent to the effect she is producing. Self-consciousness destroys it immediately.  Jessica Diaz Wilson is this age's It Girl  – – unselfconscious to the point of being seemingly detached, oblivious to the ineffable effect her understated yet sublime beauty has on both women and men. This gorgeous-on-the-go is in constant exploration mode and has no time for self-consciousness: life is short, so she must go places!
Jess, as she prefers to be called, is all Diaz pedigree: nonchalantly beautiful, furiously independent, unapologetically strong, confidently living life on her own terms. Her mother is Aurora Diaz (married to Robert Wilson), sister to Miss Universe 1969, Gloria Diaz. Her sister is Georgina Wilson, one of Asia's top supermodels. Her cousins, Isabelle Daza, Ava Daza and Martine Cajucom are most sought-after celebutantes who keep Manila's social and social media scenes turnt.
Fresh off her 4-year corporate stint as Lancome's Product Manager, Jess is now ready to explore life and pursue living, moment to moment, anchored on her two passions: travel and beauty. Ever since leaving her job, her Rimowas are packed ready to accompany her should she feel the need to jet off at a moment's notice. So far, she has been to six cities in the past two months. She is also very passionate about beauty products and how they  provide Filipinas the ability to transform inside and out.

The Diaz women are made of sterner stuff yet the deep love and the sensitivity you have for one another is so palpable, almost belying this strength.  Can you tell us how is it like being a Diaz woman?
My family [mom's side] is a female-dominated family. It's crazy (laughs)! I have ten aunts and two uncles – all with strong personalities and authoritative opinions, but they give their opinions in the most loving kind of way. Like when my sister George started modelling, everyone had something to say. We tell each other what to do but there was never anything like "Oh, we're famous!"
Growing up, we'd visit each other often because we lived at the same area. We would sleep over and eat lunch or dinner together. During dinners, I learned how to have a voice; otherwise, I'd be eaten up! It was kind of just like making sure that people know your voice in the family, and that you're alive because otherwise you'd really be sifted through!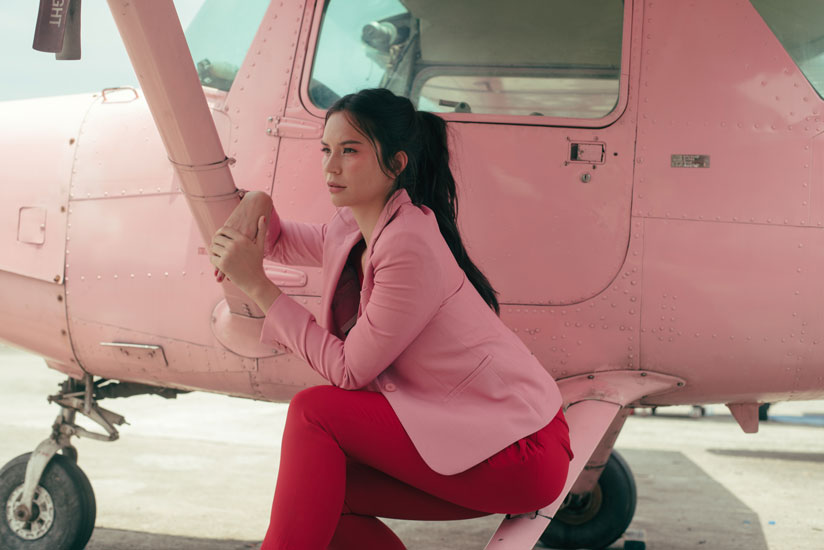 Special thanks to: AVIAIR AVIATION SCHOOL FOR THE PINK PANTHER PLANE
Being both Filipino and British, would you say that you take more from your mother or from your father?
I took from my mom's! Her side of my family is very YOLO. My dad is very English – Western –it's always about saving for a rainy day, and working for my future. If my mom had her last P100, she'd probably call me up and ask if I wanted to grab an ice cream. That's how I was brought up – to enjoy life! But thanks to my dad, I balance it off with thinking about investments and my future too. Although he's picked up a few tips from my mom and how we should enjoy life's pleasures.
How is it having Georgina Wilson as your sister?
It was exciting to watch her, and every time she would get a job, I always was so proud. I'd come to her shoots and ask myself if I can I do that. To be honest, I'd get questions if I'd want to model, too. It was never something I strongly felt that I should or I shouldn't do. But when I'm presented with a good concept, like this one with Calyxta, that excites me, then I have no problems in doing it. So, if there's always an opportunity to have that creative spin and see myself as a subject then I was like then I'm game.
We know you're still young but we also know you've conquered a lot of challenges from being constantly on the move. You even lived on your own when you studied in Australia, took your master's degree in Holland, and when you interned for fashion brand Temperley and luxury retail Harvey Nichols in London. Among your accomplishments, what are you most proud of?
I'd say that it's the time I got into L'Oreal, and joined the management training program. I didn't expect that I'd get into after one interview – especially as I had learnt that they had already selected their trainees for the year and the application period was over. Knowing that I was a late applicant, I had to ask them to just give me a chance, just to get that one interview. During the interview, I was asked why they should hire me and if I was capable of doing dirty work, more than the glitz and glamour of what it meant to be working for LOreal, they said they need someone who can get their hands dirty. I told them about my stories while I lived abroad. Back then, in London, I really didn't have much in my bank. I struggled. I would get part-time jobs to support myself financially when I wasn't interning for free in my dream companies. My parents are very supportive of me but they also taught me how to live independently. These personal stories changed the perception of my bosses at L'Oreal. I guess it was a good answer as the week after, I was offered the job!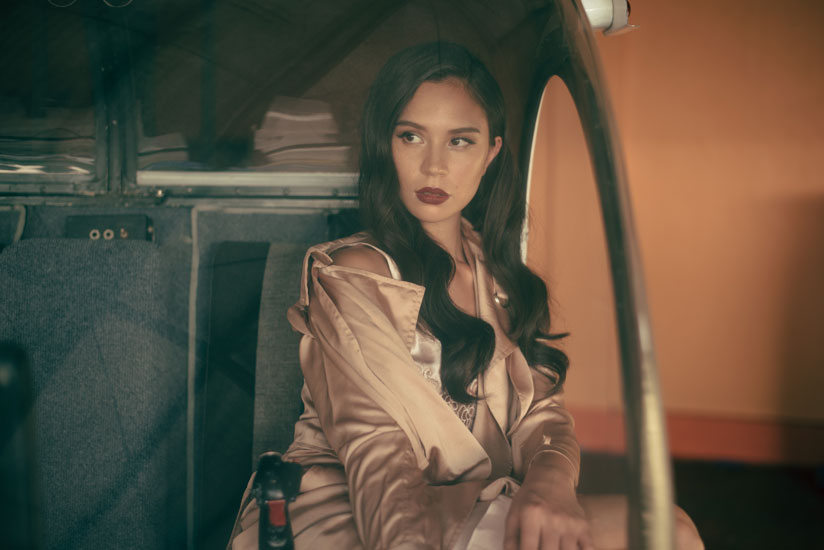 Was the management training program the reason why you came back to the Philippines?
No. I missed my family, and I wanted to come home since there was so much happening here in the Philippines, and I thought it's such a pity that I wasn't here. I told myself why should I work in London when I can do something more impactful here in the Philippines. Although I was interested in joining a fashion brand, I knew it would be difficult here so I looked into LÓreal. I got in and I loved it. It was such a great opportunity to have worked with them and be entrusted with such brands.
We know that you're settled now in the Philippines. But, lately, we've noticed how travel pics dominate your IG feed. Can you tell us about your passion in traveling? 
I love to travel! I'm always looking forward to my next trip. For me, traveling comes with the experience of trying the local culture like local food. When I'm in China, I only eat the authentic Chinese food. In Vietnam, I'd only eat the Vietnamese dishes. While at a foreign country, I immerse myself on things that the locals do and eat.
What else should we know about you?
I'm very flexible and easy going. After working in the corporate world, I realize that this is such a strength. At the corporate level, some people find it difficult to adjust when management decisions are changed or directions are changed. I was quite cool about the changes even if I worked months on a certain project. I also think that I don't get too attached, and I could let go of things easily. 
That's a surprise! Most women are too emotional even at work. Is there anything that you hold on to?
I moved countries several times. From here I moved to Australia, and then from Australia I moved to Holland, from Holland to London, and London back here. I've lost so many things along the way. I've had to let go of so many things I've acquired. So, I learned to be okay to let go of things. I guess, I'm only sentimental randomly about lipsticks. Whenever I try cleaning out my makeup closet, I'm like "Maybe Ill keep this lipstick, this was the one I wore on that date that I was so nervous about!" My lipstick collection is like a little secret diary for me, each one reminds me of a particular moment in my life. I don't hold on to jewelry or post cards, but I always rethink throwing out my lipsticks. So, yeah, I guess I hold on to that.
What are your other treasures – well aside from lipsticks?
My family. My dog, Shadow, and obviously, my boyfriend, Moritz.
When is Jess Wilson most beautiful?
I'm happiest when I'm out of the city… in the beach! I love the beach because it makes me feel the healthiest and alive. And, that's when I feel most beautiful, when I'm just feeling fresh and alive!
Toughest thing you did in your life?
Shaving my head for a brain tumor surgery. It's nothing to worry now, and I'm happy to get it over with years ago.
Text by: SHERRY TENORIO
Videographer: ANDREW APUYA
Photographer: ANDREA BELDUA
Makeup: SYDNEY HELMSLEY
Hair: SUYEN SALAZAR
Fashion Styling: JESS WILSON
Clothing (Jumpsuit): CHARINA SARTE
Eyewear: SUNNIES
Luggage: RIMOWA by Toti Garcia Dalmacion
Nails: BEAUTY AND BUTTER
Special thanks to: MASTERS FLYING SCHOOL AT PLARIDEL AIRPORT, BULACAN and AVIAIR AVIATION SCHOOL FOR THE PINK PANTHER PLANE

Save
Save
Save