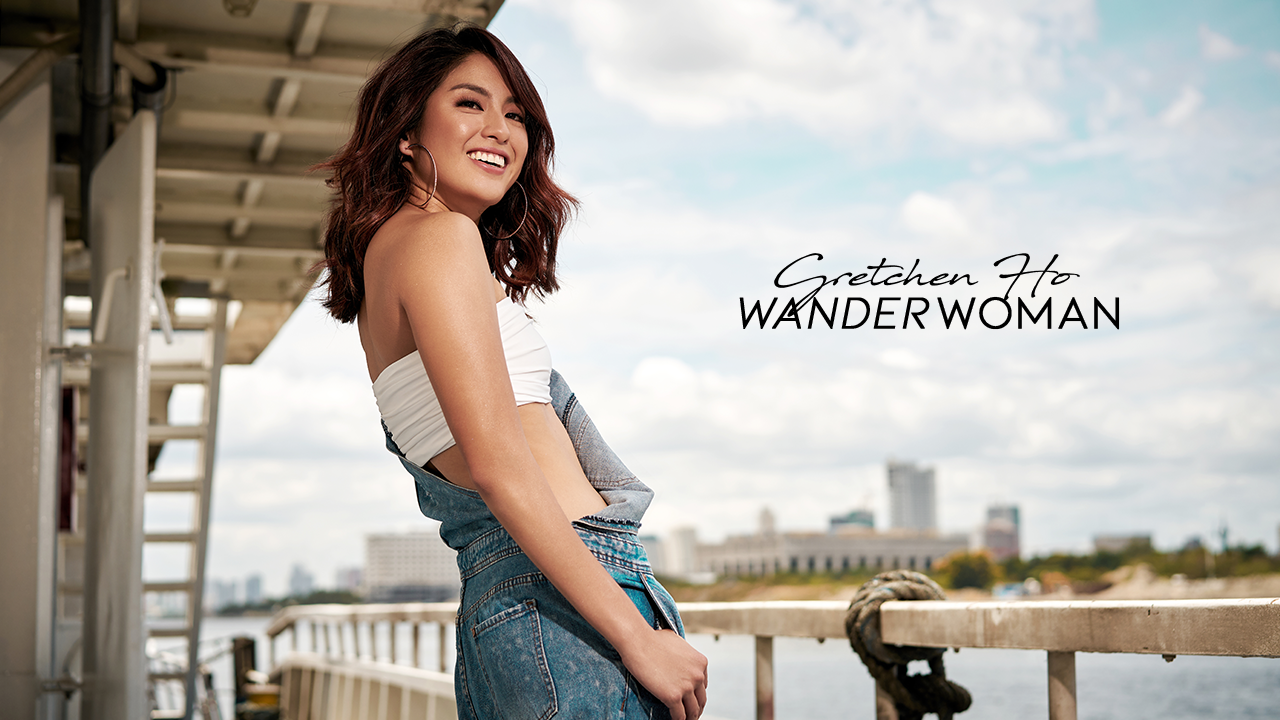 June this year marks our Travel Issue, and while there are hundreds of girls who could have shared their travel stories with us, no one can tell them quite like our Wander Woman, Gretchen Ho.
"The best way to learn and make a difference is to engage with the world," she quotes in her Instagram bio. And as we sat down to interview her while she was simultaneously getting her makeup done for her first layout as this month's Calyxta cover girl onboard the Prestige One docked at the Esplanade Seaside Terminal, we realized how much Gretchen really does embody this philosophy, as she talked about her most memorable adventures and the most important lessons she has learned while traveling.
Read on as our June 2018 #CalyxtaGirl reveals them in our first cover story.
"The best way to learn and make a difference is to engage with the world,"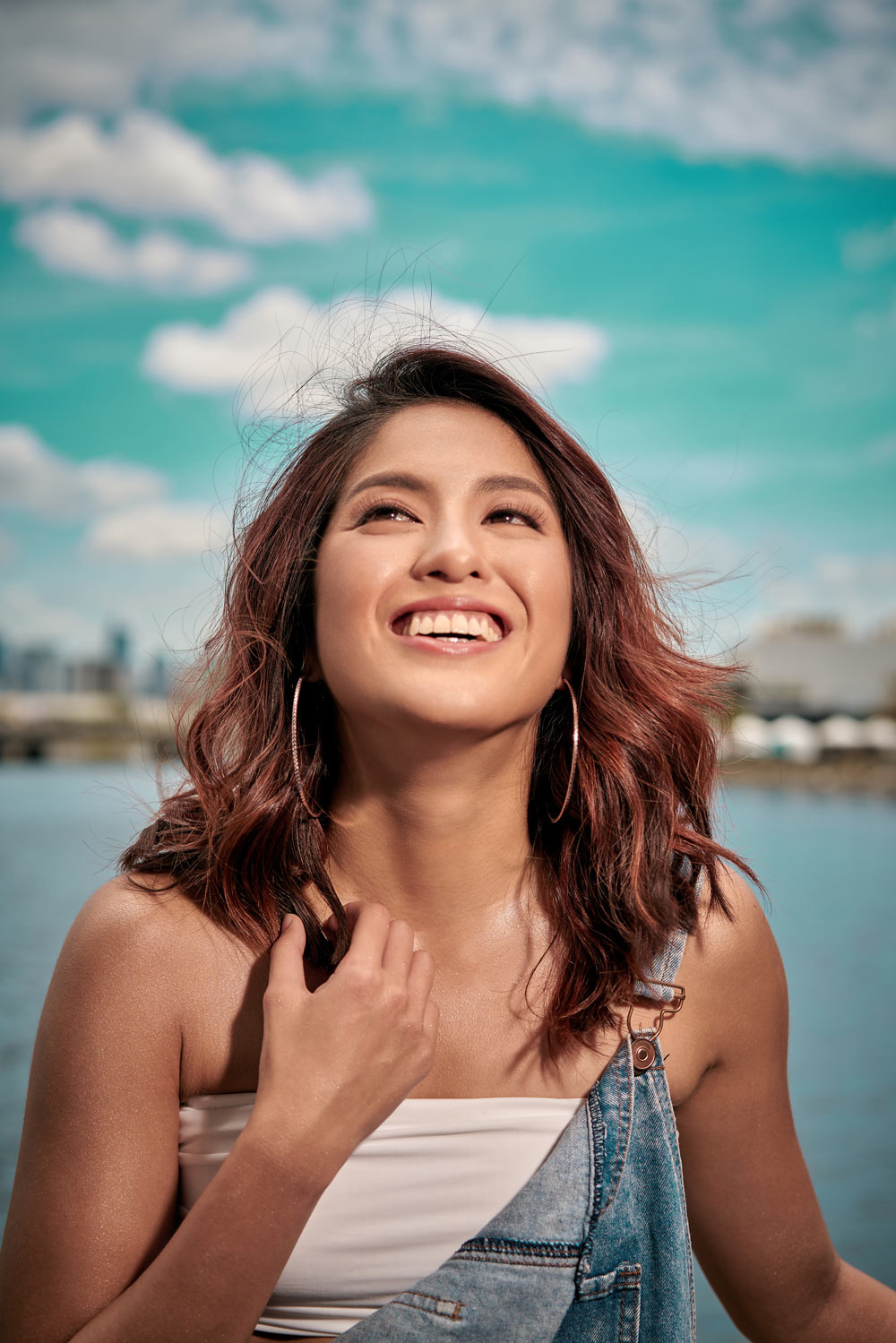 Watching your Instagram stories and looking at your feed, there's no doubt that you've been through so many amazing adventures. Which one by far is your favorite or is the most memorable one, and why?
Most memorable for me would be NBA. Because they sent me to the All-Star weekend. And I was starstruck the whole time! Like—looking at all my basketball idols left and right. Donovan Mitchell was there, and then Ben Simmons—those are my favorite rookies. And then Steph Curry, and LeBron James was so huge! Kevin Durant, Russell Westbrook—you know, seeing them all play together in one court, one weekend, and to be able to see my ultimate inspiration, Michael Jordan. He went inside the stadium. That's the most unforgettable for me. I felt I was in the Disneyland of sports. Everything was such a dream. You could really feel the basketball fever all around. It was a magical few days for me in LA.
Can you give us the top three places that you want to visit locally?
Coron. I've never been there yet. They say it's very pristine and quiet, and the corals are really beautiful. I want to be able to go there. I want to be able to go to the Apo Reef. There are a lot of beautiful corals there, right? I don't have a license for diving yet, but I want to achieve that and go there, and be able to film there. So that would be cool. This is funny but maybe Tawi-Tawi. It's the farthest point in the Philippines. And I know that's where the Badjao are. They walk underwater, I think. I've seen that on video. I'm not really sure if we can go there right now because of the nature of the industry and the environment—but for me, it's a dream to be able to go there because I've heard so many things about the place.
What about internationally? Three places you'd like to visit someday. 
I want to go to Bhutan, the happiest place on earth. I want to go to Mount Everest in Nepal. And then I want to go to Africa, but that's reserved for my honeymoon. (laughs)
Having been to so many places and experiencing other cultures, what makes the Philippines similar and what makes us different?
We're probably similar in terms of the richness and the vastness of the natural resources. I can't say that other countries are better than the Philippines because what I've seen here has also been really, really good. And there's so much to discover in the Philippines. Like, when you go to one island and you go to another island, and you go to one province and another province, there's always a different identity and there's always a story that's waiting to unfold. And I really enjoy learning about these stories from the people. That's what I also see abroad. When I go to different countries like Australia, I've been to the States, I've been to London, I've been to China, and Taiwan. So many places. Parang hindi naman tayo nagkakalayo sa kanila. What's different? Probably our people. We're very warm and welcoming. We like to entertain people. We're always smiling. And what I notice about the Filipinos is that we're very happy with the little things. So it's so nice to be in that environment. To be with people who appreciate the small stuff. Abroad, that also happens. Pero iba yung pusong Pinoy. Iba yung tanggap ng Pinoy. And actually, travelling—the reason why I travelled so much after college was because I didn't get to travel when I was in school. And when I was younger, my parents were quite strict. We didn't go out as much. Because my dad was so strict about safety. He always wanted us to just stay home. And my schedule was also busy because I had training, and I had school. So it was my dream before. I told myself, "When I graduate, I really want to travel and educate myself about the world." And 'lo and behold! I got to do a job that allowed me to do that. So, sobrang swerte. Sobrang dream come true for me.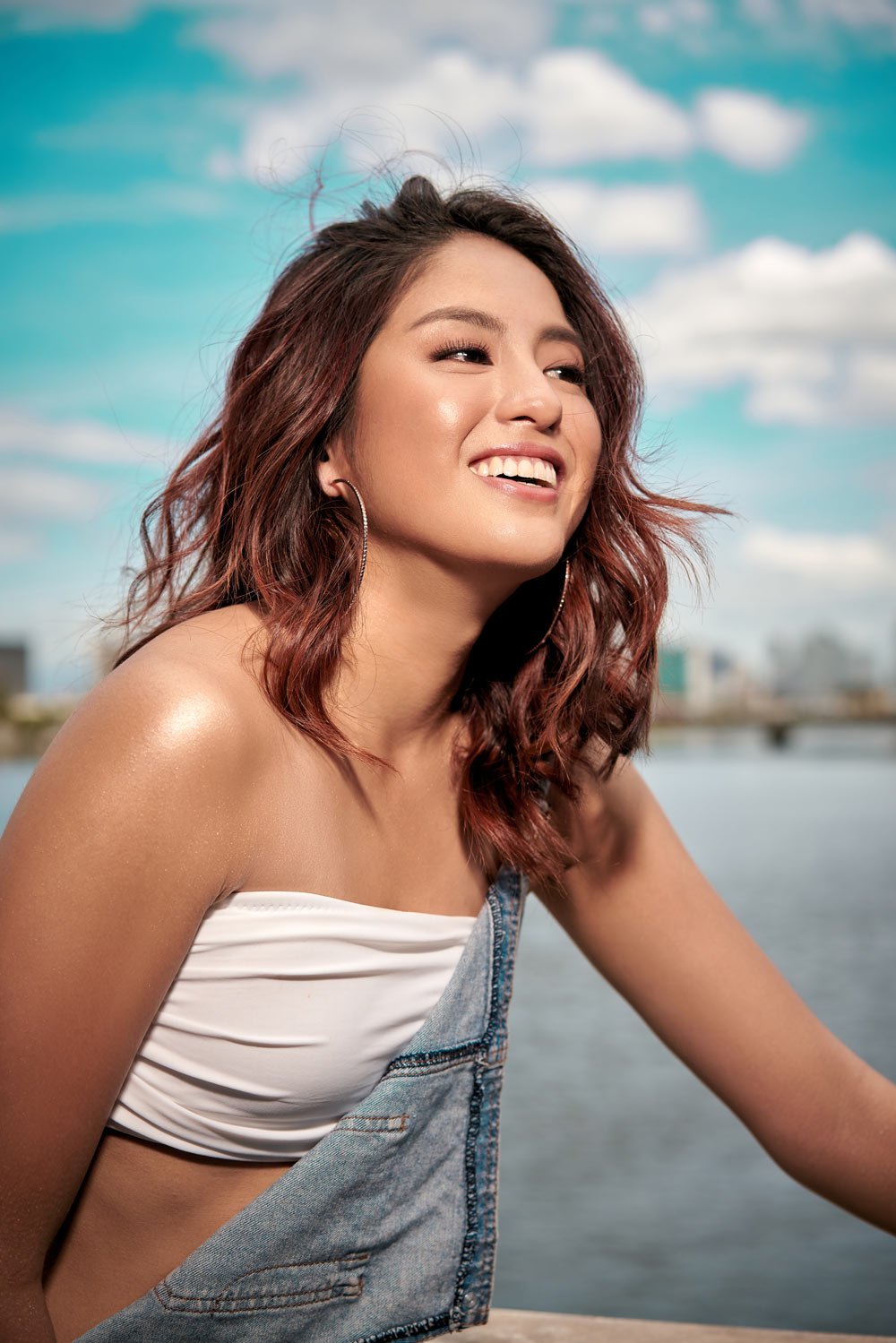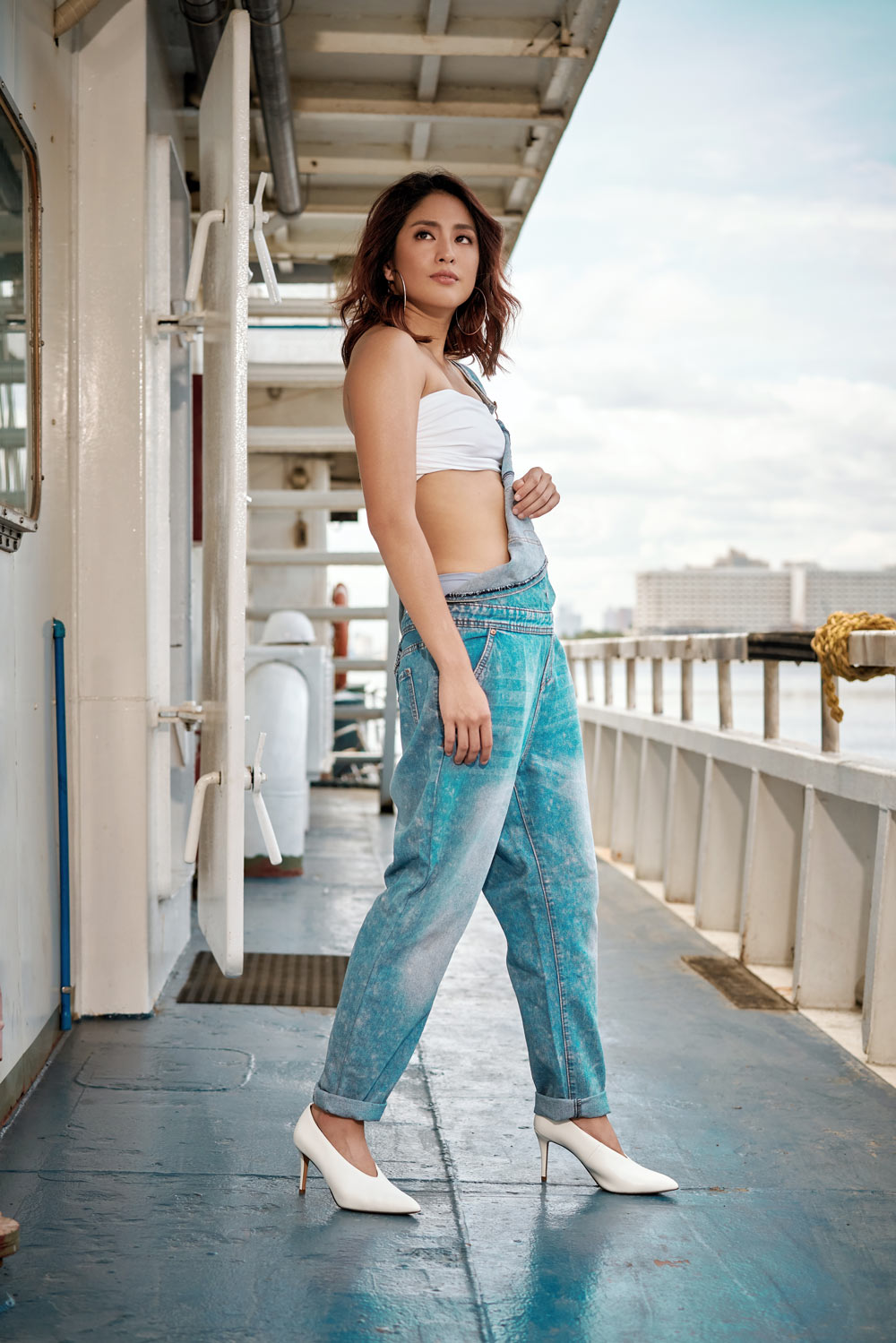 You've been to so many places here in the Philippines and I think you're the best person to really give us a glimpse of all these places. Especially for those who haven't heard of it or haven't been there yet, can you take us through some of the more underrated sites in the Philippines?
Underrated for me? Batanes. Because when I went to Batanes, I told myself, "Oh my God, I thought I already saw the true beauty of the Philippines. Hindi pa pala." As in mapapa "wow" ka talaga doon. It was like New Zealand levels but also so magical. Because on one side, you can see three seas coming together in the Bashi channel. It's a little dangerous to get from the island to go to Sabtang, because the oceans meet there. But when you see it, and when you see the cliffs, and then you see the waves hitting the rocks? And then the cows are free grazing. There are chickens all over. Actually, you'll see everything there. There's a pebble beach, there are mountains, there's greenery. There's also a lighthouse. You'll see the beauty of the sunrise. It's like everything you'd want to see is there. And what I love about it is that—I feel like the place is still quite untouched. If you look at the people there, they're very conservative. Parang yung purong-purong Pinoy. Ito yung sinaunang panahon ng kultura. So even their food is organic and healthy! Ang sarap, ang sarap! And when you go out of their stone houses, the air is so fresh. The lifestyle is so beautiful. People should really go there, if they want to experience what being a Filipino means. So that's one. Another is Ifugao. Banaue Rice Terraces. So I went to Ifugao because I've always wanted to see the Terraces. And I think it's underrated because not a lot of people go there anymore. And a lot of bad publicity has been given to the area, because they say the young farmers are leaving, and then the houses parang nagiging yero na. In some way, that's true. But in other parts, Ifugao is a really big province. So there are still areas that are untouched. You can run around, you can experience farming. The food is really good, as in! They have this rice that they harvest once a year. And when you eat it, ang sarap. Even their delicacies, iba yung pagkakaluto. The people are very warm also. They have tribal dances that are fun to watch. Again, this isn't your usual trip because it's a little hard to get there.
What else? Oh! Lobo, Batangas. I went there for G Diaries, for a show. That place was fixed by ABS-CBN Lingkod Kapamilya. They went there and helped the people go against the miners. So it's a really beautiful place—like two to three hours away from Manila. They have a mangrove forest. And in their mangrove, there are crabs, shrimps, and so much seafood. They also have a really nice beach and a lighthouse. Plus the waters are very still. Also, you can find there, where the island passage is—that's like the center of the center of marine diversity in the world. It's there! And not a lot of people go there. And the food is so good, too. We have so many places like these that aren't very known, but if you go there, you experience life without technology, and you're just being away from it all—just absorbing nature. It's nice.
Do you collect anything from each new destination that you visit? Or do you have any travel rituals?
I try to collect a memorabilia from each location I go to. So, for example in London. Big Ben—when I saw Big Ben, that was memorable for me. I try to get a magnet or any little thing. There's no particular thing that I get. When I look at this thing that I got from that place, I want it to remind me of an experience there. So, it's all different. In Japan, cherry blossoms or chopsticks. Korea, I think I got stuff from the DMZ (demilitarized zone). I try to collect trinkets and little things.
Do you have any philosophies when it comes to travelling?
Always open your eyes. Go there with an open mind and an open heart. And learn the stories of the people yourself. What I do whenever I travel, I always run. In each place that I go to—because I feel like that's the best way to discover the real life there.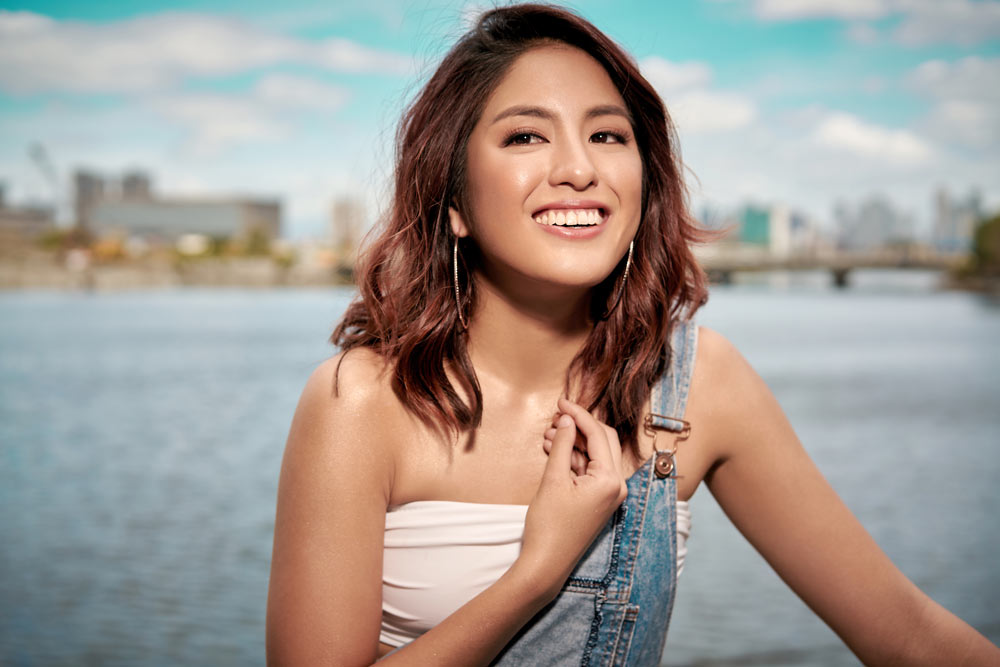 Not through the touristy places but to actually go into the neighbourhoods and see how they are, how they live day-to-day. Like in the morning when I go for my run, I see people opening their shops. In China, some people do Tai Chi. Some paint on the floor. There are kids who play in the streets. There are people who dance. If I didn't run, I wouldn't have seen those things. And then I also get to see wealthy neighborhoods and their subdivisions. I get to see people playing sports, playing baseball, and stuff like that. So maybe go out and try to take the road less travelled, and talk to people, get to know them. Get to know their culture. For me, that's the most important thing. Like, being able to picture in my mind, "What is the culture of this place? What are their traditions? What do they value?" For example, in Japan, they value pride and honor. And there was one time that an old man fell in front of me. I was going to offer and help him, but he got mad! Kasi yun nga—they value pride. And then in Australia, they're very laidback. They value work-life balance. And they're so particular with their food. So for me, I like that. I like having stories like that to share whenever I return home.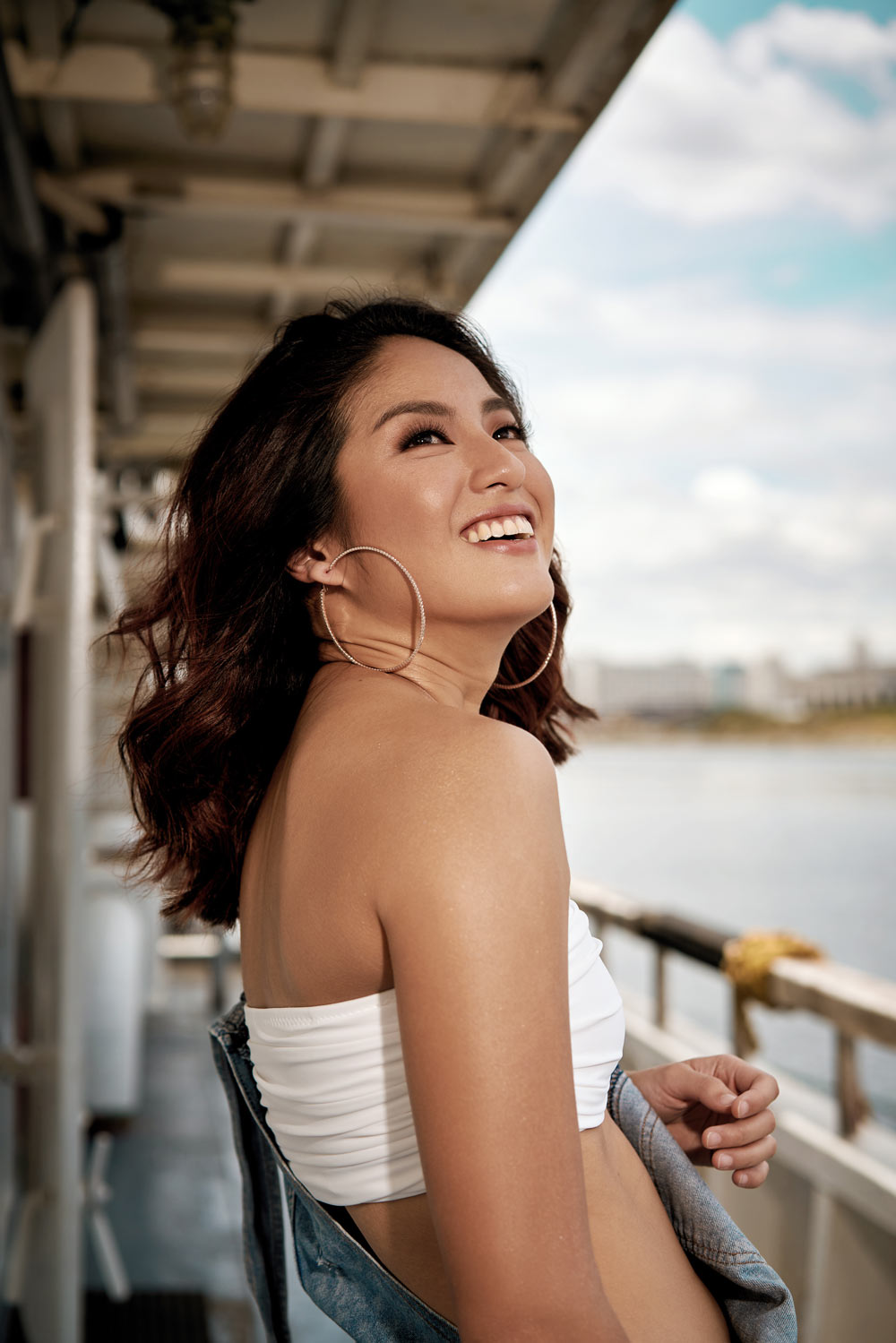 On your Instagram profile, it says that the best way to learn and to make a difference is to engage with the world. What are the most important lessons you've learned from all your travels?
I've learned that every time I go out and go abroad or go to another place that's new, I feel like my world is getting bigger and expanded in some way. I feel like I get a better global perspective. Like, "Ito lang pala yung mundo ko. Ang liit liit lang pala ng mundo ko." (I never realized how small my world is.) So every time I leave, I get illuminated like, "Why do I think this way when there's this thing happening here? There's this happening here, and there's this happening here…" So I feel like—if we just try to see it in the bigger scheme of things, we can better appreciate what we have. And also, if you take on that mindset where everywhere you go, you're willing to learn and you're willing to open yourself up to other people, you discover that it's always an inspiring journey. There's always a new story to learn about, to tell other people. And I feel like everywhere I go, we're all the same. Whether you're Filipino, or Japanese, or Australian—we all want the same things. We all want to be successful. We all want positivity. We all want good things to happen in our lives. We all want purpose. We all like to pursue our passions. So I feel like I can connect with everyone no matter what their nationality is, because I speak in those terms. And you know, I ask people, "What are you doing here? Why are you here? What do you love to do?" So everywhere I go, it's the same thing. We're just shaped by different circumstances, and different backgrounds, and different environments. And I feel like I become richer because of those experiences. I become more open-minded because I'm always going out. And I realized that we have so much more in common than what separates us and makes us different from each other.
Art Direction: MARGAUX CORTEZ
Editorial Assistant: MAAN FERNANDEZ
Special thanks to: PRESTIGE CRUISES