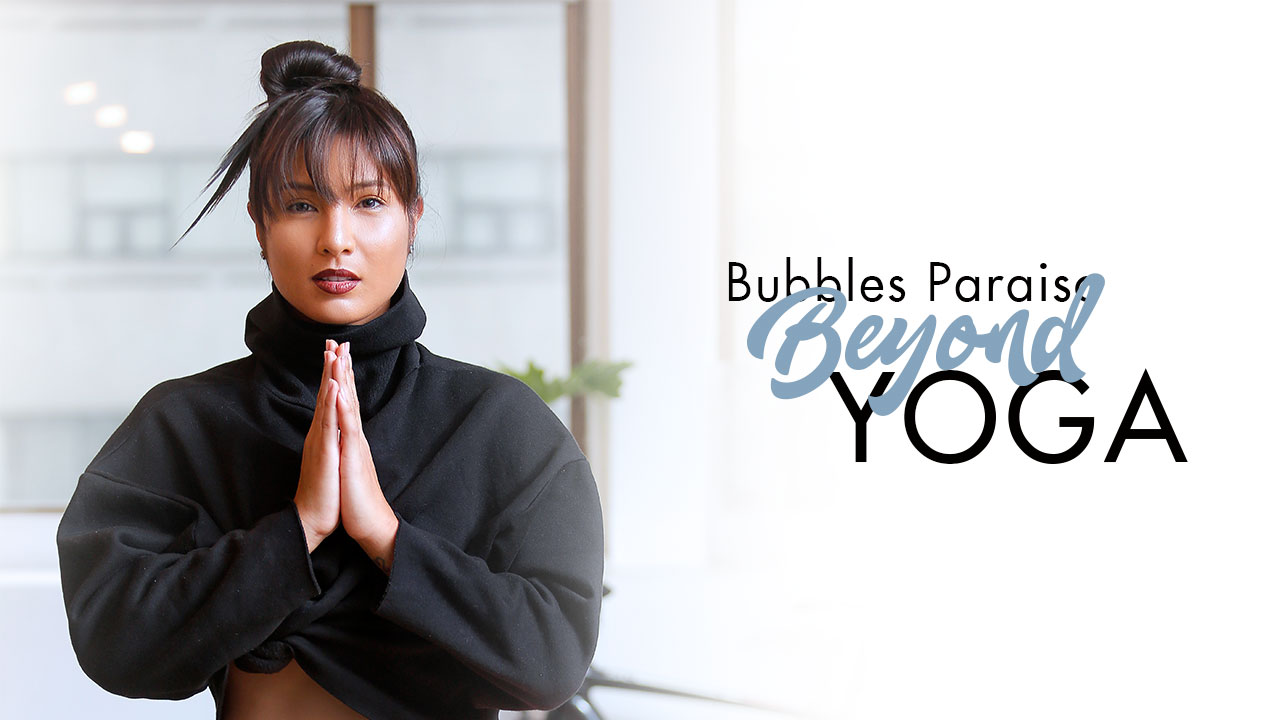 The stunning Calyxta's cover girl for the month of February, Bubbles Paraiso, delved into the details on how she got herself into triathlon – another passion she pursues aside from yoga.
Who would have thought that the FOMO (Fear Of Missing Out) syndrome could lead to something beautiful and meaningful for our sultry Calyxta Girl, Bubbles Paraiso? From joining friends Joey Mead-King and Tim Yap in their occasional running sessions back in 2015, the gorgeous yoga teacher came to like the different kind of rush of the sport. Not only did running put her into a unique meditative state, but also it pushed her to be competitive to herself. So, from a hobby (aka running with a group of friends whenever they felt like it) to a fitness lifestyle (running on her own for her physical, emotional and mental wellness), Bubbles began voicing out her love for the exercise – through posting pictures of how she enjoyed the run, something that caught the attention of a friend, Kim Atienza, who is a renowned triathlete.  
During that time – 2016 had just rung in – Bubbles told, "My resolution last year was to say yes to whatever opportunity that comes in. I told myself I needed to be open to anything. So, when Kuya Kim (Atienza) called me to invite me for a 10K run, I initially hesitated because it would start at 4am, but heeded anyway. After my first race, it felt quite all right so I just kept on saying yes to all our runs. I even joined them on a Condura, the 21K run, and became so close to my running mates."
My resolution last year was to say yes to whatever opportunity that comes in. I told myself I needed to be open to anything
At the turn of May 2016, the FOMO syndrome kicked in, and she felt she wanted to be part of her fellow runners' training for a triathlon. They did not invite her because she had no bike. So, she got herself a Trek Emonda, a road bike with stock (not even aero) wheels, but she didn't feel like a triathlete yet until such time that it hit her how serious the competition could be. "During that Ironman race in Cebu, my team created an all-girl's relay group – Gretchen Fullido would swim, Sarah Black would bike, and I'd run. But Sarah got injured so I had to run and bike for the team. I really didn't feel like I would make it because I didn't have much time to train, but I pushed myself hard. At the end of the race, I placed 2nd."
As she ventured deep into triathlon, the lovely model-slash-artista encountered tons of challenges. At her first race as an official triathlete in Pico de Loro – she swam, biked and ran – she almost drowned for the lack of training in swimming. Then, she crashed her bike a few days before her second race in Bohol around October last year. She also got sick with flu, got her face smashed by another swimmer, and stepped onto a sea urchin during the day before the race. "Everyone asked me if I'd still do the race. But I was thinking, with all the malas that happened that day, what else could go wrong? Deep inside, I felt like all the things went wrong already, so the race day would surely be a good day. So, I still raced. I was crying at the finish line. I saw my mom crying, too. I ended up at 4th place. It wasn't a podium win, but it wasn't bad at all," she recalled.
Yes, it was entirely accidental – incidental – on how she became a triathlete, but Bubbles Paraiso don't find any reason to stop pushing herself to the next limit. Her stunning look is indeed as beautiful as her passionate embrace to the things she pursues. She's an adorable inspiration to women who felt like giving up – her positive mind, her 'yes' to opportunities, and her affable attitude definitely brought her to a new and different kind of success.
Calyxta Behind-the-Scenes: MillennX: Active for Active
Young but talented fashion stylist Matt Panes chose an awesome ensemble of active wear for Bubbles Paraiso during our cover shoot. The stylish range of sports wear come from MillennX Athletic Gear, a homegrown brand that is known for fusing the art of fashion design and the art of the body's fluid motion. Our Calyxta Girl loved the collection that she used for the shoot – she said a lot of good things about MillennX. "It's comfortable to wear, form-flattering, and definitely fashionable!," she said.
Written By: SHERRY TENORIO
Guest Editor ERICA PAREDES 
Photography DIX PEREZ
Videography ANDREW APUYA
Makeup AMANDA PADILLA
Hair JET BABAS
Fashion Styling MATT PANES
Special thanks to MillenX for the active sportswear