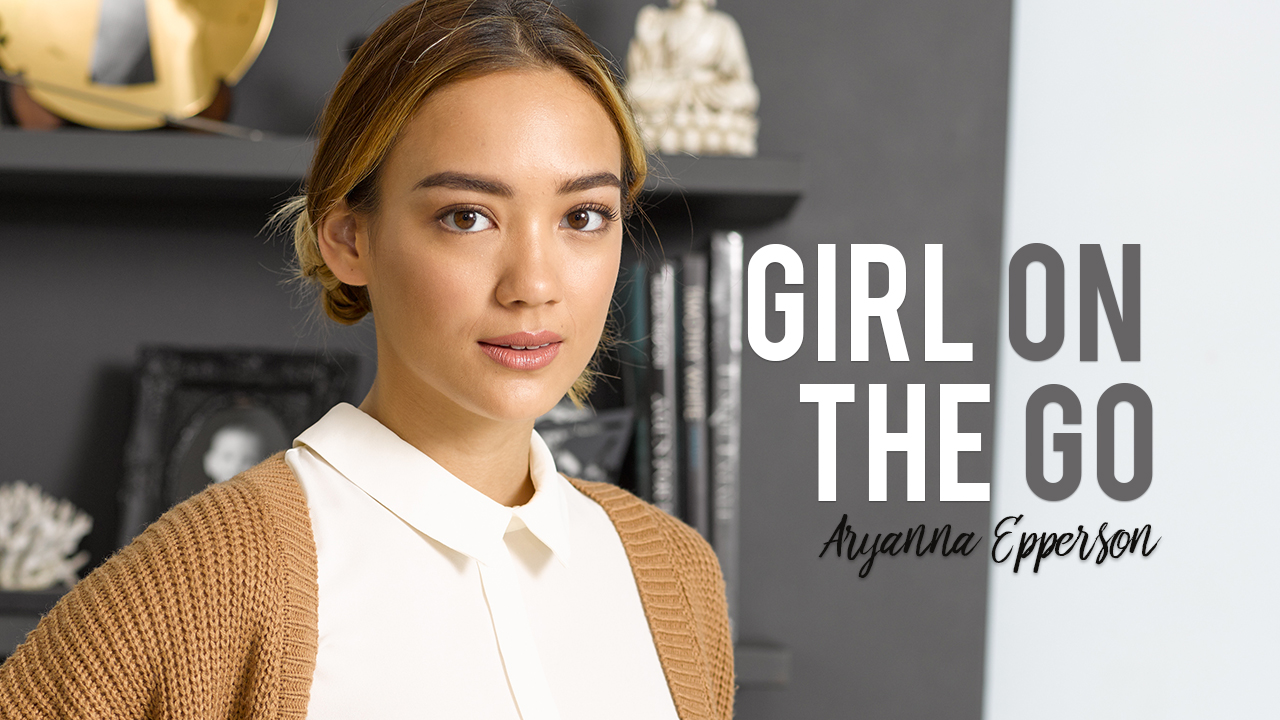 Photography TOM EPPERSON
Videography ANDREW APUYA
Make Up YCIAR CASTILLO
Hair  JET BABAS
Wardrobe ARYANNA EPPERSON
By: Racela Abundo
"I'm doing a lot of different things at the moment. They're all interesting to me, though," says cheerful social media sweetheart Aryanna Epperson. And they must be, if she's able to successfully juggle highly-followed accounts such as those on YouTube and Instagram, while being an MTV VJ at the same time, and making it to the dean's list at the De La Salle University, where she is majoring in marketing management. "As a kid, I used to be very shy, but I grew up around a lot of creative people, like my mom and dad, and I guess that has rubbed off on me quite a bit, and helped bring me out of my shell more." (Aryanna's parents are Tom and Jenni Epperson, both well-known in their own rights as photographer and stylist, respectively.)
"No one had ever told me to try YouTube. I guess it had to do with my growing up watching YouTubers. I eventually thought, hey, I could do something like that, you know? And I know how to do video editing. It started off with art, and then branched out to travel, then food, lifestyle…it was a form of self-discovery through that form of media. And I've been focusing a lot on beauty over the past year."
In her make up bag:
"I love experimenting, but I do have some things that I'll come back to time and again. My basics are mostly cream-based. I prefer make up that can be applied with just my fingers, when possible. I feel like it's more low-maintenance than needing to go around with a lot of brushes. So I'll have cream contour, cream blush, and maybe a few eyeshadows. And mascara. I really love mascara."
"Recently I found a Barbie mascara by Maybelline. I think it's only available in Asia, but it's the one promoted by Gigi Hadid. I love her! Mascaras with fibres in them that you can layer on are great. I don't often sweat, but for concerts, I do make it a point to use waterproof ones sometimes, to prevent it from smudging into dramatic raccoon eyes. I love Maybelline's Great Lash mascara. The pink tube with the green top? That formula's been working forever. Even my mom remembers using that at my age."
"Then, I am an eyeliner girl. On a regular day, I'll just line my eyes, but for going out, I'll often do a cat eye. I learned how to angle it just right off of YouTube! It's so fun learning new make up techniques and tricks on the net. I use liquid liner, experimenting with Asian brands that package their liners in tubes like markers with brush tips. Sometimes, it will be really black, but on other days, I might go with a dark brown. I leave the colour for my cheeks and my lips."
On celebrating fuller brows:
"I used to have a dilemma with my brows. If I would meet up with make up artists, or people really into brows, I would ask them for advice on grooming them better. Nowadays, they say to keep them natural. Ever since Cara de Levigne rose in popularity, I've grown to embrace my fuller brows. You'll find me doing little more than just brushing them a bit with a bit of brow gel, followed by a light coat of eyebrow mascara. It's only when I really go out that I do fill them in more."
Three-step routine:
"I lead a pretty busy life, and I feel you need to have a form of routine in order to balance that. I think it's the same when it comes to skincare. Since I was a kid, my mom began instilling in me the value of three very important steps: Cleanse, tone, and moisturise. You need a fresh and clean canvas to put make up on, you know, instead of just concealing all the time. Skin is your biggest asset. I really took my mom's frequently repeated mantra to heart, and now I really have to thank her, because, you know, consistency is so important in order to have good skin."
"I do like experimenting to see what my skin tends to work well with. When traveling, for instance, I'll try a few thicker moisturisers. On a recent trip, I discovered Banila Co's make up remover, and it is the bomb! Mask sheets are such a great treat, too. They're so affordable, and afterwards, I feel like my face is so radiant. I have a bunch of new skincare products to try, but I want to take photos of them first before I use them – I guess that's the blogger in me! I love cute packaging."
On how she keeps her body in top form:
"I like doing activities that are fun, and involve music and people. I'm going to an indoor cycling class tonight! I also still play frisbee, sometimes. Of course I remove all my make up, or else I would really break out. And after a workout, I really remember to wash my face, too. So I do that in the morning, in the evening, plus additional cleanses pre and post sweat session."
Her advice to young girls like herself:
"I really, really believe in just following a good and consistent skincare routine. That is really the basis of everything. Take care of your face, cause it's the only face you have!"
Her definition of a Calyxta girl:
The Calyxta girl is someone who isn't afraid to explore different avenues in life. Then, when she does find where she is meant to be, where she is able to do good while having fun, she keeps on growing within that field and never stops trying to take herself further.