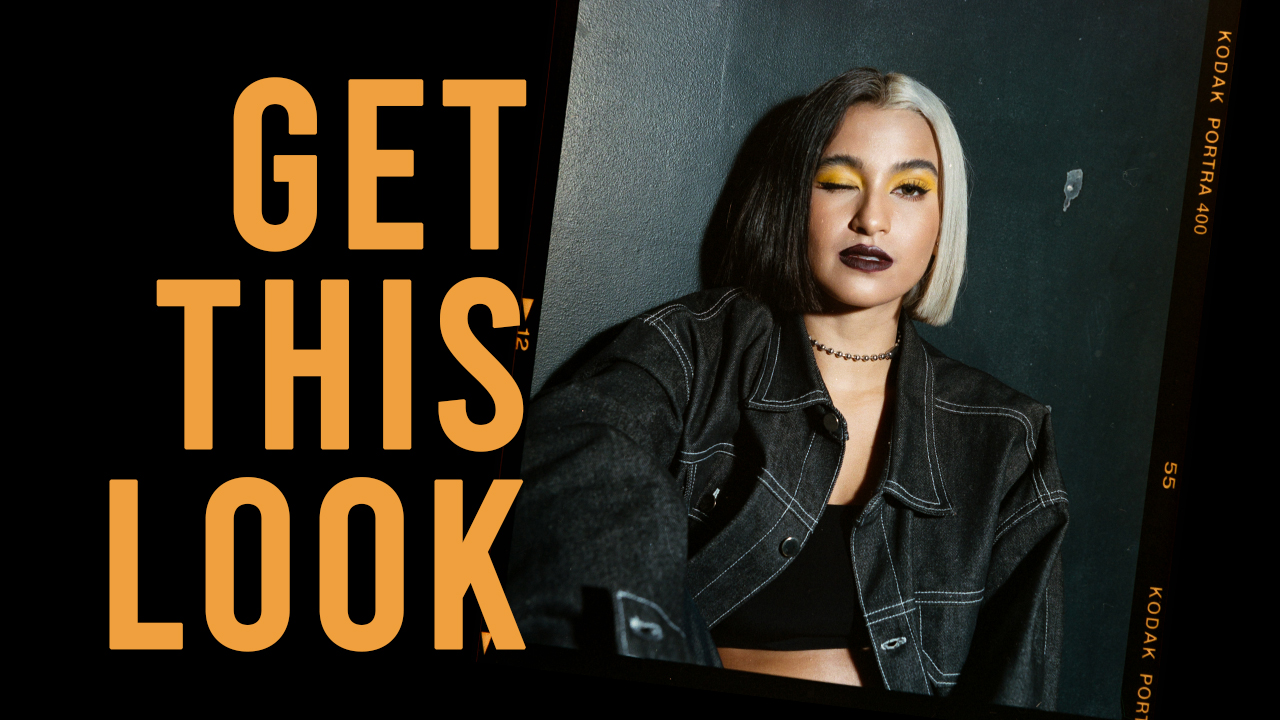 The first time I saw Issa Pressman was at a streetwear brand's grand opening, and I couldn't help but notice how cool she was—grooving to DJ Badkiss' beats as she went around the store with her girlfriend, Marga Bermudez, or simply known as "Marga on the Mic." I didn't get the opportunity to see her up-close and talk to her, but luckily, I was able to see Issa the second time around and work with her behind the scenes as Calyxta's newest cover girl.
Aside from her naturally warm and friendly personality, she also has naturally strong features (the Calyxta Crew kept gushing about her brows). For this look, her makeup artist simply enhanced her features, and focused on her eyes by adding a pop of yellow, and pairing them with a vampy red lip!
Follow the steps to know how you can achieve this bold and playful look.
1. Start with Heimish's Artless Glow Base as your primer. Apply a small amount on your fingers and spread it on your face as your base. This primer is good for all skin types, and can hydrate, smoothen, and protect your skin from harmful UV rays with SPF50+.
2. With the primer set, the next step would be to apply a good foundation, like the W7 Genius Foundation. I'm not one who uses foundation a lot but being with friends who love makeup as much as they love skin care, I learned that a common problem they have with foundation is that it feels too heavy or cakey, which is why the W7 Genius Foundation would be a good option because of how lightweight it is, and how good its coverage is—making it easier to build makeup on.
3. Now, in case you want to cover up those dark circles that seem impossible to hide from those sleepless nights (been there, done that!), why not go for Detail Makeover's Color Corrector Stick? Their color corrector sticks are easy to use, and addresses problems such as redness, dark circles, and skin dullness. All you have to do is pick the right stick and swipe it on your problem areas! After correcting, use Maybelline's Age Rewind Eraser (in your shade) and dab on top of the corrected areas.
4. This look is all about a matte finish, and less on the dewy side. The best thing to do is set everything with Milani's Prep + Set + Go Transparent Face Powder. Not only does it control shine, it also helps minimize pores and provides a natural finish without drying it out!
5. Your face won't be complete without some contouring to enhance your features naturally, like we did on Issa. Your best bet is an all-in-one contouring kit like the City Color Contour Effects Palette 2 in Natural Tone. For only P400 pesos, it has a contour, bronzer, and highlighter, and even comes with a guide that teaches you where to apply which on your face. We suggest to focus on contouring the hollows of your cheeks, sides of your nose, and jawline, then add some bronzer lightly to your cheeks for some warmth, and lastly, highlight your nose bridge, top of your cheekbones, and chin to add a bit of healthy glow.
6. Now we move on to getting natural-looking, bushy brows. We recommend using a Calyxta Crew favorite: La Localita's Better Brows Brow Gel to brush up your brows. Not only is it proudly local, but the best part is that while it fills in sparse brows, it also helps promote hair growth with its main ingredient: Redensyl, which claims to be better than castor oil!
7. It's all about the eyes for this look, but before anything, it's best to prep them by applying an eyeshadow primer, like Detail's Eyeshadow Primer in Skintone, on your lids. This not only intensifies your eyeshadow, but helps prevent any creases from showing when the eyeshadow is placed—helping it last longer.
9. After applying your eyeshadow, use the Kissme Heroine Make Eyeliner – Black to create a precise and sharp cat-eye—because what's a bright eyeshadow without a nice cat-eye? I would definitely recommend this because of how ultra-fine the eyeliner is. It's perfect to achieve that cat-eye without any smudges or flaws.
10. Now, to complete your eye makeup, use La Localita Lash Express Mascara in Black to add volume and length to your lashes. Aside from their brow gel, La Localita's Lash Express Mascara is definitely a must-try if you want something more than your usual lengthening mascara, since it also helps strengthen and grow your lashes.
11. Your look won't be complete without a vampy dark lip, like a swipe of Maybelline's Superstay Matte Ink Un-Nude Liquid Lipstick in Protector. As an avid user of Maybelline's matte line, I'd definitely recommend it if you want something affordable, and provides that smooth pop of color with a velvet matte finish that lasts.
Written by:
Sam Nubla
INTERN
Sam is Calyxta's proud Chinay intern, and Coco's #1 fan. No matter the time of the day, she's a go-getter for anything good—a quick catch-up, a meal, or of course, milk tea.
Other Products You Might Like: