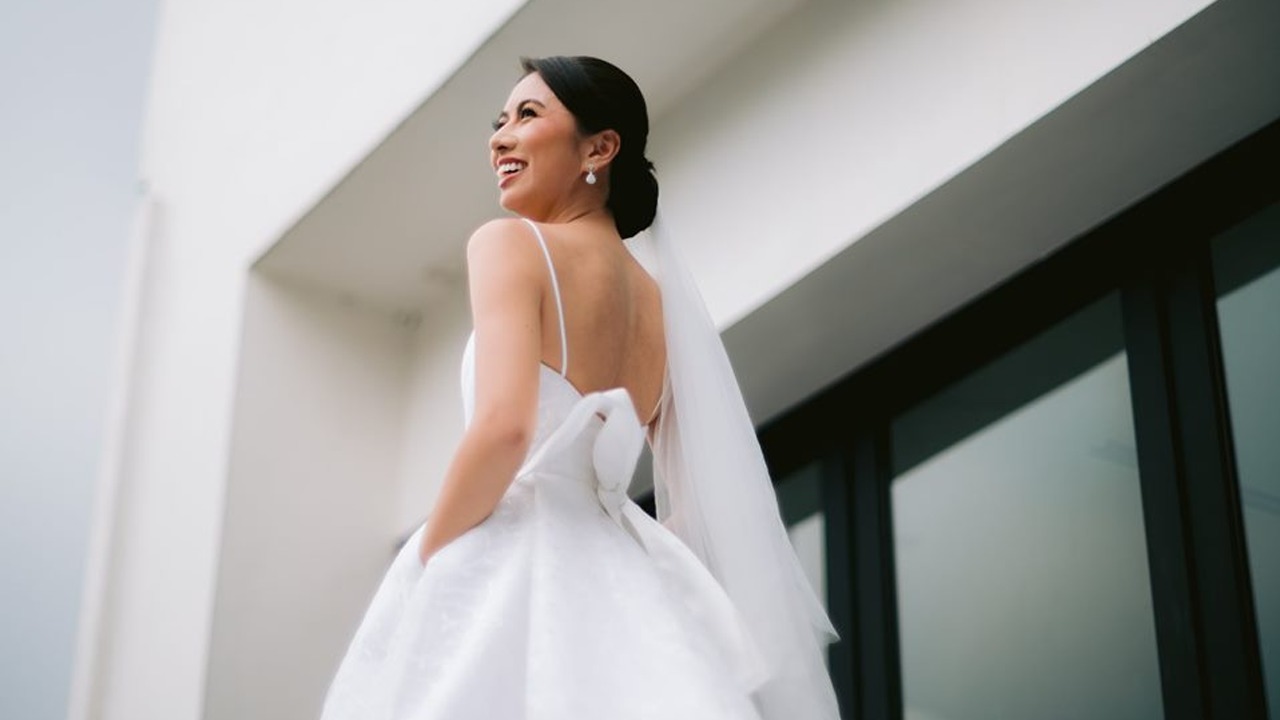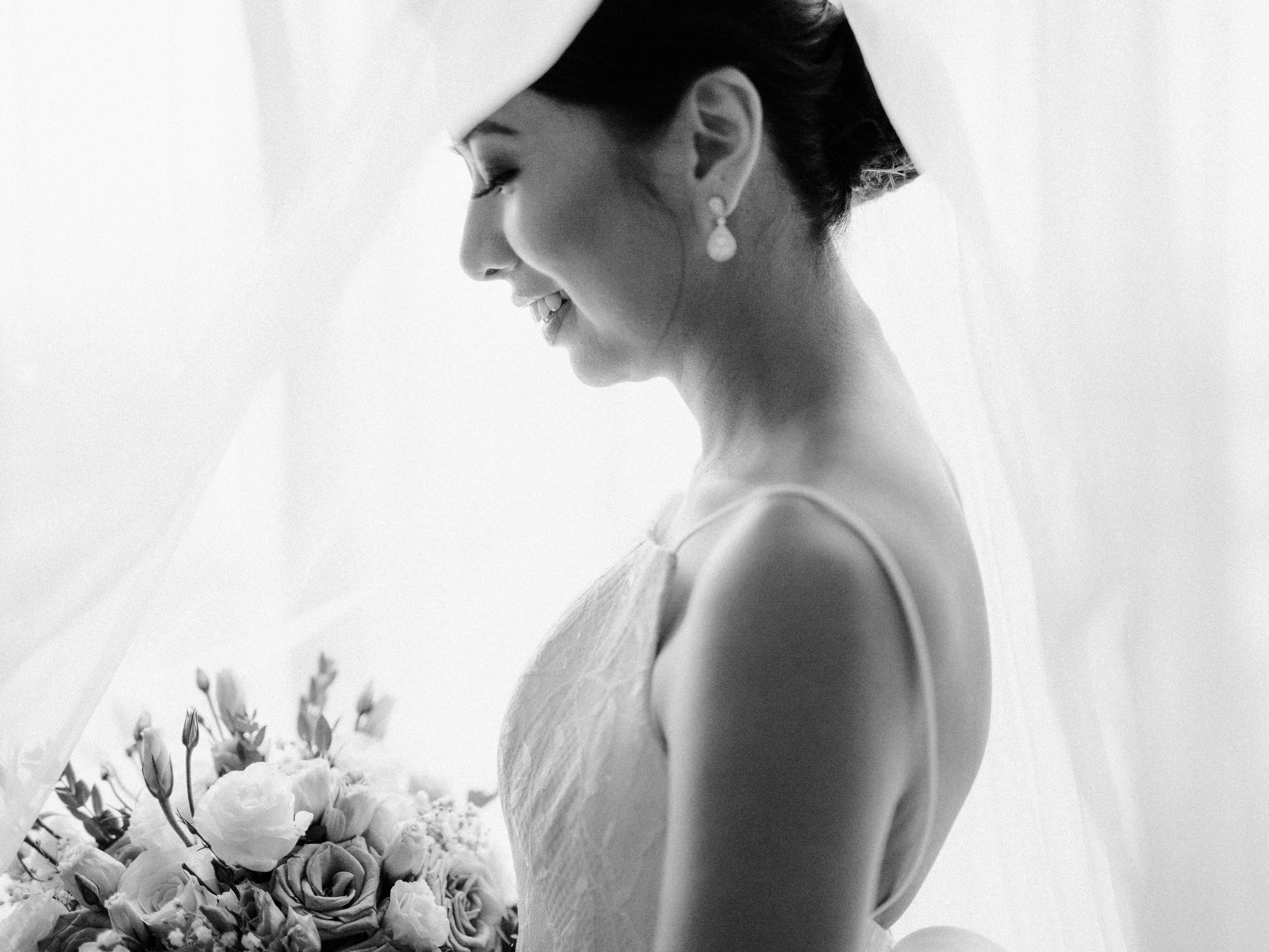 1. Can you tell us a little bit about yourself and what you do?
My name is Gretchen Gatan, and I'm the Managing Director of WeaveWorks, the Managing Editor of Calyxta.com, the Beauty and Lifestyle Blogger behind GretasJunkyard.com, and a makeup artist.
My husband, Cayo Fragada, works in Marketing and Operations at an online gaming company. Because of the nature of his job, he self-learned how to make websites during his free time—which resulted in him developing and maintaining my beauty and lifestyle blog. He also put together our wedding website, teamcatch.ph.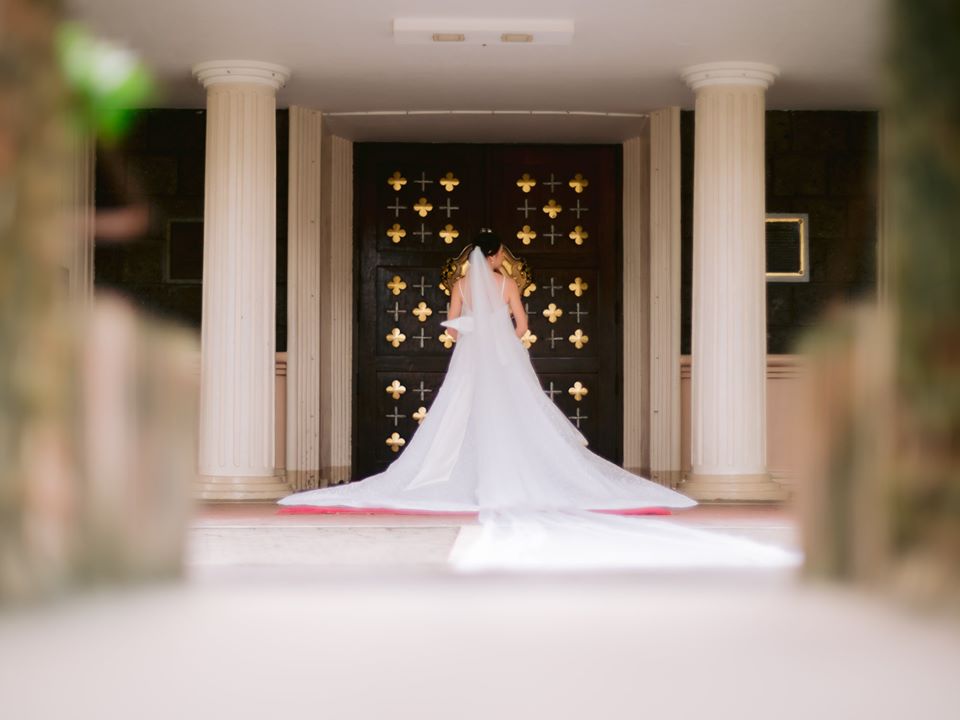 2. Where was your wedding held and what made you decide to choose the location?
Our ceremony was held in Sta. Rita de Cascia Parish in Philam Homes, Quezon City while our preparations and sit-down dinner reception were in Seda Vertis North. We chose this particular church because it's my husband's childhood church. This was where he was baptized, and has been hearing mass every Sunday with his family since he was a little boy. It also meant a lot that my childhood priest who officiated my First Communion, Grade School Graduation Mass, Confirmation, and High School Graduation Mass, Bishop Socrates Villegas, was able to officiate our Marriage.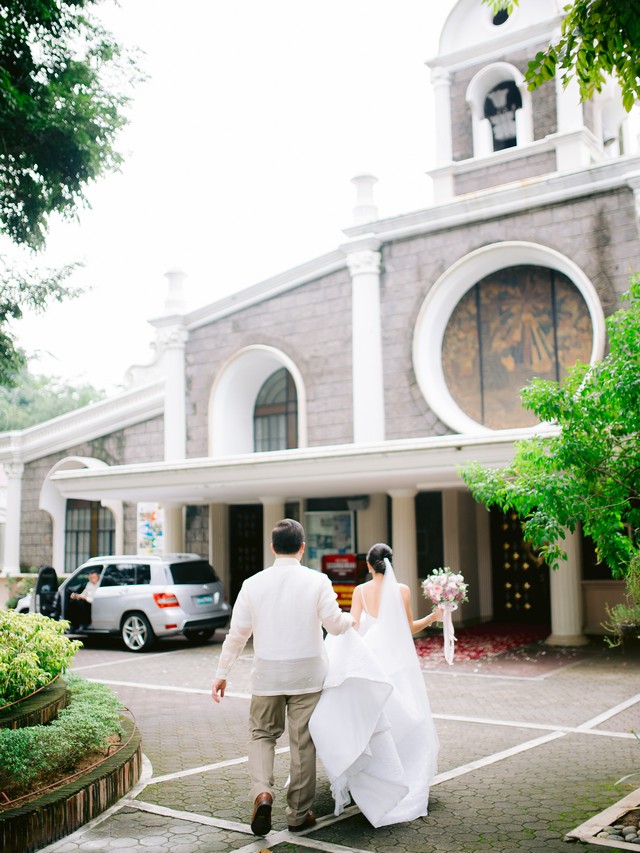 Seda Vertis North was a good and practical venue for our reception, because it was a quick 10-minute drive away from the church, and their ballroom was able to accommodate our number of guests. It incidentally matched the modern minimalist look and feel of our wedding.

3. What's the inspiration behind your wedding look?
I've always had a very simple and minimalist sense of style, and this translated even to our wedding. I had a very clear visual of how I wanted my wedding to look like, and it all followed a simple, clean, and minimalist theme with a hint of my favorite color (lilac) and flowers (carnations and roses). I also wanted everything to look timeless.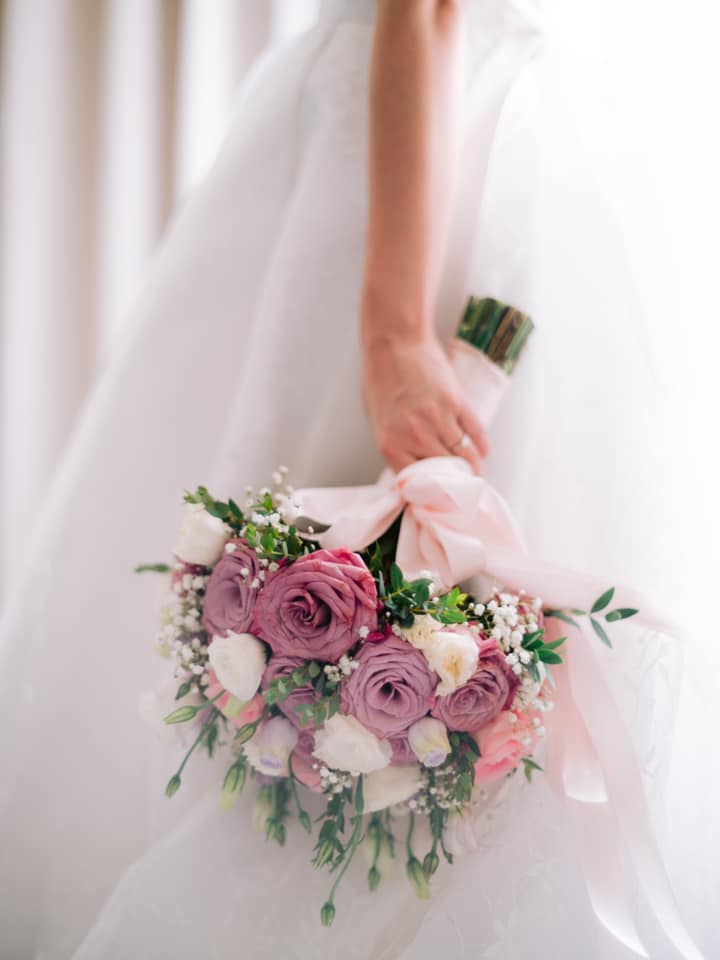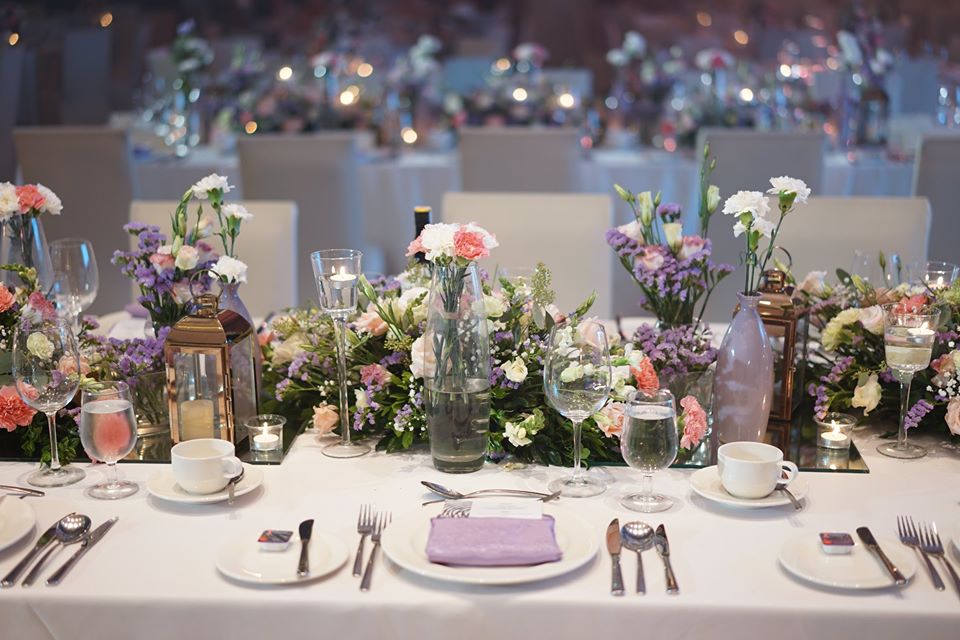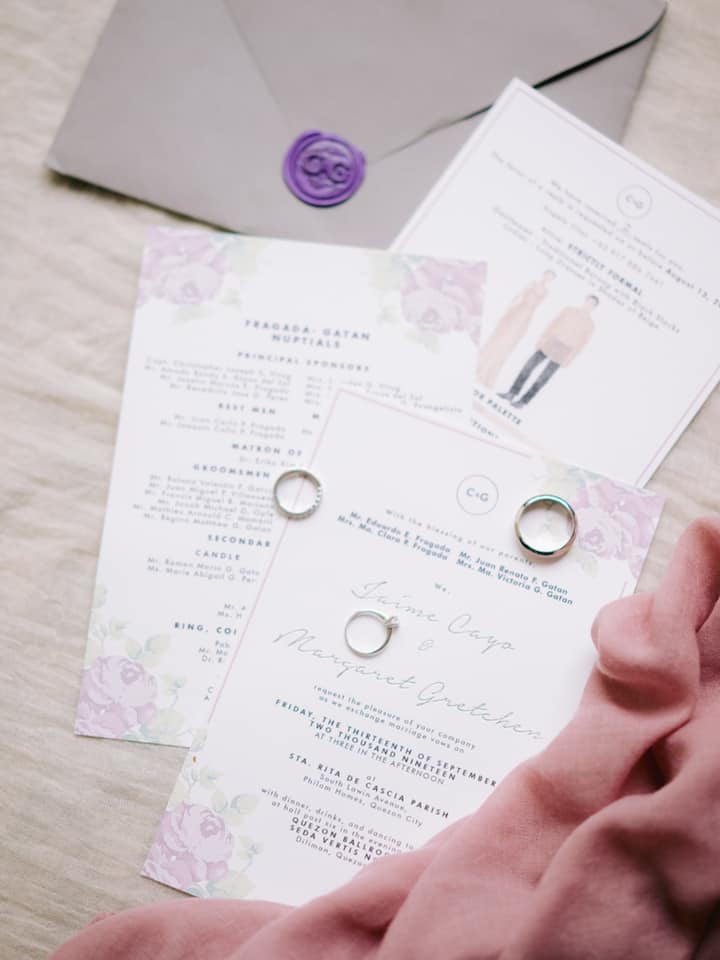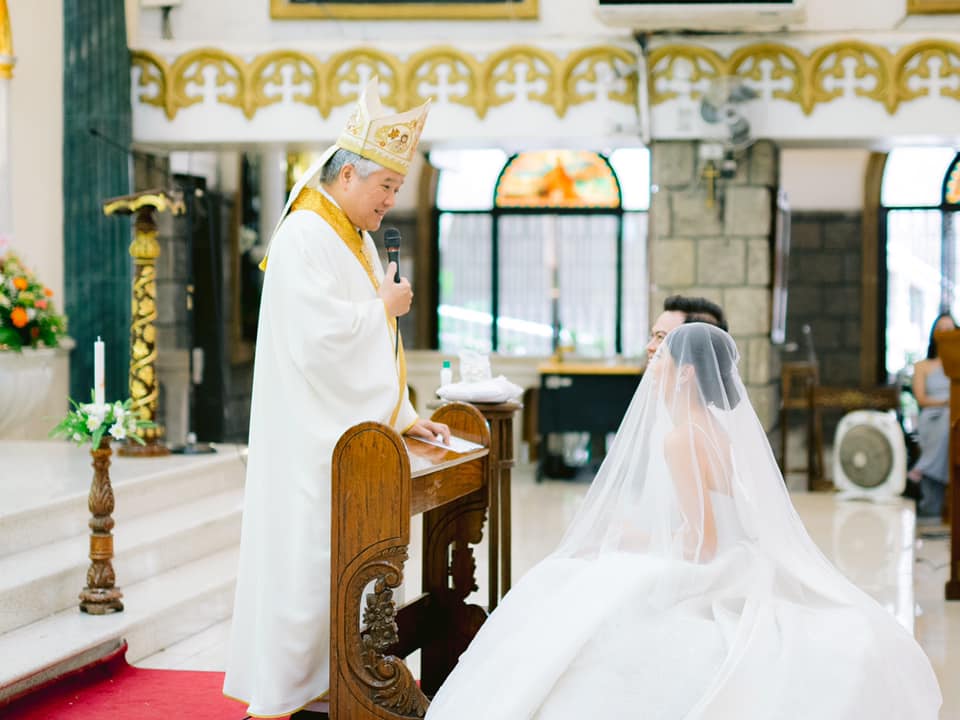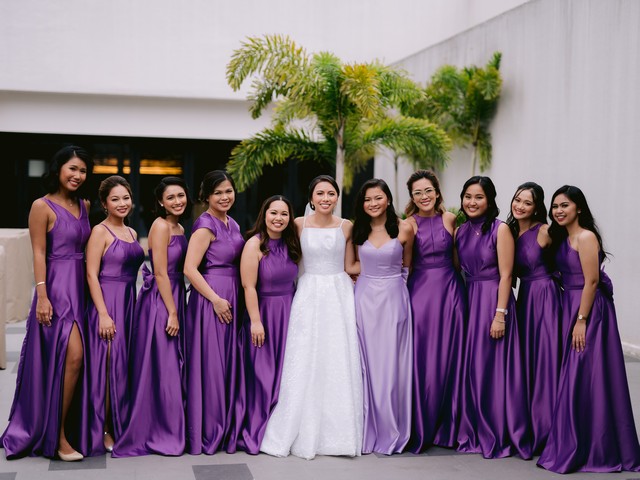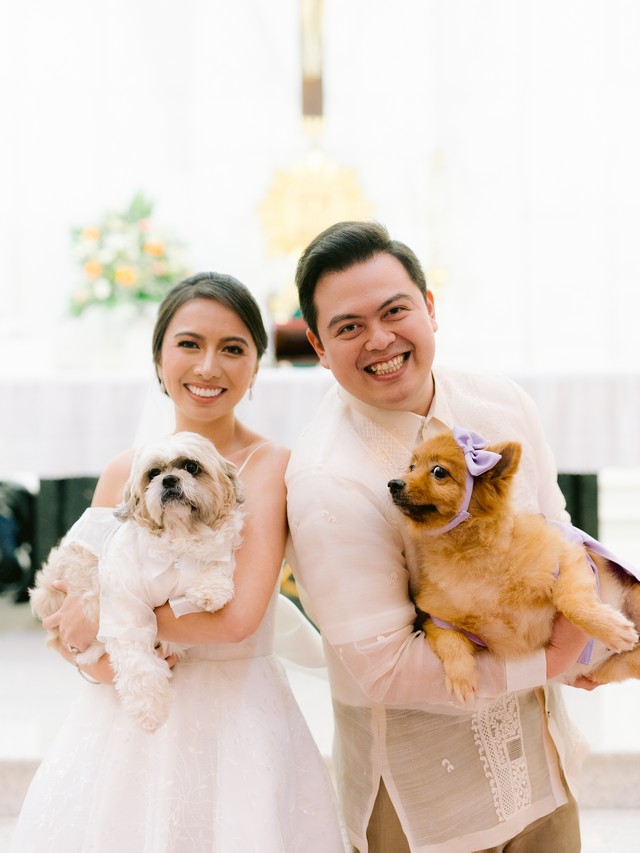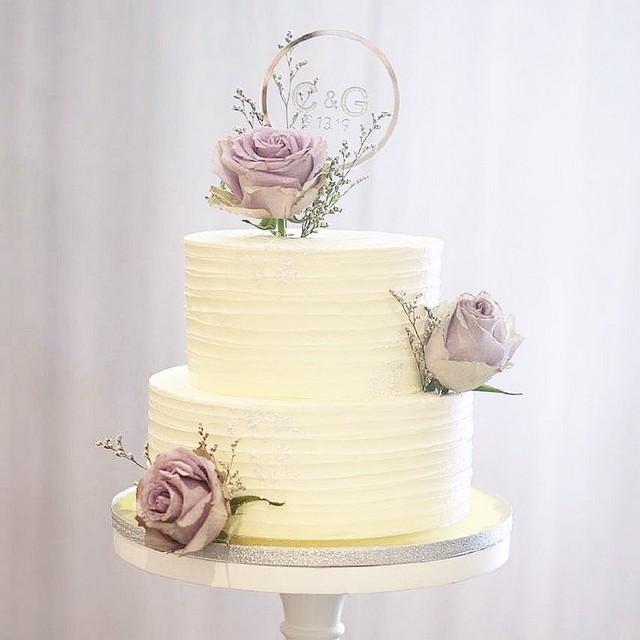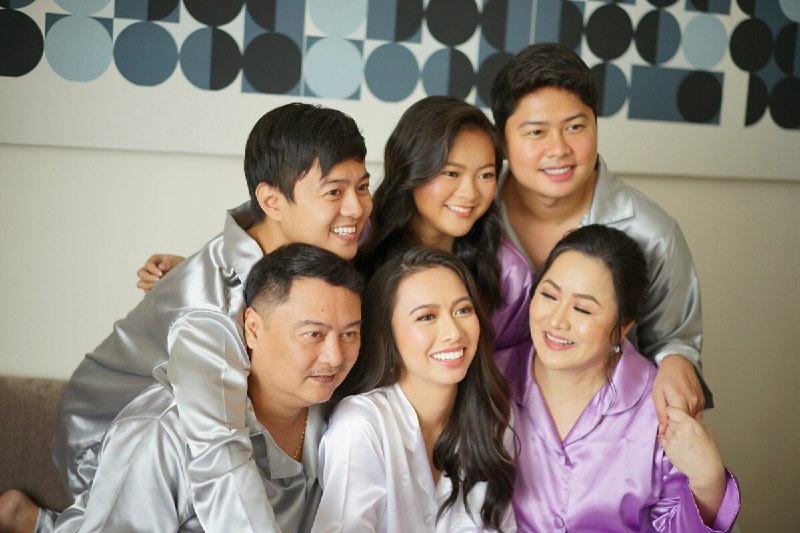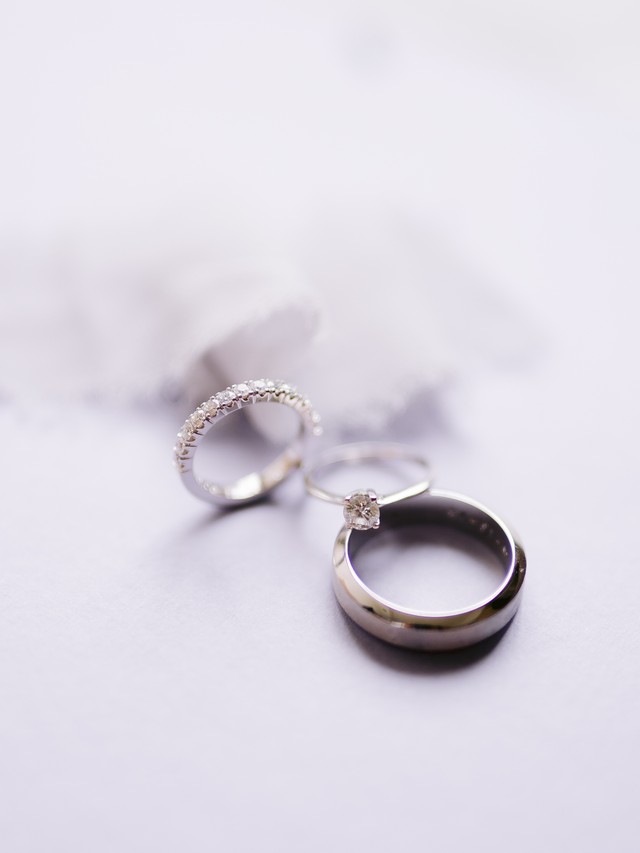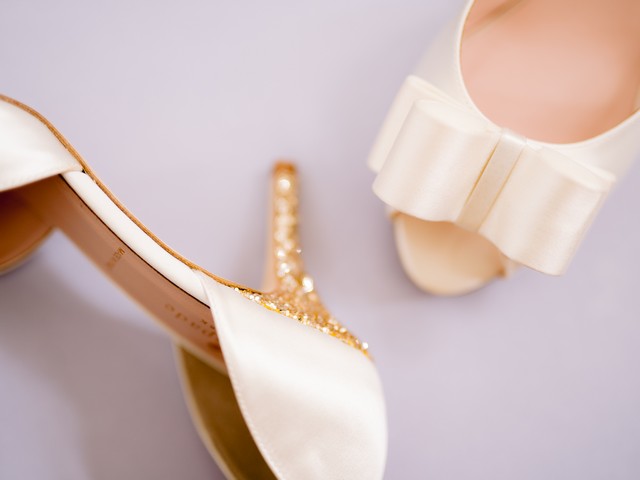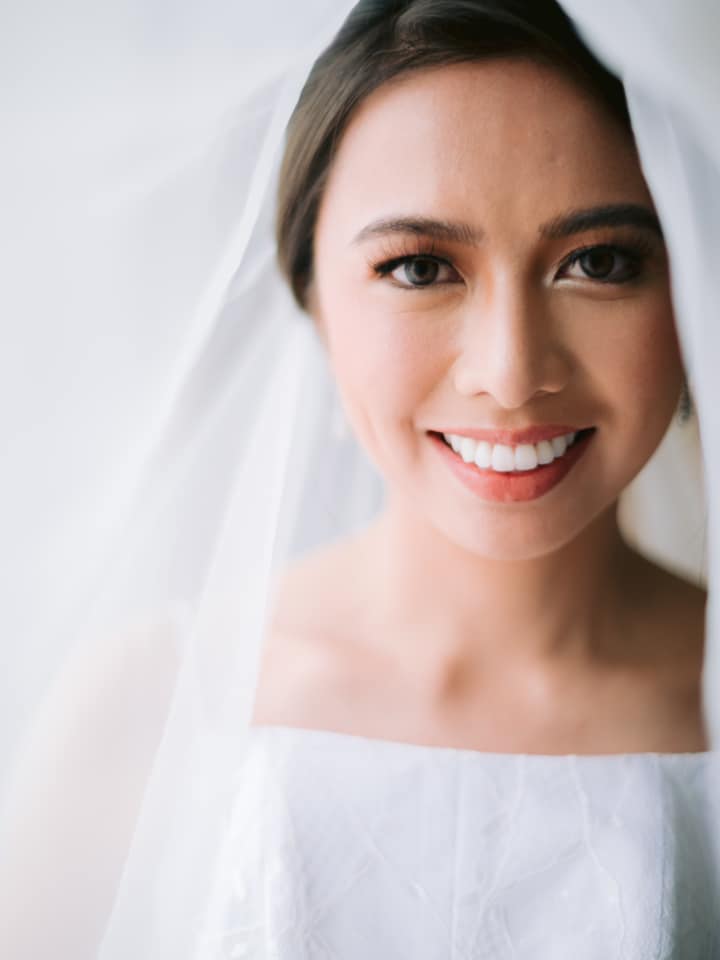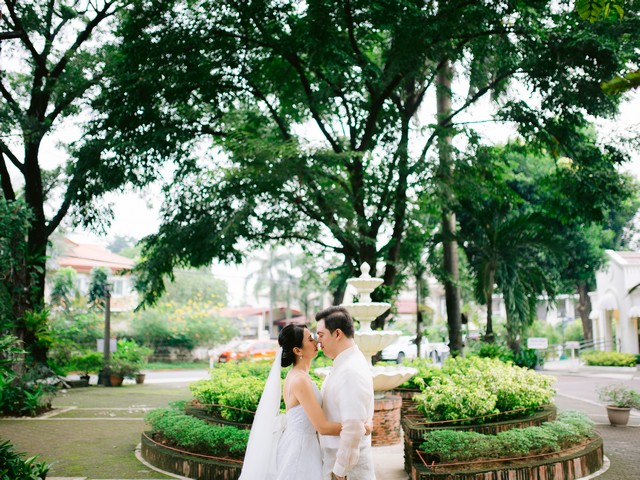 4. Who designed your wedding gown, and how did you come up with the style? How long did it take to create or find the perfect wedding dress?
My wedding gown was designed by our friend (and December 2018 Calyxta Girl!), Rosenthal Tee. Similar to our wedding look, I had a clear idea of how I wanted my wedding gown to look like as well—but of course, I wanted Rosenthal to incorporate her inputs and style. I just told her that I wanted a very minimalist A-line gown with a boat neckline and pockets. She suggested to use Mikado silk together with French lace, and added the bow detail—which I loved so much!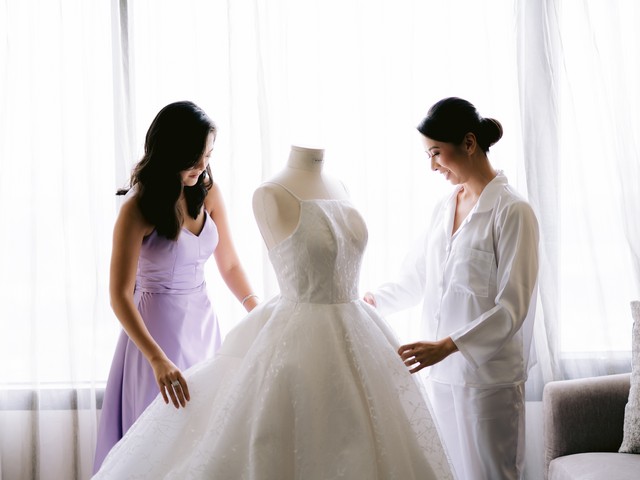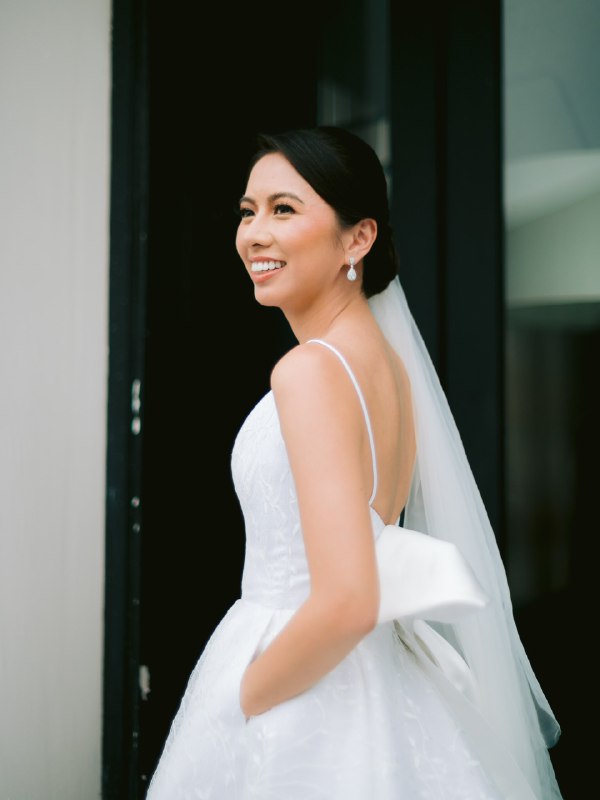 She first took my measurements last February 2019 but had to retake them in May because I lost weight. It only took me two fittings, before I picked up my gown two weeks before the wedding!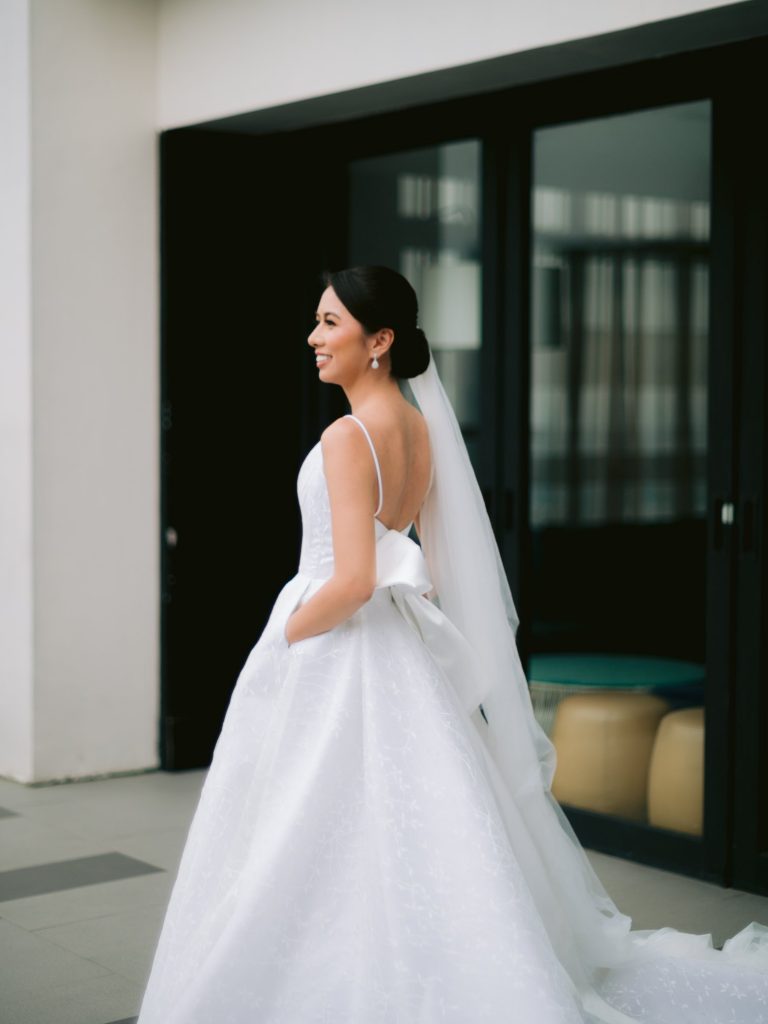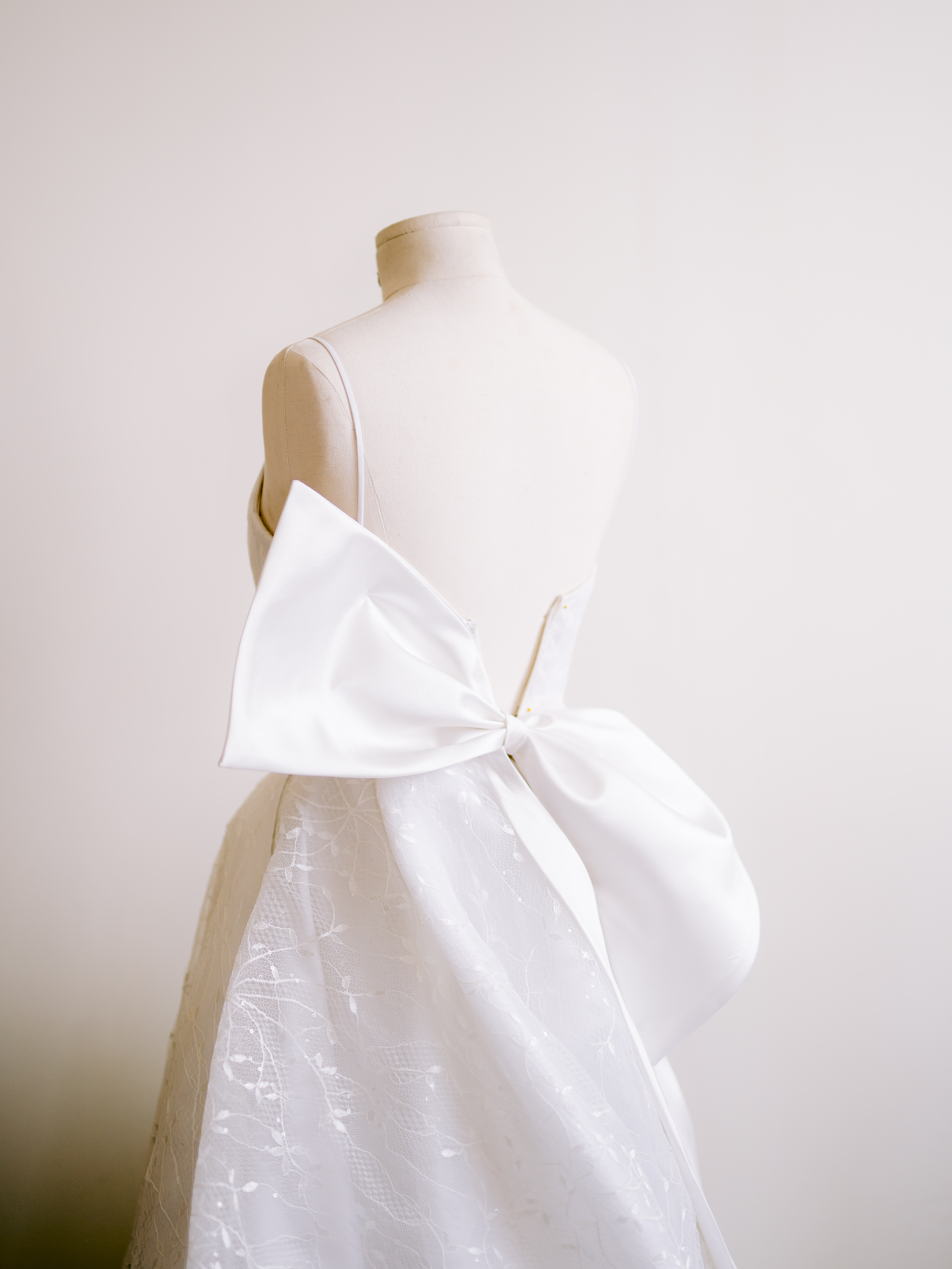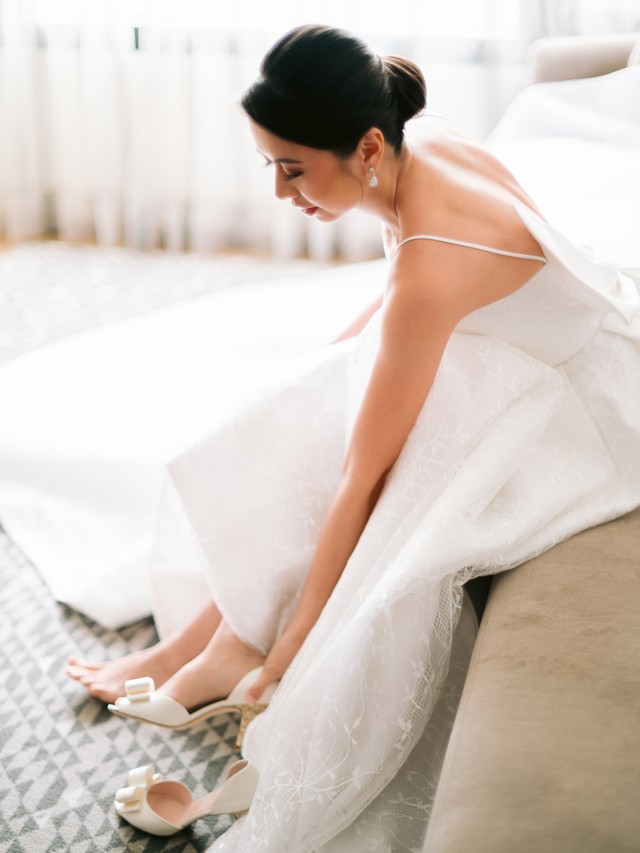 5. How did you choose your hair and makeup artist? Did you have any hair and makeup pegs?
As a makeup artist, I initially wanted to do my own makeup—but Cayo suggested I get someone else instead, so that I wouldn't have to stress over it. I only had two people in mind to do my hair and makeup on my wedding day—Mong Amado and Jake Galvez, who I've worked with for several Calyxta cover girl shoots (including Lauren Reid, Andi Eigenmann, Maggie Wilson, Jasmine Curtis-Smith, and Iza Calzado). I've always been a fan of their work, and I knew I'd be comfortable with them. Mong did my hair for our pre-nup photoshoot but Jake, even without trial, I trusted completely as well. I knew he'd give me that bridal glow while still making me look like me.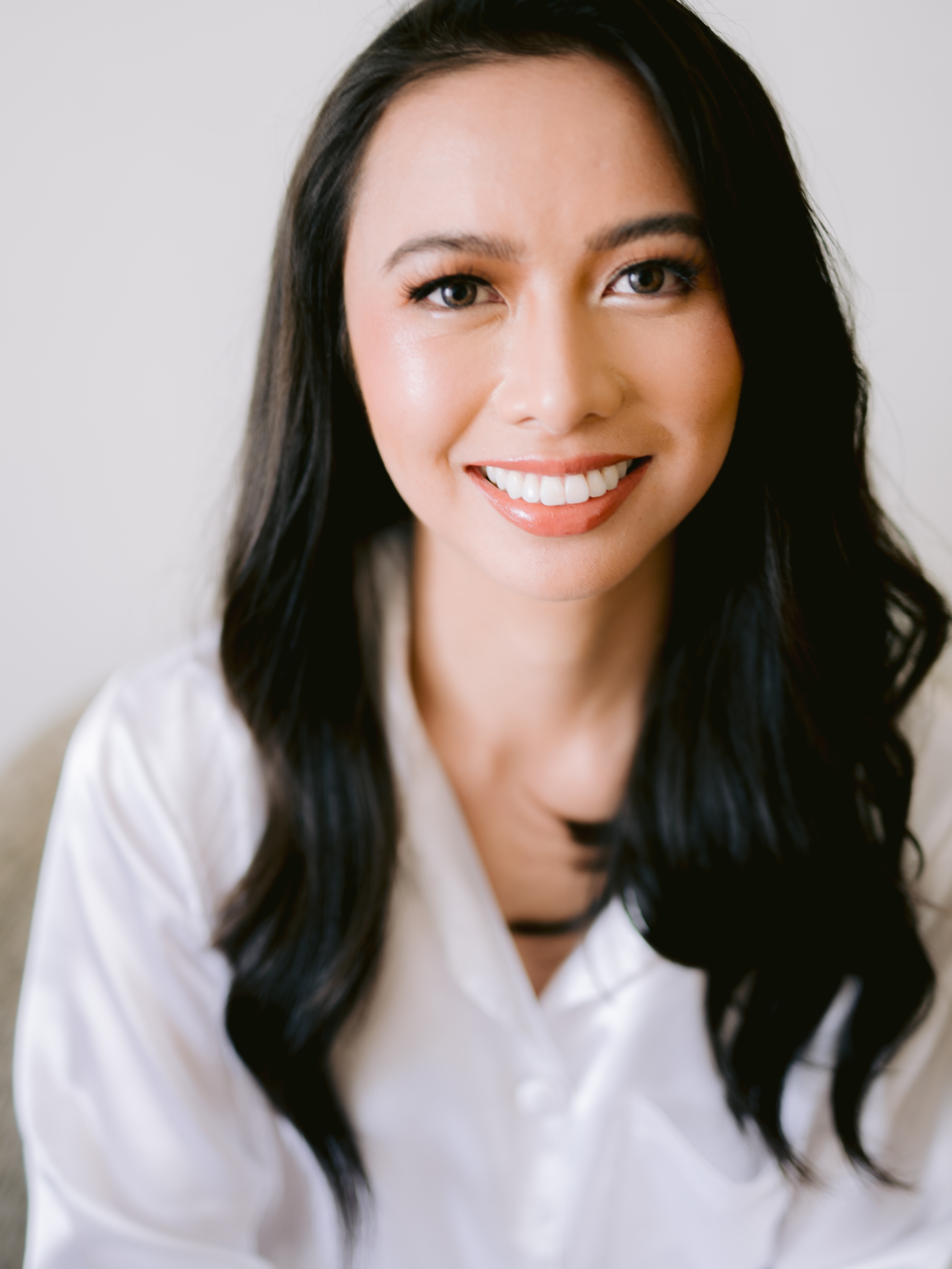 7. What was in your wedding day makeup kit/pouch?
Nothing! Though my wedding gown had pockets, they only came in handy when some of our guests started handing over envelopes as gifts. I did use an oil film once during dinner, which my Ninang handed over to me. But other than that, I didn't even need to retouch with powder! I guess that's the power of Jake Galvez and his airbrush makeup.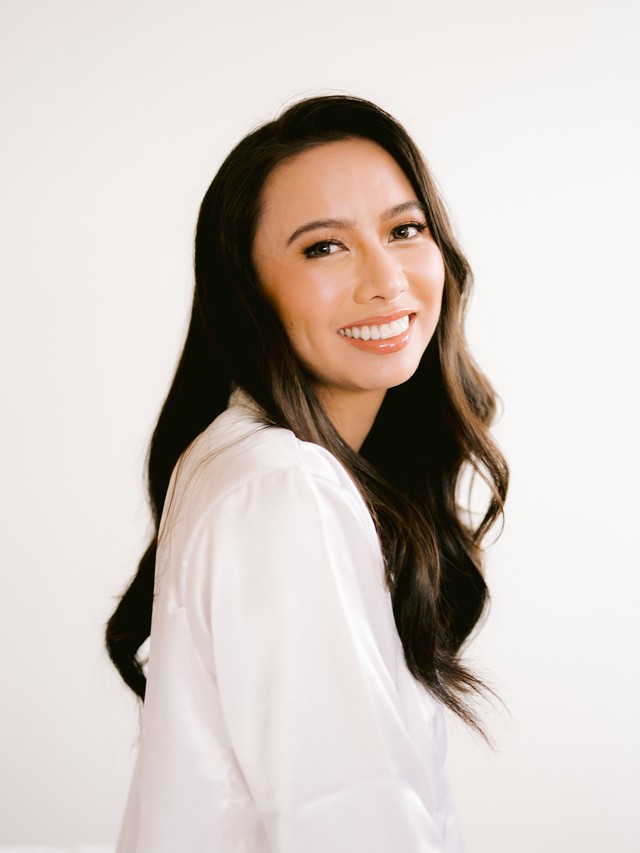 6. What lip color did you choose for the wedding day?
I just trusted Jake to choose a color that would look good on me! During preparations, he chose a peachy nude while for the ceremony, he changed it to a nude pink topped with gloss. For the reception, I touched up and used Sunnies Face in Milkshake.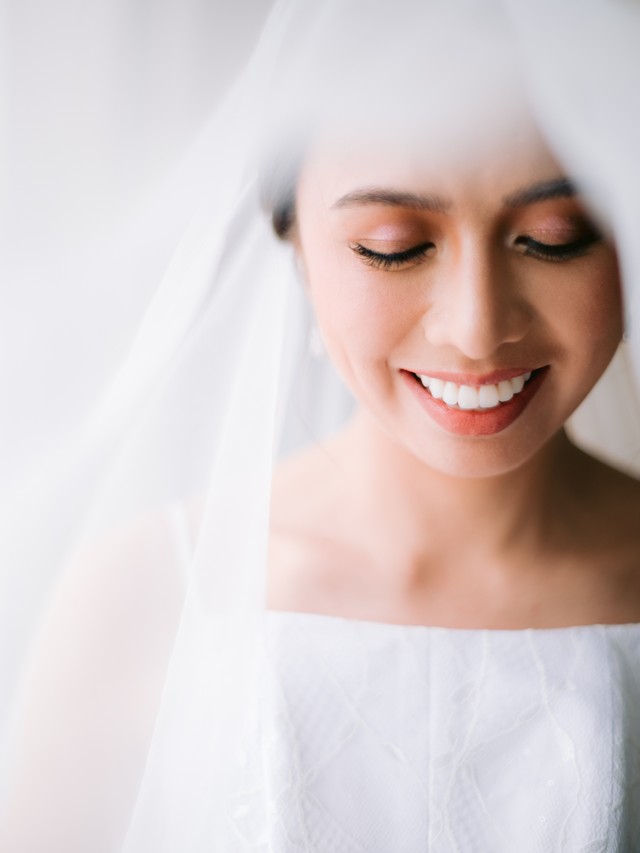 8. What were the preparations you did for your skin prior to the wedding day? Did you go to a skincare center regularly? What kind of services did you have done? Is this something you would recommend to other brides-to-be?
I've always been very particular about my skin, thanks to my mom who influenced me early on in life. I was about 10 years old when I started following a basic skin care routine—which included a facial wash, toner, moisturizer, and sunblock. I also regularly visited my dermatologist for cleaning and consultation. When I started working for the beauty industry about five or six years ago, my skin care routine expanded—I now use a facial wash, toner, serum, essence, eye cream, moisturizer, and sunblock. Whenever I wear makeup, I make sure to double cleanse with an oil-based makeup remover followed by micellar water. On top of everything, I drink collagen supplements every day to improve the overall health of my skin.
About four or five months before the wedding, I scheduled a diamond peel with facial cleaning once a month in a skincare clinic near my office. I do recommend this to other brides—just to exfoliate your skin, smoothen out your complexion, and clean out whiteheads and blackheads. Getting a diamond peel regularly also allows your skin to absorb your skin care products better, so if you can do this once a month about five to six months before your wedding, I highly suggest it!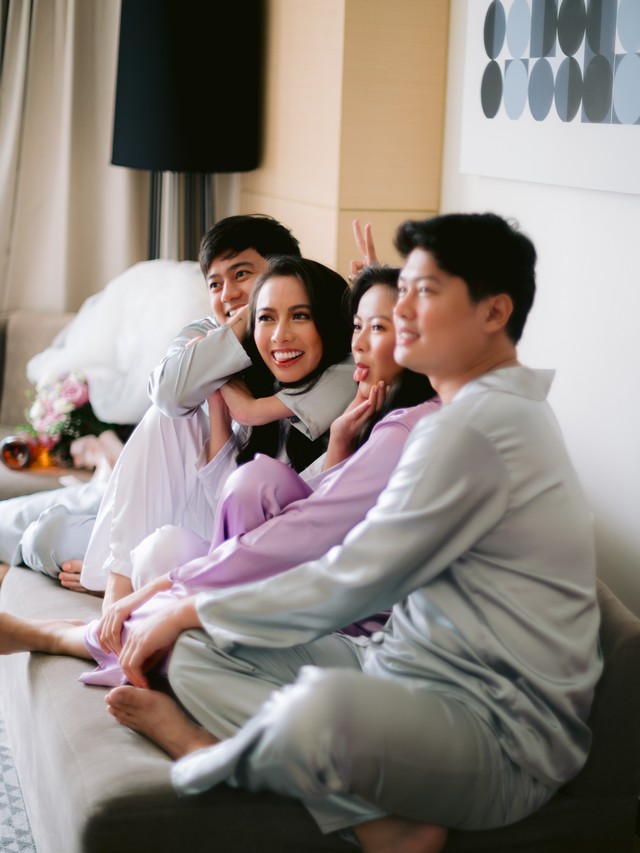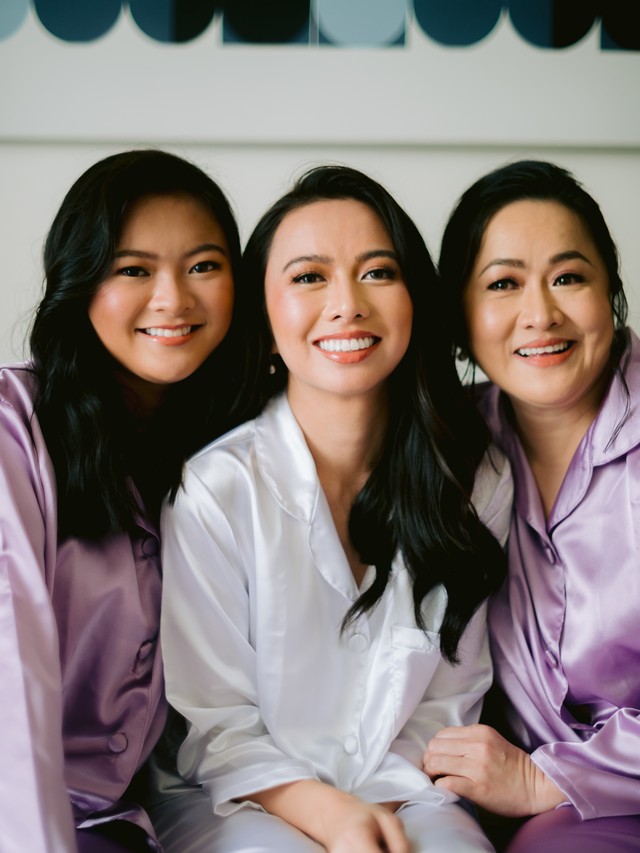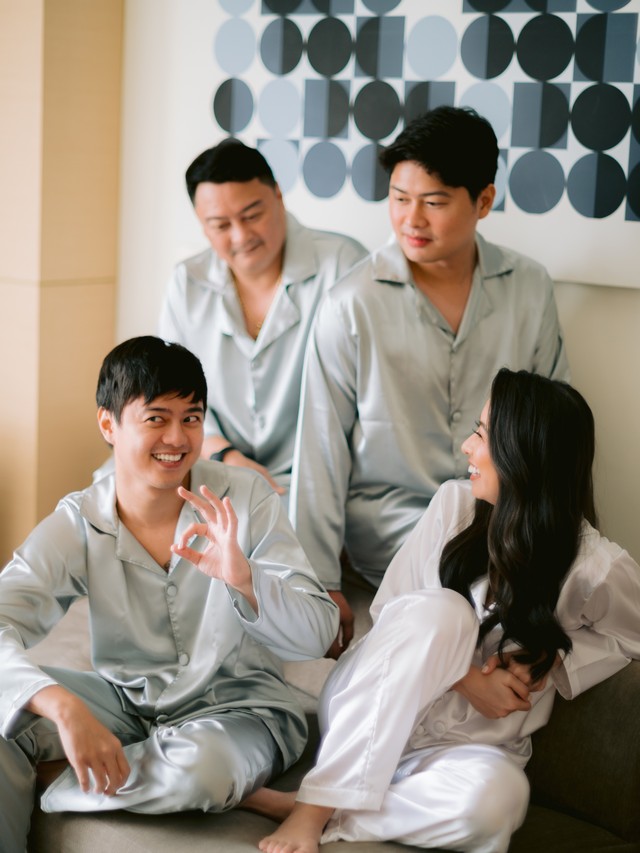 9. What was the best beauty advice you received that helped you prepare for your wedding?
I don't think anyone really gave me beauty advice (that I didn't already know, considering I've worked in the industry for a while now), but if I may suggest to upcoming brides—find a skincare routine that works for you and stick to it. If you plan to experiment with a new product or hairstyle, be sure to do it months before the wedding. Keep yourself hydrated and drink lots of water every day—this will really show on your skin! Lastly, take a break. I took a leave one week before the wedding just so I could focus on getting some rest, and I'm so glad I did that. I detached myself completely from my work and passion projects temporarily, to really enjoy and make the most out of my special day.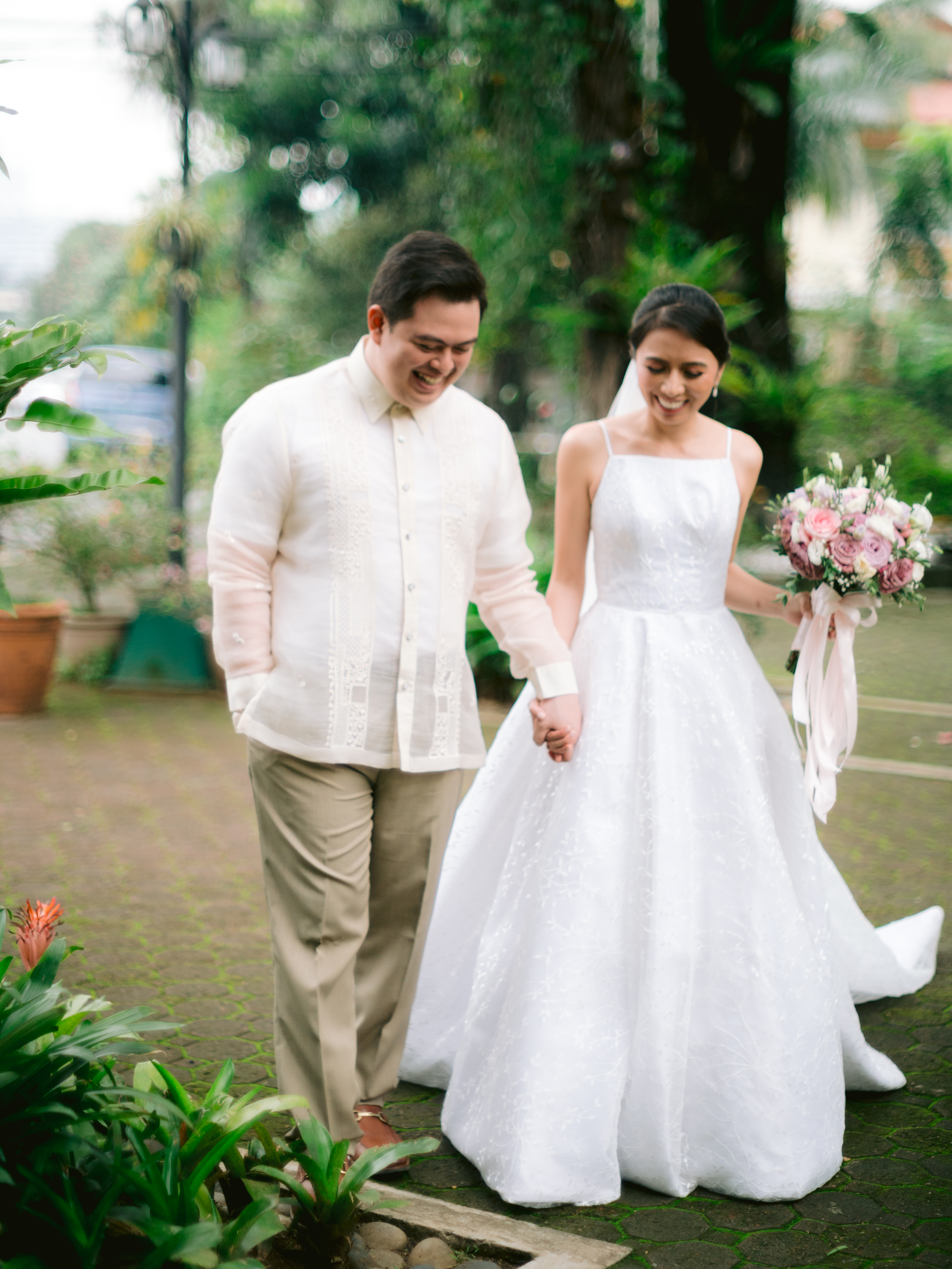 11. Did you have your nails done? If so, where? Would you recommend this nail salon to others?
Yes, my husband and I actually had our nails done a day before the wedding in Nail Tropics Trinoma. I got a manicure spa and pedicure spa with gel polish, while he got a pedicure spa. While I normally get my nails done in Manos Nail Lounge in Burgos Circle or Nail Spa in Makati, these were too far away. Nail Tropics was still a great alternative, and I enjoyed their service.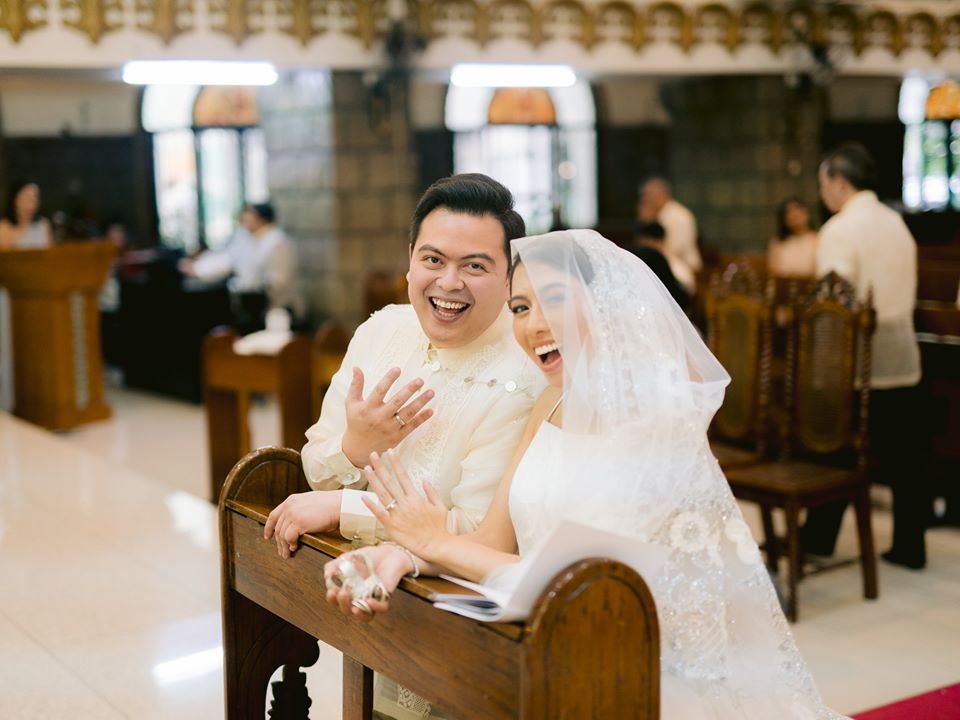 10. How about in terms of fitness? What did you do months before the wedding to stay in shape and make sure your wedding dress fit perfectly? Did you enroll in a gym or fitness center? What was your diet like?
After high school when I was no longer a competitive softball player and I traded it for Ultimate Frisbee (which entailed a lot of cardio), I naturally lost my bulky and muscular frame and retained a leaner one. Since then, I've been playing Ultimate Frisbee once or twice a week. I never enrolled in a gym or fitness center, nor did I change my diet. I just maintained eating healthy—by healthy, it was more of avoiding processed food, and too much sugar and salt.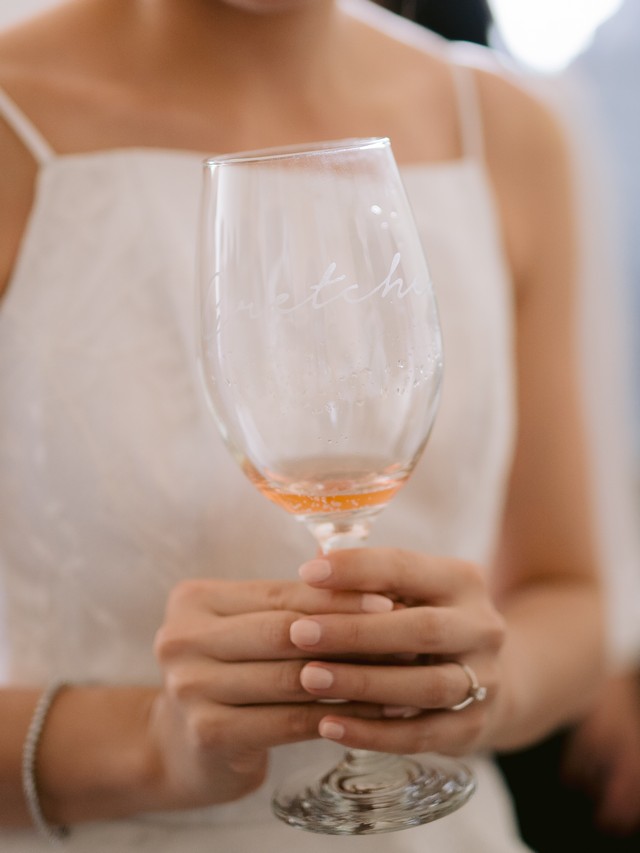 12. What was your biggest takeaway from your wedding day? Do you have any beauty-related tips you'd like to share to upcoming brides?
Our wedding was honestly and genuinely the happiest day of our lives. I know some brides have their horror stories, but I have nothing bad to share at all. When I woke up the morning of our wedding day, I was so calm and collected—but also excited. More than the wedding itself, what Cayo and I really looked forward to was the married life. Being surrounded by family, friends, loved ones, and the most incredible suppliers-turned-friends who have been nothing but supportive, they all gave me really helpful tips to enjoy our wedding day.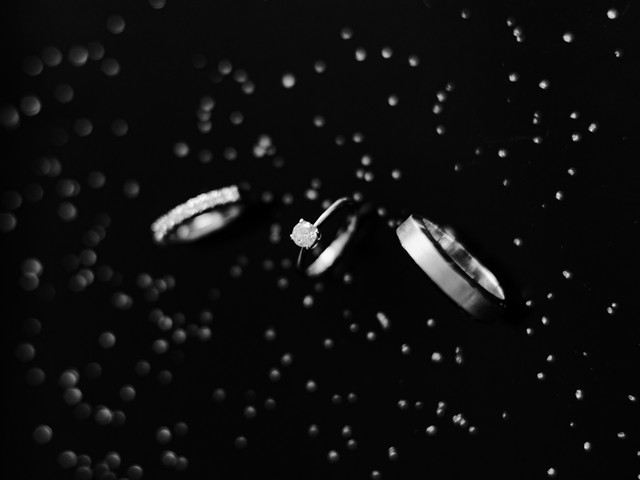 One was learning the art of letting go early on, which my best friend and Matron of Honor (who got married a couple of months before me) kept reminding me. There will really be things to happen that are out of your control (like guests not following the dress code nor the seating arrangement), and that's okay. Just breathe in and out, and know that everything will still be okay. "Choose your battles wisely," were the exact words that Iza Calzado herself advised to me when we had a conversation about our wedding planning. Next—learn to delegate tasks. This is something that my husband had to learn, because it turns out (and contrary to what was expected), he's more of the groomzilla, while I was the more chill bride! Third—don't forget to eat breakfast and lunch (which I did), and keep yourself hydrated (which I also did). Lastly, don't wear a watch. The day goes by so fast, you'd wish it was on temporal loop.

To read more about Gretchen and Cayo's wedding, check out her blog post on all the details, stories, and suppliers of their very meaningful and memorable wedding here.