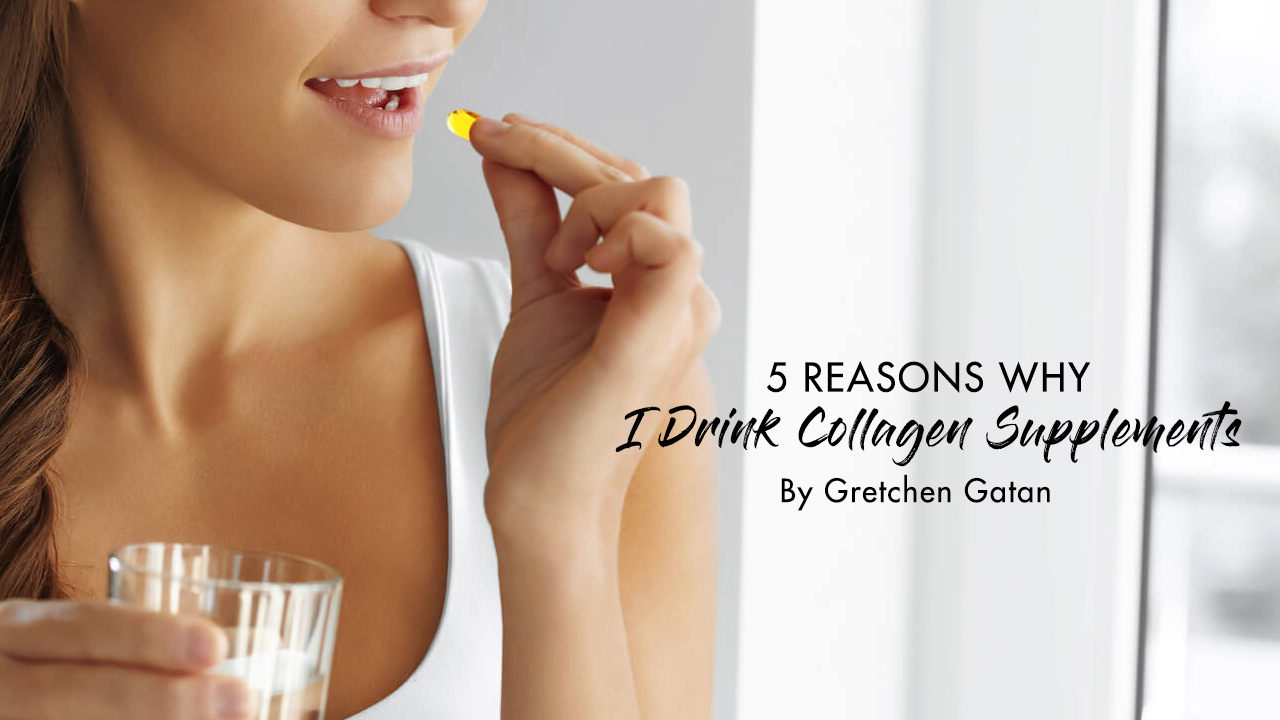 I'll be completely honest—the first time that someone told me she started drinking collagen in her mid-20s, I found the idea a little irrational. But then she told me her age (at that time, she was approaching her mid-30s yet looked like she was fresh off college!) and my mind was completely blown at the fact that her skin looked immaculate! I remember even showing her picture to my mom and aunts, and we all couldn't stop wondering about collagen supplements and if they really worked wonders—just like they did on that friend of mine. In fact, we ended up becoming really close, so she influenced me to start drinking collagen supplements at the age of 26 (that was more than 2 years ago), and since then, I've been so thankful she convinced me to do it despite my initial skepticism—because after all these years of drinking collagen, here's what I have to say:
You might not notice this right away the first couple of weeks, but in the long run, this is guaranteed to be one of its effects—for as long as you regularly and consistently drink your collagen supplements. I've tried all types—from powder, to liquid, to capsule. So far, I find the capsules to be the most effective. I drink it once a day, together with my vitamins.
One thing that tends to happen whenever I get too stressed is that I suffer from hair fall. It's actually one of my insecurities, because I was already born with fine hair—so it's really hard for me to maintain volume and look like I have a head of healthy hair. But I think drinking collagen improved that, because I suffer from less hair fall nowadays and my hair strands, in general, feel stronger.
I used to be a softball and football player, and nowadays, I play Ultimate Frisbee. Being athletic and active in sports is one of the reasons why I've always preferred to keep my nails short, so it's easier for me to catch and throw the ball or disc. Another reason is because when the disc hits my nails the wrong way, they chip! But ever since I started drinking collagen, my nails hardly ever chip or break anymore!
Aside from the fact that my pores got smaller and my skin's elasticity improved, I sometimes get compliments that I seem to have naturally glowing skin—even without makeup! And I honestly think that it has a lot to do with drinking collagen regularly (plus getting enough sleep and drinking at least 60 ounces of water everyday). Being under the sun a lot (because of playing sports and visiting the beach often) makes me prone to aging faster, so I'm hoping that even in my 30s, 40s and 50s, I'll still retain my youthful glow.
One of my biggest struggles growing up was having oily skin, because oily skin easily attracted and accumulated dirt (whether it was from Metro Manila's pollution, my sweat from playing sports, or from the dirt of the softball or Ultimate Frisbee field)—therefore, I always had bad breakouts! But other than outgrowing my teen years and learning how to control the oil with the right skin care products, I have a big feeling collagen had a lot to do with it as well.
Take note that these effects I've noticed on myself aren't really backed up by research, because they're based solely on my experience of drinking collagen supplements for almost three years now. But for those who have only recently heard of it, collagen supplements are basically made from parts of animals that contain a lot of connective tissue—like bones, hides, and cartilage of cows. There are also fish, egg, and chicken collagen supplements available in the market these days.
As one of the most abundant proteins in our body located in muscles, bones, skin, tendons, hair, and even our digestive system, collagen sort of acts like a "glue" that holds our bodies together. And as we age, our body's production of collagen decreases, and this natural process is responsible for some of the most obvious signs of aging like having wrinkles and sagging skin, and experiencing joint pains. Plus, aside from aging, even our lifestyle choices can affect the depletion of collagen in our bodies—like high sugar intake, smoking, and excessive sun exposure.
So in taking collagen supplements, this helps your body produce more collagen and in return, improves your blood circulation, promotes healing, relieves joint pain, reduces the appearance of cellulite and wrinkles, improves quality of hair, and treats leaky gut syndrome. (Source: The Food Matters)
Hopefully this article gives you more insight on why you shouldn't feel so skeptic about collagen supplements!