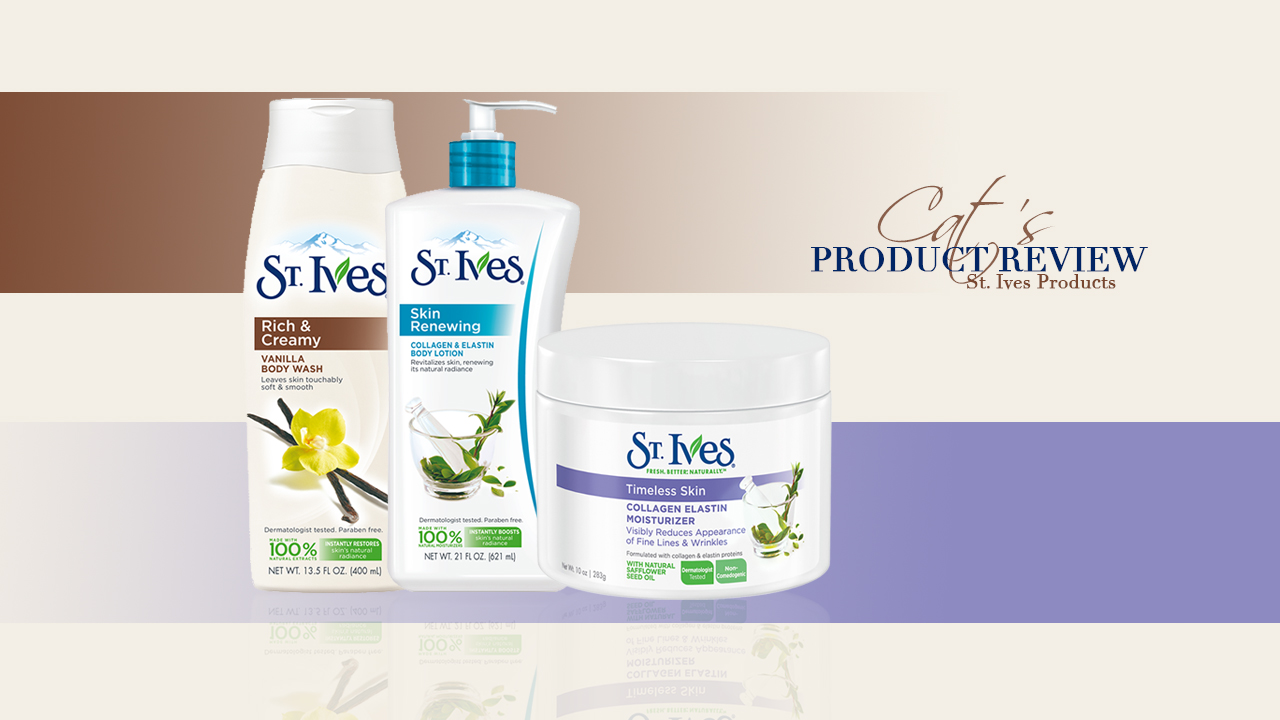 By Cat Juan Ledesma
St. Ives has been around for 25 years making premium bath and skincare products that are affordable and do what they promise. Their cult favorite Apricot Face Scrub has been used for generations to gently slough away dry skin to reveal a glowing you.
St. Ives believes in bringing you natural ingredients that delight the senses as they leave your skin even better than before. I was recently asked to review some of their lesser known, but equally great products. Here are my thoughts below:
St. Ives Rich & Creamy Vanilla Body Wash: Highly fragranced and extra bubbly. This body wash makes your bathroom smell syrupy sweet. You need just a little on a sponge or bath puff to get a rich lather that cleans without leaving skin feeling stripped of moisture. It's suitable for sensitive skin and doesn't contain any animal ingredients.
I would recommend this product if you're a huge fan of the sweet notes of vanilla and want to be enveloped in rich, creamy foam during your bath time.
St. Ives Skin Renewing Collagen & Elastin Body Lotion: The refreshing scent of cucumber is combined with collagen and elastin to help skin stay young. I love how it has a non-greasy formula, which is perfect for our humid tropical conditions. It immediately absorbs into the skin leaving it feeling silky smooth. It has vegetable glycerin and soybean oil to help attract moisture.
I would recommend this product if you're looking for a lotion for daily use that will help your skin stay moisturized without making you feel sticky.
St. Ives Timeless Skin Collagen Elastin Moisturizer: This large tub of moisturizer is to be used morning and night on your face and neck. They guarantee that with regular use you'll notice a visible reduction in fine lines and wrinkles. It's got a light cherry scent and is formulated with natural safflower seed oil.
I would recommend this if you're looking for a facial moisturizer that won't hurt your wallet and will last for quite some time. It's quite rich and might be best suited for those with dry skin.
All in all, I was happy to be reintroduced to St. Ives. I really enjoyed the products I got to try and I'm happy to report they've kept to the same high quality I remember from my high school days. You won't be disappointed trying them out again as well.