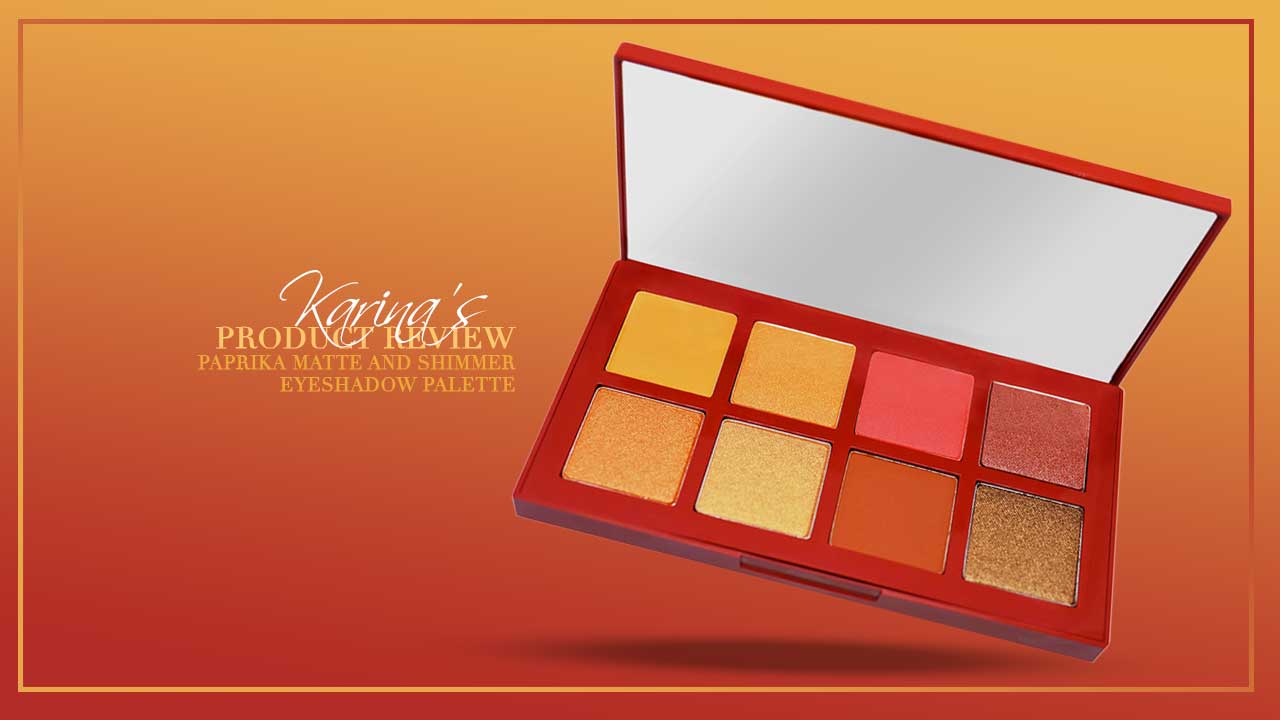 One of my tasks as Calyxta's Marketing Manager is to stay up-to-date with the latest beauty trends. Upon checking my explore feed on Instagram, I noticed an abundance of red and mustard eyeshadow tones that have replaced the usual browns and beiges. Reds and yellows are eyeshadow hues that have been seen mostly on indie brands like Juvia's Place Eyeshadow Palettes, but are now being incorporated into mainstream brands like Urban Decay's Naked Heat Palette and Huda Beauty's Desert Dusk Eye Shadow Palette.
Honestly, I'm not much of an eyeshadow person since I prefer the lazy-girl makeup routine (my skincare routine is another story) and I'm very, very picky when it comes to what I use on my eyes. But I think I've found a palette that's trendy, wearable, pigmented, and can be used by a lazy girl like me! I road-tested a new eyeshadow palette from a land that is 12 years ahead in terms of beauty innovations—South Korea!
Paprika Cosmetics comes from a Korean manufacturer with over 10 years of experience in manufacturing and developing cosmetics. The brand prides itself in professional quality makeup, which regular girls like us can use with ease. The first palette they released is composed of 8 warm tones, ranging from a shimmery champagne to a fiery paprika red. Now, onto the road-test!
I used the palette on the exact same day it arrived in our office (at around 4pm). I used 3 out of 8 shades, namely: Mustard Yellow Matte for my base, Orange Shimmer as a layer, and Orange Brown Matte on my crease. For those wondering, my skin tone is on the fair side.
From top to bottom: Mustard Yellow Matte, Tangerine Silver Shimmer, Pink Orange Matte, Red Copper Shimmer, Orange Shimmer, Gold Shimmer, Orange Brown Matte, Brown Shimmer
I noticed that it does have a slight fallout upon dabbing my eyeshadow brush on each pot, but when I applied it directly on my lids, it came out super pigmented! I only applied each color 2 to 3 times on my lids.
At around 6pm, I did an eyeshadow check and found that it was still intact! I didn't even use a primer nor a setting spray for this. Now, the real test comes after! I usually walk my dog at around 8 to 9pm—so did a sweat-test.
When I started my daily walk, my eyeshadow had already been on for about 4 hours. I walked for an hour or so, which usually causes me to sweat a lot because 1. It's Manila, and our weather has been so humid lately, and 2. my dog is considered a large breed so imagine a tall, lanky girl getting dragged around by a Samoyed.
BEFORE
After wearing it the whole afternoon plus a sweat-test in the evening, tada! The Paprika eyeshadows stayed put and you can still see the colors—even my blending! To summarize my first Paprika experience:
What I liked about it:
The shades are wearable
Pigmented!
CRUELTY-FREE (My dog approves of this!)
The price won't break your bank! Only P1,895 for a set of 8 gorgeous shades.
The shades can go from day to night
The palette is compact and fits perfectly in my makeup kit
What I didn't like about it:
A bit of fallout from my brush
I was kind of hesitant to try the red tones since I've never used red on my eyes before, but this experience has changed my mind. I think I'm more open to trying out a couple more shades and experiment on how it can match my makeup look. So yes, I do recommend Paprika Cosmetics to everyone! Calyxta is one of the first to carry this new product and it even comes with an intro price. If you want to give it a try, shop it here. Let me know how your Paprika experience goes!