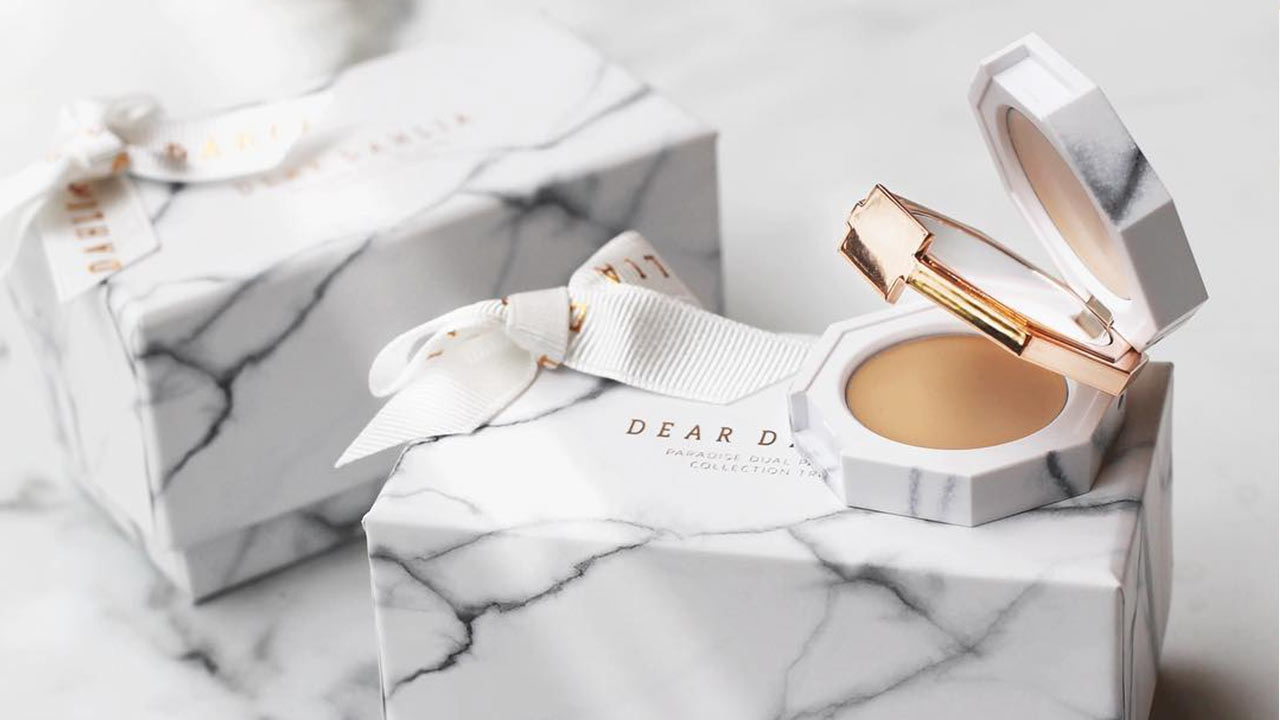 It is a truth universally acknowledged that I am a lover (or a fan, or both!) of all things Korean. Well, maybe not all. But yes I am a self confessed worshipper of everything with a touch of K—from the air they breathe to the pavements they walk on.
And while I do admit that there are times when I feel like my K-ness has toned down or my Tita body is forced to lie low when it comes to gushing over Korean things, life always manages to surprise, and I am led to discover more and more reasons to love it.
Case in point is Dear Dahlia Cosmetics. Eeep! It was love at first sight for me! How can you say no to its marbled and gold-lined packaging? I simply couldn't!!!
These days, I hardly ever wear foundation (I think my core values and foundation are enough, though) and usually just put on BB cream. I reserve a full face for special events, so to speak, like my friends' weddings. But I needed to get through this review, and I guess my situation turned out for the better—I got to test the products through trike and jeepney rides, my grocery errands, LBC padala (LOL!), and all that jazz.
The plus is I even got an authentic review: one of the cashiers at the drugstore told me I looked pretty (thank you, God and parents) and said I looked like a Barbie doll! Omo! In my head, I thought, "Yay, now that's like a real, true-to-life, honest review!"
Back story: I used the Duo Palette purely as concealer. I'm sometimes paranoid about looking too white so I blended the two  colors and just used my fingers! It glides on like a dream! Then I used a sponge to apply my foundation. I love how it feels light on my face! You also need to put only a little, and it's enough to really make you look alive, awake, and, uh, hashtag blessed.
As for the so-called verdict, well, Korean bias aside, I would personally recommend Dear Dahlia because of its beautiful packaging and I simply love beautiful things. I also didn't experience any breakouts or irritation on my skin, and have nothing but good memories with this product. I love how it doesn't look cakey, and its satiny finish looks so well with my velvety lip. And, at the end of my errand day, my makeup was still intact. That's definitely a plus!
I would say it's pricier than usual, but you get what you pay for! It's fun to show off! I would think you won't really wear the foundation on a daily basis, too (or probably depends on your job!). Overall, I think it's a worthy semi-splurge to reward yourself with this Christmas!
Written By:
Patti Sunio aka Tita Pacita
BEAUTY CONTRIBUTOR
Tita Pacita of www.titapacita.com is a lifestyle, culture, and fashion & beauty writer from Manila. With her wisdom and almost thirty years of life experience, she likes to share what she knows and give unsolicited advice, true to her Tita ways. Her makeup choices are primarily based on instinct, and, believe it or not, K-Beauty.
Other Dear Dahlia Products You Might Like: