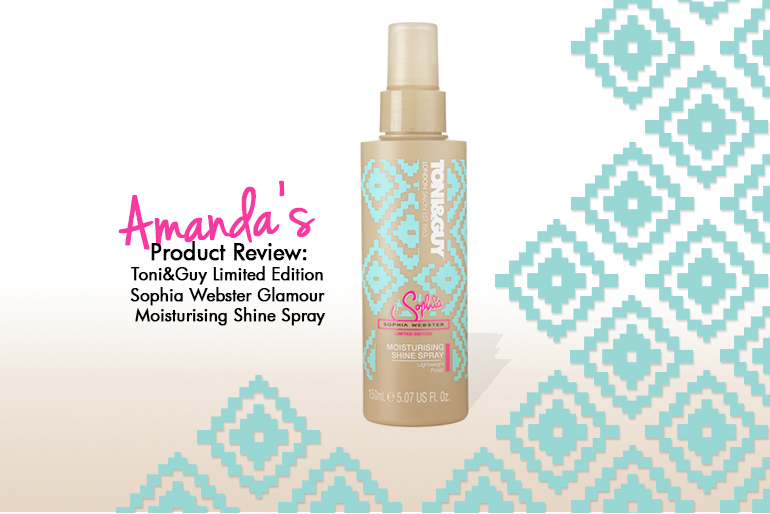 For years, I've been solely a make up artist. There are those of us who straddle between being a make up artist and hairstylist, and although I generally feel that you should pick a side and try to be the best at one or the other, I'll have to admit, knowing both works to their advantage. There are jobs that I want, like out of the country shoots, that just don't have room for a two-man glam team. So I've made it my mission to learn hair.
There are a few basic looks that I feel are essential in every hairstylists bag of tricks. Beach waves, the perfect ponytail, a messy top-knot, an elegant up-do, and my all-time favorite—soft curls. Creating these looks all start out similarly—make sure hair is completely dry, use dry shampoo at the roots if needed to neutralize the natural oils in the hair which can flatten your 'do. Style as needed, set with hairspray. As a last step on any of these looks, with the exception of beach waves, I spray a light mist of Toni&Guy Glamour Moisturising Shine Spray, a lightweight spray that makes your hairstyle look polished and professional. It also makes your hair hold its shape all day without having that stiff 80s hairsprayed look. When doing soft curls, section the hair and use a curling iron on each section. After all the sections have been curled, soften the waves using your fingers or a paddle brush. I like to spray a little hairspray on the brush before brushing the hair. As a final step, I mist Toni&Guy Glamour Moisturising Shine Spray evenly all over the hair and smoothen it out with my hand.
Years of wear and tear have wreaked havoc on my hair. Straightening treatments, highlight and dye jobs, years of applying direct heat to my hair have left it looking dull and lackluster. Using Toni&Guy Moisture Shine Spray makes my hair look alive again, it gives my hair a healthy looking sheen.
There is no product to show