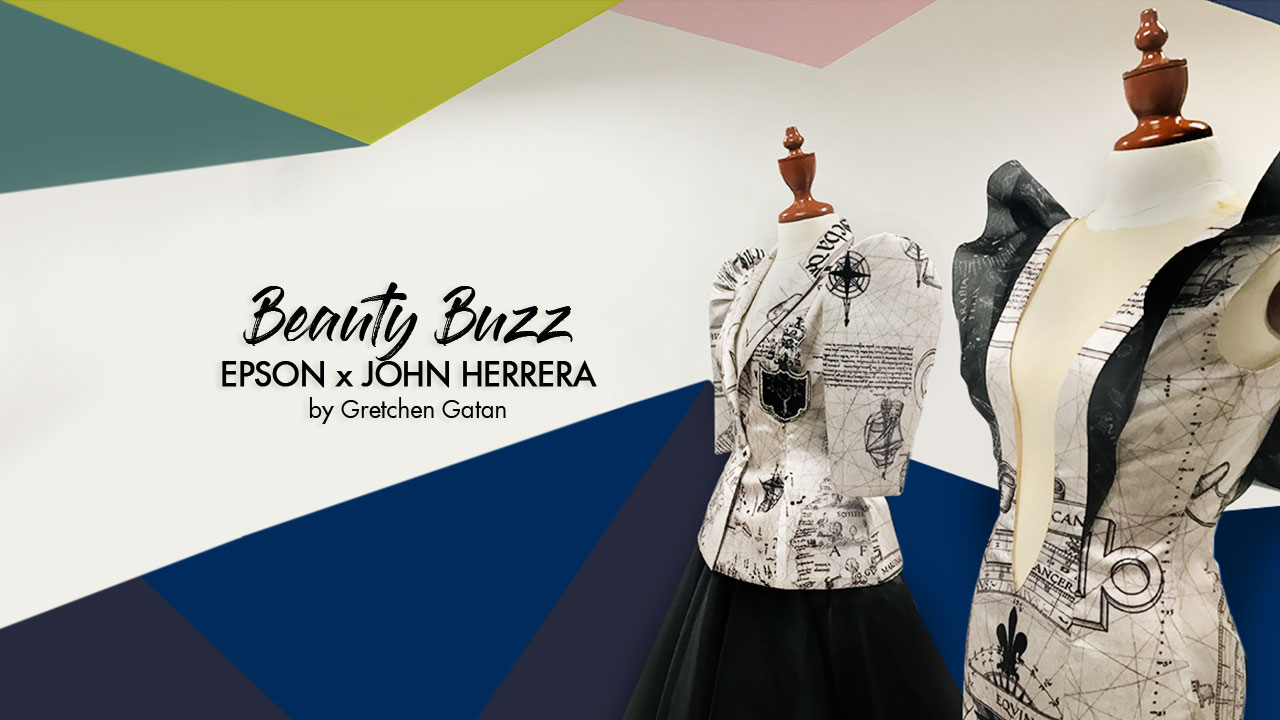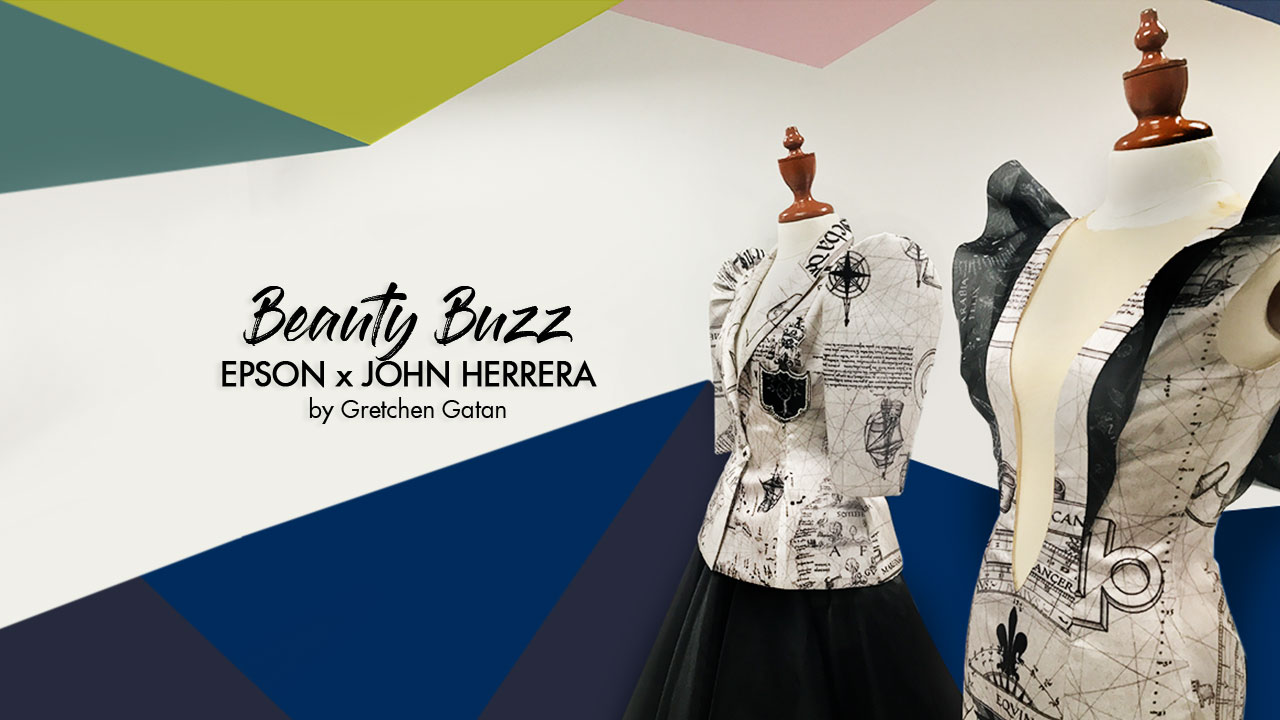 Early this month, I had the pleasure of meeting THE John Herrera as Epson Philippines partnered with the award-winning designer for the second time to create "Armada"—a 30-piece collection for Spring/Summer 2018, which was globally presented during Fashion Scout, the international showcase for fashion pioneers and the UK's largest independent showcase for emerging and established designers during the 2017 London Fashion Week.
Fresh off his win as Britain's Top Designer 2017 at the 5th season of fashion's finest event for emerging talent in British fashion because of his Aguila collection (his first collaboration with Epson), John delved back into history and Philippine pride in creating these new digitally-printed masterpieces.
Before John left for London, he was officially sent off courtesy of Epson Philippines at the TWG Tea Salon & Boutique in the East Wing of EDSA Shangri-La Plaza. Special guests and close friends were able to show their support, send well wishes, and even get a peek at some of his designs from the Armada collection.
As the intimate tea party was happening, we had the chance of sitting down and interviewing John quickly:
Can you tell us a little more about the collection?
This collection is very bittersweet for me because I will stay in London for a while, and I promised my PR that I will stay in London—for three months. But the entirety is—I'm going to try this year to figure out what my next move is. I'm very, very lucky that where I am right now in my career, I have the freedom to experiment and explore what avenues I can enter. When I started showing in UK two years ago, it was very ready-to-wear; very prêt-à-porter—because I think that was due to the climate.
But now, haute couture is on the rise, even in the UK, so I feel like it's a nice time for me to try. I have my first bridal client in the UK, which is a good sign, and which means more and more people are into haute couture bridal—even in places like London where it's off-the-rack. All evening gowns and bridal gowns are off-the-rack. I'm excited about that. This collection is my ode to the Philippines. This is my last ode to the Philippines because after this, I think I'm going to be more worldly.
Being in a place like London where you meet so many people (not just from the UK or not necessarily British), your perspective is really going to change and inspiration will come at you from every direction. Of course, there will still be a bit of Filipino in me because all my life I've lived here. But this is my last collection inspired by the Philippines, so I went big time!
This is inspired by the world map of 1529, designed by Portuguese map maker, Diogo Ribeiro. This is the first time the Philippines is literally placed on the map—Las Islas Filipinas. It took him seven years to make it, from 1522 to 1529, because we were discovered in 1521. So this is from the logs of Magellan. That's why you see the map distorted in this collection, reversed, over exposed, and then we got images from the map and turned them into logos, because also, our culture is logo-obsessed. Two of the pieces—one is the logo of the King of Spain—King Phillip the 2nd. So I was surprised that it's even placed on the map, so, they have branding! They've been branding ever since.
You know, the way we're obsessed with Gucci logos now, they have been doing that for the monarchs. It's just amazing and sometimes I would look at the map, I would try to figure out what the next pattern will be, and then I would see an image that's beautiful because the attention to detail was really incredible. I really had fun with this one, and I got more freedom because my collection is my first solo show in London. It's a 30-piece collection. It's quite a lot. The pressure is really on. But I got more freedom because with a 30-piece collection, you can tell a story. You can add more detail to a story than a 6-piece collection, which is what I've done. All my five shows
in London are 6 pieces. One is the 10-piece collection—the one from London Emerging Designer Awards. But everything else was just 6 pieces—mini collections, as they call it. This is my first full show of 30 looks. This will have more haute couture elements than all my shows before because I think you can let your haute couture freak flag on now. It's weird! Fashion is really, really weird. When I went to London, the climate was very different. And now, after just two years, I saw a shift in aesthetic. I'm happy that I will be allowed to create the way I've always known how—less ready-to-wear and more haute couture this time.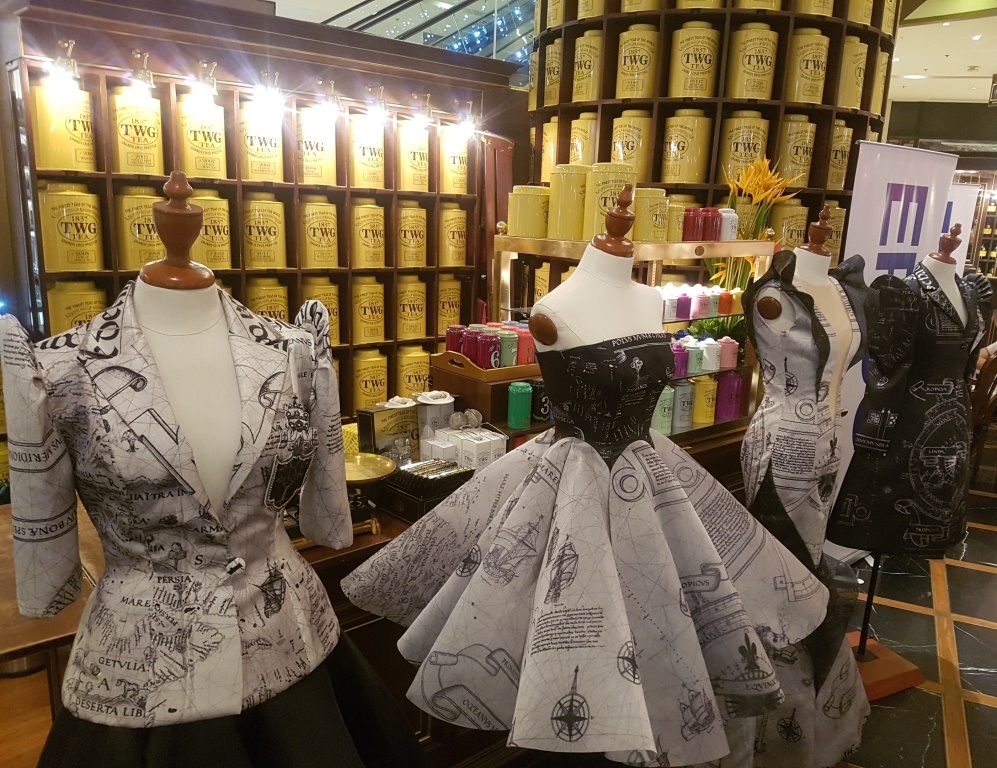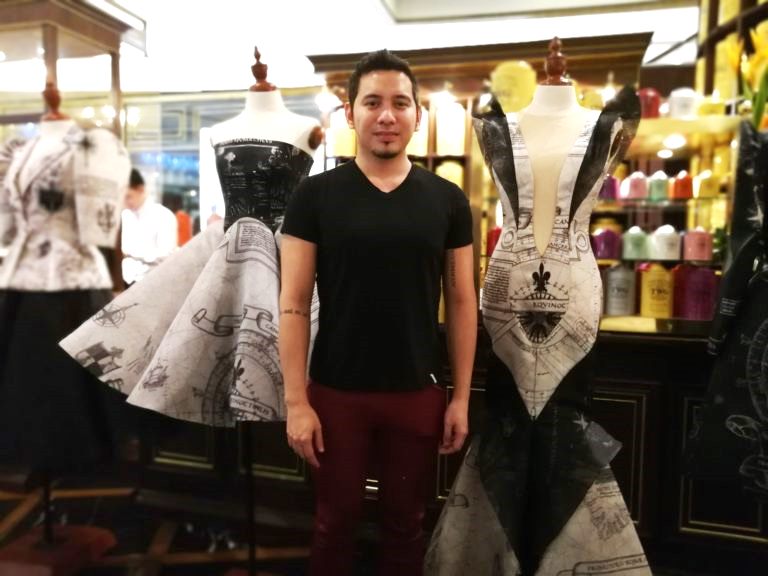 What do you think about the current positioning of Philippine Fashion now?
Well, actually, the people that I admire like Monique Lhuillier, Lesley Mobo, and Michael Cinco—you hear these names and you think they represent, but actually in fashion, everyone's representing where they come from. If you look at it, I think you'll have to also assimilate. You have to assimilate, and there is no nationalism in fashion. Your nationalism is fashion itself. So these successful fashion designers abroad, they're actually just following their hearts and not necessarily being nationalistic in their aesthetic. But what I love about them is they don't feel like they are a citizen of anything. They feel like they're a citizen of the world and you see this in every fashion designer. I think my nationalism is, and the thing that I can never and will never shake off, is the terno. You see it, and it's permanent in all of my collections. It shows up somehow. I don't know why. I love it. I really love it. I really like the origami part of it—of constructing the terno. So whether it's a bridal gown or a trench coat, I would sometimes put the terno for fun.
Do you have any advice for young and up-and-coming designers?
Follow your heart and believe in yourself. There will be doors slammed in your face, I know I have, but, just keep believing in yourself. Always listen to yourself and know your market. You have to know your market—who are you dressing? Before you even start designing, who is this for? Who will wear this? Even if she is a weird, freaky girl. Even if she represents 5% of the entire populace, it doesn't matter. If you are thinking of a person, then it's an outfit. It's fashion.