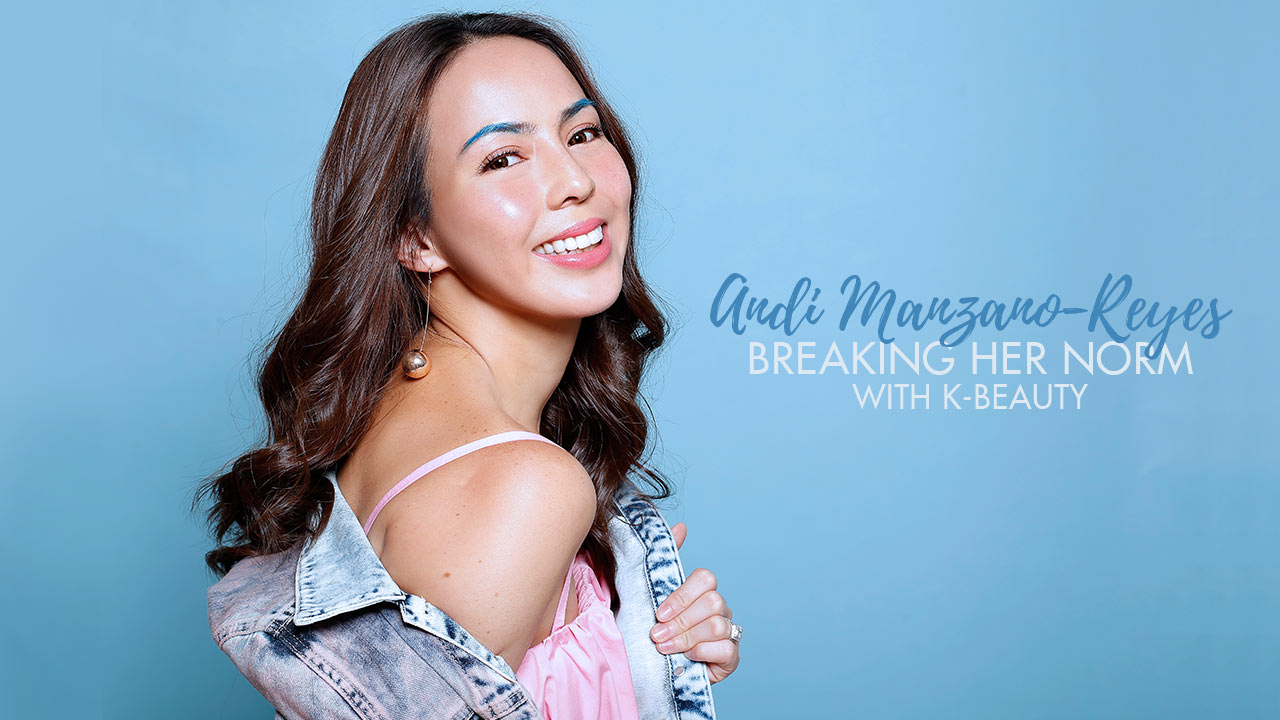 Meeting Andi Manzano-Reyes was like a breath of fresh air. In jeans and a simple, white blouse, she sat quietly in one small corner of a café in Alabang typing on her Macbook—perhaps working on her next video entry or writing a new blog post. Her face was completely free of makeup—a far cry from the edgy and eccentric looks in our big beauty issue this August, where one of our highlights is how Korean beauty has pretty much taken over both makeup and skin care trends.
Though our communication initially began through text messaging as we had never met in person before, the moment we saw and greeted one another in Café Breton, it was like we had already known each other—smiling eloquently and even exchanging quick hugs. As sincere and unfiltered as she seems on her Instagram (where she's garnered more than half a million followers), that's exactly what you get when you meet her—grounded, beautiful, and an affectionate aura surrounding her.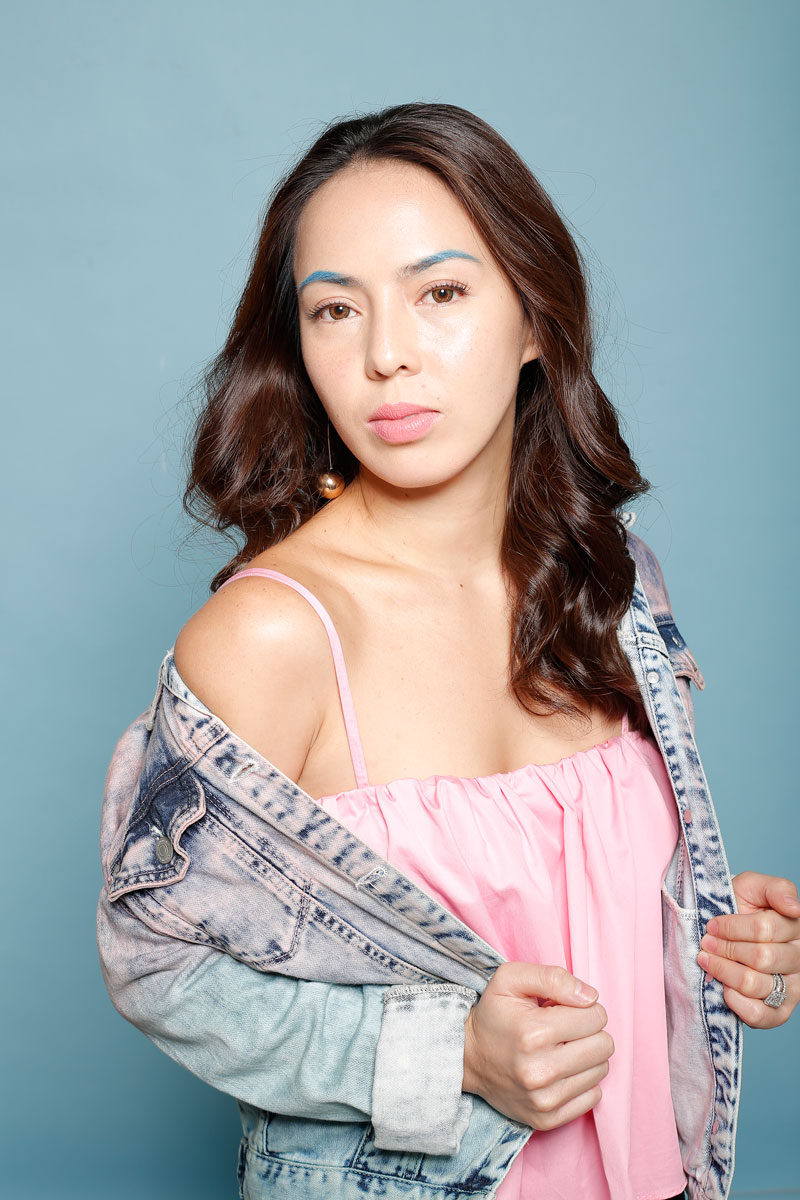 "Sorry for making you guys come all the way here!" was one of the first things she uttered, before thanking us profusely for marching ourselves into unfamiliar territory that is the south of Metro Manila. With the many roles she juggles, not to mention she had just come from a trip to Singapore, her schedule can be quite hectic—but it was a morning we genuinely enjoyed as we got to dig deeper into the life and loves of the fresh-faced Andi.
In our first cover story on the naturally charming and effortlessly exquisite August #CalyxtaGirl, whose beauty philosophy has always been on the fresher and more natural side, we talk about what it was like breaking away from her usual look and stepping out of her comfort zone, her thoughts on K-Beauty, and her minimalistic approach on makeup and skin care.
What was it like to break away from your usual fresh and natural makeup look?
To be honest, I trusted Jigs so I was perfectly fine and I knew everything would come out nice. I was expecting, especially when you talk Korean, that it would be flawless. You think it would be just natural beauty. But when he said we were starting with blue eyebrows, I was like, "Okay! Let's do this!" It became experimental—so it was fun! At the same time, I was also amazed that I was able to get the look. I mean, my face transformed easily—whether it was a cat eye or a different eye shadow. It was good that Jigs was able to do everything.
Is there anything from Korean beauty that you like or follow?
Well, it was really after the shoot where we talked about all these Korean makeup rituals. Even the skin care, I actually asked my friend to buy me masks! It's not here yet though. I'm used to doing it in the derma and not at home, so that's what I'm going to try. I also bought a set when I was in Singapore—you know those three-step, four-step kits? But I've only been using it for two days so far, so I have to see the difference. It's okay—it's just nakakatamad! It takes so much work. I mean, when you're sleepy from a night out, you just want to go to bed—but it really takes so much effort so I guess it pays off later on.
Your skin is one of your biggest assets. What's the secret to maintaining your youthful glow?
To be honest, I have no skin care routine or anything. I just started because I have a makeup artist for events, and she was the one who got mad at me because I don't put sunblock. And even my mother-in-law was like, "You don't put sunblock?! You should put sunblock!" So she bought me sunblock. That was when I started, maybe two years ago. And then my mom also doesn't take care of her skin. She doesn't put eye cream or lotion at night. I kind of followed her footsteps. She'd say, "Just drink lots of water." So I just drink a lot of water. But now, I'm a little bit more conscious I guess. My friends are also conscious now since they're getting older so for me it's really just sleep. I need eight hours of sleep. If I don't get to sleep for eight hours, I'll find a way to sleep. And I can sleep anywhere! And I just drink a lot of water.
Do you follow any beauty trends?
Well, I'm more of the natural makeup type. I don't do anything crazy or out of the ordinary so I'm more like—okay, highlighters are in. So we'll do a little bit of highlighter. The ombre lip, I just do the basic ones that won't shock people.
But is there any other trend or look that you'd want to experiment with? For fun? Or just see how it will look on you?
I have always wanted to try short hair. You know—to go a little bit crazy. Kasi I always had long hair so I want to do a change of look but I'm still scared. I'm scared if my husband will still like my hair or not. So I don't know. And it's also hassle to have short hair for me! I mean, you know that short wavy hairstyle? I've always wanted to do that but yeah. When it comes to makeup, I want to try the really "just nude makeup" and then a brown eyeshadow. I don't know. I don't know how to pull it off. Maybe in the next event or next photoshoot.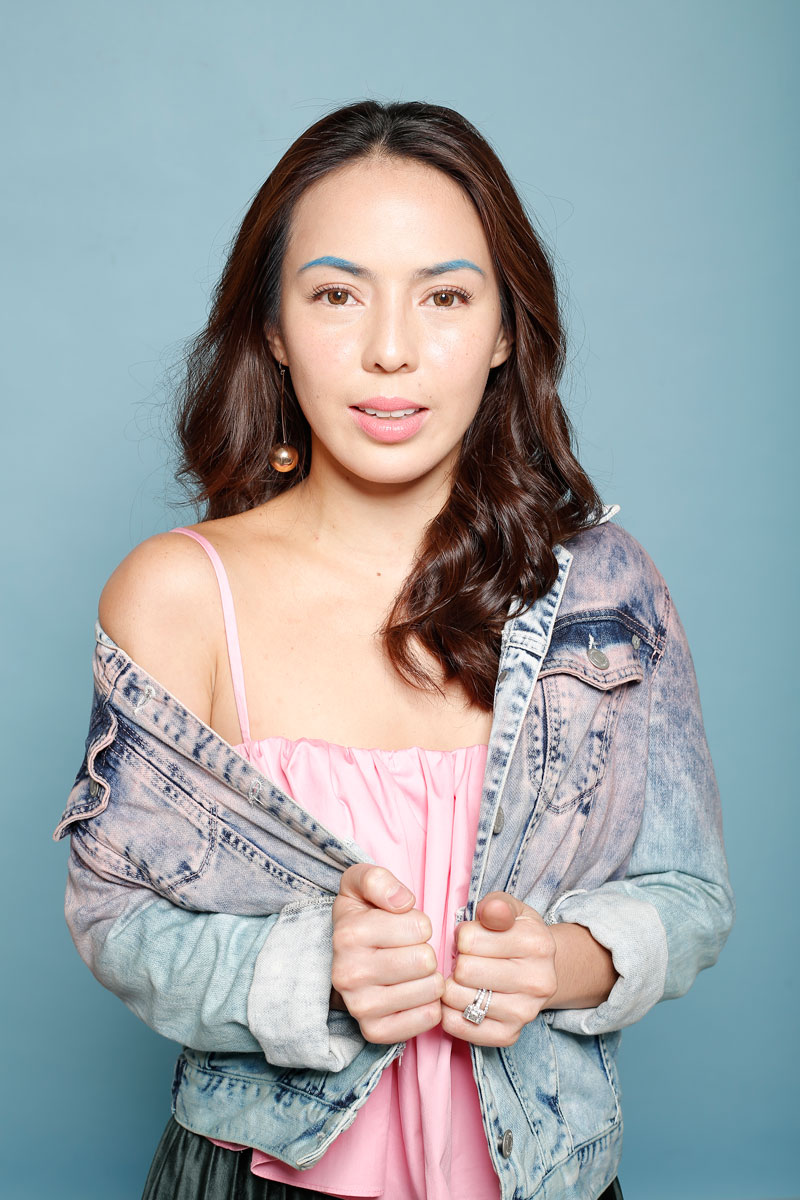 Speaking of hair, what's your haircare routine?
Well, I go to the parlor. I color my hair. They're the ones that take care of my hair. I think I have like a hair spa there so it's my salon that actually knows it. And I go to one salon, which is the one in Hairworks right across Greenbelt.
How often do you go there?
When I wasn't a mom yet, maybe every other month—because my hair would be brown. But now that I have a baby, I just color it dark so I don't have to go back every time. Because it's such a hassle, so yeah. And I was more adventurous at that time. You know, I would highlight and all that. And now it's just, whatever. (laughs)
Do you have any holy grail products? Products you can't live without?
For me, it's just eyebrow pencil. I can't live without eyebrow pencil. Like take away everything, just not eyebrow pencil. And moisturizer, though I'm still finding the perfect one. If there's one thing I buy a lot it's moisturizers, eyebrow pencils, and blushes.
What eyebrow pencil do you use?
I have a lot. Like I have drawers of it. It's just sometimes, I'm in the mood for this or that. So it really depends. The Anastasia one I use a lot, the Shu Uemura one, and the one I discovered recently—the one from Browhaus. Browhaus has nice shades! Like if it's dark, it just fills it up.
Do you share makeup and skincare products with your sisters?
Yeah, always. Always!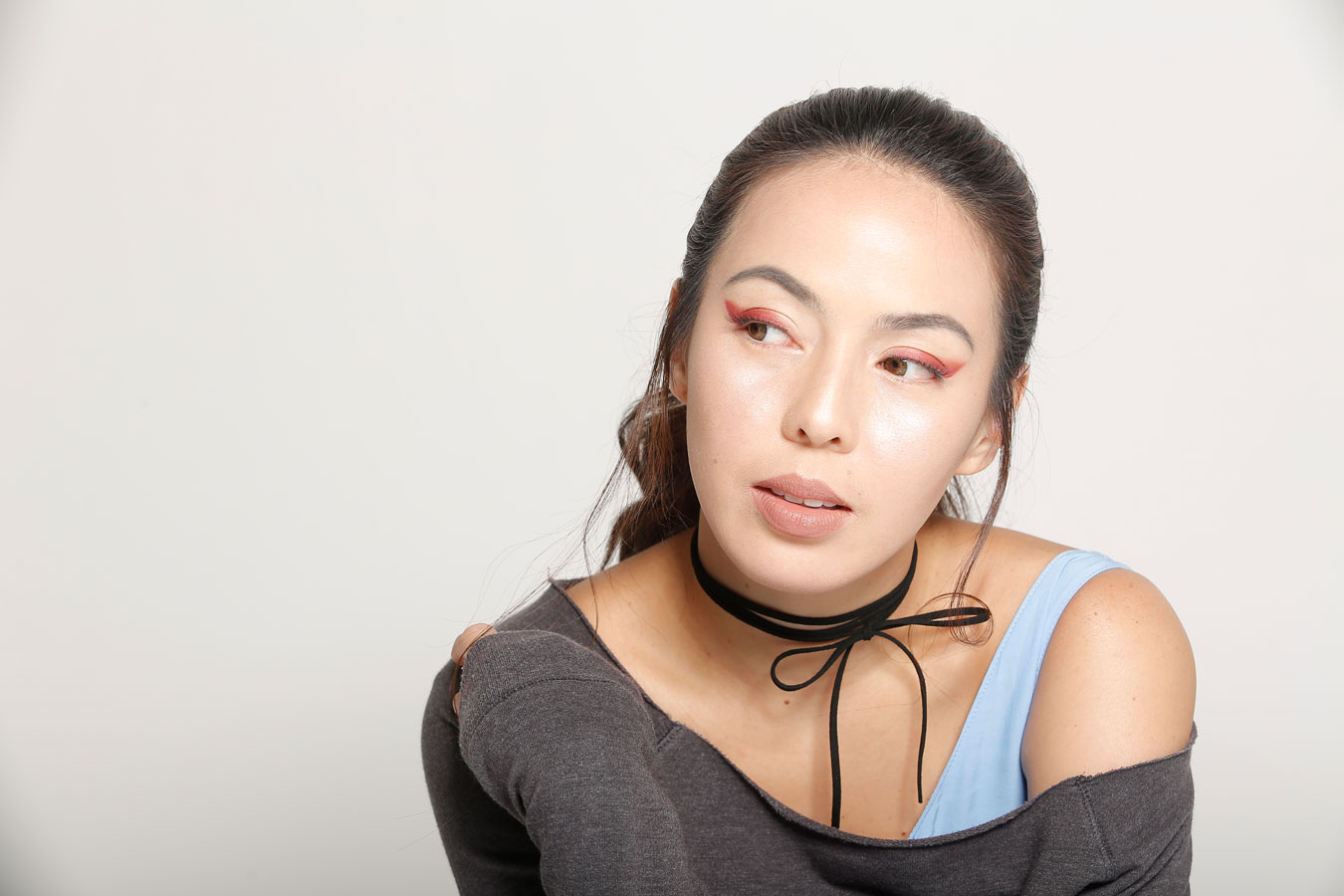 What tips have they given you?
Well, first of all, they're a little bit more confident now in putting makeup and admitting they wear makeup because before they'd say, "I don't wear makeup!" but when you look at them, you know they're wearing makeup, and they're like, "No, that's just lotion."
They're a little shy still, but now they're like, "Ate, mine na lang." They'll always ask when I get a bunch of makeup sets. They hoard it and say, "I don't have this. Can I have this?" And we share everything so you know, I'm very particular. I'll say, "You know what? You're wearing too much concealer."  or "That's not your color." It's that stage where it's fun already to share makeup tips especially now that they're very conscious about their eyebrows. They go to the salon already to have it fixed.
What's the best skincare advice you've ever received and from who? Is it from your mom?
No. It's my mother-in-law. She has really nice skin and she just says to always wear SPF. All the time. Even if you don't like it. Even if it's so icky and sticky you know, just wear it.
Be sure to follow our cover stories on Andi Manzano-Reyes these next few weeks, and see a side of her that you've never seen before!