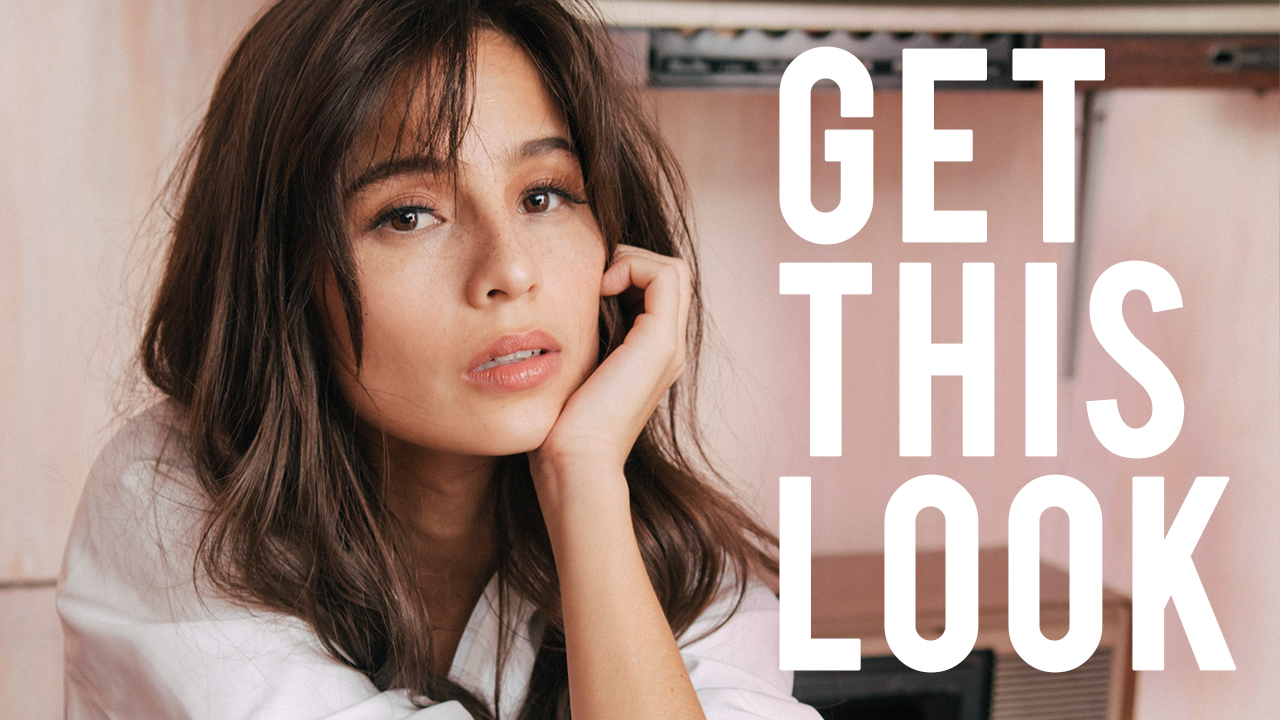 Serving us some mad lit-from-within vibes is our glow girl, Jasmine Curtis-Smith. In this look, she's channeling the usual girl-next-door chic but with a more mature twist, perfectly apt for the person that Jasmine is now.
Read below on how you, too, can cop this look!
2. You want to keep your skin light and luminous, especially if you have natural freckles scattered over your face—so reach for a foundation with light coverage. Use Rivecowe Moisture BB as a base all over your face and down to your neck.
4. If you don't have natural freckles but want to have that sunkissed vibe, drawing it on has never been easier! Take your Pink Sugar Eye Candy Eyeshadow Quad and select a light brown matte shade. Using a slanted eyebrow brush, start to draw freckles and lightly dot the brown shade over the bridge of your nose and the area around it, without extending to the cheek area. Remember—the dots don't have to be a perfect circle. To mimic natural-looking freckles, try drawing it on in different shapes and lengths, and in different color intensities.
5. Take your Innisfree No Sebum Blur Pact and lightly pat it over the drawn-on freckles to lightly blend it out for a natural look. Apply the powder to the face to create a light and blurred matte effect.
7. Add some warmth and dimension back to the face with Physician's Formula Murumuru Butter Bronzer. Take it to the temples of the face, the hollows of your cheeks, and over the jaw line. Use light strokes on the temples, and a slightly sharp line for the cheeks to sculpt them out.
8. Fill in any sparse areas with light strokes using brow powder to create a young and innocent look. Draw your brows on with Detail Makeover Makebrow Powder in a softer manner instead of shaping it into sharp angular brows.
9. Jasmine's eyes look almost bare and natural. Take a light brown shade from your Pink Sugar Eye Candy Eyeshadow Quad and lightly blend all over the eye. Take the same shade and take down to your lower lashline to recreate the look of an "aegyosal," a charming fuller undereye look that K-Beauty lovers fan over! An aegyosal is different from having visible under eyes in a way that the aegyosal is supposed to give the over eye look a fuller and cuter effect, as opposed to under eyes anchoring everything down in a dark and heavy way.
10. Curl your lashes to prep it for falsies application. Apply some eye glue to the lashes using a bobby pin or cotton buds, and wait for it to get tacky before pressing it down to your lash line. Try to get as close as possible to your natural lash line. To mimic Jasmine's long and fanned out falsies, use NYX Wicked Lashes – Jezebel for your eyes!
11. Follow by using Clio Waterproof Brush LIner XP 0.55G to draw a line to conceal the lash line where you placed your falsies. Try drawing a slightly thick line and winging it out slightly at the ends.
12. When the lashes and liner have fully dried, curl it again to blend your natural lashes and apply W7 Absolute Lashes Mascara to complete the eye look!
Other Products You Might Like: