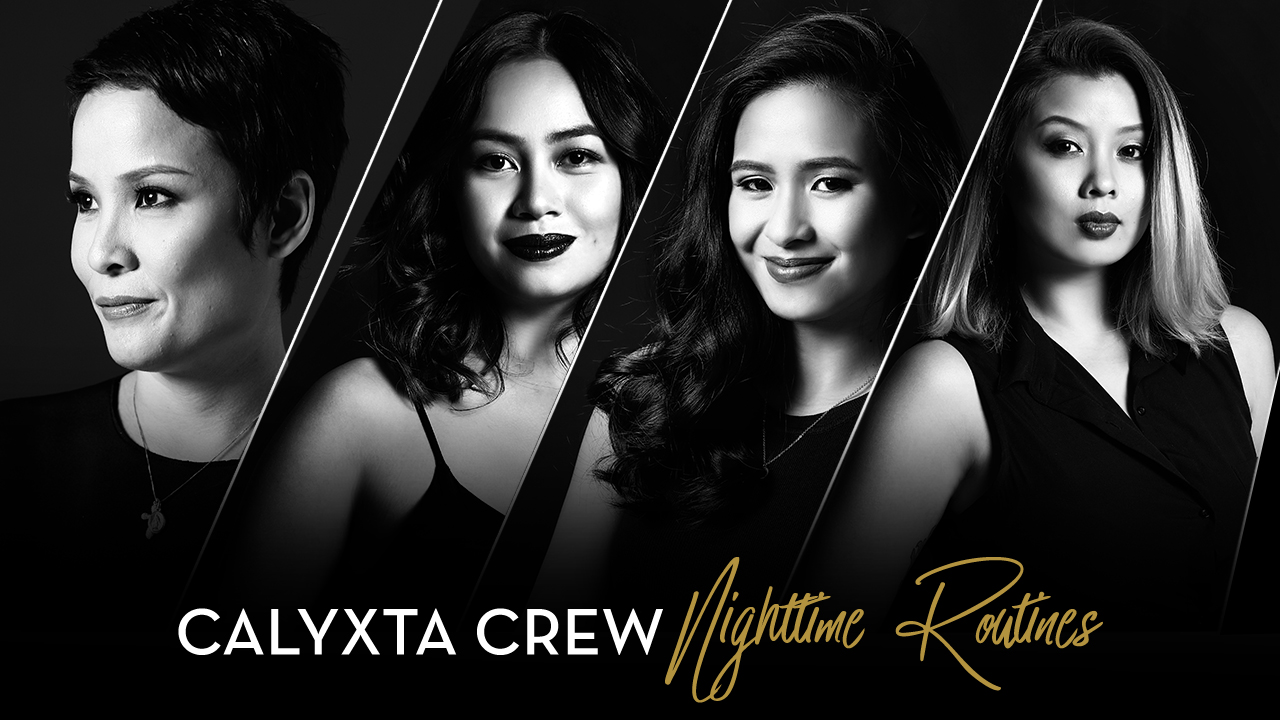 By: Cai Maroket
The modern day cosmopolitan lifestyle can wreak insane havoc on the skin and people in the beauty industry are definitely not immune. After a long day or night at work, an end-of-day ritual is definitely a must—not just to release physical and mental stress, but to also strip your body of all the grime accumulated throughout the day. Since they spend most of their waking hours around cosmetics and skincare products, I decided to ask the women behind Calyxta about their nighttime routines and their non-negotiables when it comes to caring for their skin.
LYDA DE DIOS, COO
Lyda's nighttime skincare routine can be pretty straightforward. On the regular, she sticks to a basic skincare regimen by cleansing with No7 Beautiful Skin Cleansing Oil before following it up with the TonyMoly Toner then serum, and then sealing the moisture off with a moisturizer.
She does have her own ritual that deviates from the standard. "Every Sunday, I exfoliate with the Aesthetique Microdermabrasion Kit and then put mask on. I like to use Glamglow Youthmud. After the mask, I don't rinse anymore and just leave my face as is." Lyda also makes it a point to sleep before 10:00 PM to ensure her skin gets enough time to rejuvenate on its own. "And once a week I try not to put anything on my face just so it rests from products."
KARINA ROBLES, MARKETING MANAGER
Karina has a pretty extensive regimen that she does day and night, but for the end of the day, she makes sure to remove her makeup with Pixi Skintreats Makeup Melting Cleansing Cloths before anything else. She then washes her face with Shiseido Perfect Whip before using toner and moisturizing with two products—first with 3 drops of argan oil on the face and neck and then with Embryolisse Lait Crème Concentre.
Once a week, she exfoliates with CURE Nature Aqua Gel and uses Origins Ginzing Mask or Origins Original Skin once or twice a week to help brighten her complexion. Since she is prone to hormonal breakouts, Karina also treats her acne with benzoyl peroxide from her dermatologist.
MARJORIE MAROKET, TRADE MARKETING ASSOCIATE
Double cleansing is the way to go for a makeup enthusiast like Marjorie. "It's a non-negotiable," she says of taking off all traces of makeup after going out. She prefers to do this with the Banila Co. Clean It Zero and likes how it really makes her face squeaky clean. Afterwards, she does a second cleansing with any facial cleanser for good measure.
She then applies toner to make her moisturizer and eye cream absorb better. For moisturizer, she swears by the VMV Hydra Balance Smart Moisturizer for Combination Skin because it delivers just the right amount of moisture for her skin type. "It's not greasy and it absorbs right up."
MARGAUX CORTEZ, ART DIRECTOR
Margaux can be quite experimental and likes to changes the products she uses every once in a while. She has naturally good skin and maintains it by adhering to the basic routine of cleansing, toning and moisturizing. She's a heavy makeup wearer and likes to sport bold lip colours often, though, so she prefers to use an oil cleanser or using Maybelline Lip and Eye Makeup Remover prior to using a foam cleanser. She then uses toner to help her night cream permeate better. At the moment, she uses L'Oreal Paris Revitalift Laser X3 Night Cream Mask.
Two to three times a week, Margaux makes sure to exfoliate with St. Ives Facial Scrub – Fresh Skin Apricot. Exfoliation is essential to her even though she has clear skin because it aids in getting rid of dead skin cells, which helps makeup adhere to the skin better.