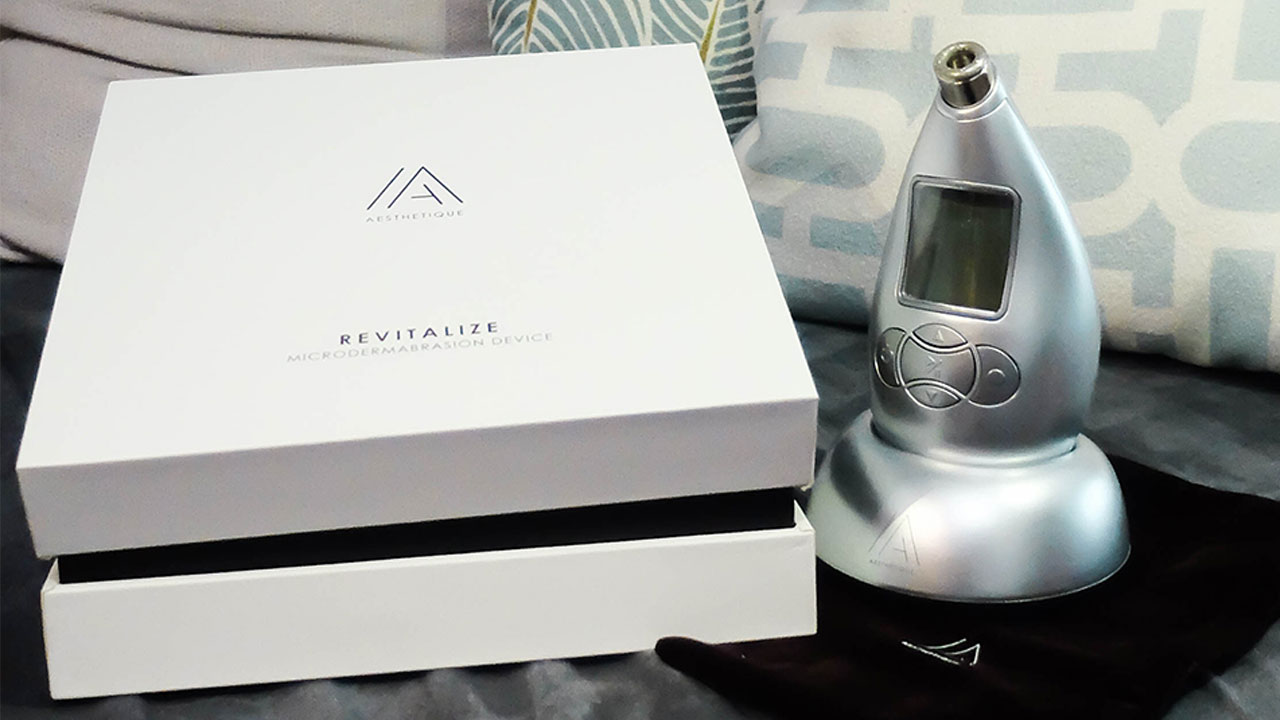 The year 2019 finds us busier than ever. With our time being torn between working our butts off to pay bills, making time for friends and loved ones, pursuing personal passions, and trying—yet failing miserably—to keep a gym routine, it gets hard squeezing in time to relax! That's why when I was offered to review a device that was said to give you the same diamond peel experience at home, I was more than willing to do it. After all, watching reruns of Brooklyn Nine-Nine in my pajamas while giving myself a facial sounded way too good to pass up—no doubt, no doubt!
Enter: Aesthetique Solution's Revitalize Microdermabrasion Device. With a name like that, it's easy to be intimidated, but don't let it scare you! Beneath its posh chrome exterior, LED screen, and removable doodads lies a straightforward and easy-to-use face-and-body exfoliator that gently treats the skin using tiny exfoliating crystals. Now, with all the skincare products we put on our faces, physical exfoliation seems quite unnecessary, right? Wrong! While piling on skincare is all well and good, having physical exfoliation not only de-clogs pores and removes dry skin, but also prevents in-grown hair, fades dark spots, helps heal blemishes, and promotes blood circulation. Read up on my thoughts on the device below!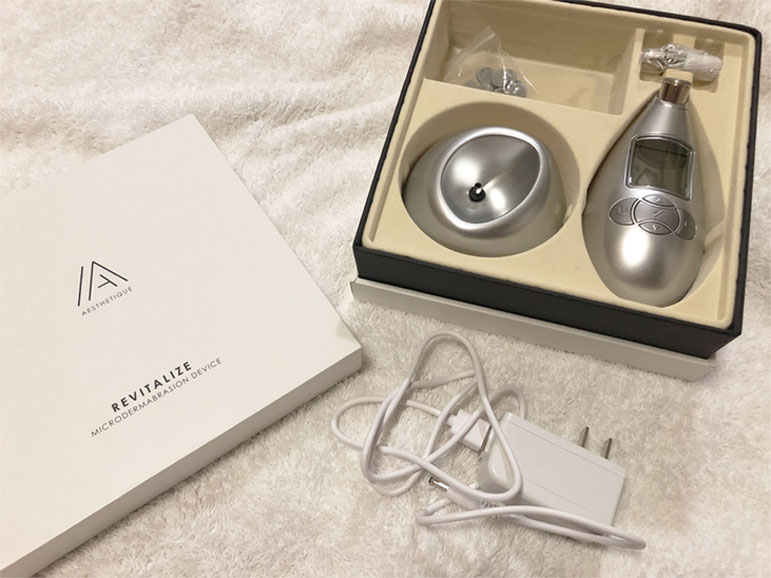 Opening the box, you get the following: 1) the Revitalize Microdermabrasion Device body, 2) the charging port (with the charging cable), 3) two (2x) exfoliator tips for varied surface area coverage, 4) extra filters, and 5) a cleaning brush. There is also a manual, so don't forget to read up before use!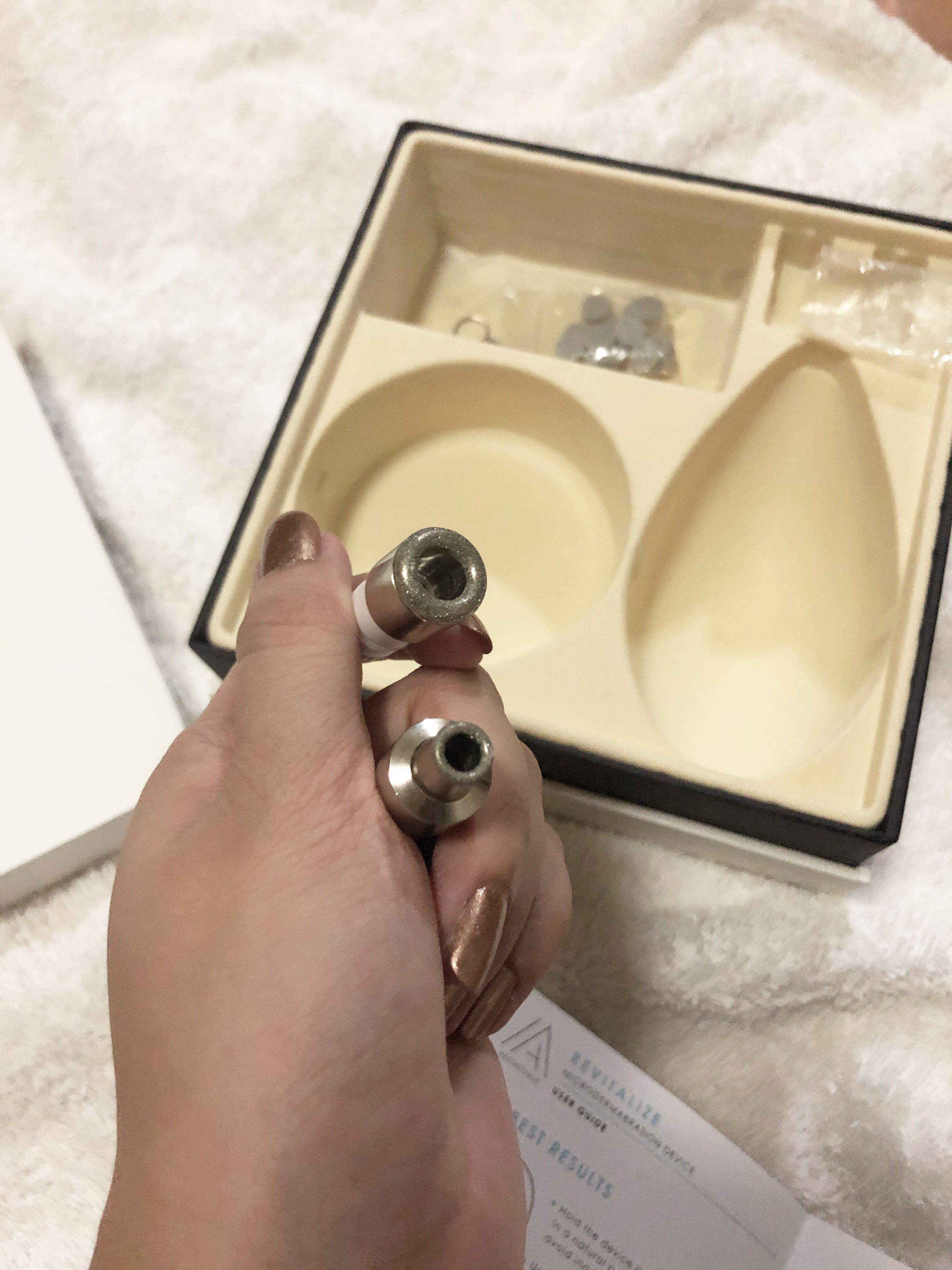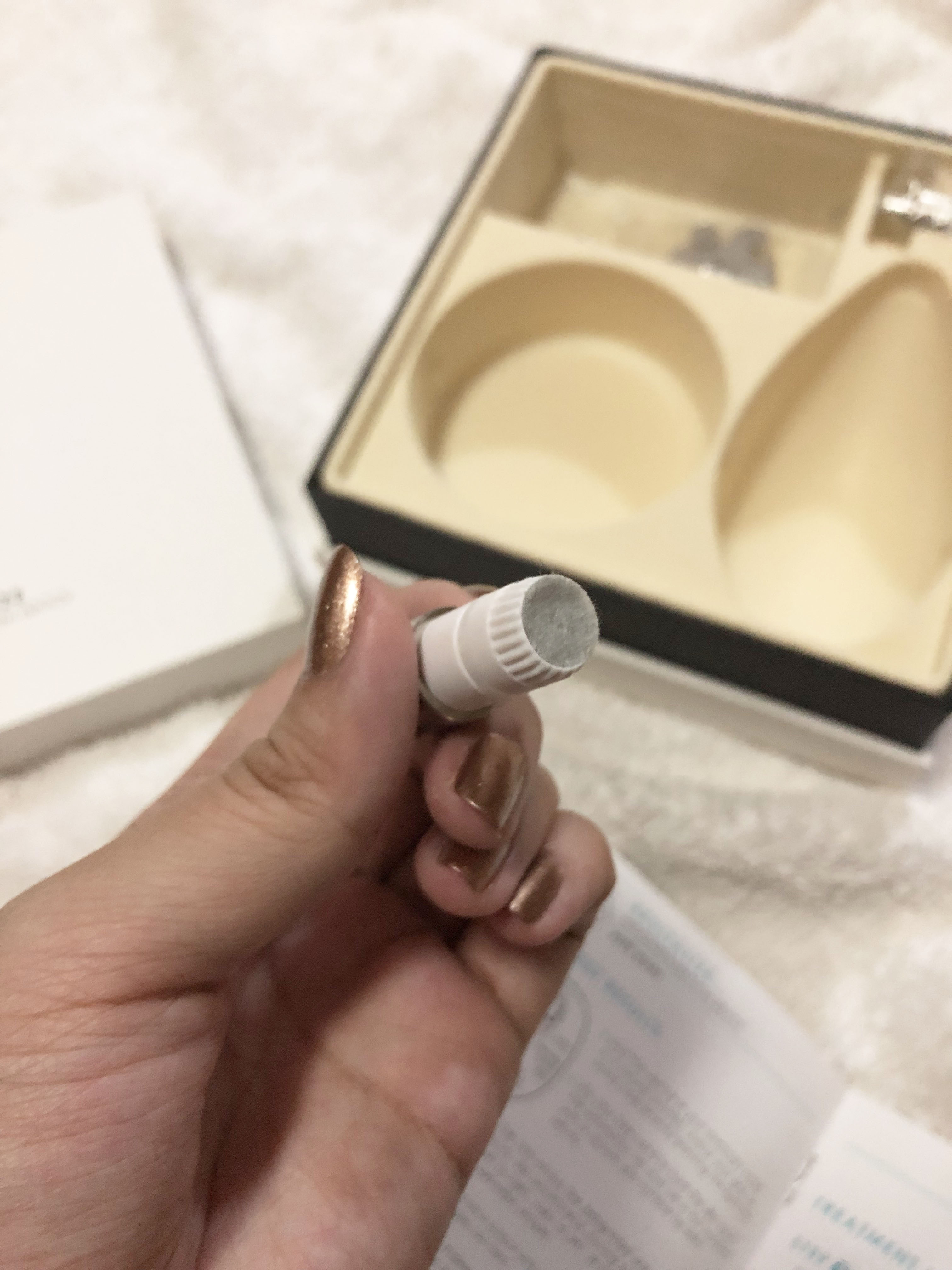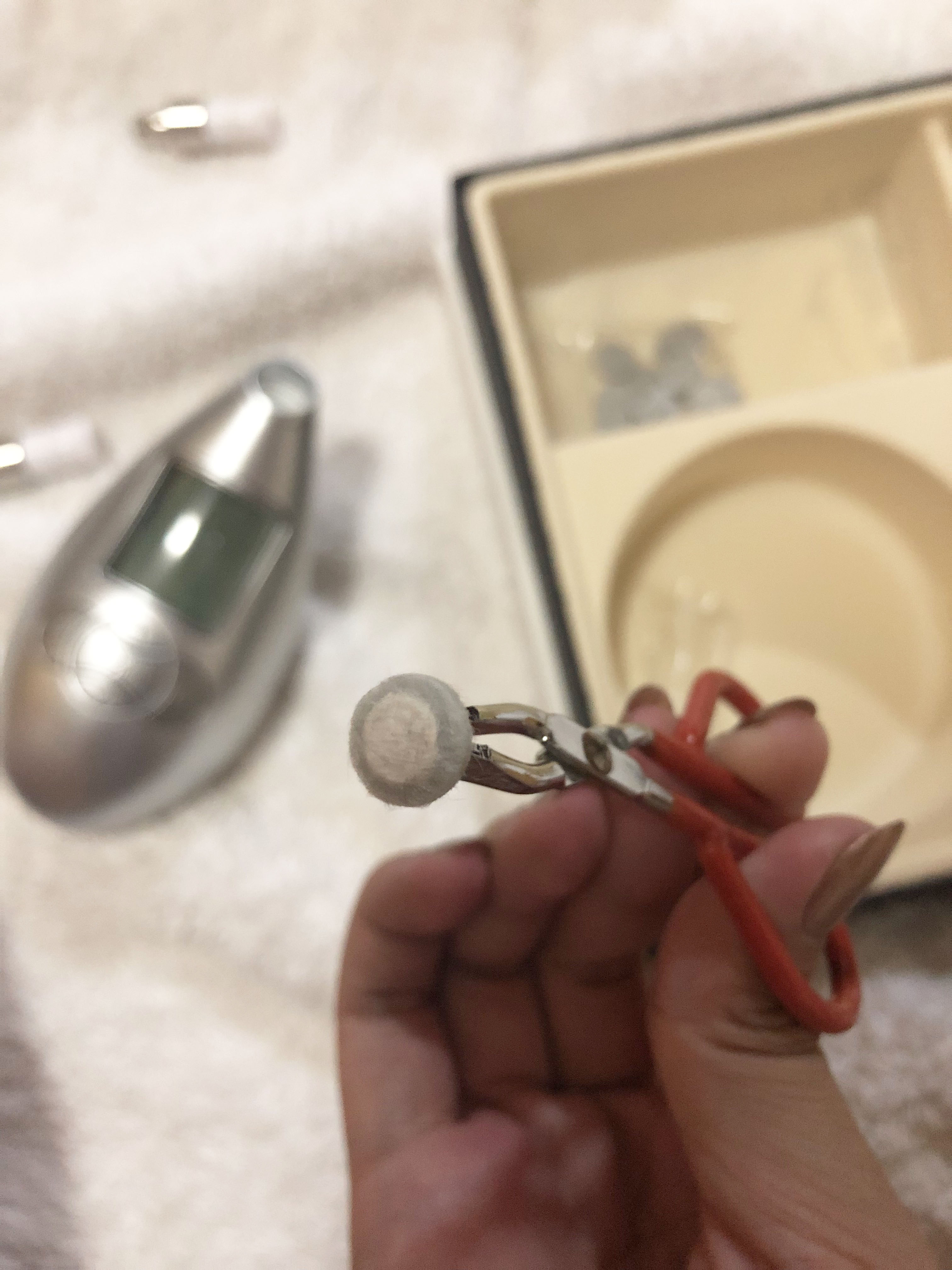 To be honest, I thought it'd be much harder to use. This was, after all, my first encounter with a home-facial device in my entire twenty-two years of existence! Upon reading the manual, however, I realized it was quite simple.
After charging the device, placing a filter on your desired tip, and screwing the tip in, you can choose between two settings—automatic and manual.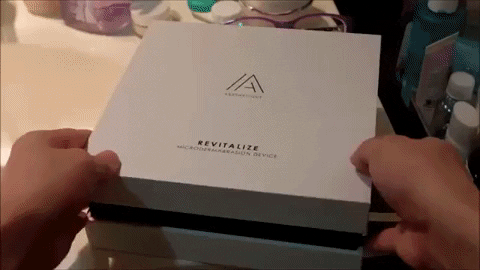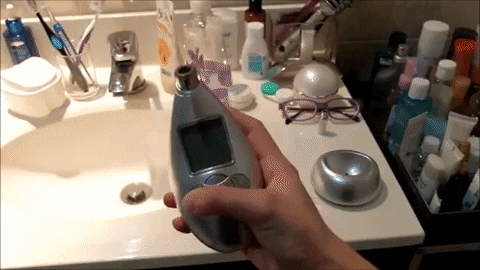 The automatic setting has timing presets recommended per section of your face, while the manual setting just keeps the device running so you can estimate the duration you'd like for yourself! It also comes in three (3) levels—each one gradually intensifying the suctioning effect for a deeper exfoliation. But don't just go straight into it! Be sure to wash your face first! Also, keep in mind that you are not supposed to use the device too quickly and are supposed to glide it across your skin in one direction only to avoid irritating your skin.
Much like a traditional diamond peel, it suctions away dead skin that leaves a little bit of redness, but don't be alarmed! It's absolutely normal, and goes away quickly. As long as you don't focus too hard on one spot for too long, you shouldn't have any issues with irritation or bruising. Wouldn't want a hickey on the middle of your face, would you?
There's a bit of a learning curve in terms of figuring out how to hold the device to your face, as the exfoliator tips are not slanted, but once you get the hand of it, it's easy! You may have to gently hold your skin taut in some areas to help the device glide better, but that's not a big problem. I personally prefer using the manual setting, as I feel like the time presets on the automatic setting were too quick—I felt so pressured every time it beeped! I wanted a more intensive exfoliation, so I set it to manual and upped the level to 2. It was much better after that! An episode of Netflix and one facial exfoliation later, I felt so smooth! It was able to suck up the parts of my skin that were flaking and noticed that some bumps from healing acne marks were smoothened. It wasn't the most visibly obvious right away, but I woke up the next morning with a bit more color and life on my skin! I also felt that my makeup looked much smoother. I even got a compliment from a co-worker! Yay!
It isn't a magical genie that miraculously gives you Kardashian-grade skin in one use, but with continued use once a week, I feel like this device could really help even out skin texture and brighten dull skin. It leans on the pricey side, but seeing as the parts only need to be replaced after around 5 to 6 months (aside from the filters that need to be thrown out after every use), it seems like a good investment!
For those with no time (or don't want to exert the effort to get out of bed—guilty!) to get a regular facial, I'd definitely recommend this product.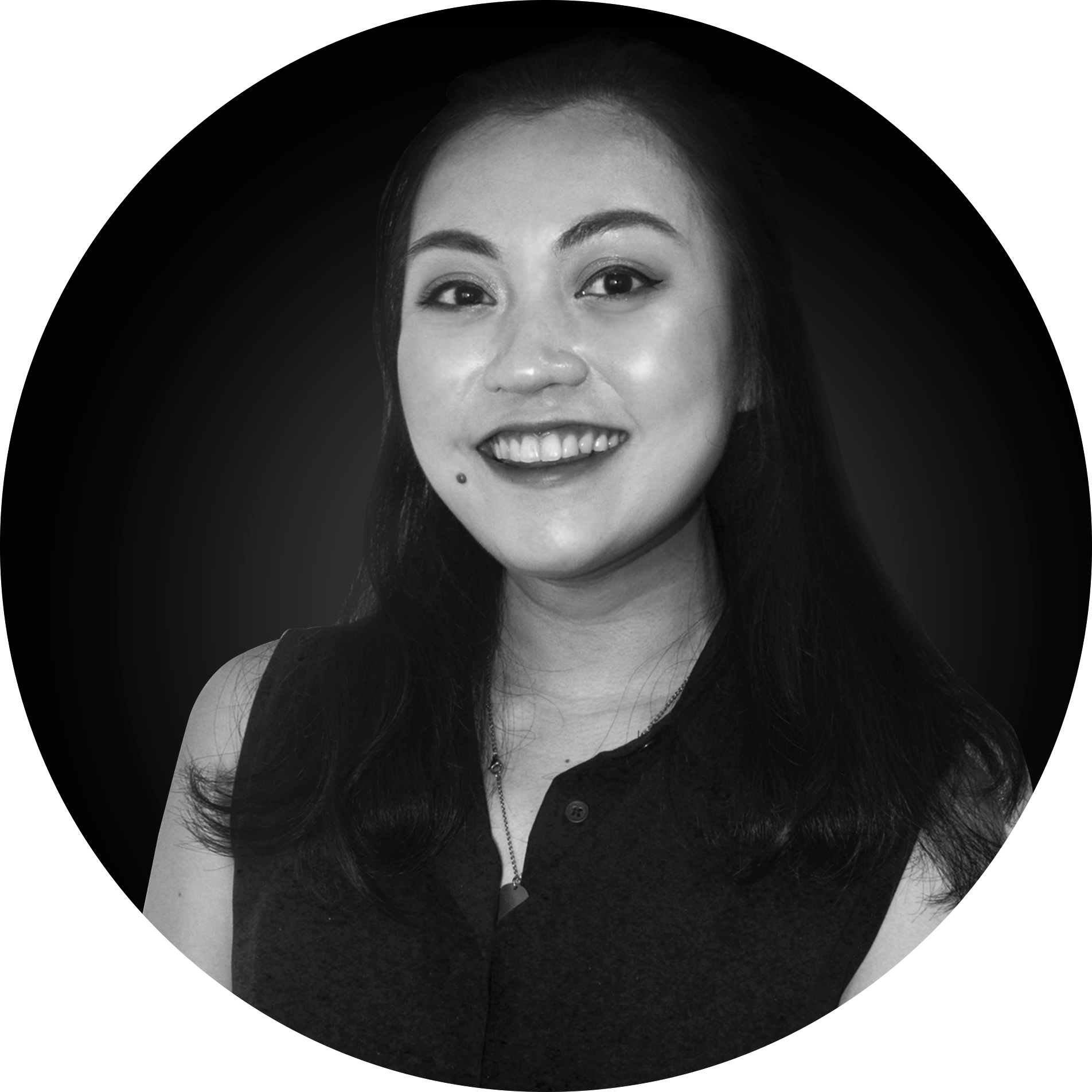 Julia is Calyxta's resident crazy plant lady with an unstoppable caffeine addiction and an ever-increasing love for glitter eye shadow. When she's not staring out the window mulling over the correctness of her grammar, she can be found drawing on eyeliner, watching anime, reading books, or petting strangers' dogs.