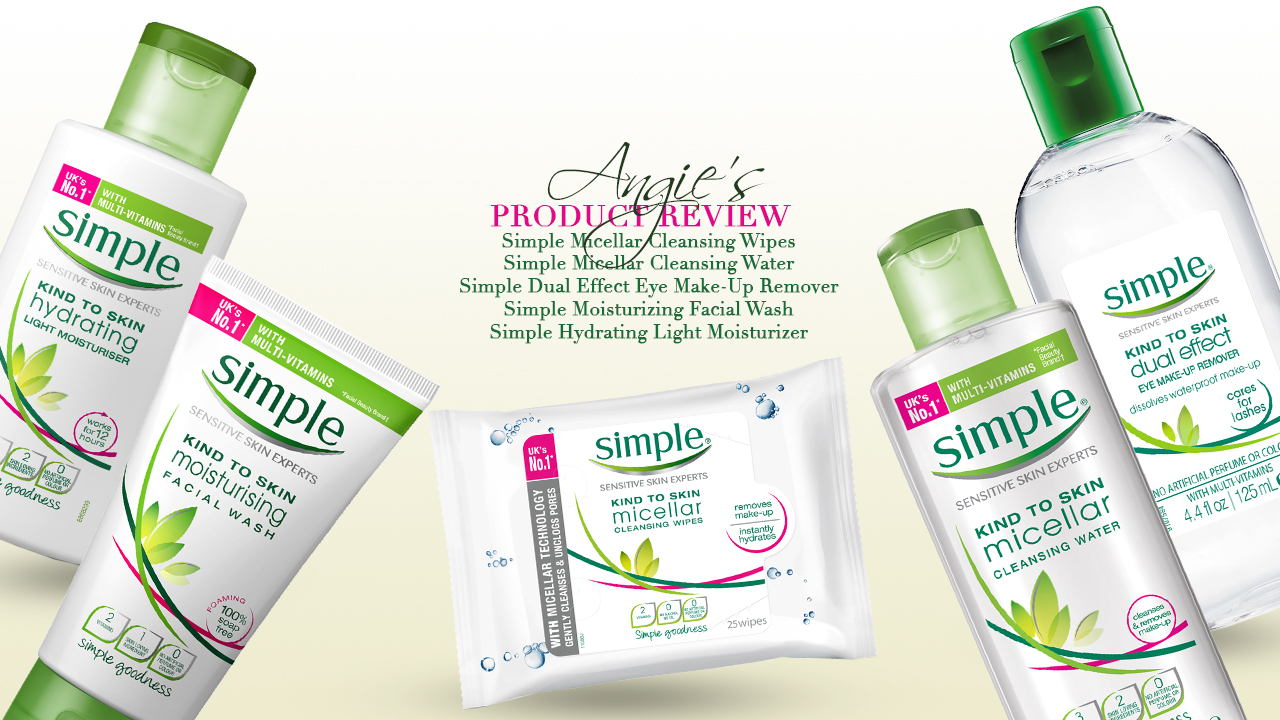 By: Angela Lim
The UK has upped their beauty game by introducing to the world Simple, a multi-vitamin infused skin care line perfected to care for even the most sensitive of skin types. The line-up, which includes a moisturizing facial wash, micellar cleansing wipes, a hydrating light moisturizer, dual effect eye makeup remover and micellar cleansing water, is aimed towards gentle and effective cleansing with the absence of artificial perfume and color to boot.
Simple products, in crisp green and white packaging, make you feel like you're picking up something nature birthed herself. The word micellar is something that Simple is known for donning on their bottles. To break it down for you, micelles are tiny oil molecules, dispersed in water, that attach themselves to deep-seated dirt, oil, and other gunk that lands on your face throughout the hustle and bustle of the day. How's that for impressive? Get to know each of the key players in Simple's campaign for beautiful and clear skin minus the harsh chemicals:
Simple Micellar Cleansing Wipes
The immaculately clean packet of cleansing wipes, which comes with 25 sheets, delivers on its promise. I adore this product because they make washing my face a whole lot easier – especially when coming home from a late night! What more, Simple's wipes didn't irritate my nose or eyes, nor did it leave my skin feeling heavy.
Simple Micellar Cleansing Water
My favorite one from the line-up is this cleansing water. It's a no-fuss water-based cleanser that feels amazing on the skin. All I have to do is soak a cotton pad and cleanse my face in gentle, circular motions. My skin has never felt cleaner!
Simple Dual Effect Eye Make-Up Remover
I'm big on the whole lush, long lashes look. In fact, I find myself dropping cash on expensive cleansers that aren't too abrasive when it comes to stripping my eye area of makeup. When it comes to my eye makeup, I can't help but cuss every time I get some in my eye. It's inevitable when trying to scrub off the pesky waterproof liner and mascara, but Simple's micellar spares me the pain of eyelash fall-out and irritation. I find that this works well with long-lasting lip stains too.
Simple Moisturizing Facial Wash
This soap-free foaming facial wash is the stuff of dreams. It's milky in color, and foams nice and easy – a small amount is enough to cover your entire face easily. This non-abrasive and vitamin-infused facial wash leaves my face feeling fresh and free of breakouts. The best part? It's non-drying, which means you get to enjoy squeaky clean skin without your skin feeling dry.
Simple Hydrating Light Moisturizer
Hydrating? Check. Light? Check. Smooth and supple skin? Check, and check! Skin is always taking a beating from sun exposure, dirt and other elements that we're exposed to daily, which is why it's important to moisturize and repair. This 12-hour lasting miracle worker gets rid of rough patches and leaves your skin feeling renewed.