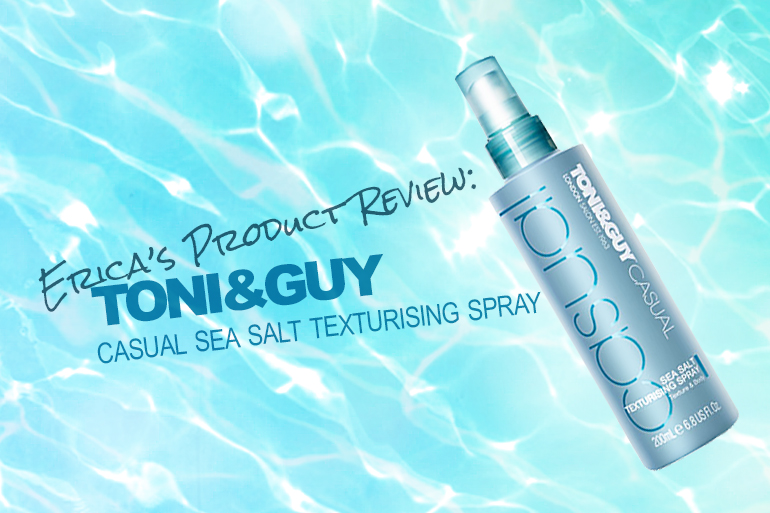 My favorite thing about going to the beach is submerging myself underwater, getting my hair wet, and waiting for it to dry naturally. Although my hairstylist will probably be appalled, this gives the greatest waves EVER. The mixture of the salt in the water and the humidity in the air helps get that effortless surfer chick 'do. I don't always have access to the sea, unfortunately, but there are some hair products out there that replicate beach waves.
The one I am using now and the best I have tried is Toni & Guy's Sea Salt Texturizing Spray. If you look at any beauty product's ingredients, you will see, in order, just how much of each ingredient is in the product. This one starts with water, and is followed by Sodium Chloride a.k.a salt , so you know you are getting the next best thing to actual sea water! The good thing is it does not dry out your hair and does not give it the "crunchiness" that sea water does. Instead, you will get a nice, tousled, just-out-of-bed look that stays all day.
All you need to do is spray on damp hair (although I have tried it on dry hair and it works just as well) and use your fingers to gently scrunch and style as you wish. You can even flip your head forward and back just to get more volume. This is a great everyday product for girls like me who love looking like they skipped brushing their hair after getting out of bed and for girls with fine hair but want a little more movement in their hair. It is not sticky, nor does it weigh your hair down. A bonus is the signature Toni & Guy fresh scent.
There is no product to show