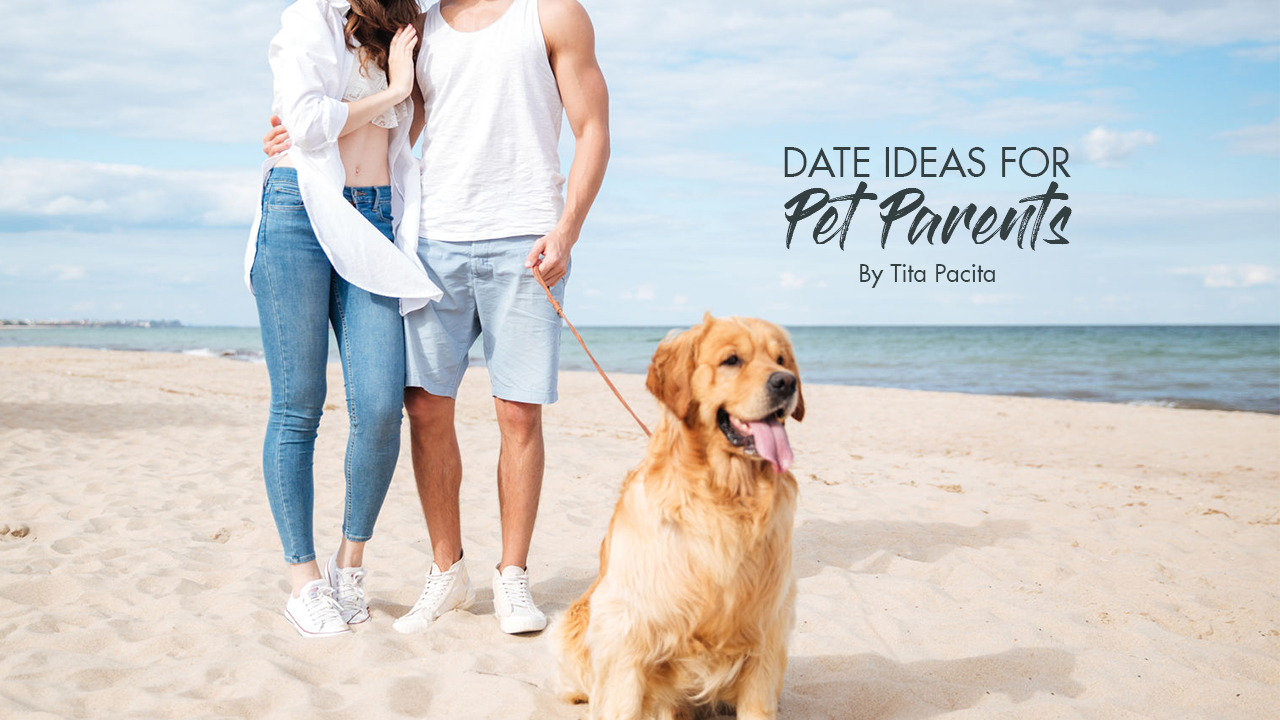 As a Tita to my niece and seven new-born pups, I understand how it may be difficult to find a yaya, helper, and caregiver, let alone a pet-sitter—so what's a pet parent like you to do?
Turn this Valentine's Day into a fun, family affair where you can bring your pet dearest along with you! I personally think it's the perfect opportunity for your pet baby and your S.O. to finally get acquainted with each other (and, if they don't get along, maybe your lover isn't the one for you).
Here, a list of Valentine's Day date ideas for the entire family:
IF YOU'RE INTO MALLS AND SHOPPING
Stroll the malls confidently with your beau in one arm and your pet baby in another. SM Supermalls have open spaces and gardens for your pet to freely roam around in, and have poop bag dispensers and dog food receptacles for
your convenience.
You can also take your little family to Eastwood-just ask for a pet pass at the concierge. There's even the first ever indoor dog park in Eastwood Mall, Bark Central, where you can have your pet babies groomed while waiting for them at the doggie café right beside it. In BGC, there's a pet village with shops, grooming centers, and food stops; and Tiendesitas-where you can get each other V-Day gifts, as all the stores are pet-friendly.
IF YOU LIKE PARKS AND THE OUTDOORS
The Sunken Garden in UP Diliman is a place to do nothing. After all, aren't your loved ones the people (and pets) you're supposed to enjoy silent moments with? Watch the skies, lie on the grass, and eat kwek-kwek together.
In Makati, there's the Salcedo Park that has a playground for both pets and their humans! And in Bonifacio Global City, you have Burgos Circle. Time for your pet baby (unless it's a snake) to socialize and meet new friends.
IF YOU'RE IN FOR AN EDUCATIONAL DATE
Go on a cultural tour with your pet baby in tow. Take advantage of the Spanish Colonial backdrop in Intramuros City or the scenic European view as you go through the Venice Grand Canal Mall in Taguig, and have a decent family photo taken.
IF YOU'RE THE FAMILY WHO EATS TOGETHER
With so many pet-friendly neighborhood cafes available, when your dog barks and begs for a treat and your S.O. is demanding quality time, what's your excuse?
There's Whole Pet Kitchen in San Juan with homemade pet treats from the bakery (like doggie cakes!) that are healthy and free of harmful ingredients. At Bengal Brew in Cubao is the world's first Bengal cat cafe, where you can have sandwiches, cakes, and pastries against a rainforest-themed backdrop.
Pups and Cups at BF Homes has a Pups Corner that you can visit for your fur babies to meet new playmates, while you and your date can enjoy a free drink! If you're ready for another pet baby, Cat Cafe Manila in Maginhawa has puspins for adoption.
IF YOU ENJOY STAYCATIONS OR QUICK BREAKS FROM THE CITY
I personally adore dogs by the beach, especially seeing them playing frisbee and running to the shore, making my Instagram snaps of the sunset even lovelier. The Circle Hostel in Zambales, Baler, and La Union takes its "there are no strangers" mantra to heart, and welcomes your fur babies with sun-kissed open arms.
At T-House in Tagaytay, pets are welcome with permission and a fee. The place makes sure that you pet parents get your deserved R&R, all without having to leave your pet baby behind. Meanwhile, Oakwood Premier in Pasig lets your entire family enjoy a quiet Valentine's Day staycation within the city!