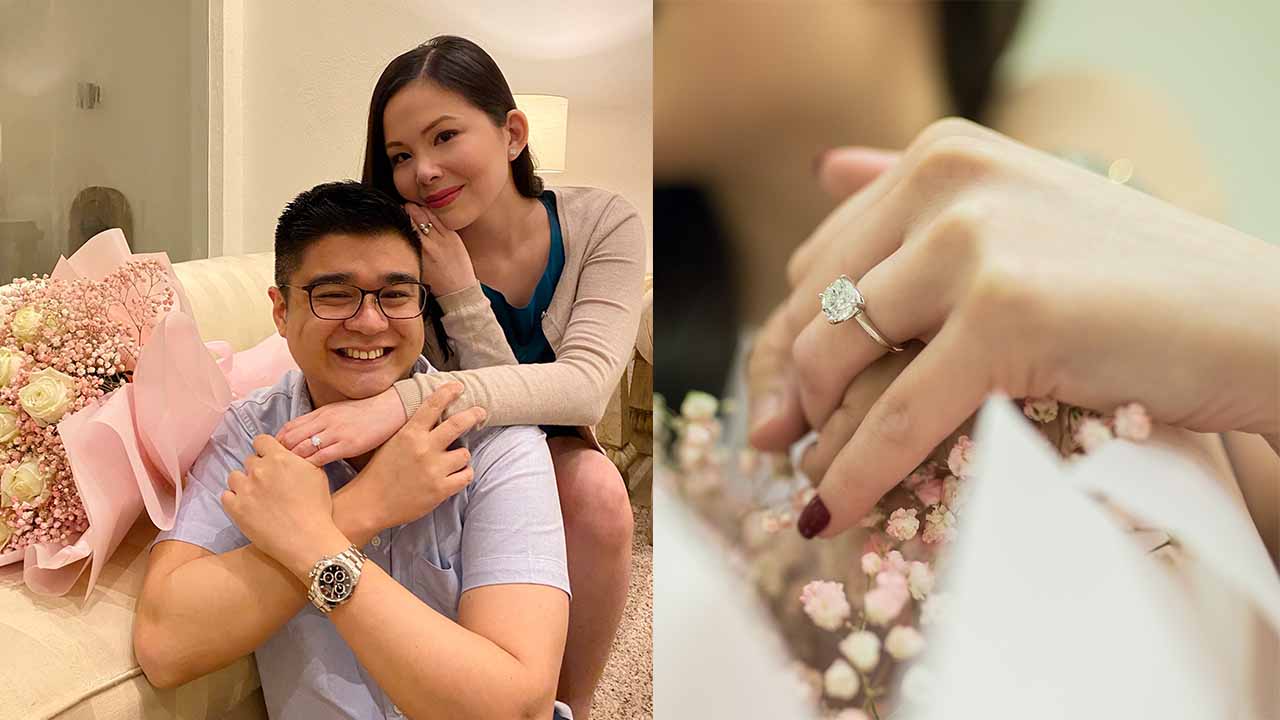 Calyxta Engagement Stories:
Mara Gutierrez and Mikey Bitanga
Can you give us a quick introduction of yourselves? What do you do?
My name is Mara, 30, a finance professional specializing in private banking, relationship and portfolio management, investment advisory, and sales. My fiancé, Mikey, is 7 years my senior. Among other things, he works mainly as an entrepreneur and as the Chief Operating Officer and Treasurer of one of their family businesses in technology and telecommunications.
When did you start dating? How did your love story start?
We met each other for the very first time on the 22nd of September in 2018. We had been texting for a few days leading up to this date, our first date, which also happened to be a blind date. We've been inseparable ever since.
If you're wondering how he got my number, well, he was resourceful enough to find it through a common friend. Apparently, one of his good friends, Marco, happened to be cousins with one of mine, Celina. My number was shared by Celina to Marco and then to my now fiancé, Mikey, and the rest they say, is history.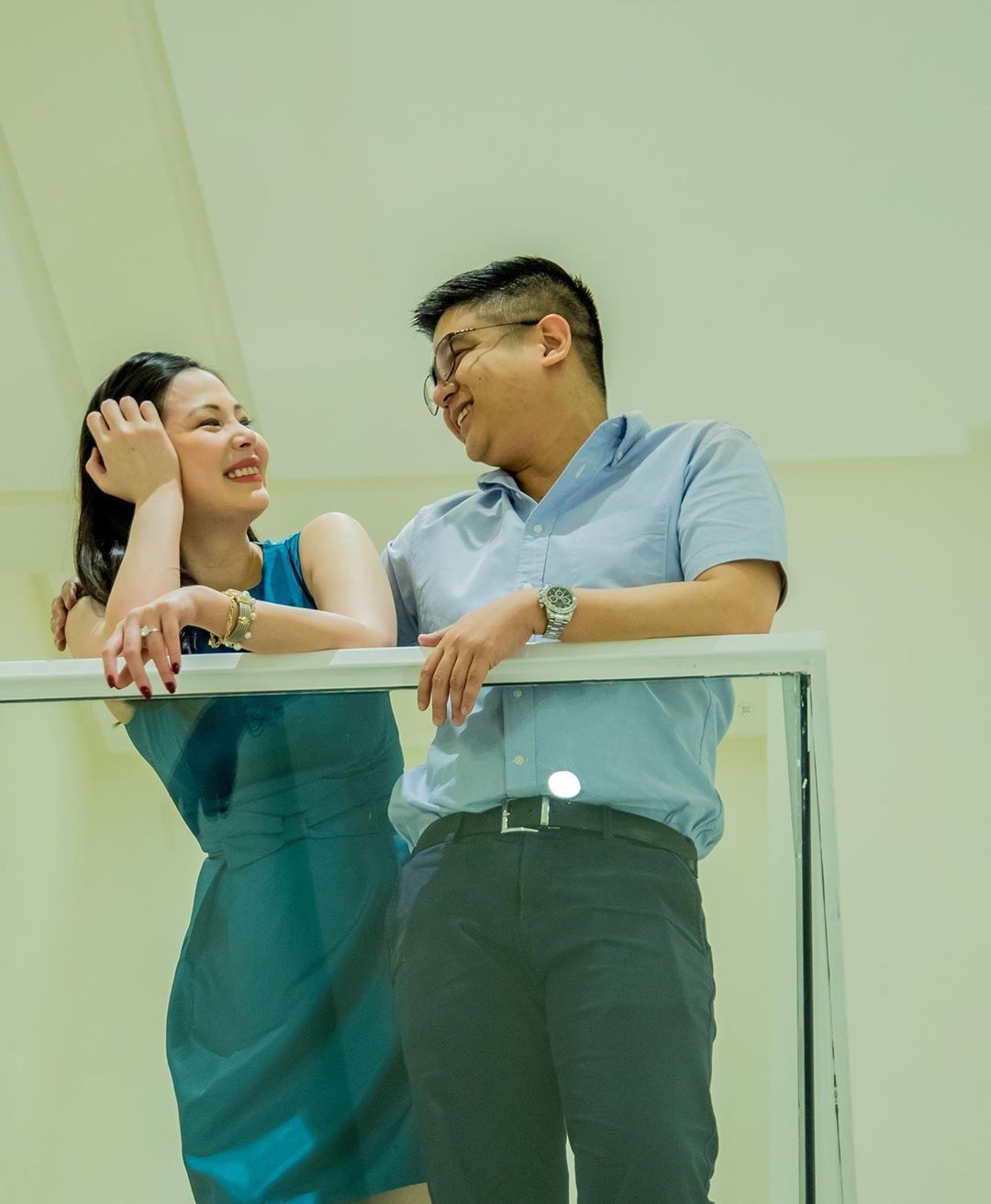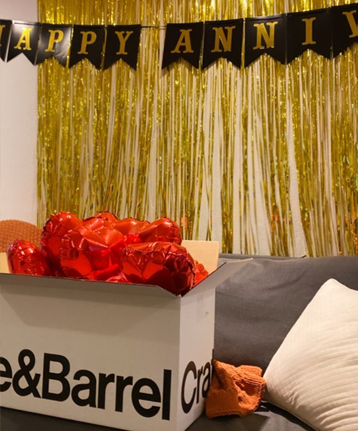 What was the initial reaction after the proposal? Can you share with us the story?
Tears—lots of them!
It happened on our very first anniversary and I came prepared. My nails were freshly manicured and at the salon earlier that day, they asked me what kind of look I wanted to go for and admittedly I said, "bridal." Haha!
He picked me up that evening and we headed towards what would've been a "surprise" venue as he refused to tell me where dinner reservations were despite my incessant asking. In the car, busy on my phone, I hadn't noticed that the driver had taken us to his new place, one that he had just moved into the same week. He goes on to say that he forgot his jacket and that he had to run in to get it. I asked to wait in the car instead although he insisted that I go down and since I greatly refused, he then admitted that the surprise dinner was where we were, at his new place!
I get down and I see the set up. Beautiful but clearly done by his own mom and their household staff and not at all by him. The food was superb—we have this almost every Sunday with his family. And when the bottle of wine was finally finished, Mikey goes on to tell me that it's time for me to open my gift.
As I open the gift, he mentions that it may not be exactly to my liking and I was already feeling rather annoyed. Why get me something not to my liking, I thought? I tear off the wrapping to reveal a rather shiny box. I then unbox a pair of Havaianas! They were cute but slippers? For a first anniversary? He then started to taunt me by saying how useful they could be around the house for when I come over and then I burst into tears of disappointment. Haha! I start to verbalize how underwhelmed I am by the evening, how I thought he would propose and how he could do so much better than a pair of Havaianas. I was inconsolable.
But to my surprise, he goes on to say the sweetest of things, tells me to look further into the box and that is when I realize that I had not seen another box underneath all that was inside the silver box. He then got down on one knee and proposed, and I cried even harder because not only was I overwhelmed with indescribable joy, I also felt terrible for complaining early on.
My sister, a photographer, and some waiters then walk into the house! They had been waiting to come in the whole time I was crying. A few moments later, my friends and his follow in order to celebrate our anniversary and engagement. The evening also served as a pre-housewarming celebration in what would be our future home together.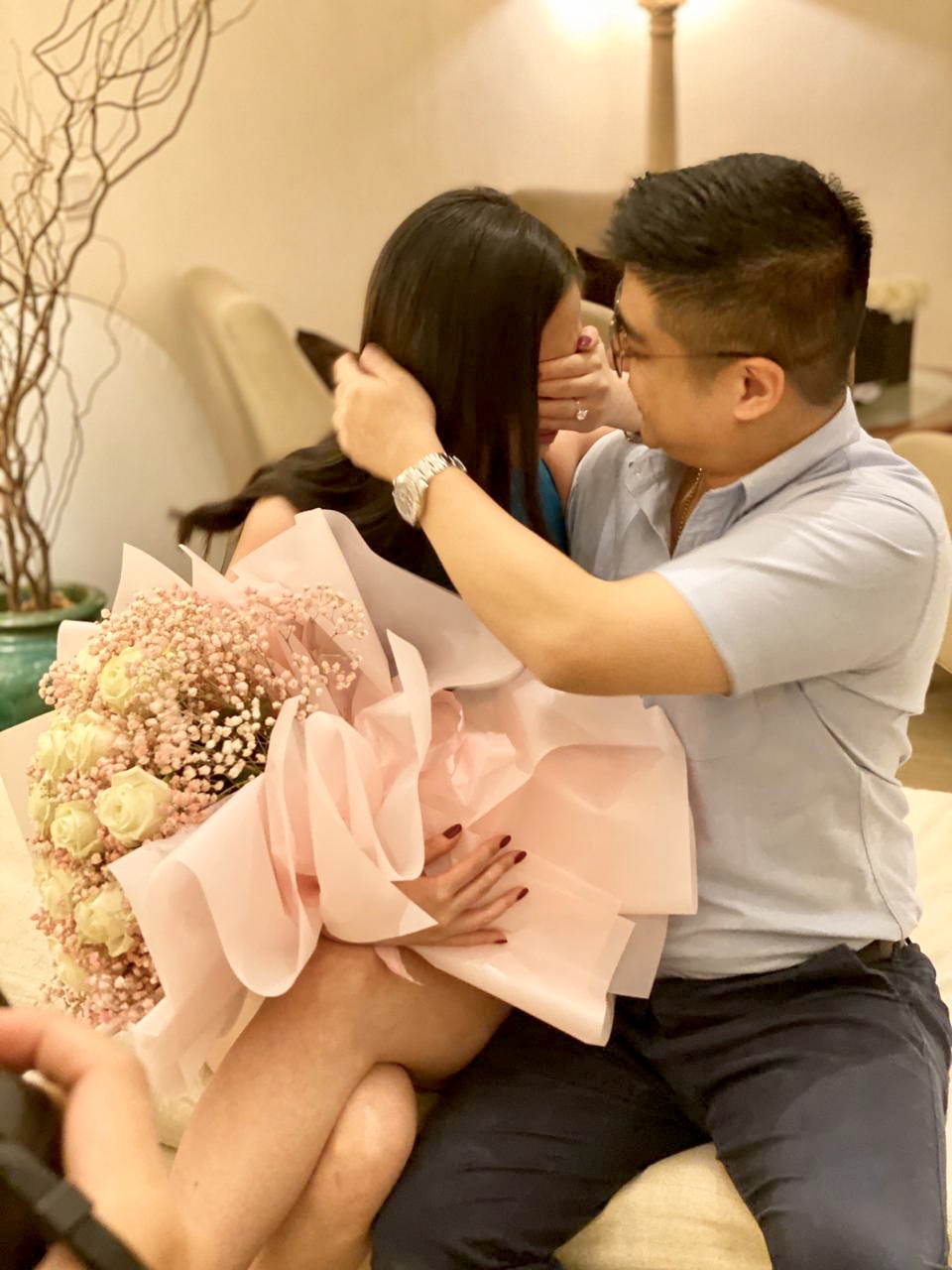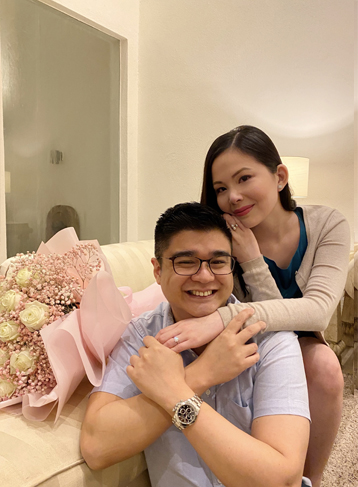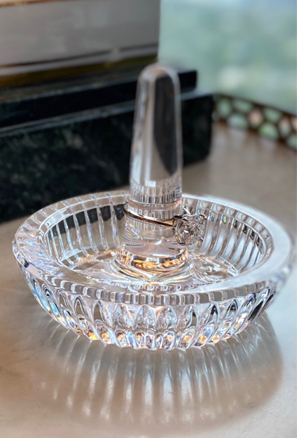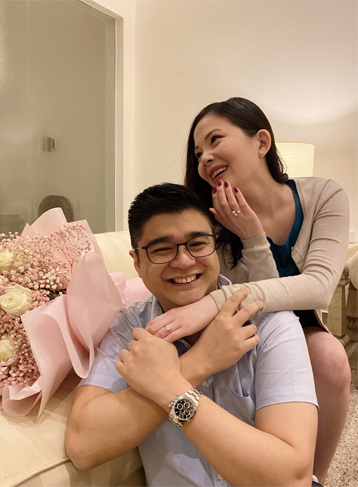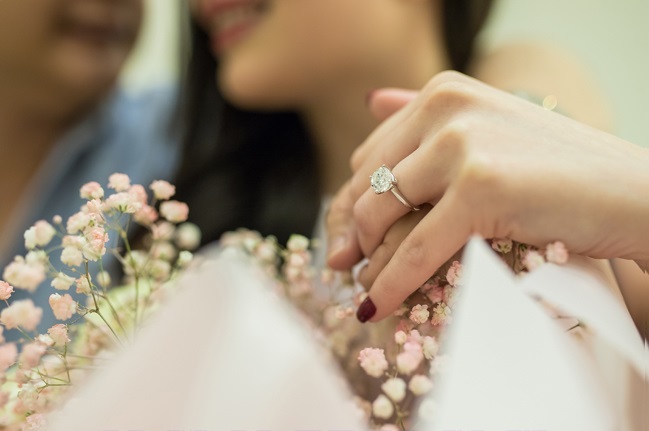 Who was the first person you shared your engagement with and why?
Aside from my sister, and both Mikey's and my friends, my fiance's mom. She and I had been texting while Mikey and I were having dinner. She kept asking me to send her photos of the set up secretly waiting to be updated whether I had been proposed to our not! I was also in touch with my mom who shared a Viber group with my future mother-in-law, and one of my closest Ninangs. They knew all along what would happen that night and wanted to be updated real time.
What was the first thing you thought about right after the engagement that's related to the wedding?
Funny as it may seem but the first thing that came to mind was that I'd be able to put all the wedding Excel files that I had worked on even before I got engaged, to actual use. I had already come up with a tentative guestlist, entourage list, list of suppliers, etc. from a few months back. Hihi!
The best thing about our relationship is that it has always been intentional. Marriage was always discussed. We've always been so aligned, and I always knew that Mikey would be the man I would marry.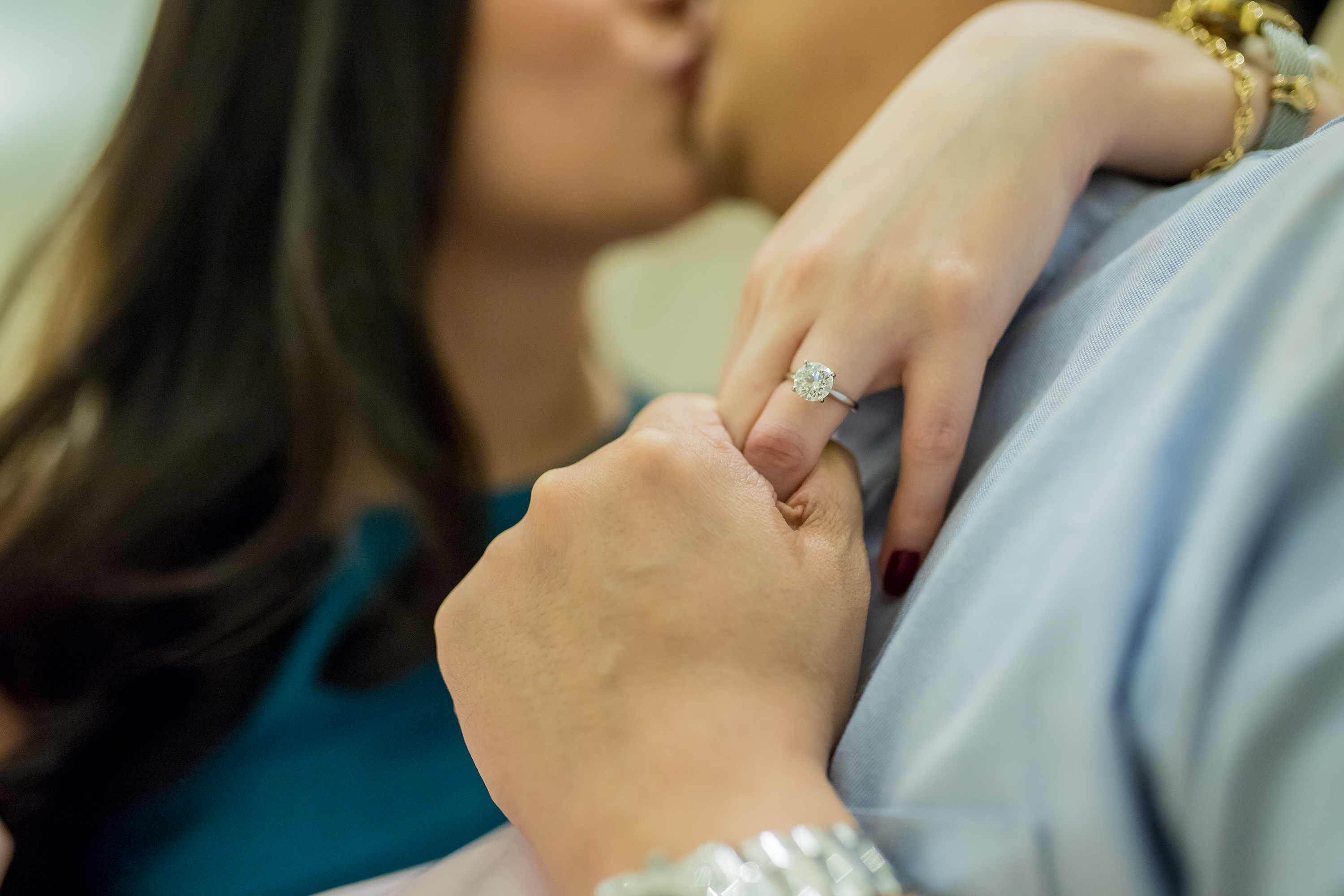 Want to share your engagement story with us? Shoot us an e-mail at [email protected], and we'd love to hear more about it!