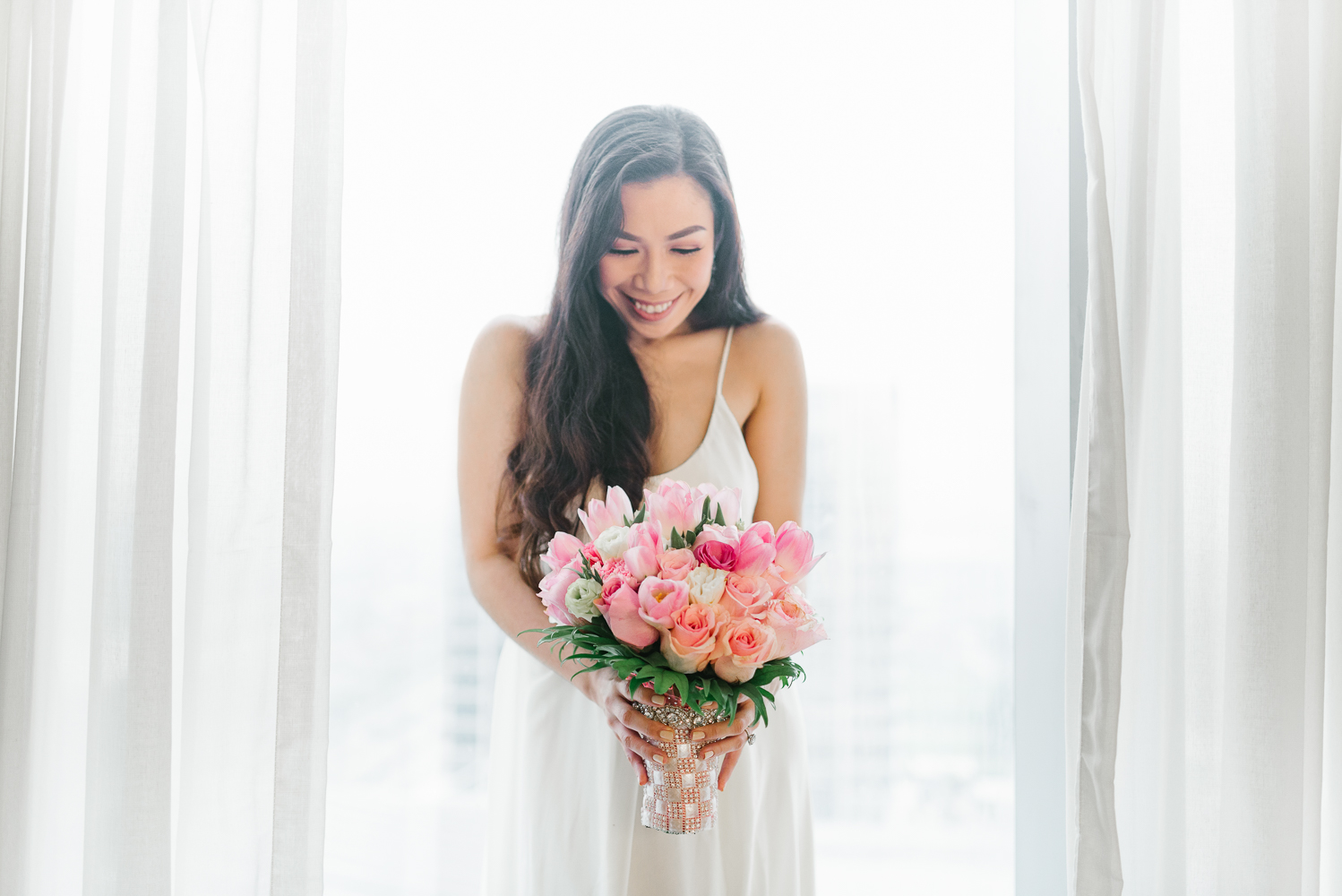 Can you tell us a little bit about yourself?
I'm Trixie Reyna-Benedicto, now based in Iloilo, where my husband Jessie is from and where his business is located. I'm a freelance writer and editor, and I also maintain a lifestyle blog, www.trixiereyna.com, which has been active since 2015. I used to get a rush out of being a career woman, especially when I was the head of big women's lifestyle websites like FemaleNetwork.com and Cosmo.ph (of which I was the creator and pioneering editor). Now, I'm learning to relax and become a homemaker, while still doing the things I love most: yoga, dining out, and traveling.
As a bride, I was super hands-on, obsessive-compulsive, driven, and definitely organized—just as I was when I was in the corporate world. I knew what I wanted and tried to make everything happen exactly as I envisioned, while managing to stick to our budget as best as I could.
Where was your wedding held and what made you decide to choose the location?
Our ceremony was held at Jaro Cathedral, where we've always wanted to get married. We find it the most beautiful church in Iloilo, and it's the first one we visited on our first trip to Iloilo—on our second day as a couple. We hear mass here almost every Sunday and go up to the miraculous Nuestra Señora de la Candelaria statue. I also always envisioned a wedding photo with its famous bell tower in the background.
Our reception was held at Iloilo Convention Center, which, at the time, was the only venue that could hold our target number of guests (150-200) in a good location (Iloilo Business Park developed by Megaworld).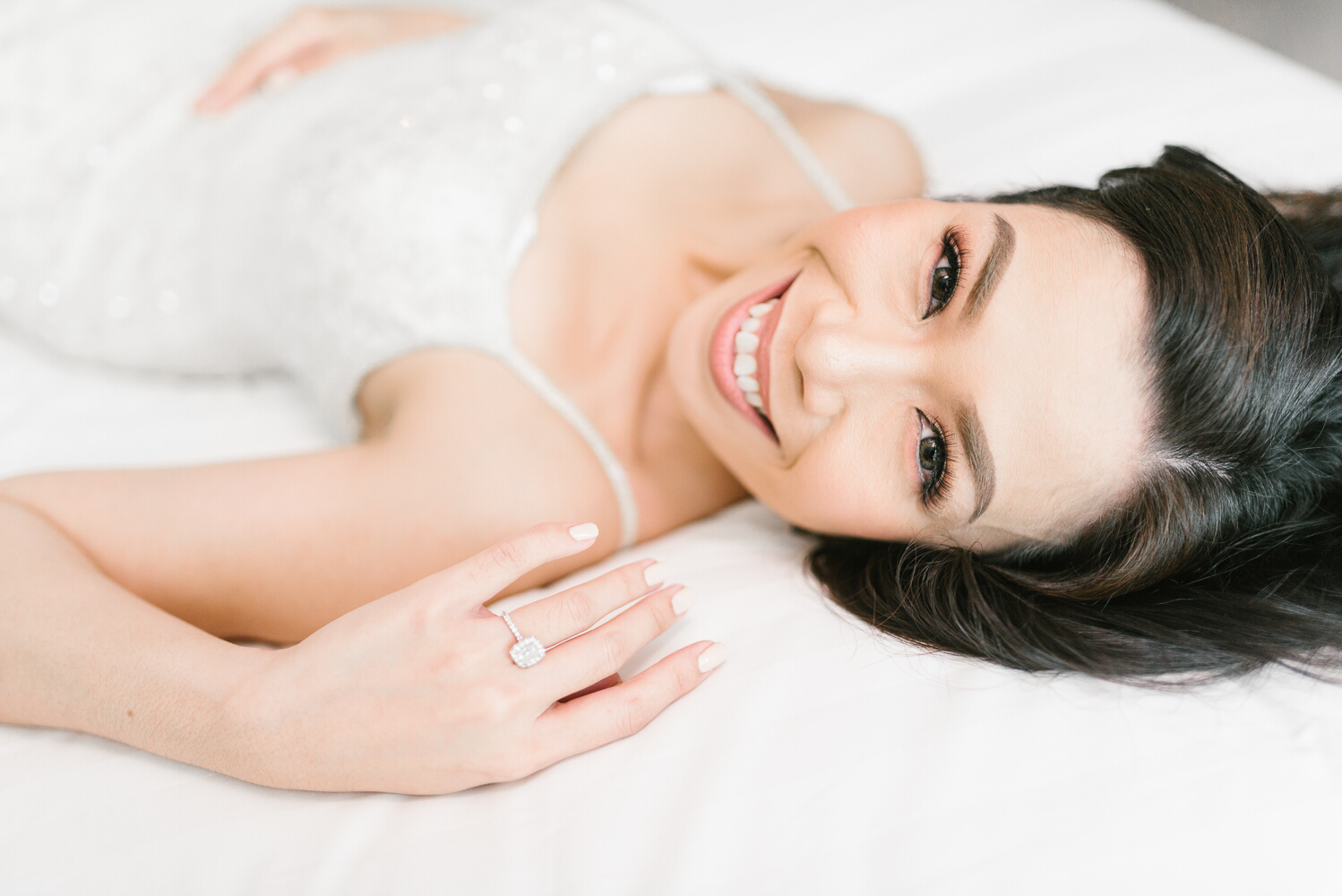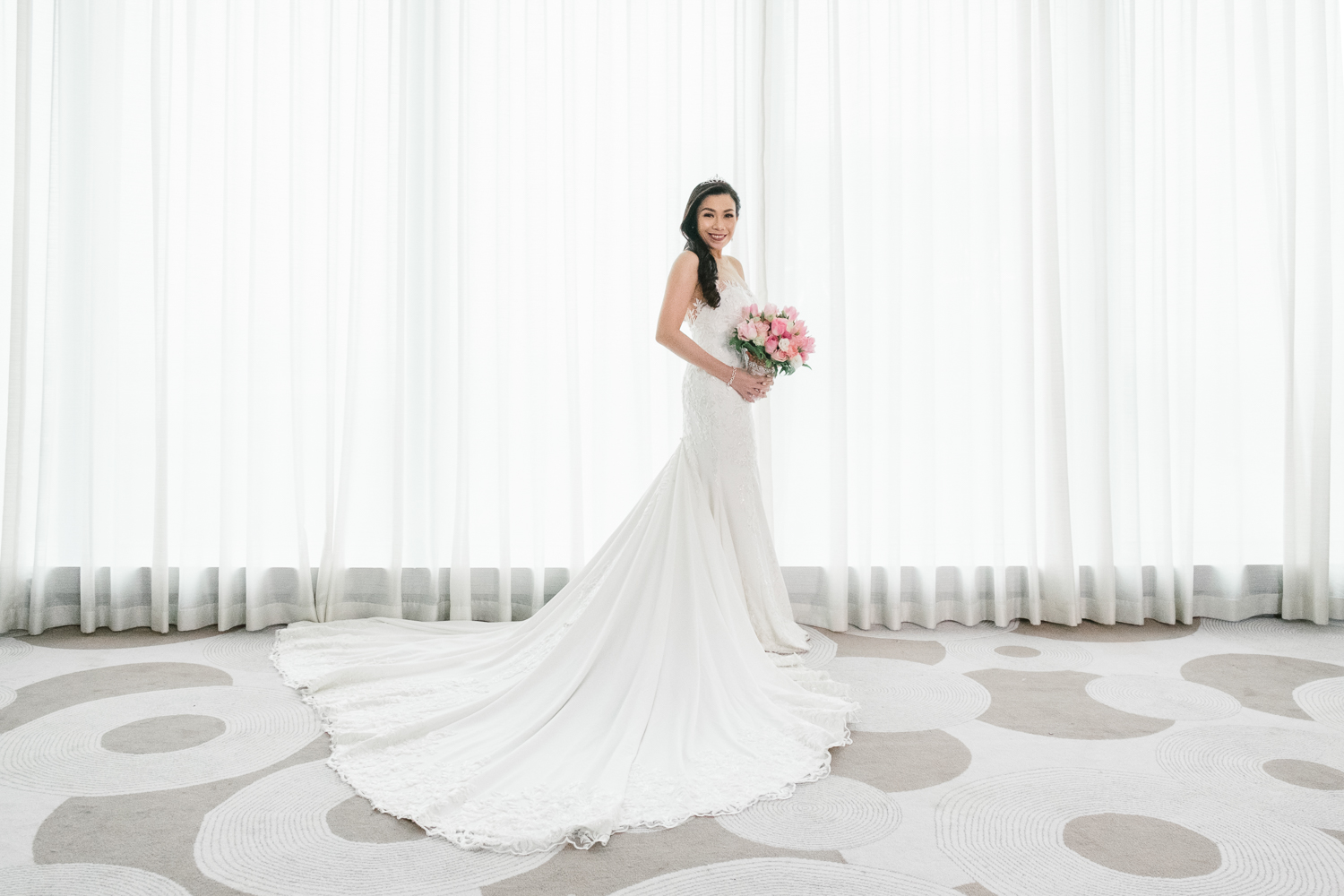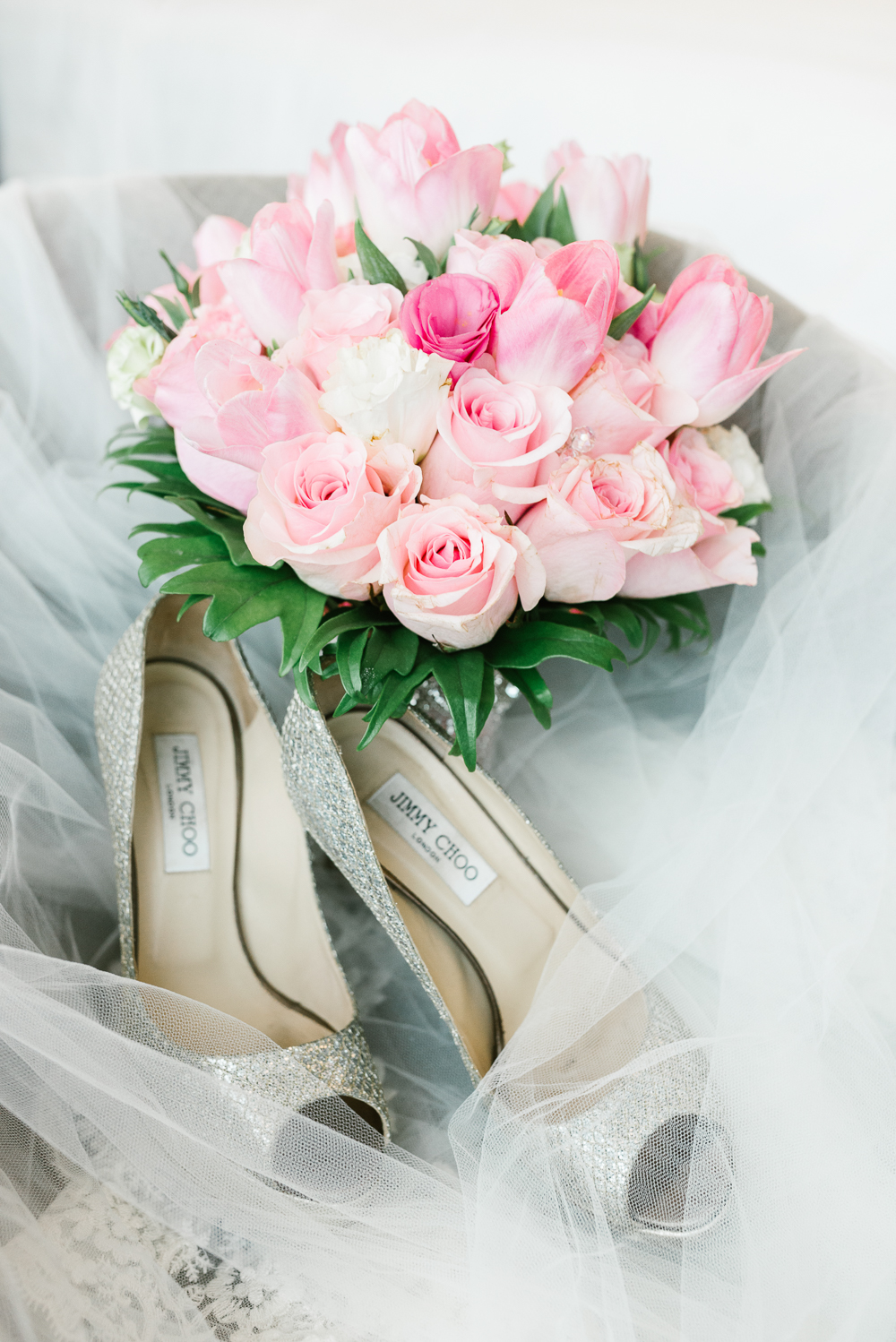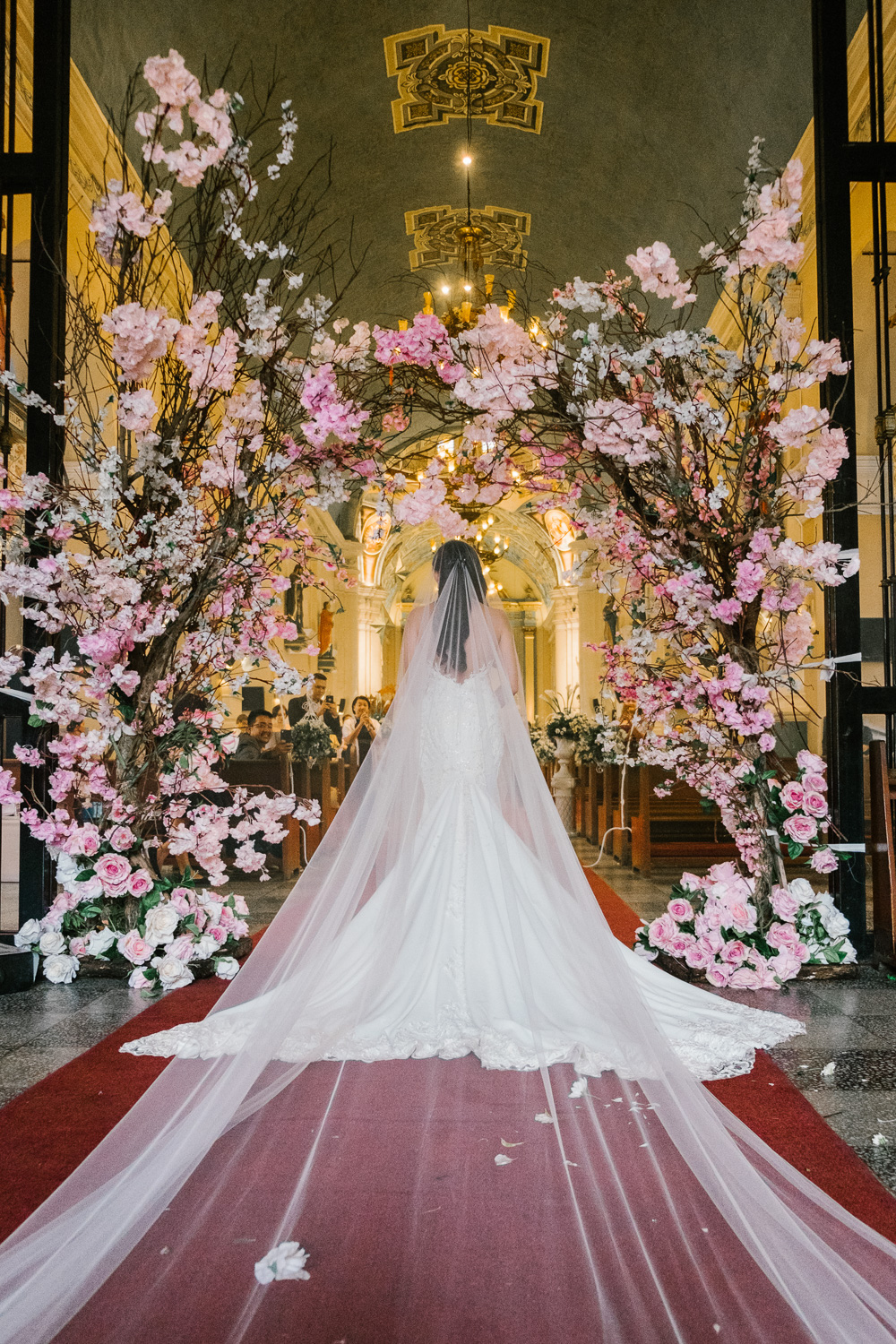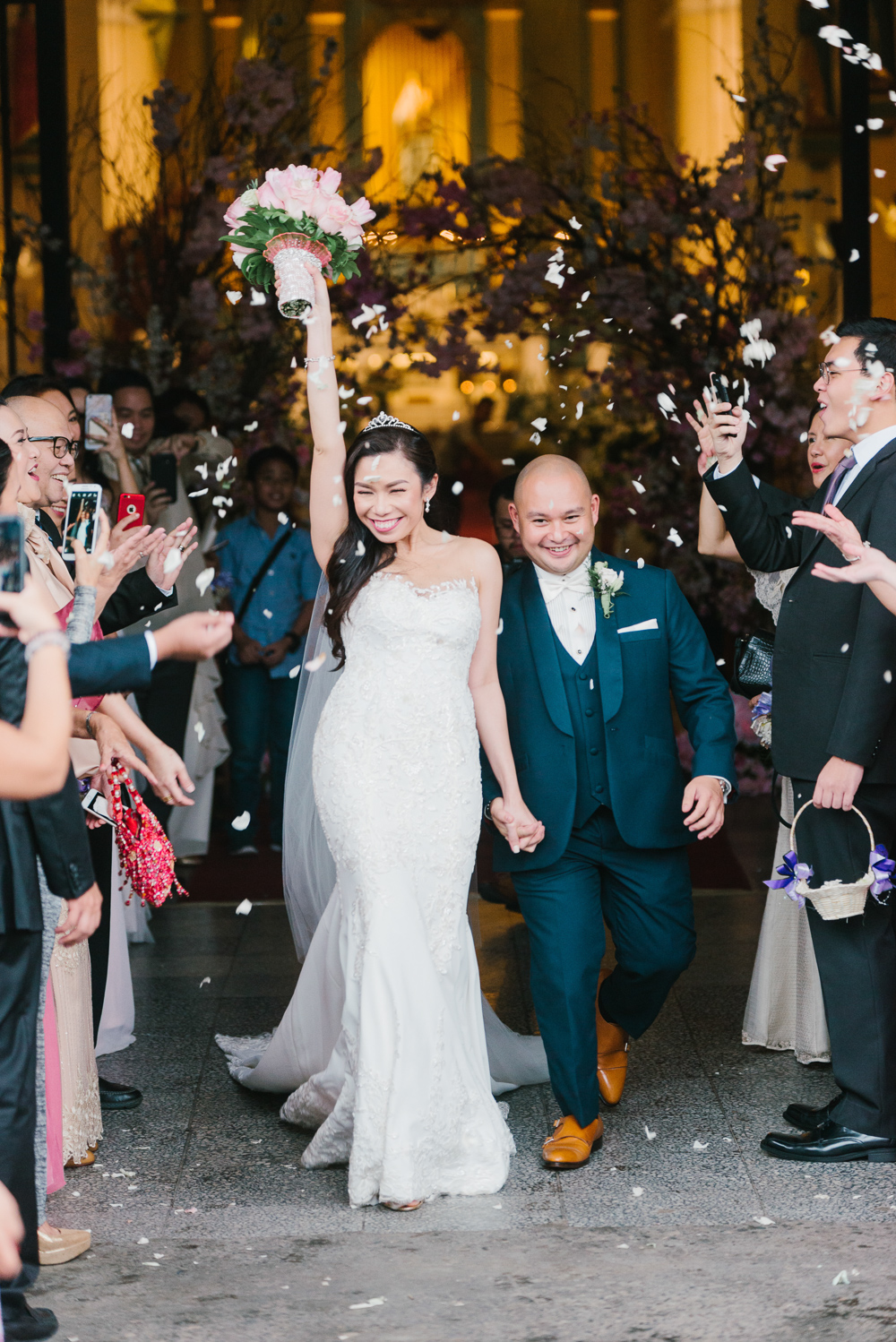 "I get married only once, and I should get the gown I really want right down to the last detail."
What's the inspiration behind your wedding look?
For the overall feel of our wedding, I just wanted everything clean, classy, classic, feminine, and romantic. I wanted the lights bright and warm, the decor to be mostly white and sparkling, and the flowers in shades of deep old rose and eggplant (which was my motif). I'm not a fan of trendy wedding styles. I also didn't really Pinterest anything except prenup photo pegs.
Who designed your wedding gown, and how did you come up with the style? How long did it take to create or find the perfect wedding dress?
My wedding gown was designed by Debbie Co. The serpentina/mermaid silhouette was always what I envisioned for my wedding gown because I wanted it to show off my figure—I always said it's what I'll be wearing on my last moment as a single lady, so it better make a statement Haha! I visited three off-the-rack bridal shops within the first four months after I got engaged, before my best friend and Maid of Honor convinced me that couture is the way to go. I get married only once, and I should get the gown I really want right down to the last detail. Debbie was recommended by my cousin who got married two years earlier.
How did you choose your hair and makeup artist? Did you have any hair and makeup pegs?
I decided to go with a local HMUA to save on costs; getting one from Manila involved the added expense of flights and hotels for the makeup artist and her team. I asked my wedding coordinator for suggestions, and only one of them was available for our prenup shoot, so I went with him—Stephen Rhey Tronco. Our personalities clicked, I liked how he did my makeup, and he did several looks for me during the prenup shoot—super sulit! He was also such a trooper, and went with us to various locations around Guimaras province. Plus, my husband-to-be liked my makeup, and since he'll be looking at my face the whole wedding day, his approval mattered, too.
For my look, I just wanted to look young, glowing, and fresh. I still wanted to look like myself in my wedding photos. I did use pegs that included Jennifer Lopez's American Idol hair and makeup looks (especially when she's wearing light, pink, or nude makeup).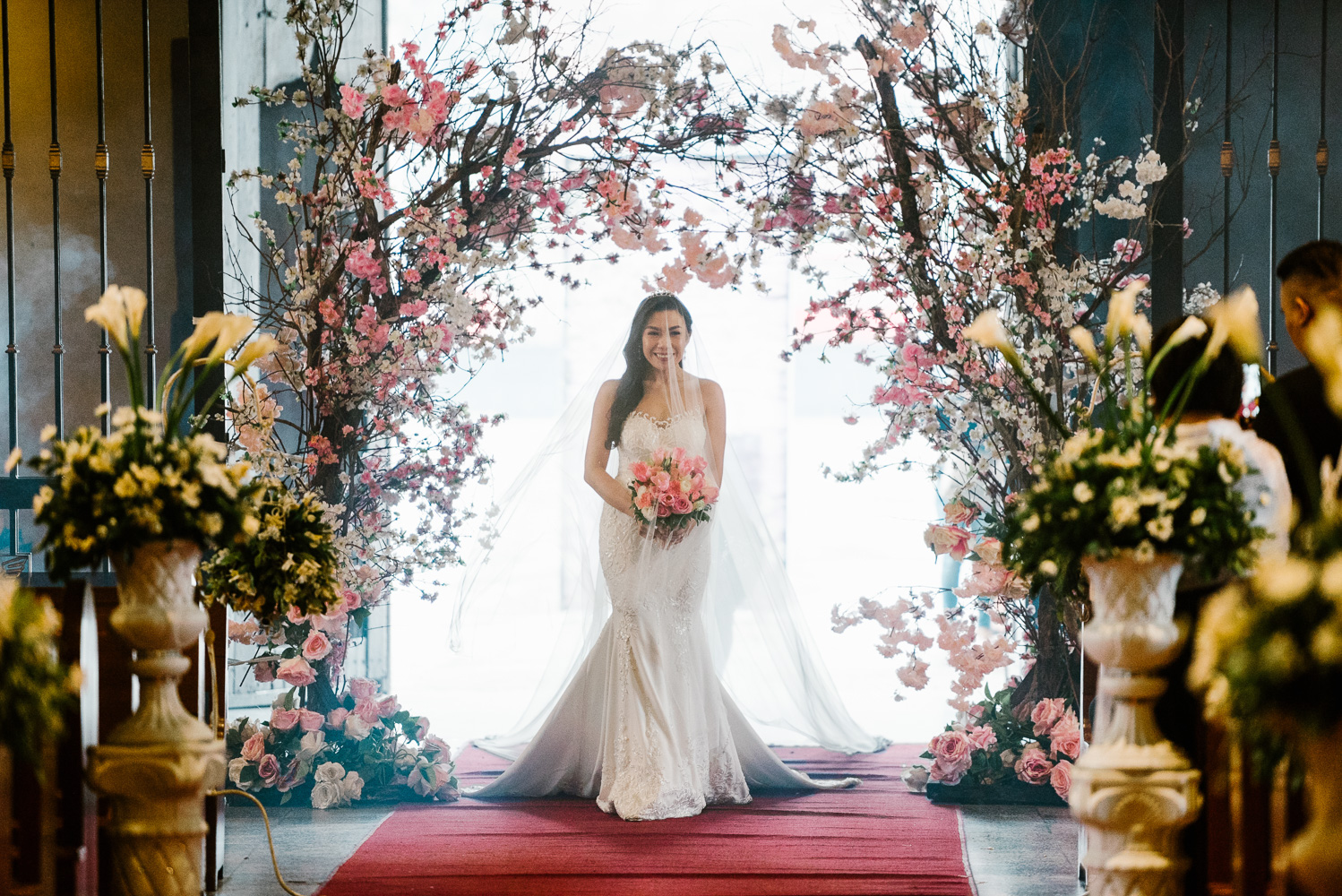 What lip color did you choose for the wedding day?
My Maid of Honor provided the three long-staying liquid lipsticks I used on my wedding day, all from Inglot (HD Lip Tint Matte): nude for the preps (Shade 17), light pink for the ceremony (Shade 16), and bold red for the reception (Shade 31).
What was in your wedding day makeup kit/pouch?
Oil control film, Clear Eyes (to ward off redness after crying buckets), mint drops, a pack of tissues, and just the red Inglot HD Lip Tint Matte shade that I used for the reception, which I didn't even need to retouch—it stayed on all night (also because I didn't really eat much—just drank to my heart's content)!
What were the preparations you did for your skin prior to the wedding day? Did you go to a skincare center regularly? What kind of services did you have done? Is this something you would recommend to other brides-to-be?
In the 14 months between getting engaged and the wedding, I followed my skincare routine more religiously. I also added Korean face masks (from Kracie, Yadah, and Innis Free) to my nightly regimen.
I also went to several clinics for various types of services on different occasions: Facial Care Centre, for their Honey & Almond facial; Spectrumed, to try their HydraFacial machine; and Flawless, for their Beauty Drip, a combination of glutathione and Vitamin C for added glow.
What was the best beauty advice you received that helped you prepare for your wedding?
To start early when it comes to beauty preps for the wedding! Also to avoid stress so it won't show on my skin, especially on the big day. I was also told to pick a good long-staying lipstick that won't smudge and will last all night, since I really didn't get much of a retouch after the ceremony.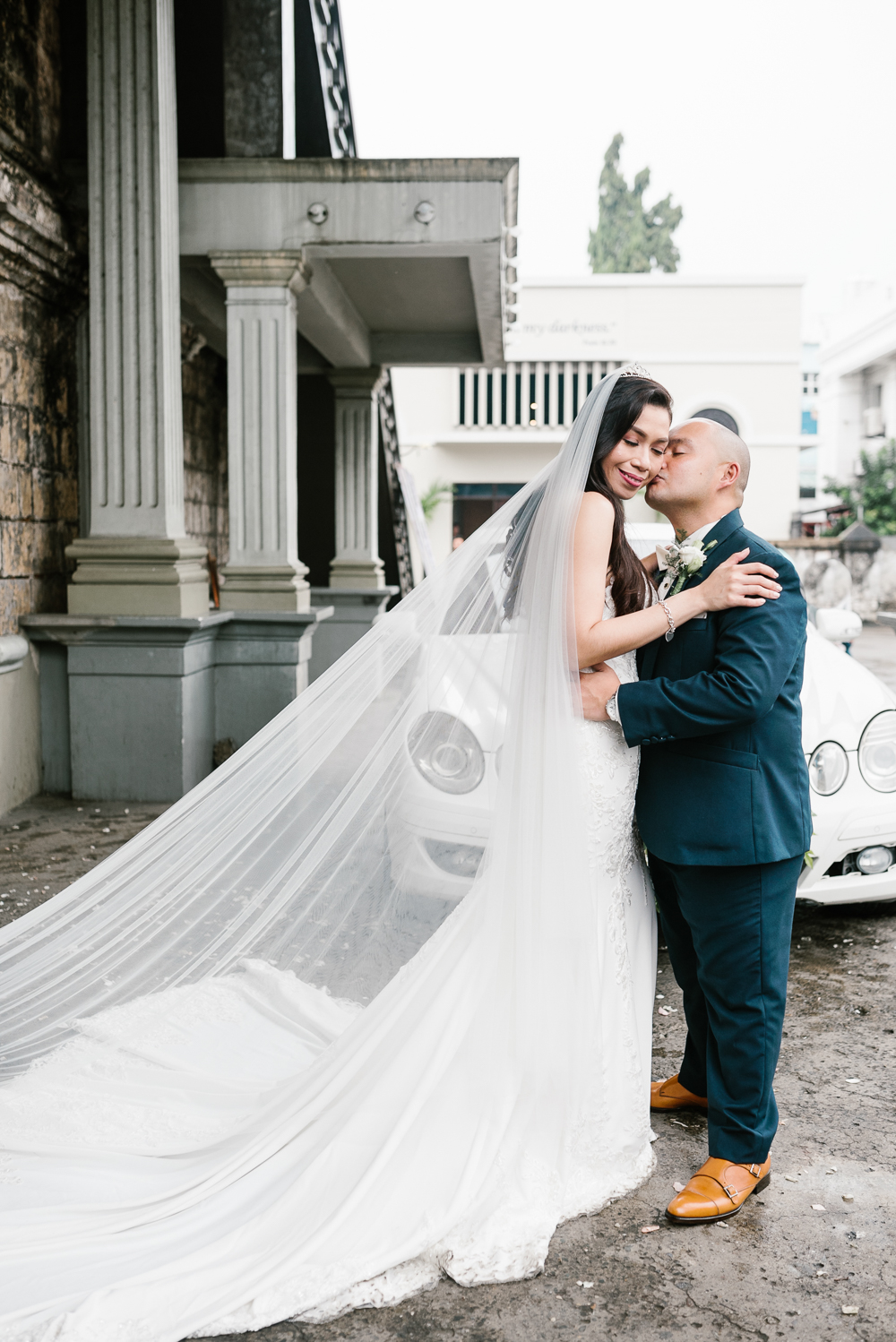 Did you have your nails done? If so, where? Would you recommend this nail salon to others?
I had gel nails done at Nailaholics in SM City Iloilo, and yes, I would definitely recommend this salon, which has branches all over the country.
What was your biggest takeaway from your wedding day? Do you have any beauty-related tips you'd like to share to upcoming brides?
I realized that no matter how you take care of all the little details for the wedding, nature will still take over, so you just have to relax, let go, and trust that you have done everything in your power to make your big day the best. After all, on your wedding day, nothing else but love matters. Also, you likely wouldn't need a wedding planner—trust me, you can do it yourself; at most, you may get an on-the-day coordinator.
As for beauty tips, I just want to reiterate the same tips I got: Start pampering your skin early. It helps if you already have an established, tried-and-tested skincare regimen. Wear sunscreen everyday so you don't have dark age marks, and apply anti-aging serum (especially one with Vitamin C) at night, so your skin will look young, glowing, and flawless on your big day. And you don't have to spend a fortune on hair and makeup services if you did your skincare right—just find one whose work you like and who makes you look like YOU. If you and your husband-to-be like your makeup at the trial session (which you should have!) then that should work.
Wedding Team
Photographer: Love Train Studios Photography
Videographer: Amady by Mayad
Hair and MUA: Stephen Rhey Tronco
Gown by: Atelier Debbie Co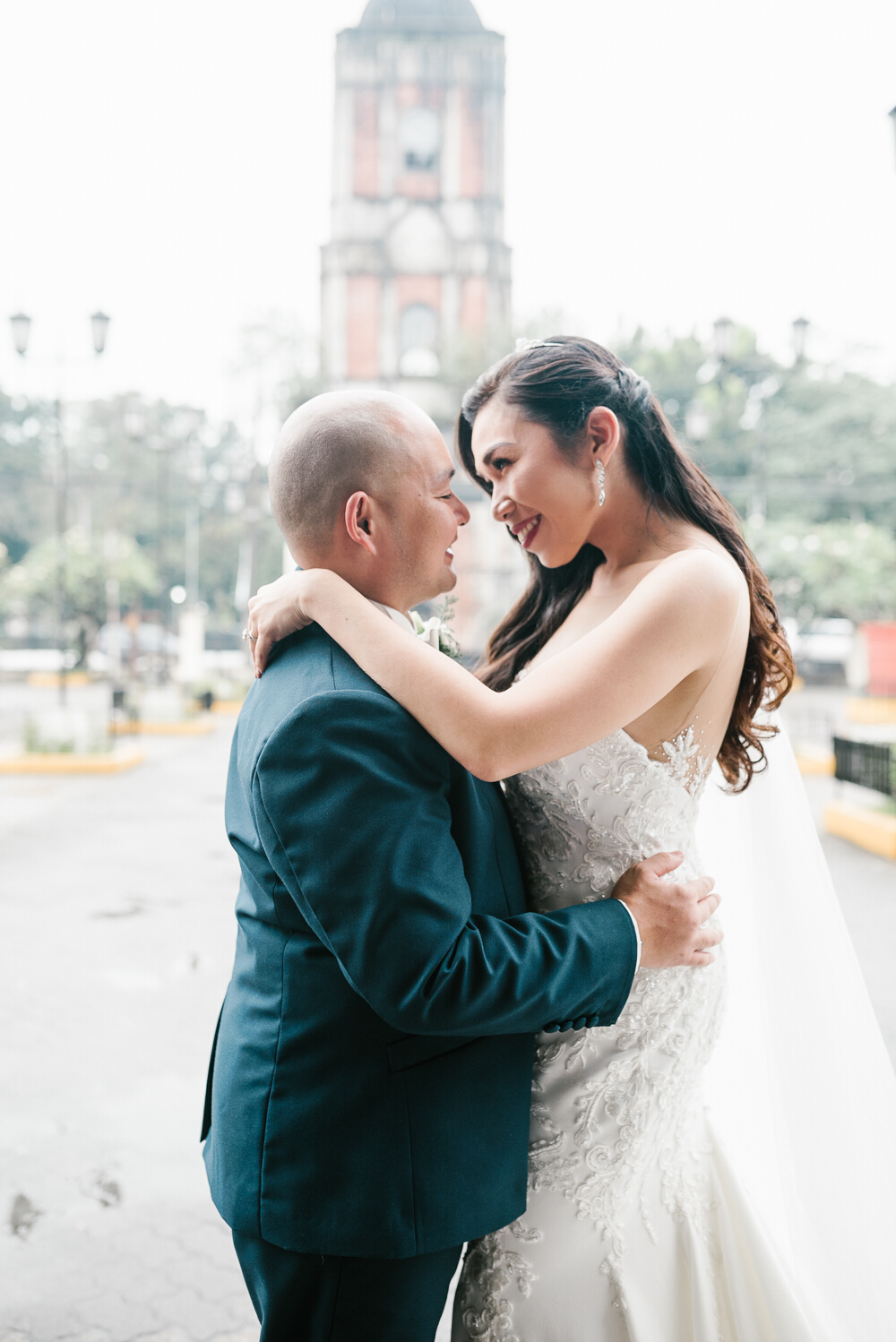 How about in terms of fitness? What did you do months before the wedding to stay in shape and make sure your wedding dress fit perfectly? Did you enroll in a gym or fitness center? What was your diet like?
The only fitness activity I religiously did was yoga. I tried a few classes of spinning and other fitness activities, but I didn't get hooked. Besides, I already had a year-long package at Yoga+ (with studios in Ortigas, BGC, and Makati). Within the first half of our wedding preps, my husband and I also brisk-walked around Iloilo River Esplanade almost everyday.
I also vowed to my wedding gown designer that I would lose a lot of weight for the gown, so I agreed to a fabric that will not hide flabs and imperfections and wouldn't really allow for much boning or the corset effect on my gown. I wanted a 'what you see is what you get' effect. I also told her that they will likely have to tighten the gown with each fitting—something that motivated me to really work hard for the shape I want.
I didn't really go on a diet, but I did try to control my appetite—I still ate and drank what I wanted, but in smaller portions.
I also did several treatments for my body to make sure I looked my best in my wedding gown. I did 4 sessions of Accent Prime at Spectrumed, which is a combination of RF (radio frequency) and ultrasound technology to reduce fat in my tummy area as well as tighten the skin, so it looks toned; Physique Inch Loss at Marie France, which is the equivalent of 225 situps, for muscle toning on the abdomen; Shape & Sculpt at Flawless, which is a combination of lipo-cavitation to melt fat, RF to tighten skin, and muscle toning; and LaserFit Spot Reduction at Contours Advanced Face and Body Sculpting Institute in Megamall to reduce more inches on my tummy area and arms.
"Start early when it comes to beauty preps for the wedding."