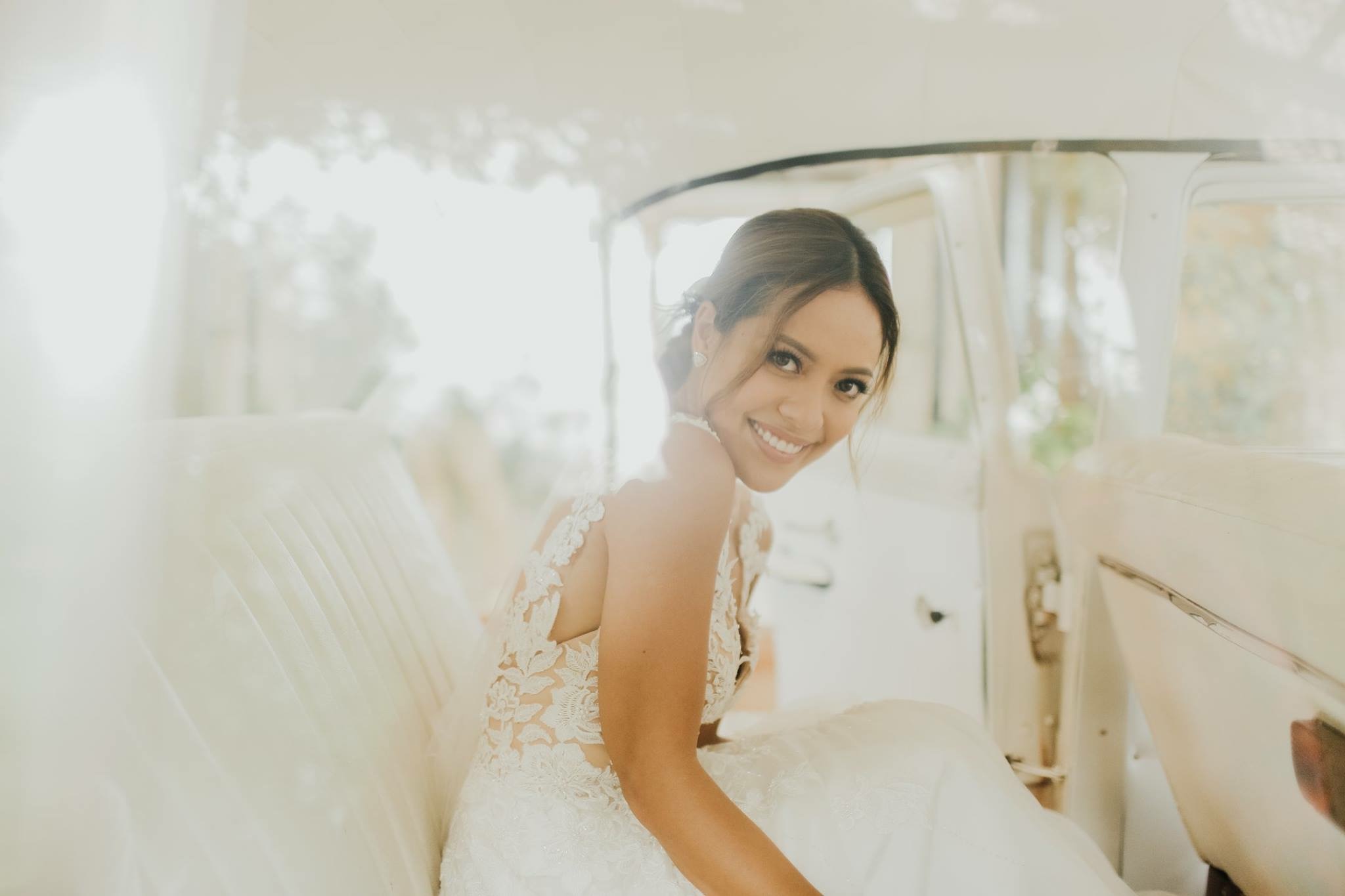 Can you tell us a little bit about yourself?
I'm a professional makeup artist and I do fashion, commercial, and bridal makeup. I'm passionate about beauty, travel, culture, and art. Prior to being a makeup artist, I was a marketing assistant for a consumer brand and before that, an IT project manager, which gave me a substantial corporate background as well.
Where was the wedding held? What made you opt to go for a destination wedding?
In Panglao, Bohol last June 2018. I did a church wedding in Dauis and the reception was in Amarela Resort. I like to travel a lot, so I knew a destination wedding was perfect for me. I like the idea of having a wedding that will be enjoyable and memorable for the guests. Tagaytay would have been a convenient location, but as I always do wedding jobs there, it was out of the question. Since my husband is an American and we would have a lot of of guests flying in to the Philippines for the first time, we wanted a venue that will also boastly speak of the country's beauty and uniqueness. Bohol was perfect with its beautiful beaches, it's not as commerical or tourist-packed as Boracay, it has tourist attractions that is unique like the Chocolate Hills and the tarsiers, and it was also easy to get to with just an hour direct flight from Manila.
How did you choose your suppliers?
Luckily, Bohol has very reliable and experienced wedding suppliers, so I did not have to fly in a lot of suppliers from Manila. All of my suppliers were based in Bohol except for my photographer, hair and makeup artist, and dress designer. With the help of my friend's recommendations, as well as the resort manager's, I already had a shortlist of Bohol suppliers to choose from. I chose suppliers based on recommendations or feedback, and if their style fit my vision or aesthetic, and ultimately, if their rates matched my budget. My hair and makeup artists were, of course, my friends whom I work closely with.
How did you coordinate with guests and suppliers?
Everything was mostly online. We made use of email, created Facebook groups and made a wedding website (luvbirds.com). Other coordination was done via messenger or Whatsapp – it was very efficient and convenient. We also posted a travel guide for the guests on our Facebook page—things to do, places to eat in, etc. This made guests look forward more to the trip since the destination has a lot to offer.
"We wanted a venue that will also boastly speak of the country's beauty and uniqueness."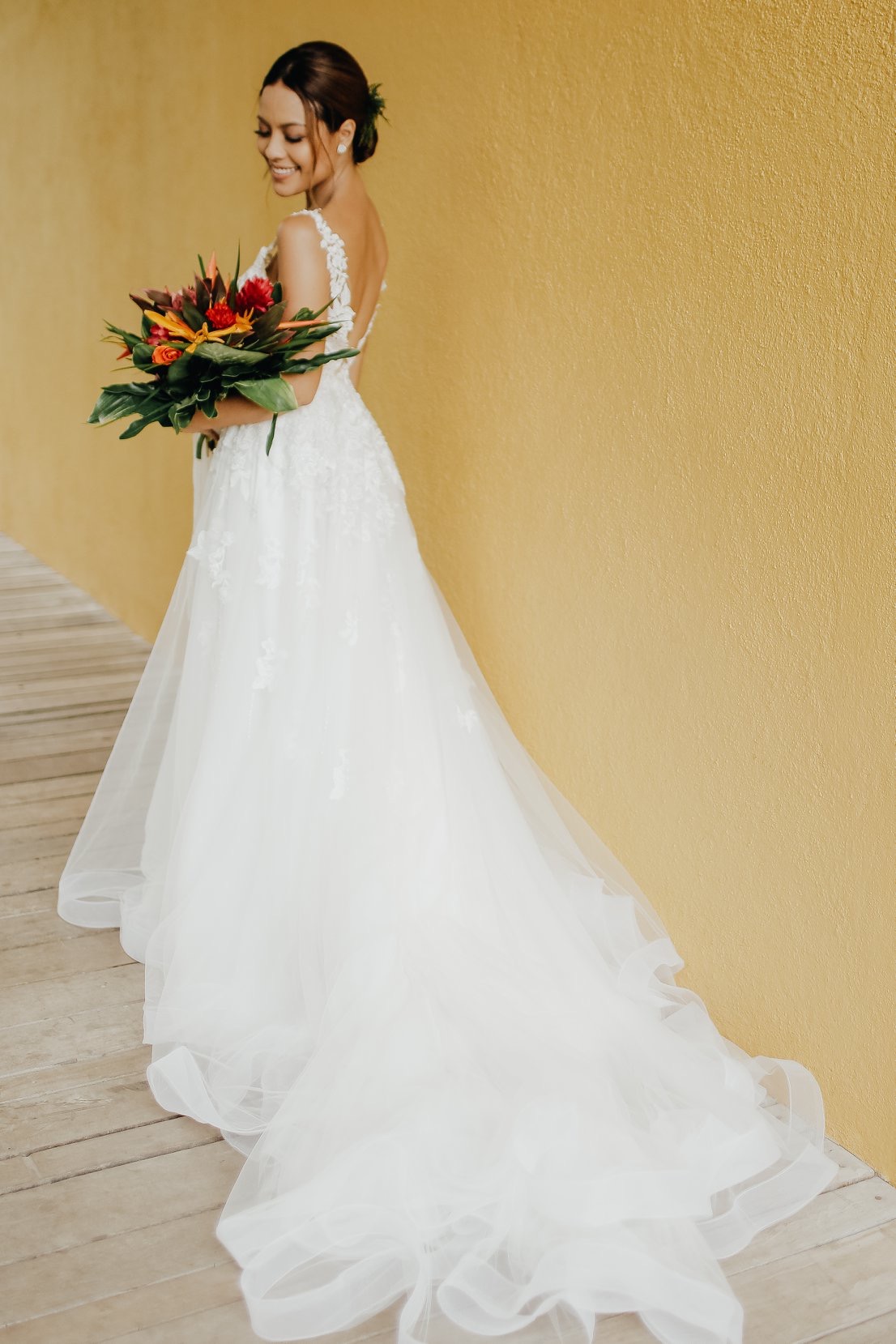 How was it like planning a destination wedding? What were the biggest challenges and how did you overcome them?
I was fortunate enough to have a friend who hired me for her wedding in Bohol several months before I got engaged, so her wedding inspired me a lot that I ended up choosing the same venue. This gave me the ability to anticipate our needs for the wedding quite well. One of the biggest challenges was managing the accomodations and logistics for my guests. My wedding venue, Amarela, had limited rooms so a lot of our other guests had to book in nearby accomodations. To manage this, I made a website with all the pertinent details my guests needed to know, including a list of resorts close to my venue. Whenever a guest would ask us about hotel options, we just sent them the link. What I liked about Amarela is that they automatically blocked off the entire resort for us on our wedding weekend, so we didn't have to worry of outside guests booking on the same weekend, and we had the entire resort to ourselves.
As part of having a destination wedding, we also had to take care of the transportation between venues during the wedding day for all our guests. We had to hire several vans and coasters ahead of time. I was grateful to have a reliable resort manager and wedding coordinator because that really helped a lot in managing and anticipating our needs. We had fly to Bohol twice before our wedding—the first one was for a general ocular (visiting different churches and resorts, meeting potential suppliers) and another one was a month before our wedding to iron out the details and completing requirements for the wedding (food tasting and final ocular at our chosen venue, finalizing with suppliers, completing church requirements, meeting our priest). Communicating effectively with our suppliers given that it's limited to online and mobile was also a challenge. We made sure that we were able to align expectations with our suppliers which entailed a lot of detailed email exchanges, continuous follow ups and preparing visual guide decks to really ensure we set a clear direction and manage expectations.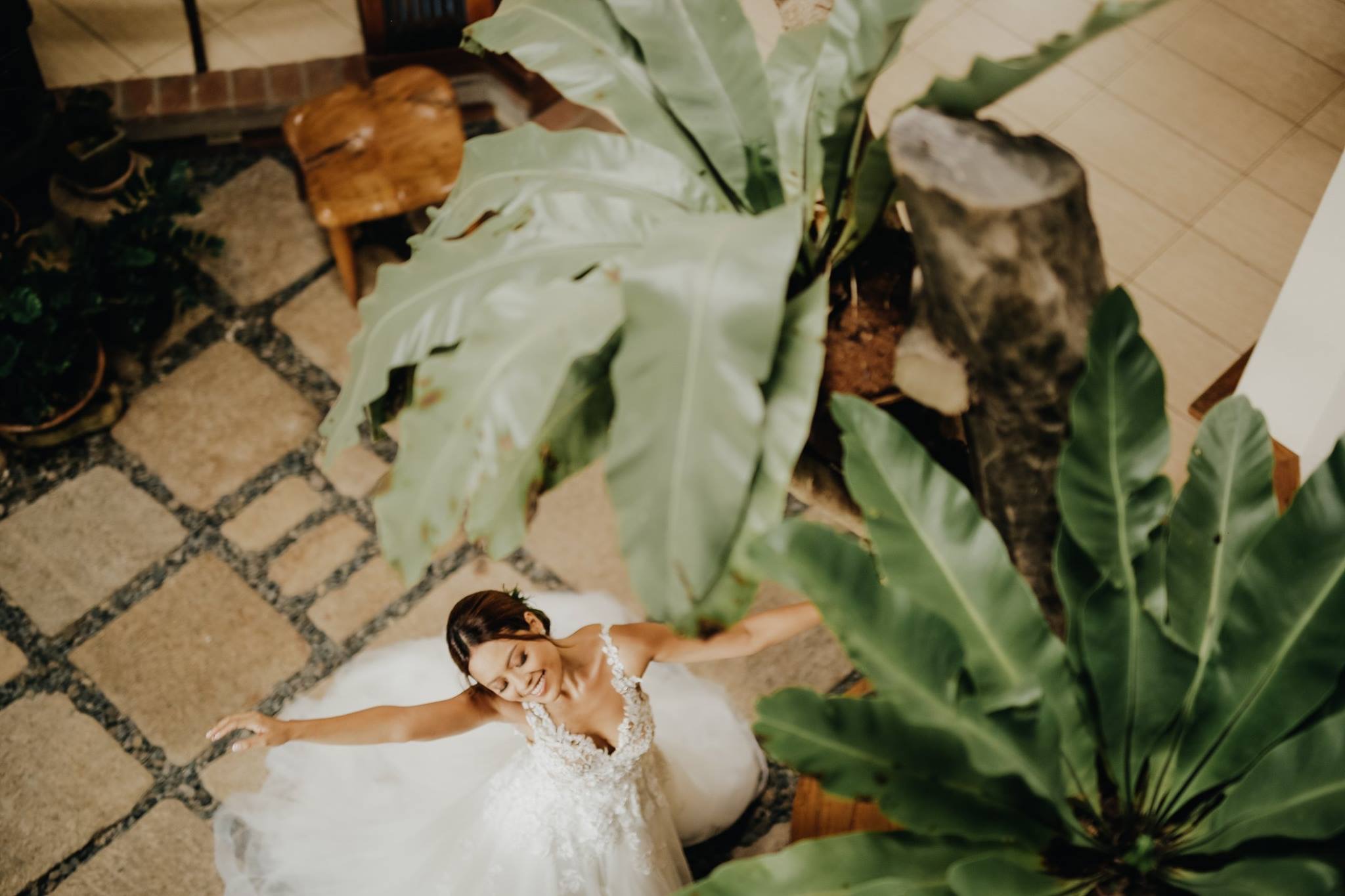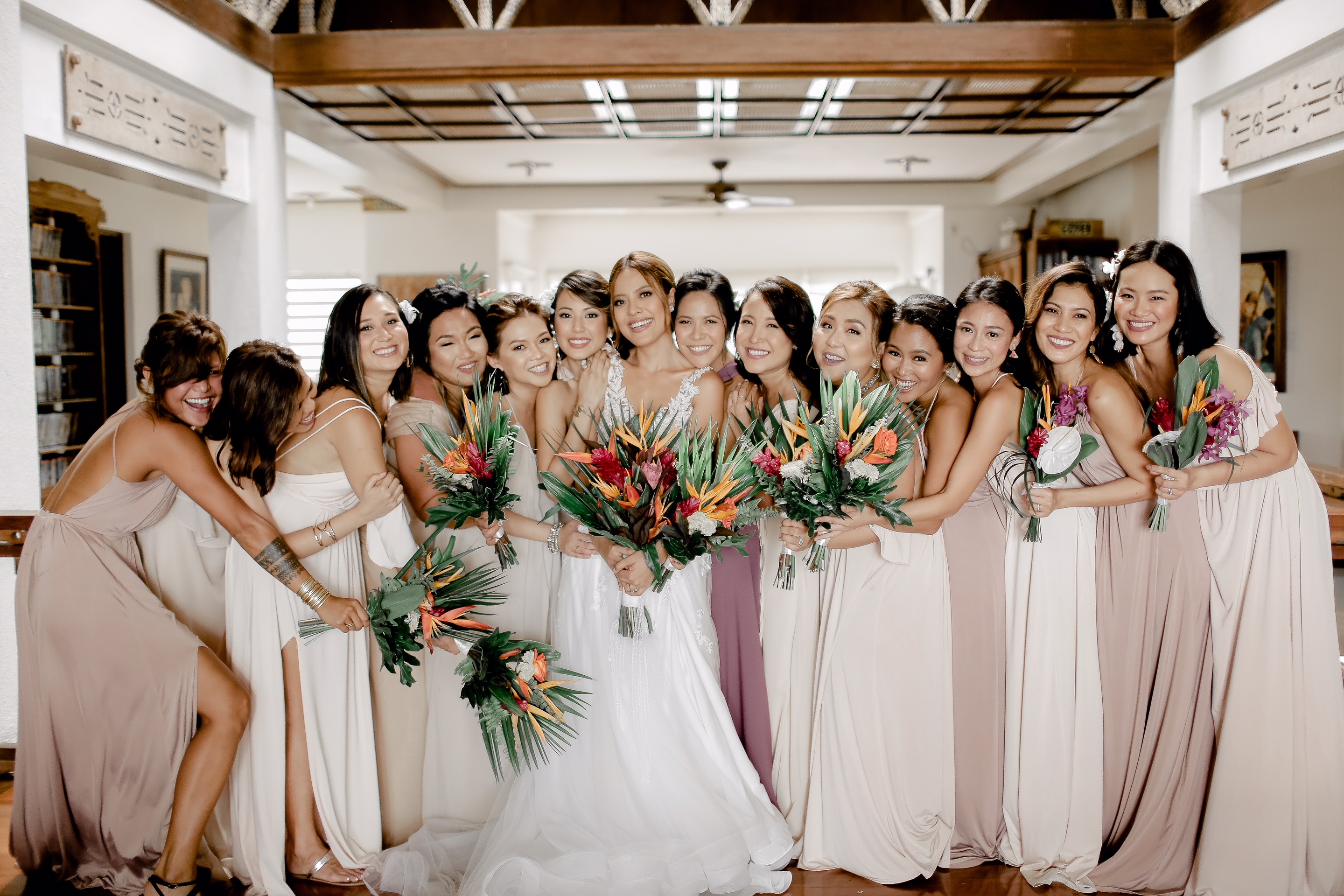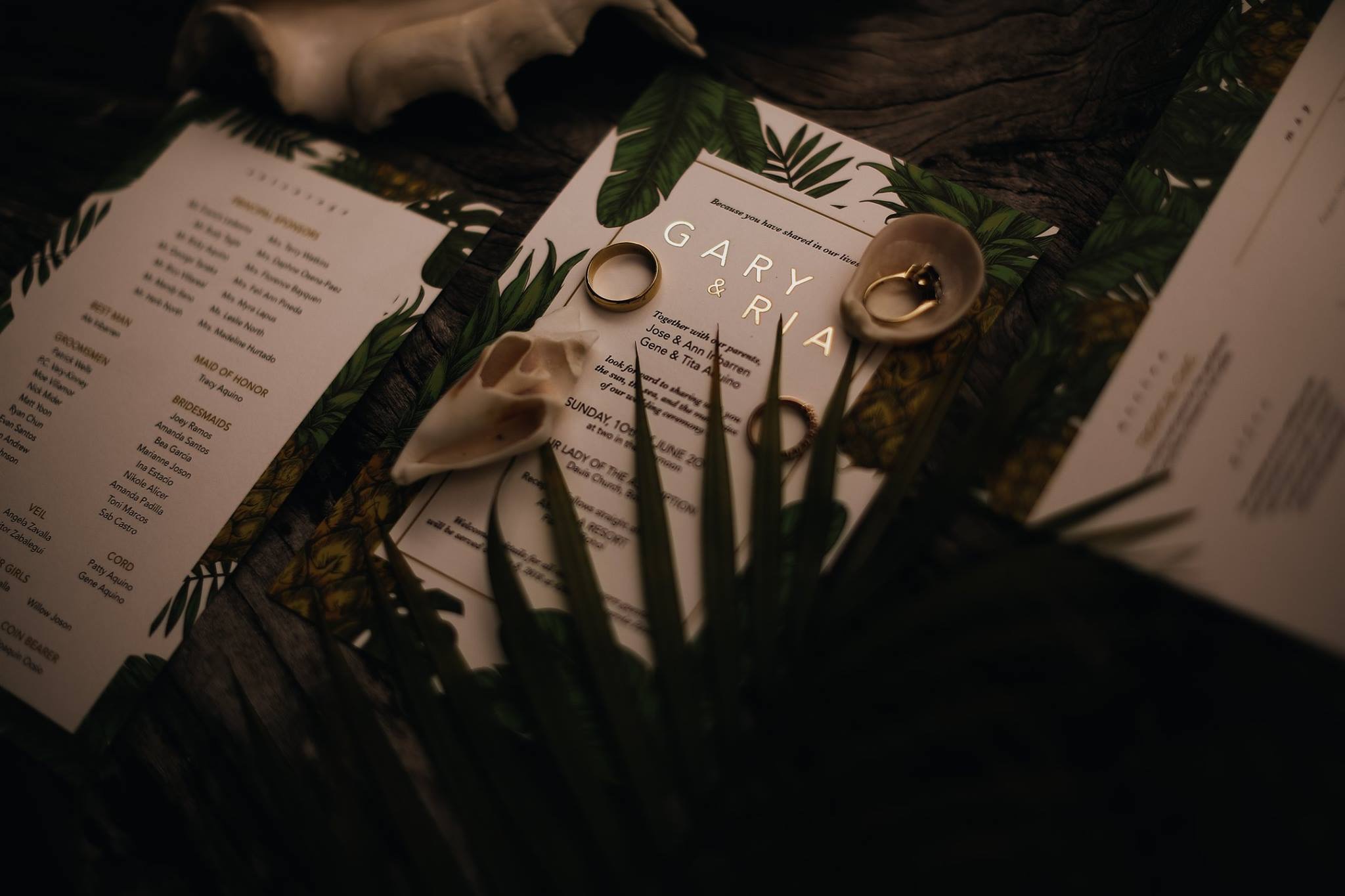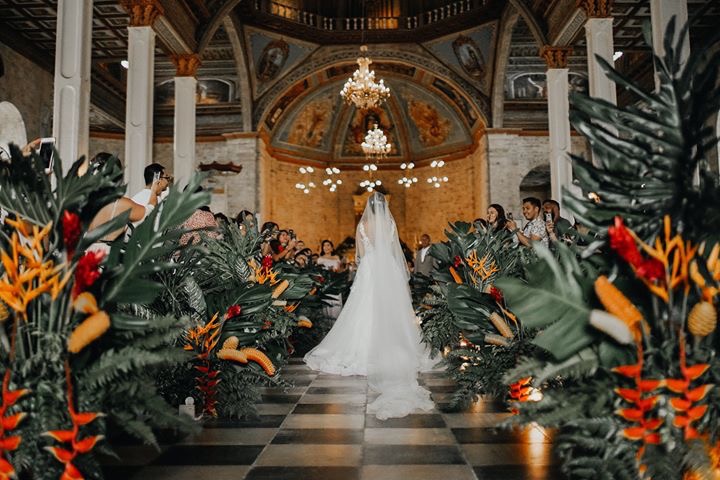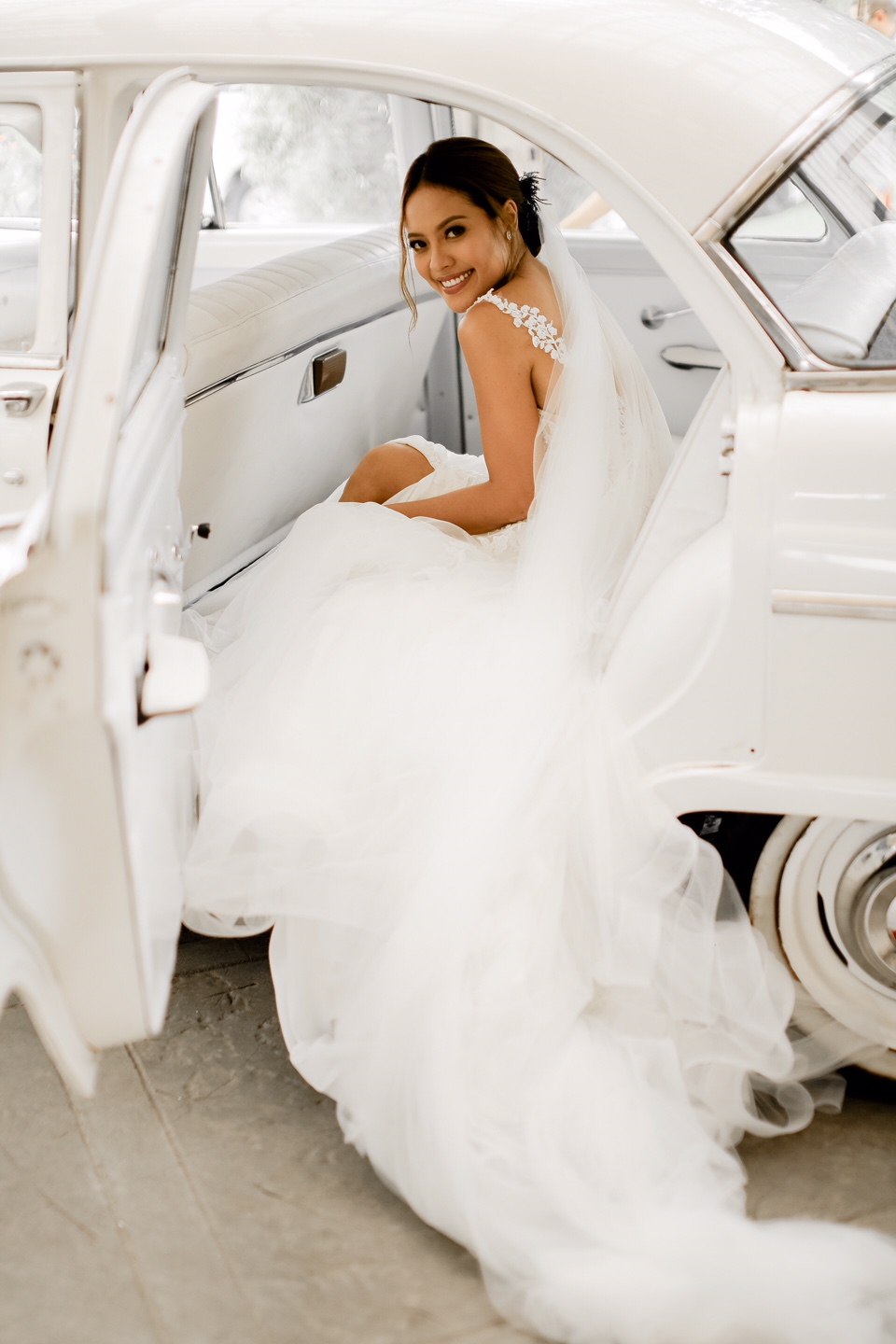 What lip color did you choose for the wedding day?
Since I have a tan skin tone, I went for a peachy brown nude. My friend and makeup artist, Byron, used MAC Retro Matte Liquid Lip Colour in Burnt Spice mixed with MAC Kinda Sexy.
What was in your wedding day makeup kit/pouch?
Charlotte Tilbury magic cream, Charlotte Tilbury foundation, RCMA colorless finishing powder, MAC Prep + Prime Lip primer, MAC Fast Eye Response Cream, MAC Fix + travel size setting spray, BECCA Shimmering Skin Perfector in Opal, Eye of Horus Black eyeliner, MAC Skin Refined zone, facial tissue, and blotting paper.
What were the preparations you did for your skin prior to the wedding day? Did you go to a skincare center regularly? What kind of services did you have done? Is this something you would recommend to other brides-to-be?
I've always been into skin care, but I wanted to seek a professional to ensure that my skin had that bridal glow. I went to see Dr. Genevieve Chi–de Guzman and she recommended Revlite Laser treatment for me. After a few days, I really felt the difference in my skin—it was so much softer and brighter, and the lines around my eyes and lips have also diminished. I highly recommend it for all brides-to-be. The day before the wedding, I used a facial mask to rehydrate and condition my skin for the big day.
What was the best beauty advice you received that helped you prepare for your wedding?
Get a lot of rest, stay calm and positive, and follow a skin care and fitness regimen. Drink lots of water, and lessen alcohol consumption.
What's the inspiration behind your wedding look? Did you have any hair and makeup pegs?
My wedding theme was tropical, but minimalist, for an elegant touch. I wanted my look to be simple yet elegant as well. For the makeup, I did not have any particular inspiration but just wanted a look that works best on my features, which is a classic smokey brown eye paired with a nude lip, and bronzey skin to complement my morena complexion. I wore brown contact lenses so that my eyes will pop out more. For the hair, I wanted something effortless and practical. Just before my wedding was the Royal Wedding, and I loved how natural and effortless Meghan Markle's hair was—so that became my peg. I usually have ash blonde hair color, but for my wedding, I opted for a darker tone, like a chocolate brown, for a more classic, toned-down look.
Who designed your wedding gown, and how did you come up with the style? How long did it take to create or find the perfect wedding dress?
I already had a specific style in my head for my dress. I wanted a V neck, deep V back, A line flowy skirt with a slit, and nude lining. When I consulted with Teena, I fell in love with how she interpreted my ideas and she even added pockets to the dress, which I loved. The whole design and fitting process took about 3 months. Teena was a breeze to work with—she was always professional, accommodating, and she gets what I want, which really made the process easy and fun.
"My wedding theme was tropical, but minimalist, for an elegant touch."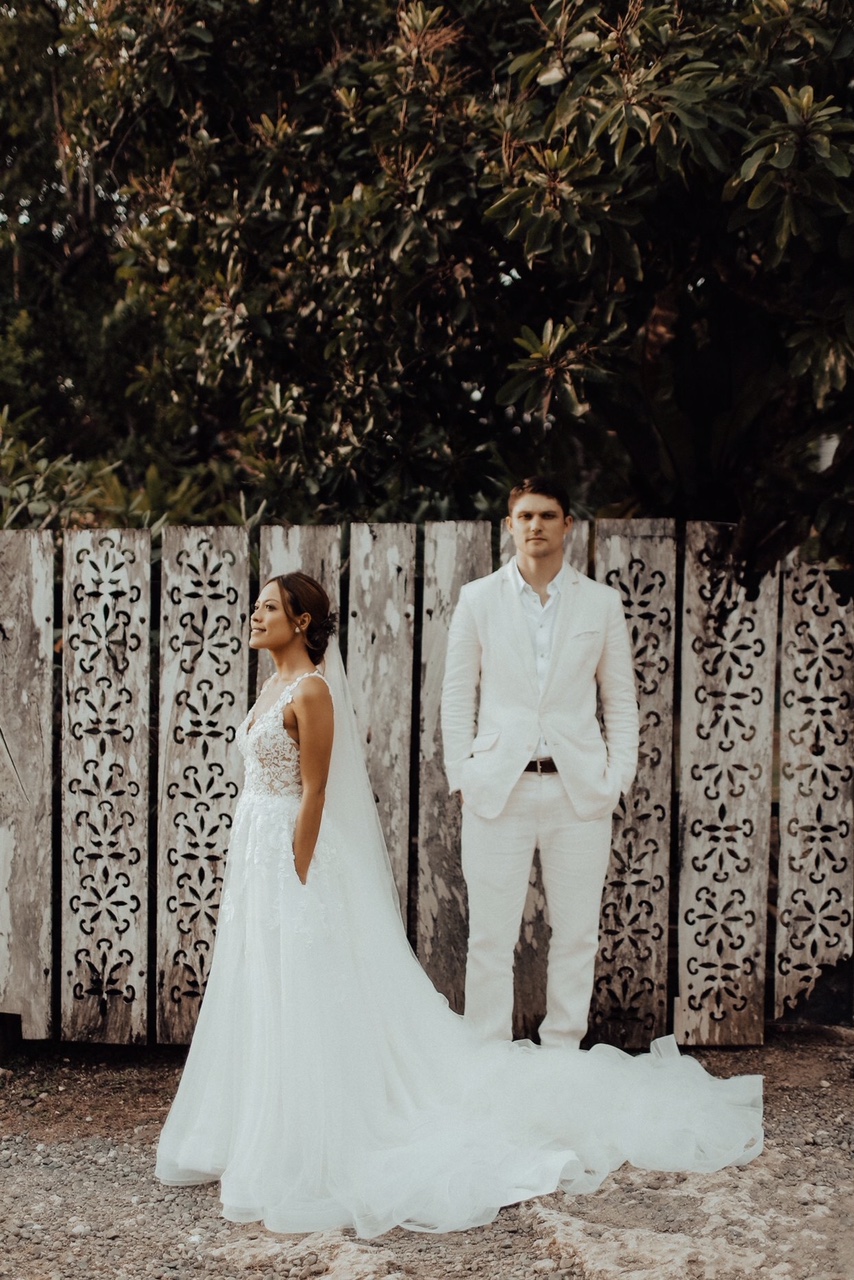 "Get a lot of rest, stay calm and positive."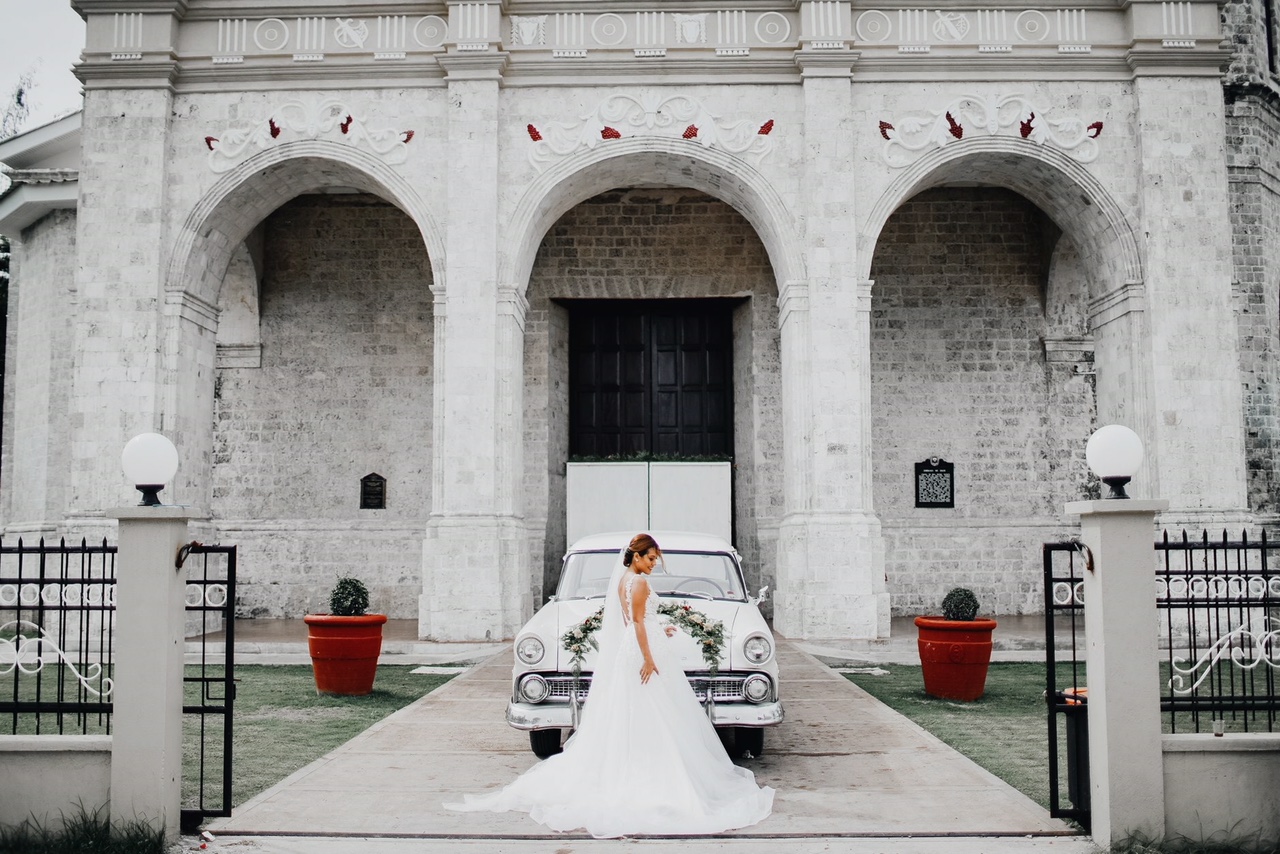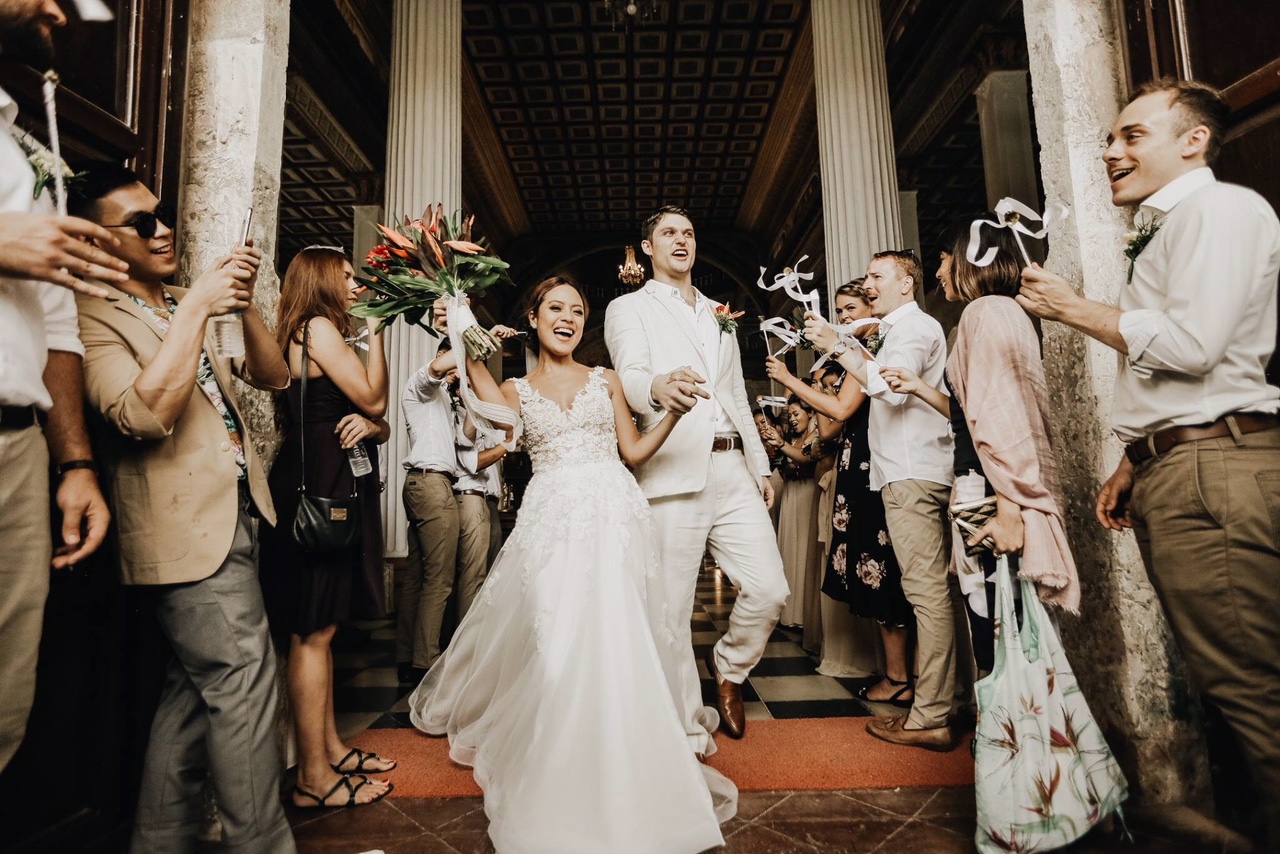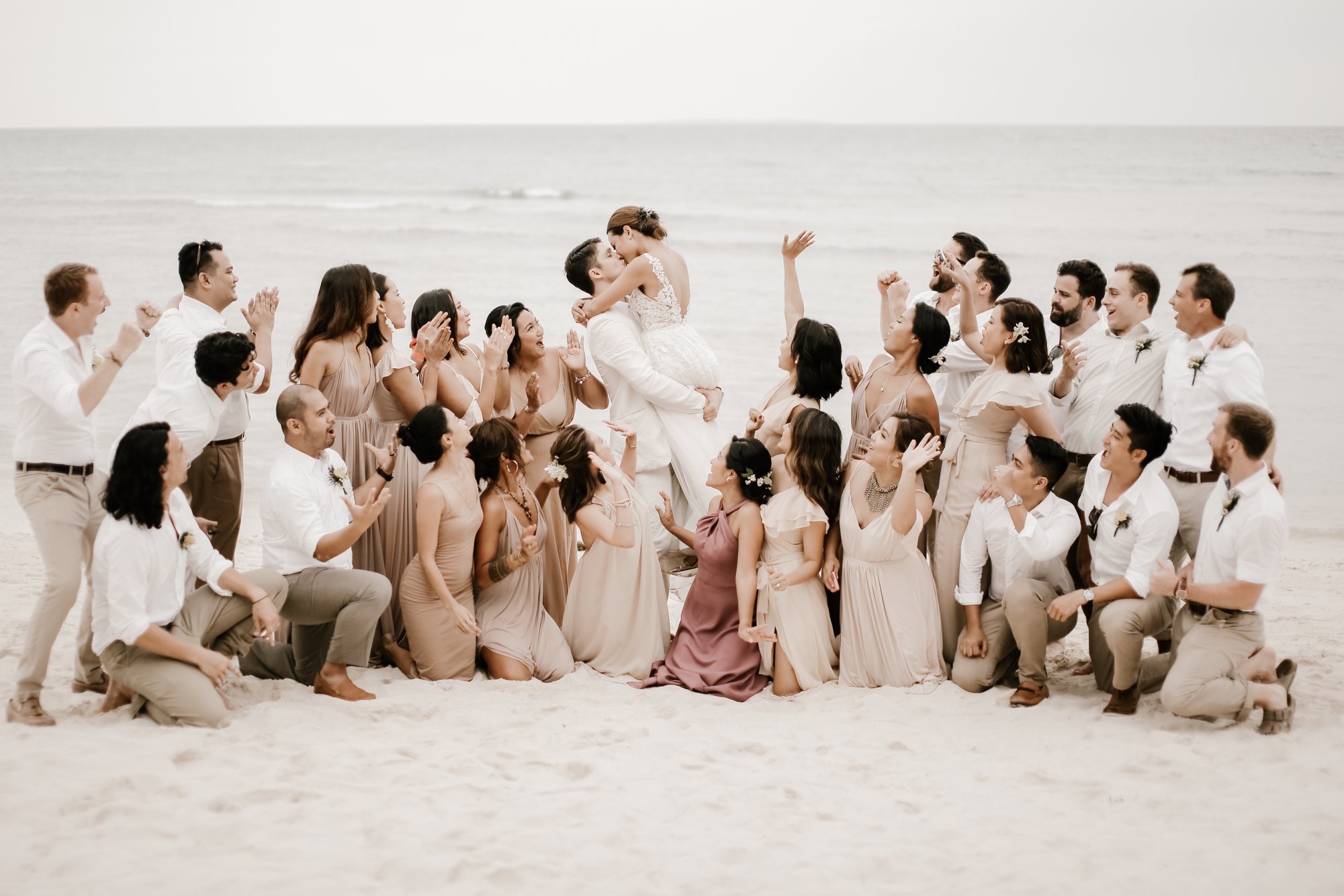 How about in terms of fitness? What did you do months before the wedding to stay in shape and make sure your wedding dress fit perfectly? Did you enroll in a gym or fitness center? What was your diet like?
Three months before the wedding, I started attending barre classes in Planaforma. It's a great work out for ladies since it effectively tones the body, plus it's fun. I also did yoga in between Planaforma work outs. In terms of diet, I controlled my carb and sugar intake, following on the concept of Keto diet. I also cut down on my alcohol intake before the wedding to stay looking fresh and avoid dehydrating my skin.
Did you have your nails done? If so, where? Would you recommend this nail salon to others?
I went for a classic french tip gel polish manicure, and a nude gel pedicure at Nail Spa in Gamboa St, Makati. Really simple, nothing fancy. I like the ambiance in the salon and they have highly trained nail technicians.
What was your biggest takeaway from your wedding day? Do you have any beauty-related tips (or tips in general) that you can share?
You have to let go on the wedding day, trust your suppliers, and just savour and enjoy each moment as it can go by quickly. Since our wedding was by the beach, a mobile electric fan helped me immensely to stay cool and comfortable the entire day, and helped save my makeup from melting. Invest on skin care and treatments prior to your wedding day to give your skin the utmost pampering it needs.
"Invest on skin care and treatments prior to your wedding day to give your skin the utmost pampering it needs."