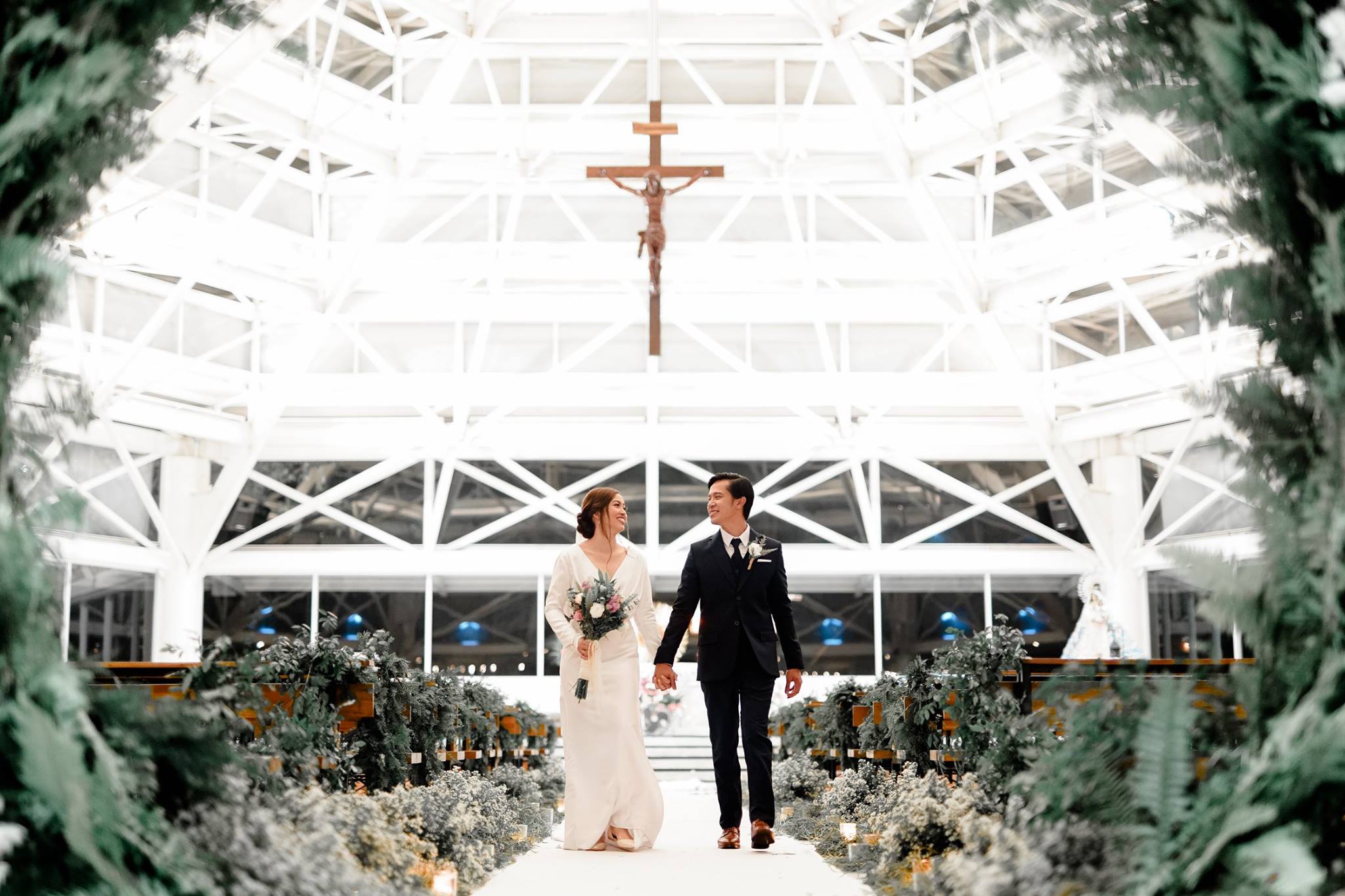 Can you tell us a little bit about yourself and what you do?
I am currently working as a Sales & Marketing Executive at my husband's family business. Ever since we got engaged, we decided that I should work there so we can handle the wedding preparations with more ease. And it indeed was a big help since we had the time in our hands. We were able to work and at the same time, finish a lot of wedding errands with less pressure!
Where was your wedding held and what made you decide to choose the location?
Our church ceremony was held at the Parish of the Immaculate Heart of Mary in Antipolo. My husband lives in Antipolo that's why we also opted to find a church there. Another factor is that the church's interior was very minimal and modern. Something we both really loved! The surrounding area was very quiet and intimate. On the other hand, our reception was held at The Glass Garden. It was a little far but the greenery interior of the venue was something we couldn't let go!
What's the inspiration behind your wedding look?
I really didn't have any inspiration in mind! If some girls already have a vision of what their wedding would be even at a young age, I was definitely clueless. Pinterest really helped me a lot in terms of deciding what my wedding look would be. I'm sure most brides would agree! In the end, I opted to go for a simple rustic bohemian theme for the whole wedding look. From the church set up, to the reception, to my bridesmaids and my overall look, it was all rustic bohemian-inspired.
"If some girls already have a vision of what their wedding would be even at a young age, I was definitely clueless."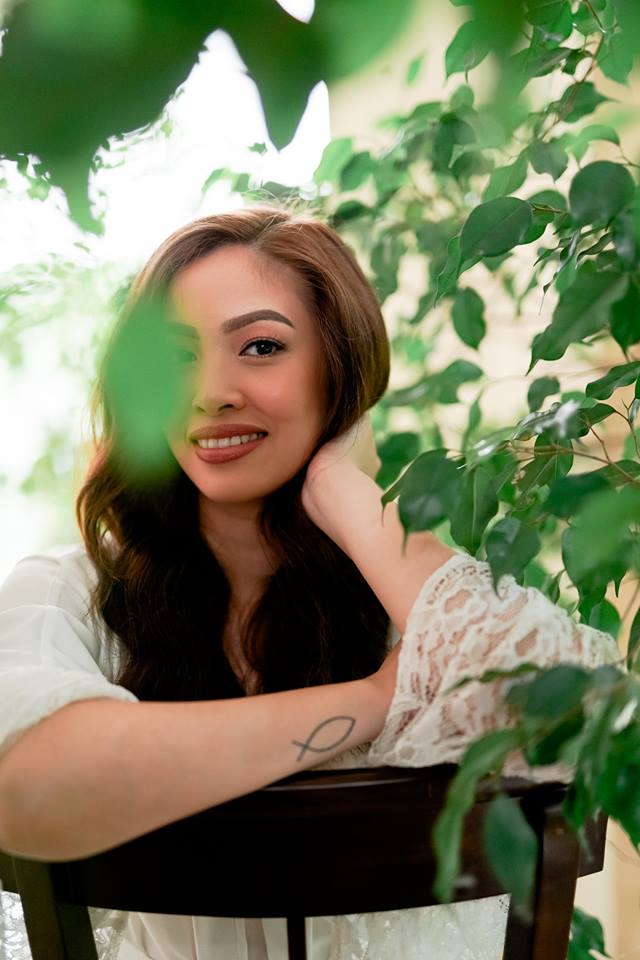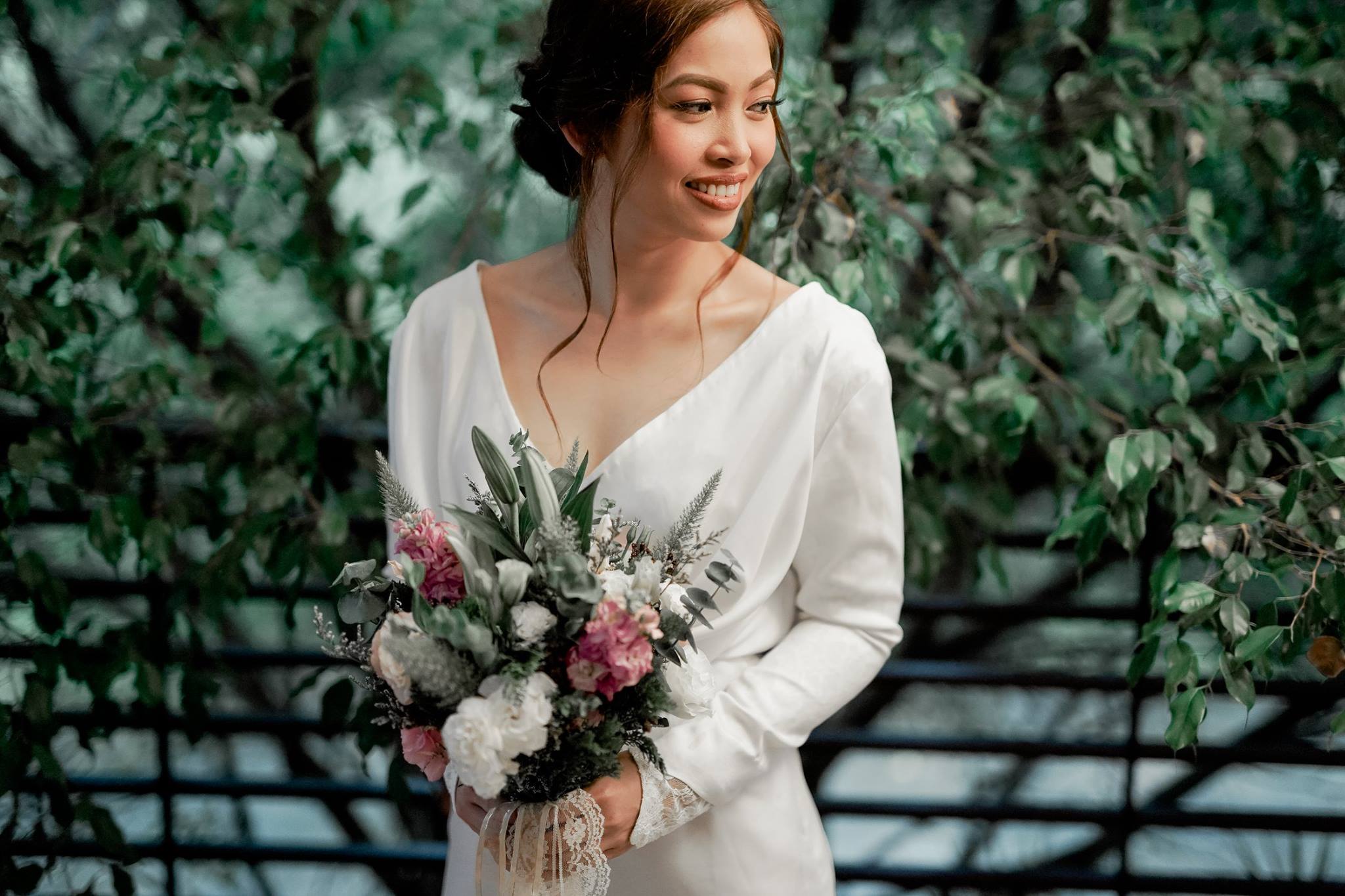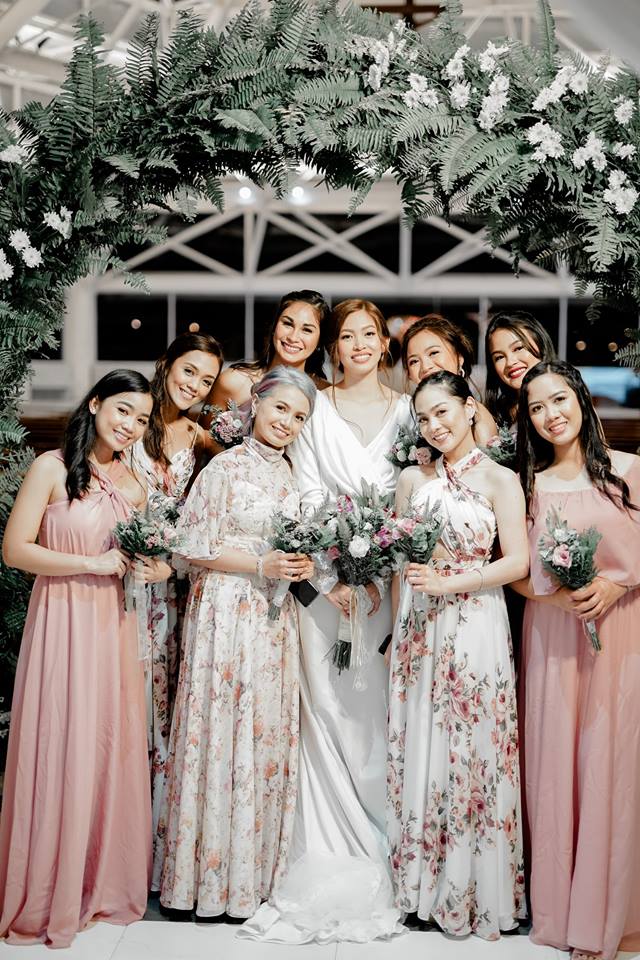 Who designed your wedding gown, and how did you come up with the style? How long did it take to create or find the perfect wedding dress?
My wedding gown was designed by Alex Cristobal. Alex is our go-to couturier ever since I was in high school. We go to him whenever we need gowns for different occasions. To be honest, my final wedding gown wasn't the original idea. Being the indecisive me, I decided to just go for a very simple gown at the last minute! I am really just simple when it comes to my style. Maxene Magalona's gown during their beach wedding was my inspiration for the final design of my wedding gown. I think Alex made my final gown for only 2 weeks! Thankfully, he was still able to deliver. I definitely do not recommend what I did though! Haha! It's still better to really decide on a peg and once your decision is final, refrain from looking at other pegs so it doesn't confuse you. If you're still indecisive, you should try on RTW wedding gowns so you can really visualize the style or cut that perfectly fits your body shape.
How did you choose your hair and makeup artist? Did you have any hair and makeup pegs?
I am so happy and thankful that our makeup artist is one of the first suppliers that we were able to book. I really didn't have a list of makeup artists to choose from as I avoided giving myself too many options. Our makeup artist was Ysra Guarino. She was recommended to me by my maid of honor. When I looked through her social media accounts, I noticed that her style was very natural and fresh—the peg I had in mind, since I am also not very comfortable with heavy makeup. I was happy because she was true to her claim that she just enhances the beauty of her clients. During the wedding, I told her I didn't really have any pegs for my makeup and asked her to just make me look fresh and natural and not too made up, and I loved it! For my hair, I did have a peg. I wanted a relaxed hairstyle, a low bun that covered my ears. I had a second look at the reception and I just let Ysra do her thing again and of course, I also loved it. For my hair, I went for a ponytail with my hair parted in the middle.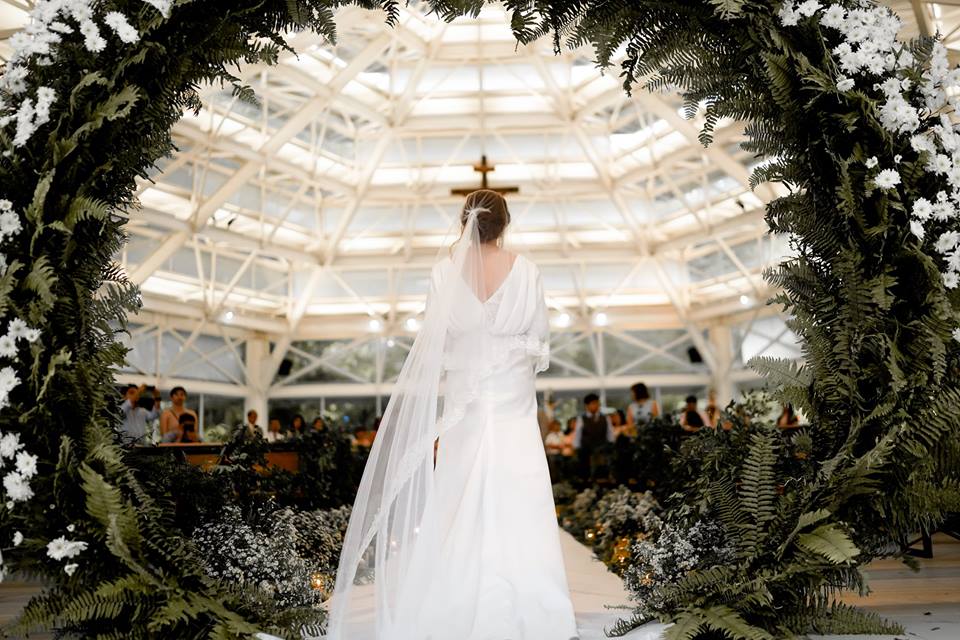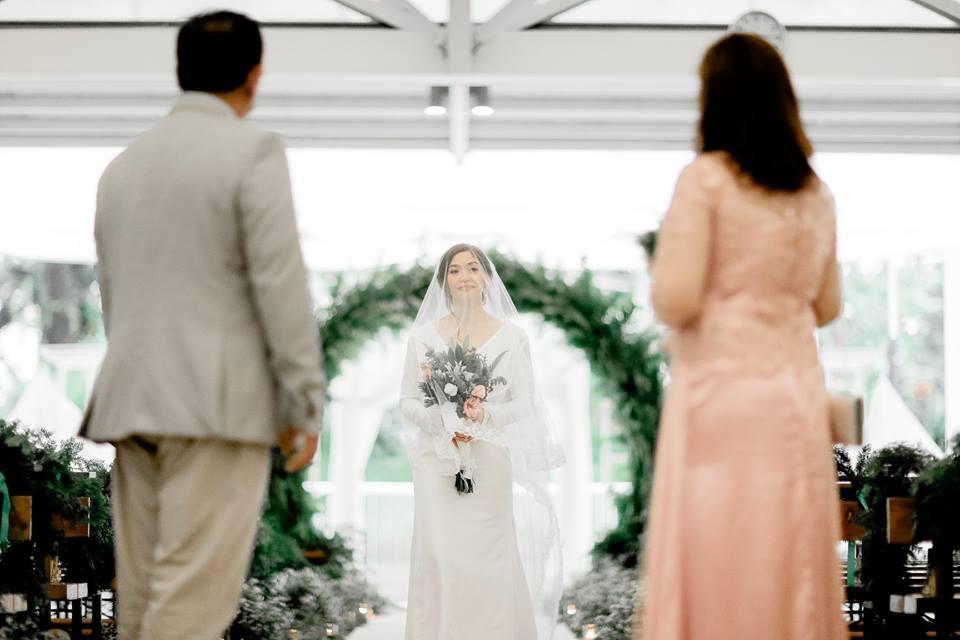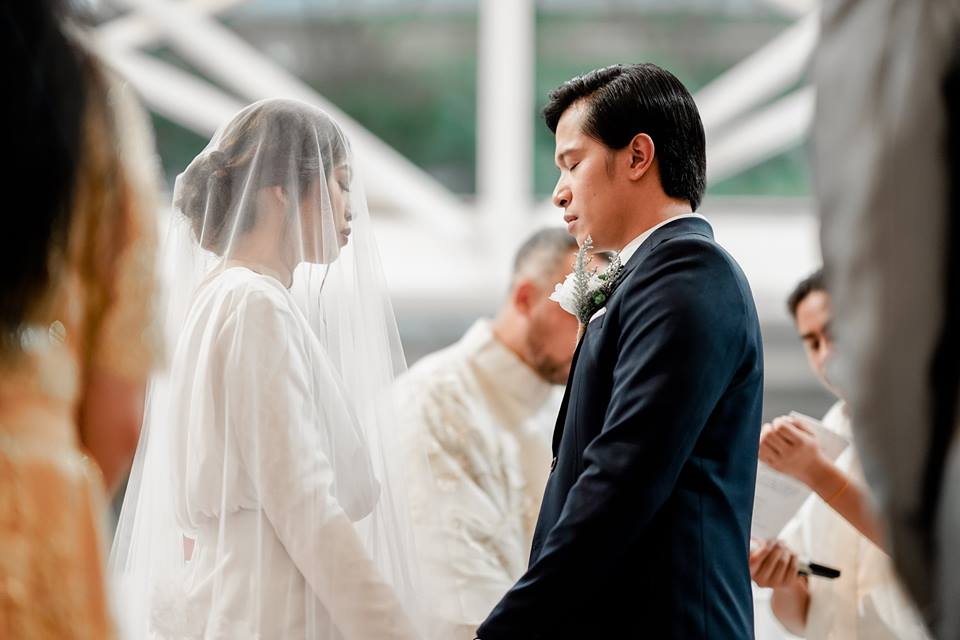 What lip color did you choose for the wedding day?
I really just trusted Ysra for my whole makeup look. She used a peachy mauve lipstick for my church ceremony look and a brown-y mauve for my second look. I loved it both!
What was in your wedding day makeup kit/pouch?
Actually, I didn't have a makeup kit! But I did make sure that I had a handkerchief with me at all times. A fellow bride recommended that to me—use a handkerchief, not tissue!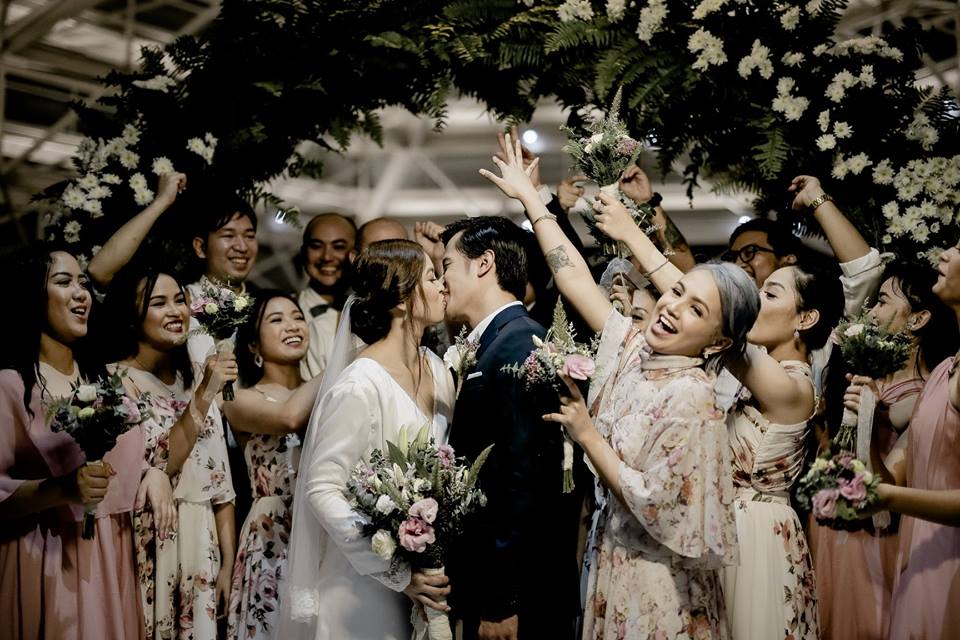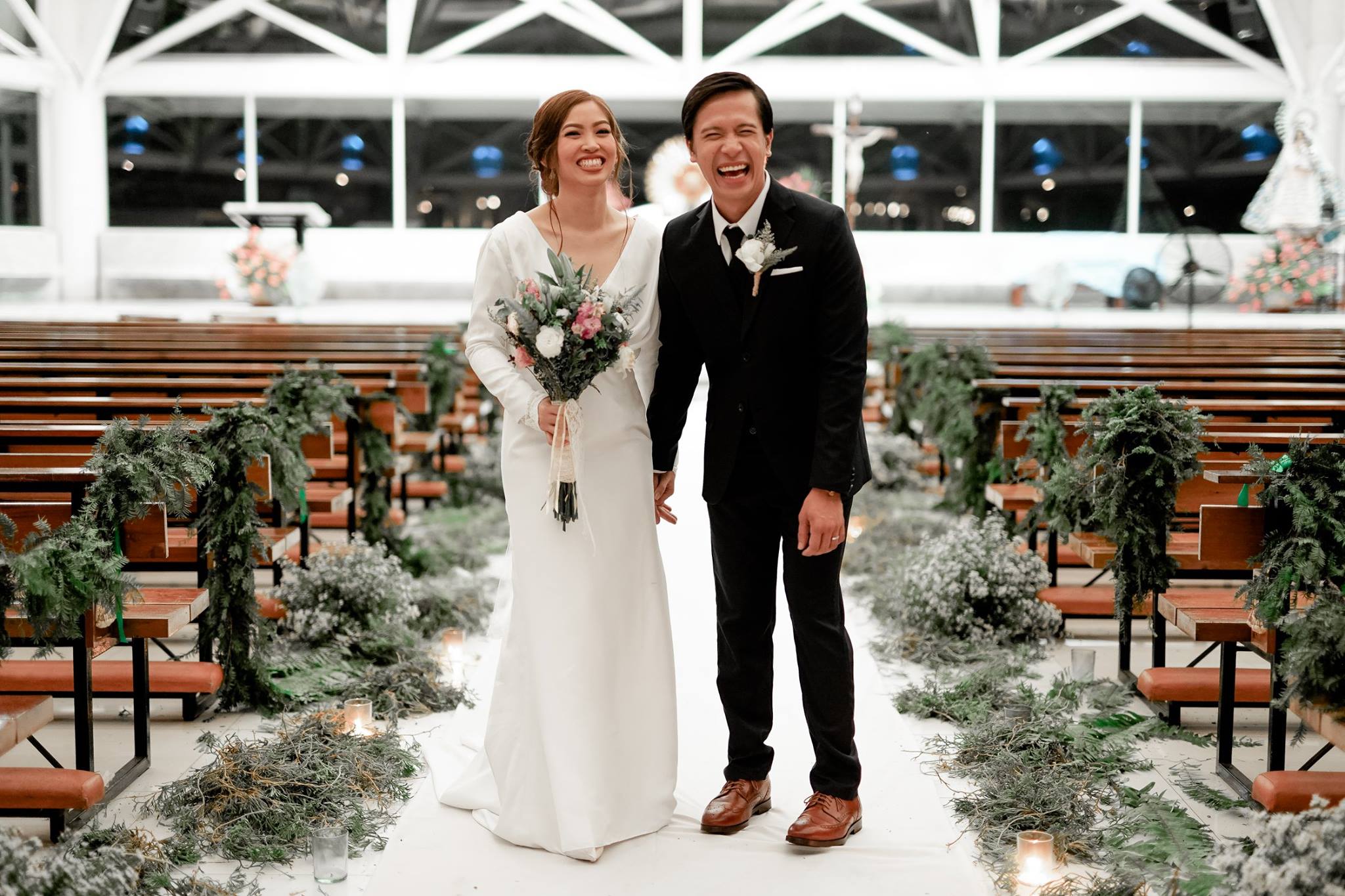 What were the preparations you did for your skin prior to the wedding day? Did you go to a skincare center regularly? What kind of services did you have done? Is this something you would recommend to other brides-to-be?
I don't have major problems with my skin but I would sometimes get dry patches around my nose area. So to somehow prevent that on my wedding day, I made sure to soak my face with moisturizer every night. I did that religiously for 2 months. I would also regularly exfoliate 1 to 2 times a week. I observed that this routine really helped my skin remain hydrated and fresh before the wedding. I also had a facial cleaning a month before to make sure that my face was deeply cleaned.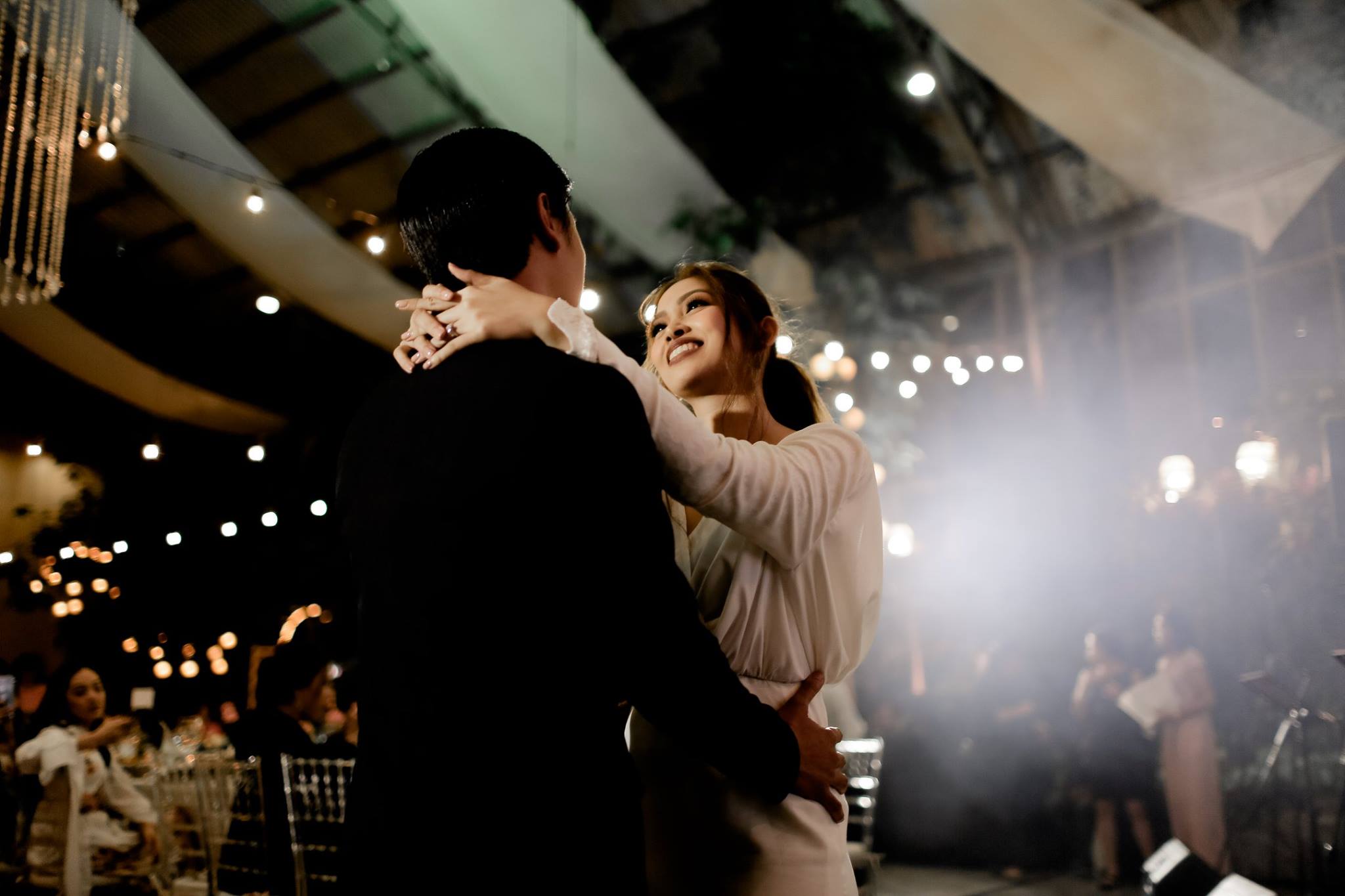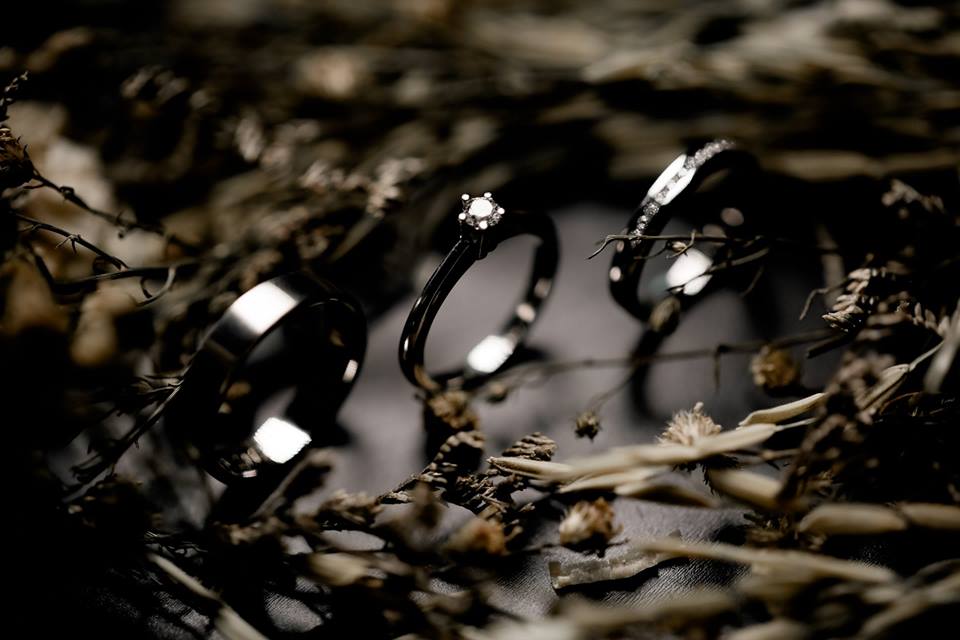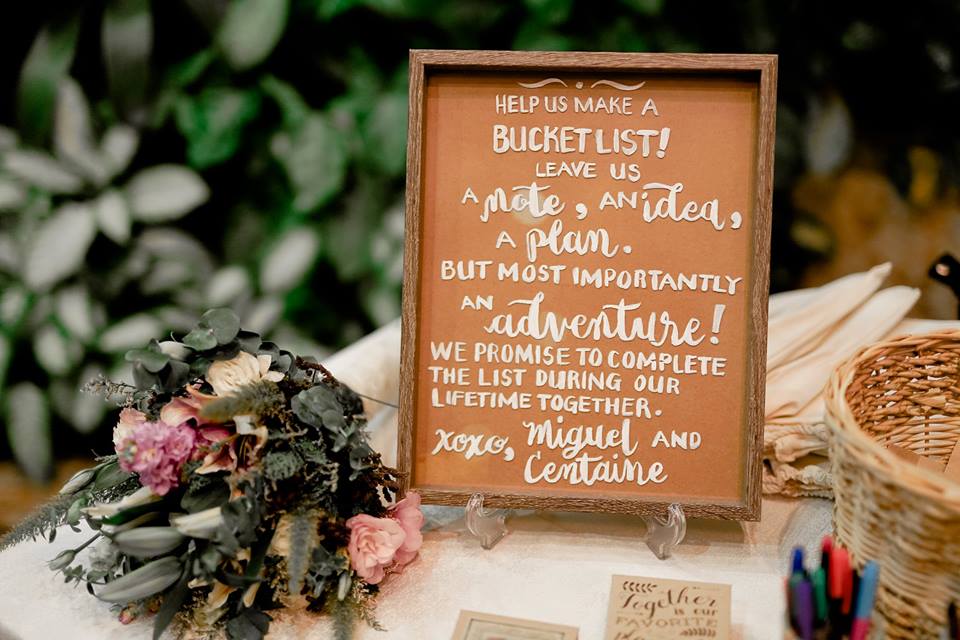 What was the best beauty advice you received that helped you prepare for your wedding?
Definitely to keep hydrated since my only issue was my dry patches. But apart from hydrating on the outside, I also started bringing a water tumbler with me everyday to keep me hydrated on the inside.
How about in terms of fitness? What did you do months before the wedding to stay in shape and make sure your wedding dress fit perfectly? Did you enroll in a gym or fitness center? What was your diet like?
I have a tendency to gain weight fast so I had to enroll in a gym and also availed a personal trainer together with my maid of honor. I chose to have a personal trainer, so I could manage my fitness goals and of course, to always keep me motivated to workout! For my diet, I just cut the fast food meals, soft drinks, and lessened the sweets. I balanced my diet and ate more protein. I also didn't deprive myself too much especially on sweets (I'm a sweet-tooth!), so of course I had cheat days, also because I wanted to avoid having a relapse. This workout and diet plan worked well for me as I was able to reach my target weight before the wedding. And the important thing was I enjoyed the process at the same time.
Did you have your nails done? If so, where? Would you recommend this nail salon to others?
One of my bridesmaids treated me to a mani-pedi session a few days before the wedding. We had our nails done at House of Z in Marikina. I would definitely recommend that place! Their salon is so comfy, you will really feel relaxed while having your nails done. And of course, their service was great also. Their staff are well trained, and they really took care of my nails. They were accommodating, and gave suggestions on what color would look best on my nails. There is also a café next to the salon. I'm not sure if it's from the same owner but it's definitely convenient if you want to sip some coffee while having your nails done.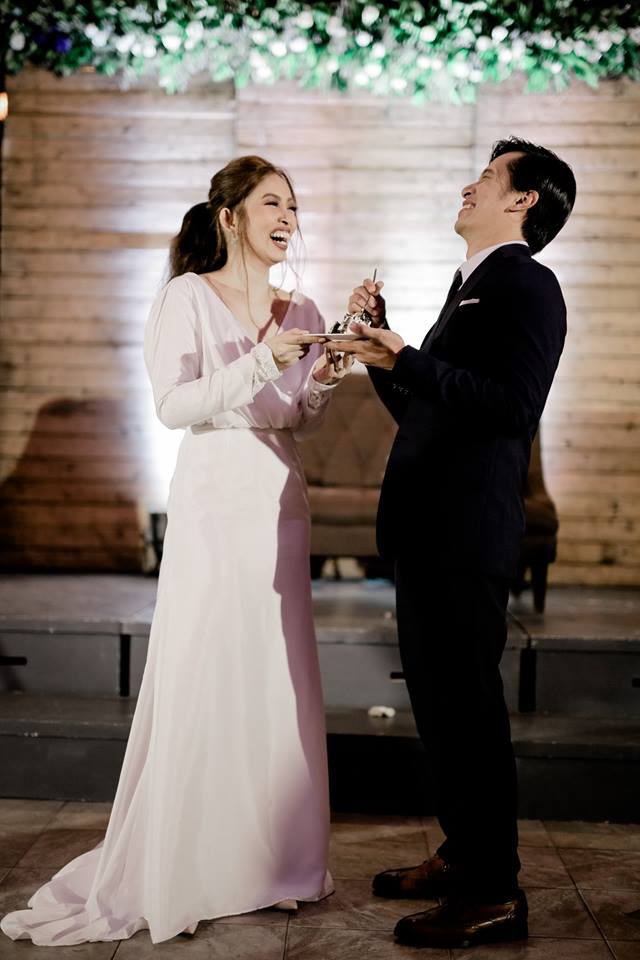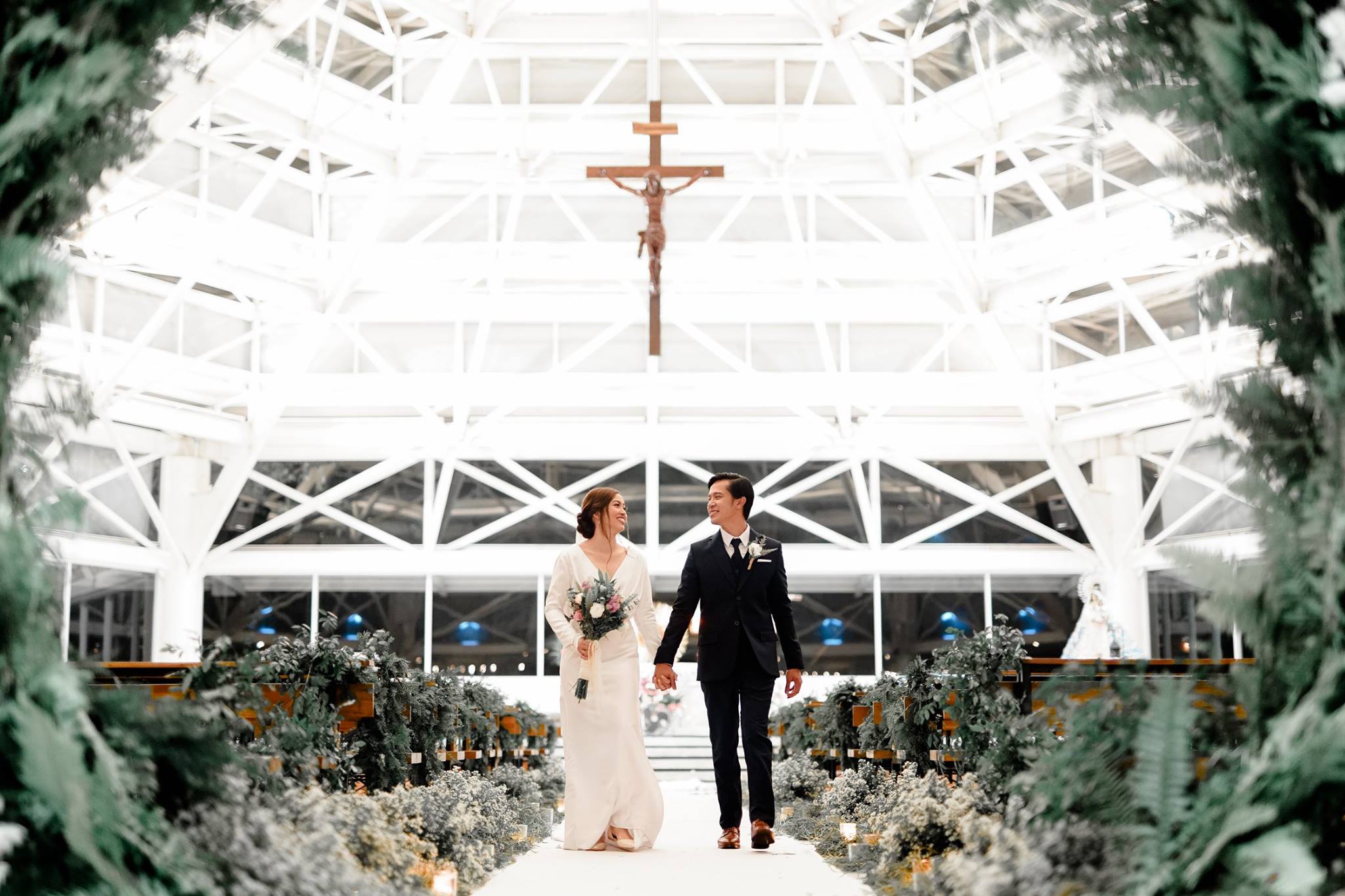 What was your biggest takeaway from your wedding day? Do you have any beauty-related tips you'd like to share to upcoming brides?
We got married last August 11, 2018. It was the day in August that the rain almost didn't stop. Of course we knew ahead that August was a rainy month but we didn't expect it to rain so hard on our wedding day. Our wedding was almost a nightmare for us. It was so gloomy during the preps, it was raining so hard during the wedding ceremony, and when we got to the reception venue, we had a power outage scare because the flood was about to reach the breaker of the venue. It was so stressful for us especially because we've already envisioned everything that will happen on our big day. My biggest takeaway was to learn to let go. How can you let go when this event can only happen once in your life? When you have prepared for more than a year and have put all your time and effort? It was definitely hard, but I am thankful that we let go of the things we had no control of anymore. My husband and I thought we couldn't waste this day stressing on the things that didn't happen the way we planned it. We shifted our perspective and saw how much love we got from our families and friends. That despite the weather, the heavy traffic and the flooding, a lot of people still came to celebrate with us. And that is far more valuable than any element in our wedding that didn't push through.
To all the future brides out there, make sure you get enough sleep at least a few days before the wedding! Not only will lack of sleep show on the outside, it could also lower your energy and you will need a lot during the wedding. If you have no dermatologist yet, I suggest you have a consultation first and decide on your skincare routine based on the assessment of the dermatologist, so you can avoid wasting money on skincare products that don't suit your skin type. I wish I had done that! Haha. And of course, hydrate, hydrate, hydrate! Having healthy skin is really a must so that your makeup will look flawless on the big day!
"To all the future brides out there, make sure you get enough sleep at least a few days before the wedding!"